Within the gambling world, there are certain legislations that each and every player has to keep in mind to fulfil their gambling responsibly. In this article, we'll focus on just one – the legal gambling age, specifically in the United States.
As you've probably assumed by now, US state jurisdictions tend to vary when it comes to gambling requirements and determining the minimum legal gambling age is no exception. That's why this article will equip you with the basics you'll need to be above board in all fifty states!
The Basics
Before we get into too many legal specifics, let's start off with the basics, like what is that an average player actually needs to know when it comes to the gambling age. Once we've gotten that part down, everything else will feel like a breeze.
What there is to know about Gambling Age:
Different US states have varying legislation;
The legal gambling age may differ according to the gambling category;
There may be differing restrictions for online gambling and land-based gambling.
The table below shows the different minimum gambling ages in different US states and any particularities and obligations that might come with them. Within this table, you'll notice that the legal age generally tends to be between 18 and 21. Still, in rare cases, it is as low as 16. This goes for US states such as Maine and Oklahoma, where the legal gambling age for bingo is set at 16.
While going through the table, you'll notice a few other peculiarities as well, so let's break them down. For one, the table illustrates the legal gambling age for casinos and poker rooms separately and there's a good reason for this. In most cases, these two ages will coincide, there are expectations – and we're covering all our bases here. Additionally, you'll notice that the table also shows the minimum age for Bingo, Lottery, and Dog and Horse Racing. The gambling age for these categories is also essentially similar. However, as there are a few pesky expectations, we've decided on a more comprehensive table. On a final note, you may find the symbol N/A on the table. This simply means that no information about these legal ages is available.
As a bonus, it may be worthwhile to know that in some states, Indian casinos are an exception to the rule. In other words, the table below might just not apply to them – something worth looking into if you ever find yourself gambling at an Indian establishment.
Legal Gambling Age by US State
Gambling Age for Online Casinos vs Land-Based Casinos
Now that we've given you an overview of the gambling age by US state, it's time to tackle some specifics – the first one being online vs land-based casinos. As you've learned by now, the minimum legal age starts at around 18 in most US states. However, as it turns out, this can vary depending on the circumstances and requirements of the state gambling commissions and the national legislation. Thus, while the legal gambling age in Illinois is 21, you can play bingo at only 18. However, while the legal age may vary depending on game type, our focus right now is another distinction, the one established between online and brick-and-mortar casinos in the US.
In the online casino world, the legal gambling age can be confusing. The legal terms and conditions alone may appear daunting when entering an online casino or poker room for the very first time. Luckily most sites today have age requirements set by the gambling site somewhere on the homepage. While it may take a bit of time to spot them, you'll need to if you'd like to keep everything above board.
On the other hand, when it comes to land-based gambling, the rules are more clear-cut. In America, the minimum age to gamble is sorted according to state, but there would be variations according to gambling types. Thus, as we've mentioned, different laws would apply to tribal casinos. Even pari-mutuel wagering, online slots, table game, video game machines and pull tabs could vary with regard to the minimum legal gambling ages.
If it wasn't clear from the start, it should be now – following the legal gambling age when getting involved in any gambling endeavours is crucial. If you break the law and gamble beneath the minimum age requirement, you will lose all your money and be in deep legal trouble. This applies to all forms of gambling but especially gambling in land-based casinos.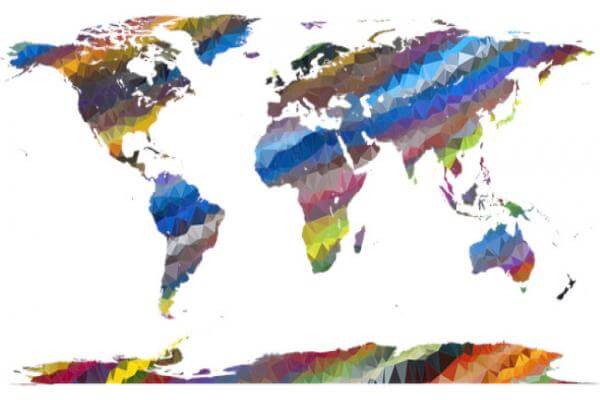 Types of Gambling

Casino
You will find land-based casinos everywhere. There are places which are the top gambling destination, such as Las Vegas, Macau, Monte Carlo and Atlantic City. Now, with the gambling regulations being adjusted for the booming online gambling market, you can find many legal online casino sites where players can enjoy all sorts of online casino games. Some popular games include Slots, Roulette, Blackjack, Baccarat, Craps and many more. You can find table games at live casinos too. If you are interested in trying out some games, head to our free casino games page!
Poker
Poker is a beloved game at both brick-and-mortar casinos and online poker sites. While it's been around for a hot minute, poker actually became immensely popular in the early 2000s. This was just around the time when Chris Moneymaker won millions of dollars at the World Series of Poker (WSOP). In general, you'll find that the legal gambling age is set at 21 for most poker rooms.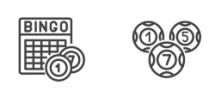 Bingo
Bingo is a classic game played in Bingo halls around the world and now even in online editions. Thanks to the rapid development of the online bingo industry, bingo enthusiasts will be able to find an abundance of sites solely dedicated to this lovable pastime game. Several of the best online casino sites will even offer various online bingo games.
Lottery
Practically every country in the world has its own National Lottery. Provinces, counties, and states also have their own lottery pools. The basis of most is a rather attractive jackpot that a lucky few could win. In recent years, online lotteries have also gained some popularity. There are a bunch of options, opens including organizing your own lottery pool – above board of course.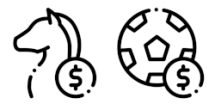 Racetrack & Sports Betting
Sports and racetrack betting have a long history in some countries. Nowadays, the majority of online casinos offer sportsbooks on their sites too. In the US, online sports gambling is now legal. You can make many types of bets on different international and local leagues. You can make bets on NBA, NFL, MLB, NHL, or even the Champions League, the Euro Cup, World Cup, and hundreds more!
Gambling Age FAQs
How old do you have to be to gamble?
Different countries, state or provinces have their own minimum legal gambling age. In most places, they are either 18 or 21 years. In places like American states, this could depend on whether the venue serves alcohol. 
What casinos can you gamble at 18?
There are many countries where you can legally gamble from 18 years and over. In many of the US states, you can see there are differences. In America, you can gamble at 18 in these states: Georgia, Minnesota, Montana, South Dakota (only at Indian Casinos), and Washington. You can gamble at 18 if there is no alcohol served at the casino in Ohio, North Dakota, Michigan and California. Additionally, most online casinos verify your age before allowing you to sign up. 
Why is the gambling age 21 in some countries and states?
The legal gambling age is 21 in some states because of the drinking law in the US. If alcohol is served at the casino, you must be 21 or over to enter. In some countries, as well as in America, the legal minimum age to gamble is 21 because a gambling tax is involved, which is a contribution to society. 
How old do you have to be to gamble in Vegas?
The gambling age in Vegas is 21 years. This age applies to gambling anywhere in the state of Nevada. You would need to carry identification or be accompanied by someone over 21 in order to be allowed in any of the casinos in Nevada, including Las Vegas.
What is the legal gambling age in Canada?
The legal gambling age in Canada is 19. You must be 19 or over to enter casinos in Canada. This law corresponds to the drinking age in Canada, and the minimum age can vary in different Canadian provinces. In some provinces in Canada, such as Alberta and Quebec, you can play at casinos if you are 18 years old.
Who regulates the gaming industry?
There are many licensing or regulating international bodies. However, most countries have their own government authorities which oversee all gambling activities both online and offline.
Do I pay taxes on my winnings?
This depends on the country. In certain countries, gambling is seen as a hobby. In other countries, the government would require a percentage of the winnings that exceed a particular amount. This may even vary on which type of gambling activity you can earn your winnings.
Is the legal age difference for online and land-based casinos?
Sometimes there are different legal gambling ages. When it comes to land-based casinos, the laws are more concise. However, with online casinos, the minimum legal age is 18 years, and some online casinos may be restricted in certain countries.
What happens if I am an underage gambler?
Gambling restrictions are serious and in place for your own protection. If caught gambling illegally, you could face serious consequences. Underage gamblers immediately lose any winnings.
How are gambling funds safe?
Since gambling is often heavily regulated, the majority of gambling opportunities would have safe and secure transaction options. Payment methods for online casinos such as PayPal Casinos and Visa Casinos protect your money. There is added security when online casinos are licensed by formidable authorities such as the MGA and UK's Gambling Commission.
Final Thoughts on Gambling Age
The different criteria to be eligible to play and bet with online casinos, as well as land-based casinos, can be a tricky task. A big part is regarding the legal minimum age to gamble in different parts of the world. Many issues can be brought up, and there are various differences when it comes to types of gambling. Since the consequences can be severe in these cases, it is best to be safe rather than sorry.