Known as the Big Sky Country and The Treasure State, Montana has long been a favorite spot for those who want to spend time in nature. Gambling in Montana is incredibly popular, as evidenced by the numerous gaming establishments. However, despite the number of casinos, there are no Montana online casinos for USA players. Some offshore casino sites allow Montanans to sign up and play slots online, though we advise against taking the legal risk.
Our Montana Online Casinos Reviews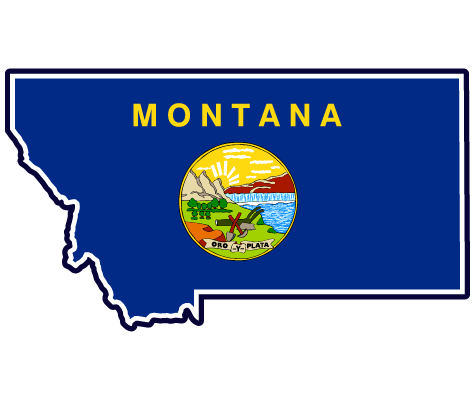 At the time of writing, Montana's gambling laws don't leave much room for online betting aficionados. Any gambling via the internet, locally or offshore, is illegal, and no online casino may operate within the state. The only exceptions are the state lottery, and off-track local horse race betting. There are some games allowed, such as bingo, keno, and social gambling in Montana. However, any betting activity that involves real money is prohibited. The legislation passed in 2019 permits online sports betting regulated through the Lottery Commission. If you're a resident in the state or plan to visit and want to gamble and unsure what the laws are, please continue reading. We take an in-depth look at the applicable laws; we also answer common questions. As always, we encourage players to gamble responsibly and obey the laws of their state or county.
Best Montana Online Casinos
The Legality of Land-Based Casinos & Online Casinos in Montana
Like the majority of states in America, Montana doesn't allow online gambling. Some laws regulate gambling in brick-and-mortar establishments. While these can be considered somewhat lenient, there are strict guidelines in which these businesses must operate. Below we take a closer look at which games and gambling activities are approved. It's essential to keep in mind that online gambling in any form is illegal in the state. The law prohibits any internet gambling, local or otherwise. While there have been no convictions against online bettors to date, it's still an illegal activity. Before you participate in any land-based or online gambling activity, make sure that you're still operating within the state's laws.
The only 'real' land-based Montana casinos are operated by the native tribes, as allowed by the Indian Gaming Regulatory Act of 1988. There are several of these tribal-owned casinos in the state but, although all of them only carry class II licenses. Consequently, the only games available are bingo, keno, and some gaming machines. That said, some do offer limited poker, while others no longer have active poker tables.
As of 1991, drinking establishments may have to have 20 video gaming machines per liquor license.
Horse race betting is legal, with certain restrictions. Pari-mutuel betting, for example, is not permitted, and a bill proposed in 2019 to legalize it was not approved. That said, bettors can wager on races without having to go to a track. Despite being legal, it's not popular within the state.
Social and charity gambling is legal in the state. Social card games such as bridge, pitch, rummy, whist, and a few other games are all allowed, permitted that they don't offer large financial rewards. Charity gaming, such as raffles, bingo nights, etc. are also allowed.
According to a law passed in 2013, senior citizen centers are exempt from license requirements.
There are wagering and payout limits on almost every form of gambling. For example, sports pools have a $2,500 maximum payout, and winnings from poker and bingo games can't exceed $800.
Lottery scandals in 1889 resulted in a long-term anti-gambling crusade nation-wide. Montana didn't have a state lottery again until voters approved it in 1986. Lottery tickets can be bought online through authorized retailers.
There doesn't seem to be a significant desire for legalized online gambling. Trends show that the real push is to legalize more land-based gambling activities, rather than online alternatives. The blackjack bill has been proposed – and rejected – three times since 1991, with the last time being as recent as 2019.
Land-Based Gambling in Montana Today
Casino
County
Unique Features
Casino Games
Glacier Peaks Hotel & Casino
Browning
Poker, Bingo, Hotels
300 Slots
4 Poker Tables
Gray Wolf Peak Casino
Missoula
Two Restaurants, Shops
300 Slots
KwaTaqNuk Resort & Casino
E. Polson
Two Casinos (Smoking & Non-Smoking), Hotels, Bingo
200 Slots
Northern Winz Hotel & Casino
Box Elder
Poker, High review ratings
150 'Vegas Style' Slots
4 Poker Tables
Charging Horse Casino & Bingo
Lame Deer
Bingo
127 Slots
Online Gambling Laws in Montana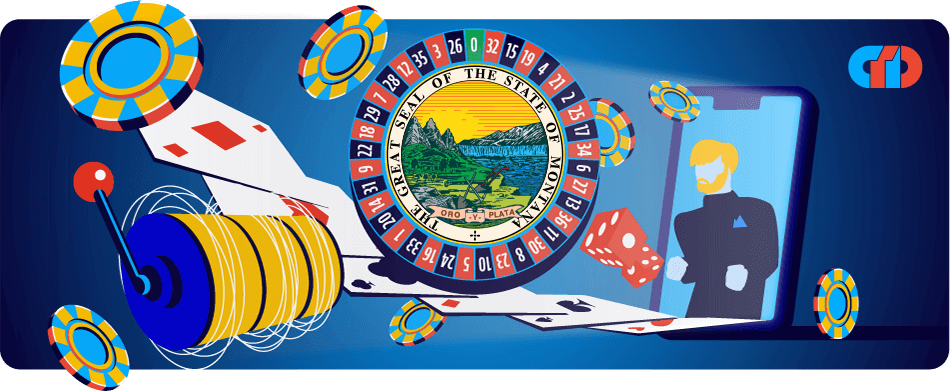 Unlike some other states, Montana has well-defined and clear laws regarding operating any local and offshore online gambling websites. The law states that:
"Internet gambling, by whatever name known, includes but is not limited to the conduct of any legal or illegal gambling enterprise through the use of communications technology that allows a person using money, paper checks, electronic checks, electronic transfers of money, credit cards, debit cards, or any other instrumentality to transmit to computer information to assist in the placing of a bet or wager…"
In other words, it's illegal to operate any online casinos, or for offshore sites to offer their services to Montanans. This last legislation regarding online gambling in Montana was in 2005. For comparison, there's been numerous bills submitted for the legalization of blackjack, while there have been no new proposals regarding online gambling. It's safe to say that Montanans don't feel the need to gamble or play slots online, are satisfied with land-based casinos, or both. The same can't be said for sports betting. In 2019, a bill passed that allowed sports wagering to take place through the Lottery Commission. The governor, however, vetoed a bill that would have allowed privately owned sportsbooks. A pari-mutuel sports betting bill also didn't make it through.
What should I know about Montana Online Casinos?
The only legal online Montana casinos offer social gambling. While brick-and-mortar casinos or gaming establishments are quite common, internet gambling websites aren't.
According to legislation passed in 2005, internet gambling is illegal. However, the laws seem more geared towards operators rather than gamblers. Sports betting, however, was legalized in 2019 – to an extent. The only legal sportsbooks and betting operations will be those run by the Lottery Commission.
Regardless of your gambling activity, the legal age for gambling in Montana is 18. That includes poker, keno, bingo, video gaming machines, and the state lottery.
Some offshore casinos may allow players from Montana to join their websites. However, we advise against this. Though illegal, the state doesn't regulate these operators and exposes you to additional financial risks.
Gambling Laws Governing Offshore Casinos & What It Means for Montana Players
According to Montana gambling laws, offshore gaming operators shouldn't be offering their services to Montanans. The law clearly states that any gambling in Montana via the internet is illegal, with the state lottery and simulcast betting services being the exception. However, when you search for Montana online casinos, you might come across many offshore betting sites and casinos that will allow you to sign up. While casinos in states like New Jersey will use geolocation to prevent out-of-state players from signing up, these casinos will often allow players to join, regardless of state laws. We always urge players to avoid registering at these offshore casinos. Not only is it illegal in the state, but it involves an enormous amount of risk. For example, joining and gambling at these sites mean that the state can't regulate it or monitor its activities. If you encounter any issues or financial disputes, there's no way for the state to protect you, your rights, or your money.
Online Casino Games for Montana
Montana's gambling laws are clear and allow many taverns and bars to offer gaming machines to their clientele. While some of Montana's native tribes have class III compact agreements with the state, most of their casinos only have class II licenses. Thus, the variety includes bingo online, bingo-type slots, and various gaming machines. That said, some of the casinos do offer limited poker. Online gambling, however, is a different story. In Montana, the last bill on the topic, addressed in 2005, defines online gambling operators as illegal. However, some argue that there is 'wiggle room' for players themselves.
There are a few gambling activities in which players can legally engage.
Since these aren't for profit or don't accept real money, social gambling sites and charity betting are permitted. Other social games, such as bridge, cribbage, hearts, pitch, solo, rummy, and whist, are also allowed, as long as they are played for minimal reward.
Raffles, keno, poker, bingo, panguingue, and shake-a-day games are all live games that are permitted.
Horse race betting. That said, it's not very popular within the state, and, according to some opinions, it's on its last legs, despite off-track betting being allowed.
Sports betting, with restrictions. In 2019, sports betting was made legal. However, the only legal sportsbooks will be those operated by the state's Lottery Commission.
Payment Options At Montana Online Casinos
Since it's illegal to gamble or play slots online in Montana, as per Montana's gambling law, it's tricky to say which payment methods are a local favorite. In general, eWallets, debit cards, and bank transfers are considered popular. If you gamble outside of the state, however, you'll need to verify which payment methods an operator accepts and then choose one that works for you.
Montana Online Casinos FAQs
Is online gambling legal in Montana?
No. In 2005, legislation was approved that forbids any online gambling in Montana. In other words, you can't play slots online or participate in any internet gambling activities. At least there are several bars, taverns, and tribal casinos that offer these games. Betting on fantasy sports is also illegal, although a new bill passed in 2019 permits sports betting under a new system regulated by the state Lottery. The possibility of allowing for privately run sportsbooks will be reviewed in the future.
Does Montana have any casinos?
The state has 13 tribal casinos, 150 card rooms, and over 1,400 establishments that offer gaming machines. While some of the tribes have class III compact agreements, most of the casinos only offer class II games and machines.
Why are there so many casinos in Montana?
Legislation has made it very easy for owners of bars and taverns to get casino licenses with their liquor licenses. In fact, any of these places can get a license for up to 20 video slot machines. As a result, these small gaming establishments have cropped up across the state in bars, restaurants, and gaming rooms.
Are slot machines legal in Montana?
If you want to own a slot machine privately, the law dictates that it must be thirty years old, or older. This ensures that these machines are owned by collectors and can't be used to generate any revenue. Casinos are permitted to have slot games, depending on their license class. Montana also issues licenses to bars and taverns, allowing them to have up to 20 video slots or gambling machines per liquor license.
Can I play at an online casino in Montana via mobile or tablet?
No, you can't. Since internet gambling is illegal, it also means that any online wagering is prohibited, even if you use a mobile casino site. While you may have access to applications for offshore gambling sites, we advise against using them. Since Montana doesn't regulate these providers, no one can mediate issues or protect you and your money.
What casino games can I play at Montana online casinos?
If you're insistent on playing casino games online, your only options are social gambling sites. However, with the sports betting legislation passed in 2019, you can bet on betting sites run and regulated by the Lottery. Other than these, all forms of online casino games are illegal.
Is it possible to play online casino games with dollars?
In some states, such as with Pennsylvania casinos, Nevada Casinos, and New Jersey, gambling is legal and regulated. As a result, you can gamble with dollars if you're visiting these areas. Unfortunately, there are no legal online casinos in Montana that accept dollars. That said, you may be able to gamble on sites outside of the state. In such a case, you should check that website's available currencies to determine if they'd accept dollars.
Are the Montana online casinos on this site regulated?
If we recommend an online casino on our website, you can rest assured that we've tested it thoroughly. These sites are legal and regulated and offer excellent services and security. We'll never recommend an unsafe or illegal website to our readers.
Am I eligible to receive an online casino bonus at a Montana Casino?
No. Since there are no legalized Montana online casinos, you can't get any online bonuses. If you're gambling at an online casino out of state, you'll need to visit that website's promotional section to see if you're eligible for any bonuses.
How do I start playing for real money at Montana online casinos?
Montana gambling laws don't permit internet gambling. As a result, you can't play for real money at any online casinos. You can play on social gambling sites, but these don't accept any real money. Your best bet would be to visit one of the brick-and-mortar casinos in the state.
Which online casino payment options are popular in Montana?
Without legalized online gambling in the state, it's hard to say which payment methods Montanans would prefer. In general, popular choices are usually eWallets and credit cards.
Do I need to pay taxes on my gambling winnings in Montana?
According to the IRS, any winnings from gambling count as "other income". You must declare your winnings on the appropriate forms and may be required to pay an estimated tax on the additional income. There may be some exceptions, but it's always best to check the laws or ask your accountant.
Play at a Real Money Montana Casino & Walk Away with A Large Sum!
Hopefully, you now have a better understanding of Montana gambling laws. If you decide to gamble online, do so safely, and always obey your state's laws.