Craps can look a bit overwhelming to the untrained eye, so what better way to get into the game than actually training for free? When you play free online craps you, first of all, get a feel for the online casino, and also practice placing different bets and understanding the gameplay before you actually spend any money. Use the free game on this page to do exactly this and perfect your online craps skills!
How Our Free Craps Game Can Help You Win Real Money?
Our free craps game is the ideal introduction to playing craps online but once you have mastered it, then what? Well, the answer is simple to find yourself an online casino and start playing online craps games for real money. You can find a selection of the best online craps casinos in the list below so browse through these and find one for yourself to profit with your skills acquired on our free craps simulator.
Best Craps Online Casinos
Playing Craps for Free Online
Here at CasinoTop10, we offer you a free craps game with state-of-the-art HTML 5 software. So what does this mean for you? To play craps, you can launch the game immediately in whichever internet browser you may be using, be it Firefox, Safari, Chrome, or Internet Explorer, instead of having to download software onto your computer. HTML 5 also works wonderfully in any mobile device you want to use as it was developed specifically to bridge the mobile device gap that Java and Adobe Flash players left online gamblers and online casino developers with.
Play Craps Online on Mobile Free
So, if you want to play online craps on your tablet device or mobile, now you can do it right here on CasinoTop10 without actually having to leave the website, or download anything at all! Another great part of playing free online craps in the HTML 5 version that we have here on our site, is that you don't have to give up great sound, graphics, or even movement fluidity to play the free browser version – you get the full game experience popping up directly on your screen. And of course, in order to play, you don't have to contribute a single cent in order to practice to your heart's content and really get a feel for the game and the bets you can make before playing for real money. Knowing how the game flows and when and how to make all the different bets are essential and you can do it by playing on the best craps simulator. So, if you want to start playing Bitcoin Craps free play is essential to train your casino skills!
How to Play Free Craps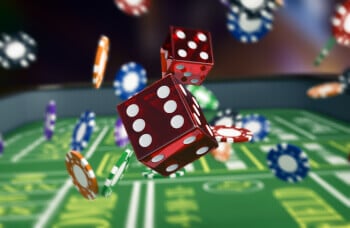 If you have never played craps online for free before, or you have but need a refresher, you are in the right place. The first thing you need to know is that craps is played at a large casino craps table, marked by all the various kinds of bets (but not all) you can wager.
The player who rolls the dice is called the shooter, and the shooter will always roll two dice. When you place a pass line or don't pass line bet, a new round of virtual craps begins. This is obligatory for the shooter. All other players who want to be a part of the round in the online casino or real life casino need to also make this minimum requirement bet. Other craps bets that can be made are outlined below. In the free game on this page, you need to click on the amount you want to 'bet' from the chip selection you will see on the side of the screen.
Click on the chips you want and then click on the craps table on your screen in the correct place on the table for the bet, in this case, the pass or don't pass section of the table. The first roll of the dice is called the 'come out roll'. If you roll a 7 or 11 in the come-out roll, the pass bets win and don't pass bets lose, and the round finishes. If the shooter rolls a 2,3 or 12 (known as the craps numbers), then the pass bet loses and don't pass bets win, and the round ends.
With any other number (4,5,6,8,9, or 10) what is known as the point number is then established, and players can start to make any other bet that they want to make. The round continues until the shooter rolls either the point number or a 7. Pass bets will win when the point number is rolled before the 7, and the don't pass bets win when the 7 is rolled before the point number.
The Come & Odds Bets
The other basic bets you need to know are the come and don't come bets, and the odds bets which can be placed on your original bets (the pass and don't pass), or the come and don't come bets.
These bets work in practically the same way as the pass and don't pass bets, however, they can only be placed after the come-out roll. These bets are separate, it is more or less like playing your very own personal pass bet instead of it being applicable to all players. As soon as you make the bet, the very next roll of the dice will determine whether you win, lose, or get a separate and individual point number. You win the come bet if your point number is rolled before a 7, and lose if the 7 is rolled first.
Don't Come Bet
If you placed a don't come bet, you win if the 7 is rolled before your own individual point number, and lose if the point number is rolled first. You can also lay or take odds on the pass, don't pass, come, and don't come bets. What this means is that you can bet multiples of your original bet. This is considered one of the best of all casino bets as it reduces the house edge to almost nothing. It's not marked on the casino table, you need to place the chips directly behind the bet you want to take/lay odds on.
Side Bets
There are many, many other bets you can place, such as single-roll bets, field bets, hop bets, and numerous multi-roll bets as well. If you would like to learn about these in detail I would suggest reading through the craps rules article, and also the craps strategy article in order to learn about the odds and payouts of each one of those bets. Then you can apply all the different kinds of bets to the free game in order to practice before you play at an online casino for real money.
Practice Free Online Craps Today!
Now all that is left for you is to click on the game and start playing – as it launches in the browser, works on all devices, and is completely free of charge, there is nothing but yourself stopping you from becoming the craps online expert you know you can be in order to win big at the online casinos.
Free Online Craps FAQ
Where can I play online craps for free?
If you wish to take a shot at playing free craps and practice your craps strategy, you can do that right here on CasinoTop10! Just scroll to the top of our page and click on the "Play for Free" button!
Can I play free craps online on my mobile?
Of course! If you have a mobile phone running on iOS or Android operating system, you can play straight from your browser. There's no need to run to your laptop.
Do I need to install an app on my PC or mobile device to play craps online free?
No! You don't need to clutter your memory with additional software if you wish to test your luck and skills with a free craps game or two.
Are free craps games the same as live craps?
No. For live games, you usually have to make a wager. However, if you wish to play wager-free craps, you won't be interacting with a live dealer. These games operate on a basis of a random number generator (RNG), which essentially means you'll be playing against a computer.
Where can I play craps for real money?
If you wish to play craps for real money, take a look at our list of recommended casinos. All of the casinos you can see listed are reputable and have CasinoTop10 stamp of approval. Click on "Play now", make an account, deposit the money and start your craps experience!