On hearing the word 'casino', the image that springs to the mind of any gambler is that of a spectacular hall with flashing lights, multiple blackjack tables, spinning Roulette wheels and a wide array of Slots Online games along with many other beloved casino games which find themselves surrounded by avid gamblers during the casino's peak hours. Sadly, it's not always possible to step out of the house and head to the casino. Yet, now there's the next best thing – Virtual Reality Casino. Below we delve into what it's all about and highlight where you can play VR casino games. Go on, take a look. Then step inside the world of VR gambling!
Choose one of the two VR Casinos
At the SlotsMillion during sign-up, you have the option to enter the VR casino using your VR headset or stay in the desktop lobby version without the use of the VR equipment.
What is a Virtual Reality Casino?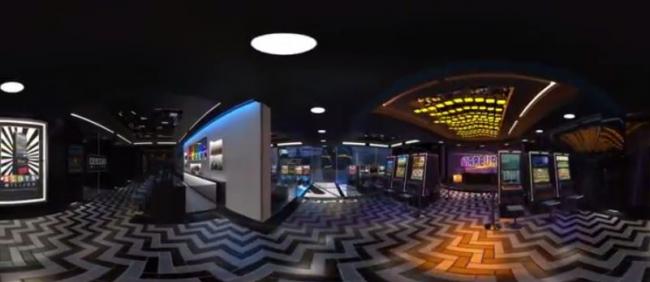 Many avid bettors usually find themselves reluctant to make the transition from land-based casinos to online casinos due to the fact that casinos found in the online realm generally do not replicate much of the glamour and casino atmosphere which is typically found at brick and mortar casinos. Moreover, you're not able to interact with anything in the online casino environment. Yet, innovations of the 21st century have lent their hands to the iGaming industry and have helped casinos which have sought to transfer their services to the net to come one step closer to making the casino experience almost like stepping into a brick and mortar casino. In essence, a VR Casino aims to roll out the red carpet to their clientele and bring them the entire casino atmosphere that is typically found at a land-based casino. This means that you'll be able to experience a three-dimensional environment and interact with the casinos' environment whilst playing your casino game of choice. What's not to like?
The Dawn of a New Era – Virtual Reality Gaming
It was more or less about 20 years ago when software companies attempted to make virtual reality or VR games a worldwide anomaly. However, Nintendo's Virtual Boy and VFX1 virtual reality Headgear fell flat upon being released to a market of avid gamers who found themselves keen to experience the concept which they had dreamt about for many years. Looking back it seems that the technology that developers had at their disposal in the 90s wasn't enough to make their vision a successful reality. Yet, 2016 seems to be more promising in regards to virtual reality gaming. The release of several top-notch VR gaming gear, which include Facebook's Oculus Rift, Valve's Stream VR, HTC's Vive along with Sony's PlayStation VR, is definitely set to bring about a new wave of gaming. Of course, as always the iGaming industry can't resist the cutting edge technology developers have come up with and many companies have found themselves more than willing to adopt this phenomenon to the online casino realm.
The Evolution of Online Casinos to Virtual Reality Casinos
The decade of the 90s brought with it profound changes in the gambling industry baffling millions of gamblers worldwide as casinos transferred their brick and mortar casino games to the online realm. This was due to the fact that in 1994 The Free Trade & Processing Act in Antigua & Barbuda was passed. A few years later online casinos became immensely popular with gamblers who usually played at brick and mortar casinos. As the years rolled by, more and more games have been added to various online casinos due to the high demand from online gamblers. On browsing a casino's array of games, you'll notice that Slots, Roulette, Blackjack, Baccarat, Craps and more are not only available in their classic forms, but also exist as variants having different rules to their classic counterparts. Fast forward to the 21st century and online casinos have not only revamped and improved the terrible, simplistic graphics that were initially seen whilst playing casino games in the 90s, but they've also sought to add a number of interesting features to their digitalized casino games. Moreover, they've also made the concept of Virtual Reality Gambling, which we once dreamt about in decades past, a real-world phenomenon. So, now when you choose to play at a VR Casino, you can prepare yourself to be transported to the glamorous world of casino games!
VR Casino Games
Virtual Reality Casino Games are effectively blurring the lines between video gaming, esports and gambling. Whilst video games typically appeal to a much younger demographic, the VR casino games application is aimed at the 30-40 age group, who adore gambling as a pass time. Although there are only a few VR Casinos present on the net, there are set to be many more in the near future. If you're interested in gambling at one of these casinos, you'll probably find yourself asking the question, 'What Casino Games are available at Virtual Reality Casinos?' As VR gambling is still in its infancy, you won't be able to find all the games you'd typically find at online casinos which generally offer 2D casino games that can be played from the comfort of your own home. Nonetheless, VR Casinos still have a fantastic array of games which include Slots, Roulette, Poker, Backgammon, Gin Rummy, Poker Dice as well as Blackjack tournaments.
Which are the most popular VR casino games online?
VR Slots, Blackjack and Roulette are by far the most popular online casino games amongst VR online casino players.
VR Slots
Perhaps it's the colorful symbols, the prospective huge payouts or just the fact that VR Slots allow you to experience a Slots Online game in the same way you would at an online casino, but one thing's just for sure – VR Slots are definitely the most popular casino games on the net! Some of the exciting titles you can expect to find at Virtual Reality Casinos are Jack and the Beanstalk, Starburst, Miss Midas, Dracula amongst many others.
VR Blackjack
VR Blackjack offers keen players the same fun and excitement of playing Blackjack Online and more! On putting on a VR headset, you can prepare yourself for a fully immersive experience at the blackjack table. By using a headset at a Virtual Reality Casino, you'll be able to reach out and place your chips on the table, see AND feel the cards that are dealt out to you and decide to hit, stand or double – just like you would at a brick and mortar casino.
VR Roulette
VR Roulette is the third most popular casino game at VR Casinos. And it's certainly no surprise to us since the game is one of the most played by high rollers and gamblers with smaller wallets globally. Like other VR casino games, the new spin on the black and red segmented wheel of chance has taken Live Roulette one step further by giving players the opportunity to actually step into right into the game.
How Virtual Reality Casino Games Work & Their Features
The graphics used in Virtual Reality Casino games work by producing high-resolution imagery at a much higher frame rate than regular video games. Essentially, this is done to ensure that latency is kept to a minimum amount. Thus, when you move your head and your field of view changes as a result, you will not experience any lag. If you're interested in Virtual Reality Gambling, you should have a look at its enticing features in the box below.
VR Casino Features:
A combination of online gaming and casino gaming meshed into one captivating experience;
A deeply engaging casino environment which stimulates both the auditory as well as the visual senses;
Real-time multiplayer games;
A fantastic choice of avatars/characters to choose from;
The ability to interact with other gamblers;
The regular improvement and addition of new casino games;
Chat and voice functionalities.
Playing Standard Online Casino Games vs. Virtual Reality Casino Games
Playing your casino games of choice can provide you with a gripping and realistic gambling experience for hours on end without having to step foot in a land-based casino. Nowadays, apart from playing on your desktop, you can also choose to play on your mobile or tablet if you desire thanks to HTML5 games present in most online casinos. However, if you're looking for more of a fresh and riveting iGambling experience you should definitely opt to play Casino VR Games instead as playing these revolutionary types of games will allow you as a gambler to totally immerse yourself in the online casino world. The Virtual Casino Gaming experience you'd typically get whilst playing these types of games is similar to the gaming experience you'd receive by playing one of the many MMO RPG video games such as World of Warcraft, Rift, Tera and so forth, which would allow you to interact with other players who are playing online at the same time as you and explore your virtual world without any limit. Yet, the simple difference between the casino games and video games of this type is the clarity and lag-free user experience you'll be able to get whilst using your headset.
Advantages and Disadvantages of VR Casinos
Pros
VR Casinos detect a gambler's presence in the game.
Social aspect is strong. Players can enjoy chatting at the casino from the comfort of their own home.
The Live Chat feature is sometimes available for casino players to talk to dealers.
A great array of games available which is set to grow.
Gives players the opportunity to step out of their daily routine.
Playing at a V R Casino can enable you to win money without stepping into a Brick and Mortar Casino.
Constant improvements in the Virtual Reality Casino realm.
Cons
Online gamblers are likely to spend more money betting in comparison to online casinos.
Due to the fact that Virtual Reality Casinos are more immersive, players are more likely to spend more time thinking about gambling.
Gamers might become oblivious about what is occurring around them.
Requirements for playing at a VR Casino
Virtual Reality Gambling is a relatively new concept. This is why it's important to make sure that your VR device meets the requirements that you need to play the games before you actually go ahead and sign up to a Virtual Reality Casino of your choice.
Computer Spec Requirements for Virtual Reality Casino Games
A GeForce GTX 970 or greater;
A head-mounted display;
A PC with USB 3.0 support
CPU: Intel Core i5- 4590 equivalent or greater CPU;
8GB RAM of Memory/RAM;
2x USB 3.0 ports and HDMI 1.3;
Windows 7 SP1 or newer.
Although you might own a very powerful desktop computer, most of the time the specs are not enough to meet the minimum requirements you need to be able to play at a Virtual Reality Casino. You as a gambler can check if your Pc is up to the demands of Virtual Reality Software by using the GeForce GTX VR Program. The program recommends that your PC has a GeForce GTCX 970, GTX 980, GTX 980 Ti, TITAN X, GTX 1080 or GTX 1070 GPU. Computers which are GeForce GTX VR Ready, typically display a 'GeForce GTX VR Ready' badge on graphics cards as well as on their systems. Moreover, your computer must also have a powerful CPU which is preferably equivalent or greater to an Intel Core i5 – 4590, a head-mounted display, at least two 3.0 USB ports along with support, a 1.3 HDMI and Windows 7 SP1 / 10.
VR headset for Virtual Reality Casino Games
Typically, virtual reality gaming requires you to wear special VR headgear which will enable you to get the virtual reality gaming experience. This is due to the fact that the graphical demands of VR games are far from the ordinary. To put it to you plainly, if you're attempting to play these games, you should be aware that VR gaming requires seven times the processing power that traditional games do. In essence, if you're thinking of investing money in a device which would serve to support VR gaming, you should note that the average desktop will not suffice to meet the requirements necessary. This is due to the fact that while a typical desktop's frame rate is 60fps, a device which supports VR gaming would need 90fps in order to provide the gambler with smooth gameplay.
Controllers for Virtual Reality Casino Games
Traditional games require you to own a controller which fundamentally encapsulates multiple buttons, thumbsticks, and triggers. However, the conventional modern day controller is not in the least suited to the sort of complex interactions that you'd anticipate in VR. Hence, in order to play most Virtual Reality Games, you must make sure that you own a data glove instead. On putting on the data glove, your presence will be detected by the game. This is due to the fact that the bio-sensing data glove has multiple tiny sensors attached to it which detect the way your body moves. Once the glove has detected what movements your body is making, your movements will be fed back to the computer. Your data is then analysed and used to transform your actions into the appropriate reactions you'll be able to see on the screen. However, in developing the VR Casino Games, game developers made sure that you will still be able to play the games by using your keyboard or controller in order to ensure that you won't have to buy any expensive equipment.
Virtual Reality Gambling FAQs
How do I start playing Virtual Reality Casino games online?
In order to start playing VR casino Games, you'll first need to open an account at one of our Best Virtual Reality Casinos and download the application. Once, you've done this you can then login with your new Username and Password and you can go ahead and choose your favorite avatar and confirm.
Do Virtual Reality Games require a download?
Whilst most online casino games can be played through a Browser, playing Virtual Reality Games will require you to download the actual casino application which is offered for free at your preferred Virtual Reality Casino.
Do I have to play by using my Oculus goggles to play Virtual Reality Casino Games?
In order to play Virtual Reality Casino Games, you'll need to use your Oculus Goggles to be able to experience VR.
What happens if I play the VR games without using the goggles?
Although a Virtual Reality Casino will always recommend that you use your VR goggles, this doesn't mean that you can't play the games if you don't have them. Instead, if you attempt to play the games without using them, you'll simply see the games in 3D.
Will I see other plays in the Virtual Online Casino?
Yes, whilst playing VR games you'll be able to interact with other players who are also playing the games.
Do I need a special remote to play?
No, as opposed to other virtual reality games you don't need a special remote. You can simply play by using a regular joystick or your keyboard.
Can players see me whilst I'm playing Casino Games?
VR Casinos allow players to enter the casino simultaneously. Whilst playing VR Casino Games, they'll able to see you as well as others entering. Of course, you can also see them play.
Will I be able to view my game screen well?
Yes, you will be able to view your game screen very well provided you opt to play virtual reality casino games. This is due to the fact that upon choosing the game you would like to play, the game screen will enlarge.
Can other players see my game screen?
On playing a casino game, you'll be able to see your own game screen. However, you won't be able to see the game screen of other players. Hence, you'll still be able to enjoy your privacy whilst gambling.
How do I exit a Virtual Reality casino game?
Exiting a virtual reality casino game is profoundly easy. All you have to do is click the Esc button on your computer once you would like to stop.
Do my responsible gaming limits apply at Virtual Reality Online Casinos?
Yes, responsible gaming limits apply the same way they do on all casino sites.
Do Virtual Reality Casinos offer bonuses?
Yes, Virtual Reality Casinos offer bonuses just like any other online casino typically does. To learn all about bonuses, head to our online casino bonus page which highlights all you need to know about them.
Will I be able to access my lobby inside the casino?
Entering the lobby of a virtual reality casino often depends on which casino you choose to play at. Whilst on some you will not be able to access your Lobby, on others you'll be able to. However, in the future, you'll be able to do this by accessing 'My Lobby' you must first register. Then you'll be able to view my games, my promotions, history, account settings, deposit, withdrawal and Contact tabs.
Are players from all over the globe accepted at Virtual Reality Casinos?
No, not all players are accepted at VR Casinos. So, if you're thinking about gambling at one of them you should make sure that the service is available in your country and that you are of the legal gambling age of your state or country.
Experience the Rush of Gambling at The Best VR Casinos Online
Online gambling has been given a new face in virtual reality form. According to renowned iGaming tech Mark McGuiness, 'Gaming is about the emotional and physiological experience of playing at the casino tables and all the sensory stimuli that this delivers.' If you as a gambler choose to play at a Virtual Reality Casino, which is also known as VR Casino, you'll notice that the software used effectively simulates a casino environment which is almost a copy of the real brick and mortar casino. Interested in playing your favorite casino game at a Virtual Reality Casino? If so, you should choose a casino from our Best Virtual Casinos list and get ready to go on one hell of a rollercoaster ride by playing VR casino games!