Knowing where and what type of USA online casinos you can play at is no easy task. Especially for those crossing State lines and partial to a punt on the horses or a bet on Blackjack. This is because the situation in each state differs completely. From total bans to tribal rules, riverbed casinos, and the Las Vegas Strip – it's one hell of a mixed picture.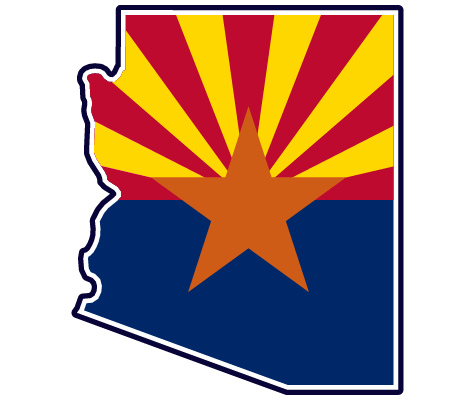 Arizona Online Gambling Reviews
If you're looking for the best casino reviews, then you've come to the right place. Covering land-based and online casinos across the US, CasinoTop10, has the best recommendations on the net, especially if you're looking to grab a casino bonus. Unlike the UK, the USA is governed by a decentralized model of governance.
This means that whilst they have a central government making federal laws, local laws – at the State level as long as they do not break any federal laws – are left up to the State. Gambling, by and large, is such an area left up to the State level of law-making. This is why the rules and regulations of what you can and cannot do change according to where you are in America.
On this page, we'll be taking a look at the State of Arizona and the local gambling laws. Establishing exactly what you can and cannot do when online (and offline) gambling in Arizona, USA! First, let's take a look at the legal entitlements you have when it comes to playing in the State of Arizona.
Best Arizona Online Casinos
CasinoTop10's Best Online Casinos in Arizona need to:
Free-play sites are offered by local land-based casinos.
Allow only players over 21 to gamble.
There is no legal provision for online casinos to operate in the territory of this State.
The Legality of Land-Based Casinos, Online Casinos and Online Gambling in Arizona
Arizona is most famed for the Grand Canyon, but it is also home to 23 land-based Tribal Casinos. As with most areas outside of Las Vegas, legal gambling in Arizona is established by the 1988 Indian Regulatory Gaming Act. This allows federally recognized tribes to agree on the operation of casinos on tribal lands with their local government. Arizona is home to 22 tribes, 15 of which operate 22 casino establishments. Live gambling activities in State include horse racing, dog-tracks, slots, casinos games, Bingo, Lottery, Social gaming and racinos, but do not extend to online gambling Arizona. In short, most forms of land-based gambling are legal in Arizona, on tribal lands. Like most States, the online gambling picture is much less clear as legislation has not yet caught up to modern gambling habits. Unlike Delaware online casinos or New Jersey online casinos (where online gambling is legalized), Arizona is more of a grey area as it is illegal to use gambling online at an Arizona establishment, but there is no mention of online casinos that operate outside of the USA.
If we look to the definition of (offline and online) gambling in Arizona we can start to break things down, gambling or to gamble "means one act of risking or giving something of value for the opportunity to obtain a benefit from a game or contest of chance or skill or a future contingent event but does not include bona fide business transactions which are valid under the law of contracts including contracts for the purchase or sale at a future date of securities or commodities, contracts of indemnity or guarantee and life, health or accident insurance." This is a very wide definition, including games of skill and chance, and leaving room for new types of gambling not yet foreseen by including that any transaction that is not business investment, stock market investment, or purchase involving a contract. Essentially, gambling is only legal in Arizona when operated in line with the 1988 Indian Regulatory Gaming Act, regulated and taxed as this supersedes the State definition. Unless, you are playing a private game at home, defined as social gaming. Social gambling is between players, where none has an advantage (such as a house edge, as opposed to their skill level). This is because social gaming/gambling is legal as long as, "No player receives, or becomes entitled to receive, any benefit, directly or indirectly, other than the player's winnings from the gamble."
Arizona law makes no provision for online gambling Arizona, but it also does not outlaw citizens from playing at online casinos that are not based in Arizona. As an alternative to establishing online casinos, some Arizona Tribal Casinos have established free-play sites. Running or benefitting from illegal gambling is punishable by law as either a misdemeanor offense or a felony charge for being involved in the operating or marketing. Overall, players in Arizona can enjoy a huge range of regulated land-based casino and gambling activities, private social gambling (where nobody profits aside from winning), free-play online sites, and social gambling sites.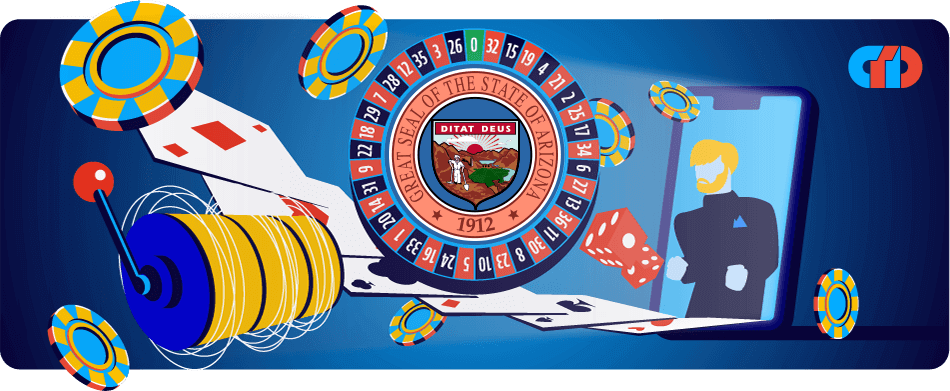 Land-Based Gambling in Arizona Today
All land-based casinos and gambling establishments are run by Arizona's 22 tribes and located on tribal reservations, which make up 27% of Arizona (more than any other US State). Tribal Casinos are the usual practice outside of Las Vegas and Atlantic City and are established in the 1988 federal Indian Gaming Act. Almost all the land-based casinos in Arizona are resorts with hotels and non-stop entertainment to accommodate casino tourism and 24/7 gaming. Be warned that minors are not permitted to gamble. The legal gambling age in Arizona is 21. Here are the CasinoTop10 top 5 Arizona State Casinos:
| | | |
| --- | --- | --- |
| Casino | Location | Size |
| Talking Stick Casino | Scottsdale | 750 machines, 57 poker tables, 49 gaming tables, and a racebook. |
| Twin Arrows Navajo Casino Resort | Navajo | 1,084 machines, 4 poker tables, 8 gaming tables, 100 bingo seats |
| Casino del Sol | Tucson | 997 machines, 20 poker tables, 19 gaming tables, and 600 bingo seats |
| Gila River | Komatke | 900 machines, poker tables, and more. |
| Harrah's Ak-Chin | Maricopa | 1,089 machines, 15 poker tables, 13 gaming tables, 470 bingo seats |
Arizona is also home to 6 horse racing tracks and 2 dog tracks offering pari-mutuel betting (pool betting, where all bets are pooled and divided between the winners. You place the bet against the other players, not the house), these are spread throughout the State. Plus there is a State-run lottery. Bingo is also big in Arizona with Gila River Casino winning the world record for the largest game of Bingo ever played and the largest bingo balls – two records in one day!
Online Gambling Arizona: The Law
As you can see the land-based casino scene in Arizona is alive and kicking with plenty of options in what to play and casinos littered throughout the State across a huge territory of tribal lands. However, the same is not true of online casinos in Arizona, with only free-play sites established to date. The following Arizona casinos have amazing sites where you can practice and play your favourite casino games for free:
Casino del Sol (Double Down Casino)
Ak-Chin (Harrah's Casino)
Talking Stick
and Desert Diamond sites.
ž
What should I know about Online Casinos and Online Gambling Arizona?
ou must be 21 to gamble in Arizona both online or live.
You cannot gamble for real money at an Arizona online casino, only free play or using sweepstakes.
Off-shore gambling is not covered by State law.
Gambling Laws Governing Offshore Casinos & What it means for Arizona Players
There are no real money, state-based, online casinos in Arizona state and this situation looks unlikely to change. Effectively, as participation is not covered by the law, it is considered a grey area for players. But keep in mind, whilst there is no red light against off-shore online gambling Arizona participation, neither is it declared legal. However, it is best not to risk and stick to the completely legalized options available. If you're keenly awaiting new gambling legislation then, upcoming changes in gambling laws are more likely to affect sports betting as two recent attempts have been made to legalize the activity in 2018 and 2019 and other states are beginning to legalize this area of betting so Arizona players watch this space.
Online Casino Games for Arizona
As you can play for free with online Arizona sites you can access a huge range of games at any of the online casino sites mentioned earlier, but for the most part, this is made up of online slots, instant games and other casino classics. Usually, players at international online casinos will find real money Online Slots, Card and Table games, Poker, Bingo and Live Dealer games. International casinos will often have a wider range of online games software as they operate in regulated markets where the online industry is booming and leading to huge investment and innovation.
Payment Options at Arizona Casinos
Payment options at any real money online casino include debit and credit card options, e-wallet, bank transfer, and pre-paid options. In terms of e-wallets, note that Neteller recently pulled out of the US market, but PayPal remains the firm favorite. Find out more about online casino payment options and which is most beneficial. These are currently not available to players from Arizona.
Online Gambling Arizona FAQs
Is online gambling legal in Arizona?
There is no provision for online gambling in Arizona state law. This means it is rather a grey area, where no online casino operates in the territory. Arizona is one of the US States where legislation is not up to date with current gambling methods and player accessibility.
Can I play at an online casino in Arizona via mobile or tablet?
Yes, you can play the free play sites mentioned via mobile casinos. Most online casinos registered outside of Arizona provide the option to play on the go.
Is it possible to play online casino games with dollars?
Many online casinos accept USD currencies, take a look at the CasinoTop10 best casino reviews to find an online casino accepting USD.
Are the online casinos on this site regulated?
All casinos that we recommend at CasinoTop10 are fully licensed establishments. We do not recognize or recommend unlicensed casinos as licensing protects the player by setting rules, which operators must follow to legally be allowed to operate.
Am I eligible to receive an online casino bonus at an online casino?
The free-play sites available in Arizona do not give casino bonuses as they do not operate using real money. However, international online casinos offer casino bonuses.
How do I start playing for real money at an Arizona online casino?
As we've covered, online casinos registered in the state of Arizona only offer free-play games, so you cannot gamble with real money unless you visit a land-based Arizona casino.
Which casino payment options are popular in Arizona?
Cash (at the casino) Debit, credit, e-wallet, transfer, and prepaid cards are the most popular payment methods for casinos in Arizona.
Do I need to pay taxes on my gambling winnings in Arizona?
Yes, you must pay tax on gambling winnings in Arizona. There are different rates for residents and non-residents. It's best to check with the cashier at the casino for the current tax rate.
Play at an Arizona Casino & Walk Away a Winner!
Since Arizona is one of the many US states without clear-cut laws for online gambling, your safest bets would be at free-to-play casino sites as well as sweepstakes casinos. Otherwise, the large number of land-based casinos would be the best places. Either way, you are sure to have an enjoyable time playing these casino classics!