It's one of the most beautiful states which boasts great plains that give way to rugged badlands near the Montana border. It has one of the smallest populations of any state, yet it hosts several tribal casinos. Players can enjoy live poker in a land-based casino, but there aren't any North Dakota online casinos for USA players.
Our North Dakota Online Casinos Reviews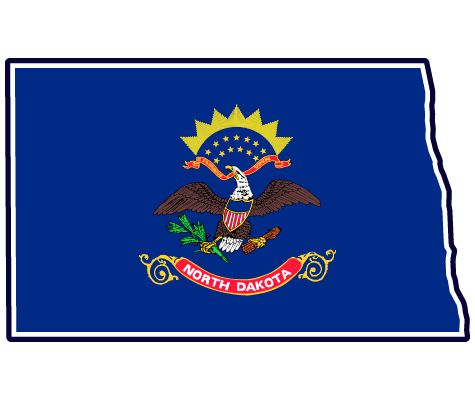 Online casino games aren't allowed in the state even though the area allows various betting and gambling options. We take an in-depth look into the legislation to determine: Is online gambling legal in North Dakota? It's one state that was late in adopting any type of gambling. There was a ban until 1976 when the first charitable events started. Fundraisers were permitted to hold limited gaming functions, but each one had to be individually licensed. Bingo was one of the more popular activities at these gatherings. In 1987, this trend grew, and the county became one of the largest charity-gambling states. These events predominantly raised money for good causes. Then 1992 saw the dramatic rise of casinos on Tribal Lands. The land-based operations attracted investment and offered slots and table games. Players can enjoy most games at the casinos, including poker, but casino games are still not permitted within the state lines.
Best North Dakota Online Casinos
CasinoTop10's Best Online Casinos in North Dakota will need to:
Be licensed to operate by the state Gaming Commission;
Offer a variety of online slots, online poker and other online casino games;
Be available on mobile devices for easy access.
The Legality Of Land-Based Casinos & Online Casinos In North Dakota
There aren't any state-owned casinos in the area, and the five local tribes run the six land-based establishments. The county is exploring the merits of introducing its own gambling ventures to boost revenue. Certain terms were agreed upon between the tribal gaming companies and the state. The most important is that casino game machines need to return a minimum of 80% and a maximum of 100%. If any of the games are likely to be affected by skill, such as video poker or blackjack, then the smallest percentage return must be 83%. All the land-based casinos in the state are open 24 hours and the gambling age in North Dakota for casinos is 21. Online casino games are not available, as they're considered games of chance and hence illegal. One form of lawful online gambling is daily fantasy sports. However, people looking to play online poker or blackjack for real money will need to cross the state border, so they don't find themselves on the wrong side of the law. Along similar lines, pari-mutuel horse betting is also allowed at the tracks and via sportsbook websites. Other gambling options include charitable gaming providers. These are different from the tribal casinos as they don't offer typical casino games. They provide events such as bingo, calcutta, paddle-wheels, pull-tabs, punchboards, and poker. The only form of online poker permitted is social gaming where no money exchanges hands and people play for fun. Charity poker events are only allowed to occur twice a year. These special card games come with some strict instructions that the participants aren't allowed to bet more than $25 in a single hand or event, and the house can't make a profit.
Land-Based Gambling In North Dakota Today
| | | | |
| --- | --- | --- | --- |
| Casino | County | Unique Features | Casino Games |
| Dakota Magic Casino Resort | Hankinson | Slots, Craps, Video Poker, Keno, Blackjack, Roulette, Poker | Over 1,000 slot and video poker machines, 18 table games |
| Spirit Lake Casino | Spirit Lake | Slots, Keno, Blackjack, Video Poker, Roulette, Craps, Mississippi Stud, Poker, Bingo | Over 700 slots and video poker games |
| Grand Treasure Casino | Trenton | Slots only | Over 250 multi-denomination slots |
| Prairie Knights Casino & Resort | Fort Yates | Three Card Poker, Ultimate Texas Hold 'em, slots, table games | 700 Reel and Video Slots |
| Sky Dancer Hotel & Casino | Belcourt | Slots, Roulette, Video Poker, Let It Ride, Blackjack, Let It Ride, Bingo, Off-Track Betting | 700 slots, 10 table games, 6 poker tables and a dedicated bingo hall |
Online Gambling Laws In North Dakota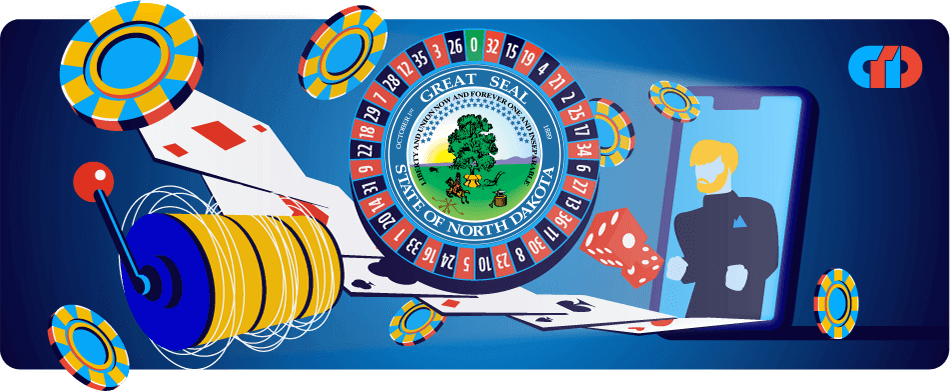 Online gambling in the state isn't strictly legal. The state considers unlicensed land-based gambling illegal, and the same rules could apply to illegitimate online websites. The legislation on this topic is a bit of a grey area, and the law focuses on those that run illegal websites rather than the players themselves. Since there is no clarity on whether people can gamble online, it's best to stay clear of internet casinos. Several premium tribal casinos offer most of the popular games if you're keen to place a bet. The establishments have games such as poker, slots, craps, roulette, blackjack, and keno. Not all hope is lost for the gamblers; it seems that by chance, daily fantasy sports have managed to become legal. The argument runs whether the game is one of skill or chance, as this is based on what is considered gambling. In 2016 it concluded when several states decided that it's more a game of skill. In effect, it made the activity legal, and a few operators now offer this to the citizens. It makes a person wonder about why online poker hasn't been allowed since that is one game that certainly requires more skill than chance. However, you can play at online social casinos that offer a wide range of games. This, especially since pari-mutuel horse wagering is legal for live betting and online. If betting on the ponies isn't taking a chance, then we don't know what is. Fortunately, the state authorities license and regulate the online sites that accept the horse racing bets.
What should I know about Online Casinos in North Dakota?
Online casino games are not permitted.
Social gaming is allowed as long as there is no exchange of money for bets or prizes.
Daily fantasy sports are legal and offered online by sportsbook providers.
The legislation to legalize online poker was brought before the senate in 2005 but did not make it to law.
You need to be 18 years old to play the lottery or charitable events, but to bet at a casino; you have to be 21.
Gambling Laws Governing Offshore Casinos & What It Means For North Dakota Players
The North Dakota Gambling Commission regulates over the land-based tribal casinos and the charitable operators. It doesn't govern any online casinos since they're technically illegal in the state. Players take a risk using operators that don't fall under the state's jurisdiction as they could be scam sites. Gamblers risk losing their money and are open to more serious incidents such as identity theft. Should anything happen there will be no protection from the consumer protection regulations for transgressors. Citizens of the state would be safer taking advantage of the many tribal casinos and charity-driven events.
Online Casino Games For North Dakota
There aren't any legal online casino games available except for social gaming. Social games are available on the internet or mobile casinos via an app. It includes many of the popular options such as blackjack, video poker, slots, and online roulette. The critical aspect of these activities is that it's free to play, and there are no prizes to be won. Ultimately to stay above board, the operator must not make any proceeds from the event. Some operators that run these games do at times, offer sweepstakes that could result in a cash jackpot. One other option for punters is to take advantage of the daily fantasy sports events. The county didn't pass legislation that outlawed the practice, and it's the only form of online betting for real money that is allowed by default. If you enjoy horse racing, you'll know that pari-mutuel horse betting is legal at simulcasting facilities, live tracks, and online.
Payment Options At North Dakota Online Casinos
There aren't any online casinos, so no payment options. If you traveled to another county where online casino games are allowed, you would have few choices for funding your account. The most common ones are Visa casinos, Mastercard casinos, PayPal casinos, and bank transfers. Some more modern operators also accept cryptocurrencies such as at Bitcoin casinos and Ethereum casinos. However, it's best to read the information on the casino review page to determine what methods are accepted.
North Dakota Online Casinos FAQs
Is online gambling legal in North Dakota?
No, these games are illegal in the state. If you are keen on some slots, you would need to travel to a different state and enjoy them. Alternatively, you can visit a tribal casino and play for real or try out online social gaming for fun without any risk.
Can I play at an online casino in North Dakota via mobile or tablet?
You can't access any online casinos via mobile devices, because online gambling is illegal. Other areas do allow internet gaming, so should you be traveling through a country where it's legal, you can use your devices to access the gambling websites.
What casino games can I play at North Dakota online casinos?
There are no online casino games permitted within the state borders, except for social games that don't require the player to bet money and that don't offer any prizes.
Is it possible to play online casino games with dollars?
If you're playing out of state, you should check the site's terms and conditions to see if the USD is an accepted currency. Since online casinos are illegal in the county, no currency should be used to play on the web.
Are the North Dakota online casinos on this site regulated?
Various gambling commissions regulate the sites listed here. To be sure of any online casinos' trustworthiness, you should check on the operator's website for its license details.
Am I eligible to receive an online casino bonus at a North Dakota Casino?
As there aren't any legit online operators in the state, you won't be able to play and qualify for a bonus. Across other states, many internet casinos offer welcome bonuses to new players. If you should register at a legit online provider out of state, you would likely be eligible for a signup promotion.
How do I start playing for real money at a North Dakota online casino?
You can't play for real money unless it's at a land-based tribal casino or charity run activity. If you enjoy sports, you can partake in daily fantasy sports as it is allowed in the state.
Which online casino payment options are popular in North Dakota?
If you're playing out of state at a legit online gambling website, you should check what options are made available by the specific casino.
Do I need to pay taxes on my gambling winnings in North Dakota?
North Dakota income tax is not required to be withheld from gambling winning in the state unless it's lottery winnings. It's different from the federal income tax where some types of gambling winnings could be taxed.
Follow the Law To Play At A Real Money North Dakota Casino & Walk Away With A Large Sum!
The above information has been collected to help gamblers understand whether online gambling is legal in North Dakota. In short, the answer is no, but several land-based casinos can offer just as much excitement and potential wins. We always advocate for safe gaming within the confines of the law.