As in many states in the Union, in Wisconsin, USA online casinos aren't discussed in the state legislature. Nevertheless, Wisconsin online gambling is mostly frowned upon, and gaming at a Wisconsin casino online is generally considered illegal. Gambling in Wisconsin is treated with a lot of conservatism. This is reflected by the gambling age in Wisconsin: 18 for bingo and 21 for casinos.
Our Online Casino Wisconsin Reviews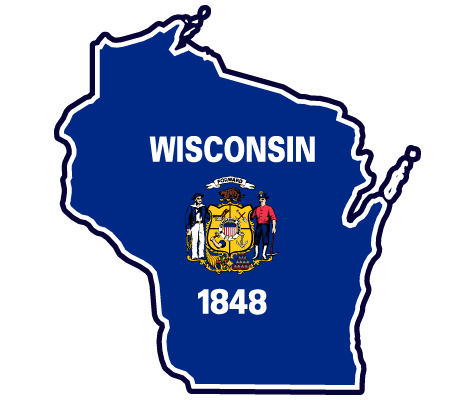 America's Dairyland has been slow to adopt changes regarding gambling laws. For the most part, Wisconsin shows a similarity to most of the other conservative states. Nevertheless, the odds have been slowly swinging in favor of gamblers here. Apart from the state lottery, social gambling and tribal casinos have been legalized. Movements are being made to legalize daily fantasy sports and sports betting.
Best Wisconsin Online Casinos
The Legality Of Land-Based Casinos & Online Casinos In Wisconsin
As with most American states, gambling in Wisconsin has taken quite some time to build to a climax. In truth, the peak has not yet arrived. America's Dairyland has shown a very conservative approach to gambling in general. Although racing horses and greyhounds have always been legal, a state law made wagering on races illegal till 1987. However, even though gambling in Wisconsin has now legalized wagering on racing, there are currently no races. The Wisconsin lottery has been operational since 1988 and allows residents to bet on several different lottery types.
Further gambling options exist in the form of social gambling. The state regulates all bingo and online bingo activity and is considered a legal form of social gaming. Other social or house gambling types include free online casinos that have no real money involvement. Facebook-related slots and other internet slot machines that don't require playing for real money are also legal. However, the main form of legal gambling in the state of Wisconsin takes place on Indian reservations. According to the Indian Gaming Regulatory Act enacted on October 17, 1988, all federally recognized Indian tribes can negotiate with their States about gaming licenses. All 22 of the land-based casinos in the state of Wisconsin are on Indian reserves. Eleven different tribes are responsible for running the 22 gambling operations.
Land-Based Gambling In Wisconsin Today
| | | | |
| --- | --- | --- | --- |
| Casino | Location | Unique Features | Casino Games |
| Potawatomi Bingo Casino | Milwaukee | Seven dining options; player's club; bingo; off-track betting; poker; slot machines; hotel; live entertainment | ±3300 games |
| Menominee Casino Resort | Keshena | Cafe; restaurant with mini casino; slot machines; a lounge; player's club; bingo; table games; busses | ±722 games |
| Potawatomi Carter Casino Hotel | Wabeno | Live entertainment; bingo; slot machines; table games; hotel; sports bar; restaurant | ±537 games |
| Ho-Chunk Casino & Hotel | Baraboo | Table games; slot machines; bingo; off-track betting; RV park; concierge; hotel; rewards club | ±1600 games |
| Majestic Pines Casino | Black River Falls | Live entertainment; rewards club; slot machines; table games; hotel; bistro; buffet; bar | ±650 games |
Wisconsin Online Gambling Laws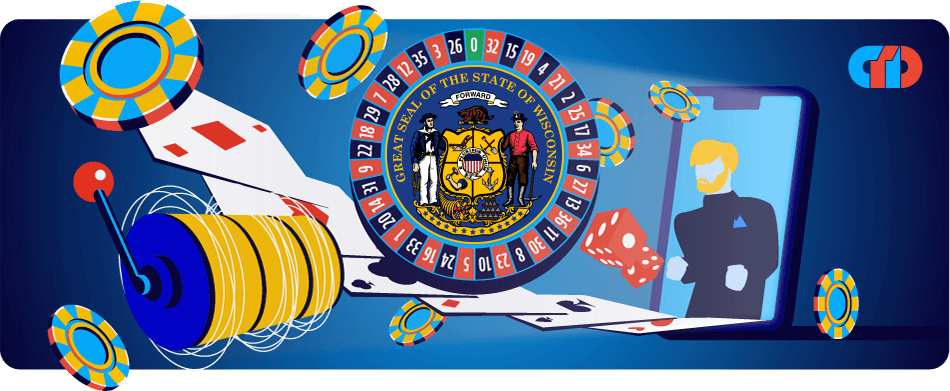 The state legislation doesn't discuss internet gambling. However, the law states that it is illegal for any online casino to operate within state boundaries. It is legal to participate in web-based social gaming, such as free slots, with no real money involvement. Many state government parties are currently working towards legalizing online gambling for real money, but it is still considered an illegal activity for the moment.
What Should I Know About Online Casinos in Wisconsin?
The legal gambling age in Wisconsin is 18 for bingo and 21 for casinos.
Gambling on the internet is considered illegal except in social gaming, where no real money is involved.
America's Dairyland has been slowly legalizing various gambling forms over the years, but it is a very long-winded process. Legal gambling types include social gambling, bingo, and tribal casinos.
Gambling Laws Governing Offshore Casinos & What It Means For Wisconsin Players
As vague as the laws are about Wisconsin online gambling, they are also about offshore gambling. Nevertheless, there are some clear segments of the legislation that can lend clarity to offshore gambling. For example, no online casino is allowed to run from within the state of Wisconsin. Gambling at an unauthorized operator is considered illegal. Additionally, it is not legal to play for real money at any casinos other than those cleared by the government. Putting all three of these rules together gives you the idea that offshore gambling would be illegal. To be clear, even if offshore gambling is a bit of a legal grey area, we do not, by any means, encourage or support gaming offshore in America's Dairyland. Stay safe, and make sure that you stay on the right side of the law. If you feel the need to gamble online, stick to free games that don't involve real money until Wisconsin online gambling is officially legalized.
Online Casino Games For Wisconsin
Unfortunately, there is no Wisconsin casino online for us to tell you about. However, when Wisconsin online gambling does eventually get legalized, many of the beloved and standard games will be offered. Slot machines are one of the most popular types of casino games, and most online casinos offer hundreds, if not thousands of variants. Live casino games have also gained popularity in recent years. Real dealer poker, roulette, bingo, blackjack, etc. are prevalent at many different gaming operators worldwide. Video poker is another favorite at many casinos, as are games like keno and even scratch cards.
Payment Options At Wisconsin Online Casinos
Unfortunately, Wisconsin gambling laws do not allow for online gambling within this state. Therefore, trying to tell you which payment options would be accessible might be a bit of a drag. However, we will tell you that, if the laws ever change, we expect the following. Firstly, most gamblers will try to use the payment method that they would use at physical casinos that have already been visiting. Most gamers are creatures of comfort and prefer to stick to payment methods that they already know well. Secondly, we expect that Wisconsin online casinos will reflect the popular payment methods already used at other USA Casino operators . The most popular payment methods as online casinos vary from person to person, but there are a few basic types. Because of their extreme portability and ease of use, e-wallets are a prevalent payment method at many online casinos. Some of the most used e-wallets like at PayPal casinos, Skrill casinos, and Neteller casinos. Most e-wallets charge a minimal fee if any, and transactions are usually instantaneous.
Due to the safety behind their process, prepaid cards have also become quite a standard payment method. When using a prepaid card, one only uploads the amount that one wants to gamble with no more and no less. Without your pin code, no one can use the money that is already on your prepaid card. Additionally, if someone does manage to hack your prepaid card, they'll only have access to the limited funds that you have already uploaded. Credit cards and debit cards are ever-popular payment options since they have been around for quite some time, and many people are comfortable with them. Typically, transactions with these types of cards also don't take long to reflect on the operator's system. Some operators will accept payment by mail, cryptocurrency has gained some ground as far as online casinos are concerned, and wire transfers are occasionally used.
Wisconsin Online Casinos FAQs
Is online gambling legal in Wisconsin?
There is no reference to online gambling in the framework of the law. Nevertheless, it's considered illegal to gamble online.
Can I play at an online casino in Wisconsin via mobile or tablet?
If Wisconsin online casinos were legal, there would be opportunities to gamble via mobile casinos. However, since the legislature doesn't make room for gambling online, you can't enjoy mobile betting in this state.
What casino games can I play at Wisconsin Online Casinos?
Because gambling laws here do not favor online gambling, you cannot play any casino games online for real money. However, there is a form of gambling that is legal, known as social gambling. This allows you to play various slot games online for free. If online gambling, in general, were to become legalized in this state, we expect that you would be able to play all kinds of online casino games.
Is it possible to play online casino games with dollars?
Were online gambling legal here, you would indubitably be able to play with dollars. After all, it doesn't pay for a casino operator North to offer the people's currency that it is targeting. However, at this stage, internet casinos are yet a dream for the future.
Are the Wisconsin Online Casinos on this site regulated?
Were there any internet casinos to list, we would ensure that every casino on our website was fully regulated. However, since Wisconsin gambling laws prohibit online casino activity in Wisconsin, there are none for us to list.
Am I eligible to receive an online casino bonus at a Wisconsin casino?
If Wisconsin legalizes online casinos, you can be sure that the state's operators will offer new members online casino bonuses. Bonuses are an essential gimmick for attracting new customers, and even casino operators in America's Dairyland are unlikely to pass over such a golden opportunity.
How Do I Start Playing for Real Money at a Wisconsin Online Casino?
In the most straightforward format, the answer to this question is 'you don't.' Until Wisconsin gambling laws are changed to accommodate online gambling, we recommend staying away from any online casino that offers gaming privileges to Wisconsin residents.
Which online casino payment options are popular in Wisconsin?
Since online casinos in Wisconsin are illegal, we would be hard-pressed to tell you which payment methods are most popular at online casinos. Nevertheless, when the legislation eventually reflects the people's desire to gamble online, we expect that all primary payment methods will become quite popular. These include credit cards, debit cards, prepaid cards, e-wallets like Skrill and PayPal, bank transfers, and even cryptocurrency.
Do I need to pay taxes on my gambling winnings in Wisconsin?
According to Wisconsin gambling laws, all winnings are fully taxable. There is a 24% federal withholding on all lottery winnings over $5,000. All winners can also pay up to 14% of winnings in additional taxes. The taxable amount depends on your tax bracket and other variables. Failure to pay taxes on winnings is considered a federal offense.
Play At A Real Money Wisconsin Casino & Walk Away With A Large Sum!
Wisconsin gambling laws are not the most progressive in the Union. Online casinos in Wisconsin are illegal. Even though online gambling in Wisconsin is not discussed in detail in their legislation, the conclusion is rather apparent that this is illegal as a whole. We hope that this article has been useful to you and remember to stay on the right side of the law when you are gambling in Wisconsin.