As home to the largest Mormon territory in the US, the Beehive State is exceptionally conservative. Its gambling laws reflect these sentiments, too, with stringent prohibitions that even disallow land-based Utah casinos. It's just one of two states that outlaw this type of entertainment in various forms, including USA online casinos.
Our Utah Online Casino Reviews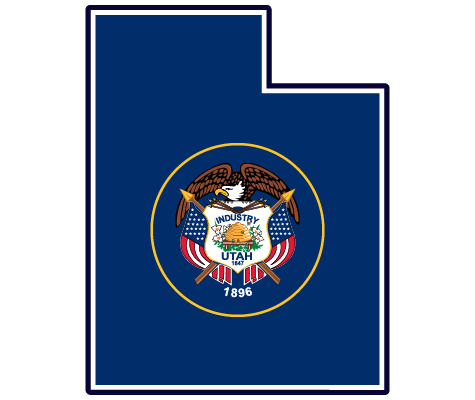 From sports betting to the lottery, local legislation restricts games of chance or skill defined as gambling. Utah online casinos are also, therefore, illegal. This state has arguably the harshest laws in the U.S. when it comes to gambling. Apart from the obvious absence of any Utah casinos, pari-mutuel and sports wagering, raffles, and even bingo are technically outlawed. The state is also one of five others that declined to establish a lottery. Lawmakers also passed a Bill in 2012 that expressly prohibits online gambling in Utah. While some regions with a similar stance allow tribally-owned casinos, the same cannot be said for the Beehive State. Despite being home to eight federally recognized Indian tribes, legislators refused to sign any compacts in terms of the Indian Gaming Regulatory Act, passed in 1988. If you are a Utah resident or just visiting and would like to play at online casinos, please read on. As always, we urge users to play securely and comply with the state or country's relevant laws.
Best Utah Online Casinos
The Legality Of Land-Based Casinos & Online Casinos in Utah
Unlike its more lenient counterparts, this state does not allow any form of wagering within its borders, including tribal establishments. Furthermore, it is illegal to gamble online in Utah, and players caught doing so can expect the law's full wrath. Interestingly, the regulations do not differentiate between games of chance and skill-based games. Both kinds are expressly illegal. The Beehive State's Legislature makes it abundantly clear that online casinos and betting sites are prohibited. Whether it is poker, online blackjack, online roulette, slots, or sweepstakes, you are not permitted to play these games on the internet. Still, with the lack of any Utah casinos, locals often hold social games or parties. However, even these activities are strictly regulated, and a person caught gambling illegally can face dire consequences. It is crucial to understand a few basics to stay on the right side of the law. For starters, gambling is governed under Section 76 of the Utah Code, and the legal definition is as follows:
"risking anything of value for a return or risking anything of value upon the outcome of a contest, game, gaming scheme, or gaming device when the return or outcome […] is based on an element of chance."
As a conservative nation unto its own, the Beehive State takes illegal gambling exceptionally seriously. Contravening the law can result in a Class B demeanor unless a person has two previous convictions, in which case it becomes a Class A demeanor. Not only do these carry jail time, but also significant fines of up to $2,500 and possible felony charges. However, with so many gambling variations, it can be tricky to comprehend the full extent of the legislation. That is why we have compiled a quick breakdown below.
Utah casinos have been outlawed since 1895 when all gambling was declared illegal. However, even before that, early Mormon settlers had already established their stance on the matter. Unfortunately for players, not much has changed since then. That said, many Utah locals take a drive across the border to West Wendover in Nevada. The small town is home to five land-based establishments where all casino games are available, such as poker, baccarat, roulette, blackjack, slots, and more.
Due to the stringent regulations, you won't find Utah online casinos and offshore betting sites outlawed. 2012 saw a complete ban on internet gambling, with its own dedicated Bill, signed into law. Utahn legislators even went as far as to specifically exclude the state from any federal legalizations of online gambling.
More recently, in March 2020, yet another Bill was promulgated – this time, to stamp out the problem of "fringe betting." While Utahn online gambling machines might be non-existent, their physical counterparts have shown up repeatedly in shops, bars, and other locations, much to the Utahn Government's dismay. Previously, the owners of such equipment exploited loopholes in the legislation. However, the new law effectively criminalizes these gambling machines.
Because it falls under the definition of "gambling," all manner of sportsbooks and associated activities are illegal. This includes virtual and real-time horse and greyhound race betting. For a brief moment in the history of the Beehive State permitted one kind of wagering. In 1925, the Utahn Government lifted the ban on pari-mutuel betting. However, after a public outcry, the ban was reinstated just two years later, It was the first and last time the state attempted to legalize any wagering activities.
Utah is one of five states in America that do not participate in the Multi-State Lottery, nor does it have its local version. All lotteries, regardless of whether they are for charitable causes, remain prohibited. This includes any kind of raffles, sweepstakes, and scratch cards because they are all risk-taking games of chance.
Daily Fantasy Sports is the only activity not explicitly mentioned in any of the Utah Codes. However, following the same logic as the previous point, it is still considered as gambling. While many sites encourage Utahn users to play DFS for this reason, we strongly advise against it.
Bingo, while technically outlawed, still enjoys some popularity, albeit under strict conditions. If it does not contain a risk factor or a potential reward, playing Bingo for fun is perfectly legal. Nonetheless, it is best to exercise caution, even in this case.
Land-Based Gambling In Utah Today
Unfortunately, there are no land-based Utah casinos. As the state with the most severe limitations in betting and gaming, it does not offer much for gambling enthusiasts. However, popular alternatives include Nevada and Idaho, where players can enjoy their favorite gambling pastimes within the law's ambit.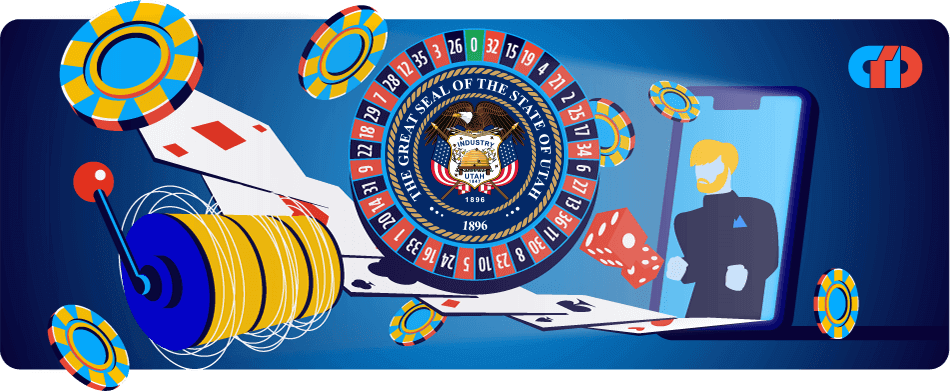 Online Gambling Laws In Utah
If its legislation was not already all-encompassing, in 2012, the Utah Governor signed the Bill outlawing, and in fact, criminalizing online gambling. Before that, it was more of a gray area with no specific mention of internet misdemeanors. Today, Utahn Law is particular, making it increasingly difficult for people to exploit any loopholes. However, some believe that failing to mention Daily Fantasy Sports in the legislation automatically renders it a legal online activity. This is not true, though. One needs only to look at these laws' definitions to see that they include DFS because skill-based games are still considered gambling.
What Should I Know About Online Casinos in Utah?
The Utahn Government passed a Bill in 2012 to specifically outlaw online gambling, which includes digital sales or purchase of any lottery, sweepstakes, raffles, or similar kinds of tickets.
Under Utahn law, all forms of online casinos and gambling are illegal. This encompasses everything, including games of chance like roulette and slots, to skill-based varieties such as poker, Daily Fantasy Sports, etc.
In addition to the above, pari-mutuel and sports betting online are also deemed illegal. Similarly, even charitable gambling is not allowed – both online and offline.
In 2020, Utahn legislators brought out yet another Bill to prevent "fringe gambling." Simultaneously, the definitions of Section 76, which broadly governs gambling in the state, were updated to include any online or physical gambling or gaming devices.
The above was a part of the Government's effort to stamp out machines that previously circumvented the laws with specific game mechanics.
Gambling Laws Governing Offshore Casinos & What It Means For Utah Players
Unfortunately, players in this state have minimal options when it comes to gambling. Utah online casinos, sportsbooks, and Daily Fantasy Sports are not permitted at all. While offshore casinos might welcome Utahn users with open arms, gambling online is classified as a misdemeanor in the Beehive state. Moreover, you should always question the legitimacy of any site that ignores state legislation. It is best to steer clear of offshore sites altogether to prevent a potential criminal record and risking your funds.
Online Casino Games For Utah
As one of two states in the entire country that prohibits all gambling forms, you will not find any online casino games to play in Utah. Online poker, blackjack, roulette, baccarat, slots, scratch cards, and all other games usually found at an online casino are expressly banned in this state.
Payment Options At Utah Online Casinos
Similarly, payment options simply do not exist because Utah online casinos are outlawed. Players accustomed to using credit cards, checks, e-wallets, or mobile banking can do so in a state where it is legal.
Utah Online Casinos FAQs
Is online gambling legal in Utah?
No. Utah lawmakers passed a Bill in 2012 that expressly prohibits all forms of online gambling in Utah.
Can I play at an online casino in Utah via mobile or tablet?
No, as online gambling is illegal in Utah.
What casino games can I play at Utah online casinos?
Unfortunately, you cannot play any casino games online or offline when you are inside Utah's borders.
Is it possible to play online casino games with dollars?
No. While it is generally possible in states that allow online casinos, in Utah, you cannot play any games with dollars or anything of value.
Are the Utah online casinos on this site regulated?
All online casinos featured on our site are licensed and regulated, which means that they are safe to use and have stringent security measures.
Am I eligible to receive an online casino bonus at a Utah Casino?
No, in Utah, you cannot receive an online casino bonus as the law currently prohibits online gambling.
How do I start playing for real money at a Utah online casino?
Unfortunately, it is against the laws of Utah to play casino games for real money. Utahn residents or visitors must be in a state that allows this to gamble with genuine currency.
Which online casino payment options are popular in Utah?
None, as online casinos are illegal in the state of Utah.
Do I need to pay taxes on my gambling winnings in Utah?
No, as Utahn law makes no provision for any kind of online or offline gambling.
Follow the Law and Refrain from Playing at Utah Online Casinos
Utahn laws are among the harshest and all-encompassing when it comes to gambling. Not only are land-based casinos outlawed, but online gambling is also prohibited. Pari-mutuel wagering, lotteries, sports betting, sweepstakes, bingo, and even charitable raffles are equally outlawed. If you are looking to play for real money either online or elsewhere, it is best to visit a gambling-friendly state.