The Cornhusker state used to be a gambling hotspot, going as far back as the 1800s. Since then, laws have been introduced to control and regulate land-based gambling in Nebraska (NE) casinos. Unfortunately, many of Nebraska's gambling laws – or lack thereof – have left online bettors feeling confused and unsure of what they can and can't do. Despite offshore gambling sites that permit Nebraskans to join, we encourage players to err on the side of caution and avoid these USA online casinos.
Our Nebraska Online Casino Reviews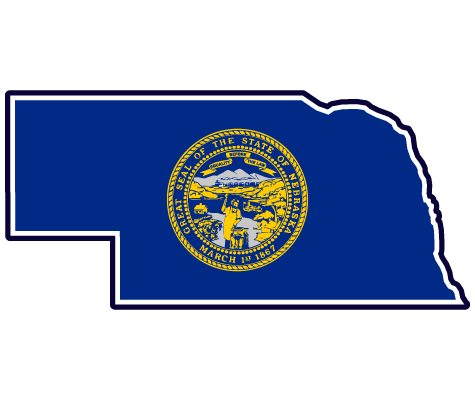 At the time of writing this article, Nebraska only allows for certain types of gambling. Most online slots and table games aren't approved, not even at tribal-owned land-based casinos. Other games, such as bingo, a select range of slots, keno, and scratch cards are permitted, but only from operators approved by the Nebraska Gaming Commission. There's also a state lottery.
Since there are no laws explicitly mentioning or regulating online gambling in Nebraska, it's still a topic of confusion for many. At best, it's a grey area; at worst, it's illegal by extension of the current gambling laws.
If nothing else, players can enjoy online social casinos, but there are little to no real money online casinos available to Nebraskans. If you live in Nebraska, or if you're visiting and would like to gamble for real money at any Nebraska online casinos, please continue reading this article. We always urge all our readers to gamble responsibly and obey the state or country laws in which they reside.
Best Nebraska Online Casinos
CasinoTop10's Best Nebraska Online Casinos would need to:
Be licensed and operate legally within the state's laws;
Provide exciting and rewarding bonuses and rewards;
Use secure encryption to process payments.
The Legality of Land-Based Casinos & Online Casinos in Nebraska
As in many other American states, most online gambling forms – and gambling in general – is illegal in Nebraska. The only permitted gambling can take place at state-approved casinos. Some types of betting are allowed, such as on horse racing, while others, such as daily fantasy sports, operate in a grey area. We'll take a closer look at different games allowed and betting options below. Keep in mind that gambling law in Nebraska is stringent. Even though there are no laws specifically pertaining to online gambling, the law states that gambling or betting activity via an electronic device or PC is still illegal. Always make sure that you're operating within the state's laws before joining any gambling activity.
Due to the Indian Gaming Regulatory Act approved in 1988, native tribes have the legally recognized right to operate casinos on their lands. At the time of this writing, five casinos are owned and operated by the tribes in Nebraska. These casinos only have class II licenses. As a result, they can't offer anything beyond bingo and a few limited slots and gaming machines. However, Rosebud casino does have two poker tables available, offering a limited type of Hold'em. No other casinos have been approved in the state.
Horse racing and betting was legalized in 1934, within certain limits. For example, pari-mutuel betting is allowed, but off-track betting is still illegal. That means that punters can't wager on any races if they don't make these bets at the track and in person. Despite its legal status, there's little to wager on. There are only six racing tracks, and annual events are limited to a few days a year.
Some forms of gambling have been legalized, primarily in a charity context. Charity bingo was approved in 1958, and keno was legalized in 1985. However, due to several issues as recently as 2016, keno has a very dubious reputation in the state. Some counties and cities have refused to allow the activity within their borders.
Social online casinos are legal in Nebraska, and it's the only alternative option available to Nebraskan gamblers. However, these casinos are legal only because they don't allow play for real money.
The first bill to legalize Fantasy Sports Betting was submitted to the state in 2017. Unfortunately, at the time of writing this article, it was still neither approved nor denied. There seems to be support for both sides of the argument, which has resulted in a stalemate. Consequently, it's left the legality of DFS betting in limbo, with many players still participating in this form of gambling. Nebraska's neighboring state, Iowa, has already legalized both sports and DFS betting. As a result, punters may cross state lines to enjoy betting on fantasy leagues.
The state lottery was approved in 1992, with popular games like Powerball and Mega Millions offered. Unfortunately, you can't purchase any tickets online. If you want to participate in the state lottery, you need to buy a ticket from an approved land-based retailer.
There seems to be a general resistance to online and general gambling within the state. Despite occasional bill proposals in favor of legalizing online gambling, none have gained any traction. However, this may change due to a recent legislative push to approve online gambling in the state.
Land-Based Gambling in Nebraska Today
| | | | |
| --- | --- | --- | --- |
| Casino | County | Unique Features | Casino Games |
| Rosebud Casino | Valentine | Poker | 250 Slots, 2 Poker Tables |
| Iron Horse Bar & Casino | Emerson | Restaurants | 87 Slots |
| Ohiya Casino & Resort | Niobrara | Bingo and Slots | 100 Seat Bingo, 410 Gaming Machines |
| Native Star Casino | Winnebago | Slots | 88 Gaming Machines |
| Lucky 77 Casino | Walthill | Bingo | 60 Bingo Games |
Nebraska Online Gambling Laws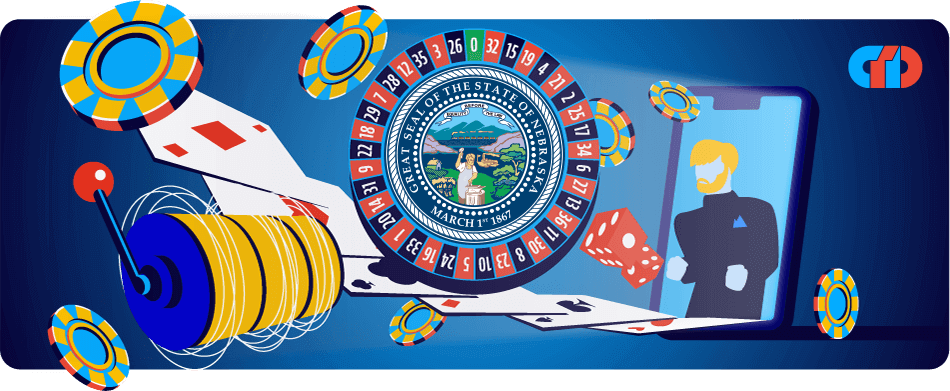 There are no specific laws against online gambling in Nebraska, but the legislation regulating other forms of chance games are incredibly stringent. Because of that, the legality of online casinos and betting is still somewhat of a grey area. Despite the state's strict laws that govern online gambling in Nebraska, certain forms of betting are permitted. For example, players can participate in Daily Fantasy Sports wagering, although these sites operate in a legally grey area. A bill was introduced in 2017 but has yet to be approved or denied. On the other hand, general sportsbooks are still entirely illegal, despite many states legalizing this form of betting. Skill-based games are permitted, as are bingo and keno. Again, these are only legal if they operate within state laws. There hasn't been a massive push for the legalization of online gambling in Nebraska. There has been proposed legislation to classify poker as a game of skill rather than gambling. That aside, there's been little other indication that gambling law in Nebraska will change any time soon.
What should I know about Nebraska Online Casinos?
Although there are no specific Nebraska online gambling laws, they have stringent overall laws that govern betting. For brick-and-mortar establishments, bingo, keno, and raffle games are allowed, along with some bingo-type slots. Horse race betting is also legal.
Some online gambling practices are permitted, such as social casinos, while DFS betting sites operate in a legally grey area. While poker, most table games, and slots aren't allowed, some skill games are legal.
The legal age for playing bingo is 18, 19 for the lottery, and 21 for playing at casinos.
While some offshore casinos may accept players from Nebraska, we advise against it. Not only is it possibly illegal, but you also have no access to a regulatory body that can mediate any issues you might have.
Gambling Laws Governing Offshore Casinos & What It Means for Nebraska Players
According to Nebraska gambling laws, any device, including mechanical gaming devices, computers, video gaming devices, etc., used to gamble, are illegal. Although it doesn't explicitly state that gambling online or offshore is illegal, using any device to earn real money via chance games, is. That could be interpreted to say that any gambling at any online casino outside of the state is illegal. As you search for Nebraska online casinos, you might come across reviews and websites that suggest playing at sites registered in other locations. For example, there are several legal casinos in New Jersey, where the state laws allow for online gambling in various forms. Keep in mind that these casinos and betting sites will often use geolocation software to prevent players in other states from registering. Even if you found a way around this hurdle, we don't suggest that you take this chance. In addition, wagering real money at casinos outside of the state means that you're putting yourself at risk as the state can't protect you or your rights.
Online Casino Games for Nebraska
Nebraska has stringent gambling laws that govern land-based casinos. Most table games and slots aren't permitted, even in the tribal-owned casinos currently open in the state. In fact, these casinos generally get a class II license, which only allows games like bingo, bingo-type slots, and some gaming machines. Only one of these casinos currently has poker tables available. Even though there are no specific laws that regulate Nebraska online gambling, it's generally considered illegal under the existing regulations. That said, there are some legal forms of gambling that Nebraskans can engage in. These include:
Social gambling sites, which include a selection of table and slot games. However, these games don't accept or pay out real money.
Horse race betting. There are several racetracks in Nebraska, including Fonner Park in Grand Island.
Keno, pull tabs, pickle cards, Powerball, and punchboards are all allowed, as well as charitable gaming.
Bingo and bingo-type slots at tribal-owned land-based casinos, of which there are currently only four in Nebraska.
Daily Fantasy Sports betting sites are available and operate in Nebraska. While they aren't illegal, the bill introduced in 2017 has neither been approved nor denied as yet.
Payment Options at Nebraska Online Casinos
Since online betting and gambling isn't legal in Nebraska, it's difficult to say which payment options are popular amongst Nebraskans. Most online casinos will accept popular cards and eWallets. However, if you're gambling outside of the state, you'll need to check the operator's payment options by having a look at our casino reviews and see if there are any that you prefer.
Nebraska Online Casinos FAQs
Is online gambling legal in Nebraska?
No. Although there are no specific laws that govern online gambling, the state has exceptionally strict rules about gambling overall. As a result, even land-based casinos can only offer a limited variety of games under a class II license, issued by the Nebraska Gaming Commission. That said, you can access social gambling sites which don't accept real money.
Can I play at an online casino in Nebraska via mobile or tablet?
No. While you'll likely be able to access some applications for offshore betting sites, we don't recommend using these applications to play. Since these casinos are not run or regulated with the state, there's no way to protect yourself or get your money back if there are any issues.
What casino games can I play at Nebraska online casinos?
Since most casino games are illegal in Nebraska, there's no way to play them online legally. That said, you can access Daily Fantasy Sports betting sites, which technically aren't illegal, as well as social gambling websites.
Is it possible to play online casino games with dollars?
If you're playing in a state that legalized online gambling, such as at New Jersey or Pennsylvania casinos, you can gamble with dollars. Unfortunately, there are no such casinos within Nebraska. If you're outside of the state and gambling online, you'll need to check which currencies the website accepts.
Are the Nebraska online casinos on this site regulated?
Any casinos recommended on our site are safe to use, legal, regulated, and have taken the required steps to keep you and your money safe. If we recommend a casino, you can rest assured that it lists amongst the most reliable online gambling sites.
Am I eligible to receive an online casino bonus at a Nebraska Casino?
Since online gambling isn't legalized in Nebraska, the most straightforward answer is no. However, if you're gambling out of state, you'll need to read our casino reviews and the betting site's terms and conditions before you join.
How do I start playing for real money at a Nebraska online casino?
Since Nebraska gambling laws don't permit online betting, you can't gamble for real money at online casinos. However, you can go to land-based casinos, where they offer games like bingo, keno, and raffles. The state does allow for charitable gaming, and it does have a lottery. You can also bet on horses or Fantasy Sports. Unfortunately, those are currently the only options available to Nebraskans.
Which online casino payment options are popular in Nebraska?
Since there are no legitimate online casinos in the state, it's hard to say which payment methods are popular. In general, frequently used methods include eWallets and credit cards.
Do I need to pay taxes on my gambling winnings in Nebraska?
According to the Nebraska state website, any winnings from gambling counts as part of your federal gross income. You should include it on your tax return. Depending on where you won the money (land-based or online and out of state), you may need to submit additional tax returns.
Does Nebraska have any casinos?
Nebraska has five land-based casinos, all on reservations. However, due to the strict laws regulating gambling in Nebraska, most of these casinos only hold a class II license. That means that the only games they can offer include bingo and a minimal range of slot-type games.
What is the most legit Nebraska online casino?
There are no legit online casinos in the state. The closest you'll be able to get are social sites. If you're looking for daily fantasy sports, make sure that they are licensed to operate and provide encryption services.
Follow the Law When Playing at Available Nebraska Casinos
We hope that we've managed to answer any questions you might have had about Nebraska online casinos, as well as Nebraska gambling laws. Remember to always play safe, gamble responsibly, and obey the laws of your state.