Many states in the United States have a somewhat fluid interpretation of whether or not USA online gambling is legal. By fluid, of course, we mean unclear and indecisive. Missouri gambling laws are no different, and Missouri online casinos are a grey area in state legislation. Nevertheless, we would not recommend online gambling in Missouri.
Our Missouri Online Casinos Reviews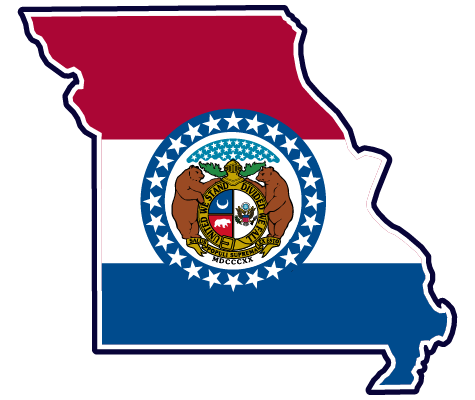 Surprisingly enough, Missouri was one of the first states to legalize commercial gambling in the United States. In addition to the legal tribal casinos on reservation land, it is legal for casinos to operate on riverboats and barges within this state. Strangely, the legislation is written so that it is legal to use artificial moats or artificially created bodies of water to establish a casino on. As you can imagine, this law has resulted in some exciting casinos. Nevertheless, the Show-Me state is not one of the leaders of the pack. For the most part, legislation here is slow to change and unwieldy. Can you expect online gambling to become officially legalized in the immediate future? The chances are slim but, with the dire straits that the state is in economically, who knows what changes might occur?
Best Missouri Online Casinos
The Legality Of Land-Based Casinos & Online Casinos In Missouri
For the most part, the term 'land-based casino' is not appropriate in the Show-Me state simply because most of the casinos are not land-based but floating casinos instead. Nevertheless, there are quite a few legal land-based gambling activities. For one, horse racing and pari-mutuel betting are both permitted. However, the state does not have any horse racing tracks, nor does it offer digital or virtual horse racing at any of the casinos. Daily fantasy sports are also legal within the state, and Missouri was one of the first states to legalize DFS. The lottery was legalized here in 1986 and has been a popular pastime ever since. It is commonly referred to as the Molottery, and several different games are regularly offered, including scratch cards and power ball games. In 2019, a petition was brought before the high court of this state to legalize sports betting. The request to amend the legislature was unlikely to succeed but predicts further attempts in the future.
Land-Based Gambling In Missouri Today
| | | | |
| --- | --- | --- | --- |
| Casino | County | Unique Features | Casino Games |
| Isle of Capri | Boonville | One Club; the Brew Brothers; Casino Credit; Table games; Slot machines; | ±920 games |
| River City Casino & Hotel | St. Louis | Slot machines; table games; baccarat; Casino credit; MyChoice promotions; free online slot machines | ±1900 games |
| Mark Twain Casino | La Grange | Slot machines; video poker; table games; Smokehouse | ±613 |
| Lumiere Place | St. Louis | Trop Advantage Players Club; High limit tables; poker; slot machines; game day shuttles; motorcoaches | ±1375 |
| Hollywood Casino & Hotel | Maryland Heights | Asian gaming; Slot machines; table games; poker room | ±2170 |
Online Gambling Laws In Missouri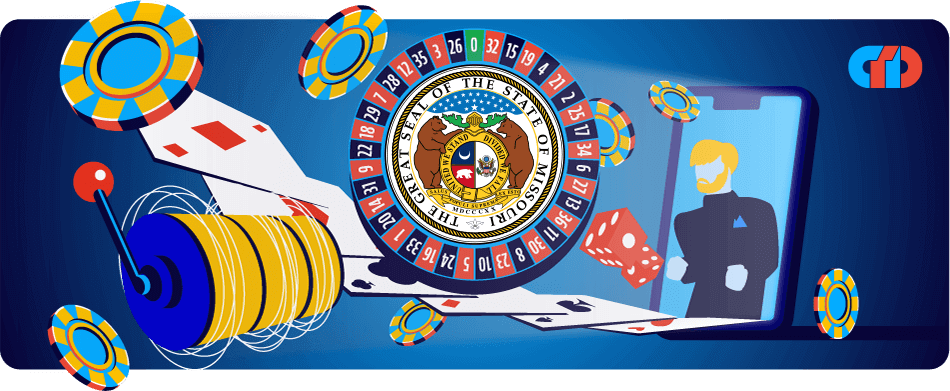 The gambling laws in Missouri regarding online gambling are a bit of a grey area. Nevertheless, gambling at a non-registered institution or one that has not officially been declared a legal gambling operator is considered a misdemeanor. Nevertheless, the Show-Me state was one of the first states in the Union to legalize daily fantasy sports betting. They consider this game a game of skill and therefore authorized it early on. Generally, however, this state has quite a reserved approach to gambling, and the Missouri gambling laws reflect this stern outlook. For instance, it is entirely legal for an online gambling operation to be run within the state boundaries. If you are found using an online casino based in Missouri, it will be considered a misdemeanor.
What Should I Know About Online Casinos in Missouri?
The legal gambling age in this state is 21.
Missouri online casinos have not been legalized. Gambling online well within the state is likely to be considered a misdemeanor.
Missouri gambling laws are stringent and are intensely governed.
Over the years, Missouri has slowly been opening up to more and new types of gambling. These include daily fantasy sports, the state lottery, horse racing, and floating casinos.
Gambling Laws Governing Offshore Casinos & What It Means For Missouri Players
The Missouri gambling laws regarding offshore casinos are vague and somewhat confusing. When you are gambling in Missouri is it illegal to bet with an online casino based within the state, that much is remarkably clear. Another remarkably obvious thing is that any form of gambling that isn't officially legalized is considered illegal and a misdemeanor. Since online casinos in Missouri are illegal, and it is unlawful to use any gambling operators that have not been officially legalized, it is a safe bet that gambling offshore would be considered illegal. We would recommend staying away from online casinos in general until such a time that the government legalizes online gambling. That's not to say that gambling operators outside the state would not accept you. Don't be too surprised if you see advertisements sporting online casinos for gambling in Missouri. When it comes to legal matters, the emphasis lies on the gambler and not the casino to ensure that every person who gambles there is gaming legally. Were you to get caught gambling illegally at an online casino; the operator would immediately freeze your accounts. You would lose any winnings, deposits, or other funds, and the operator would get to keep them. On the other hand, the operator would face little to no legal action due to your gambling there. Another thing that would easily dissuade you from using the legal grey area to gamble online, concerns withdrawals. You'll often be able to sign up with an operator, bet, win, and make deposits. However, when the time comes to withdraw your winnings, you may find that you can't do so, and all your funds will be forfeited.
Online Casino Games For Missouri
Missouri gambling laws do not make room for the use of online casinos. Gambling online, albeit a grey area, is frowned upon and classified as a misdemeanor. However, that's not to say that you cannot gamble online at all. Daily fantasy sports are considered a game of skill in this state. The Missouri gaming commission offers a list of recognized operators through which you can bet. Many expect that in the future (perhaps not the immediate future but the future nonetheless), the state legislature will be adapted to make way for online gambling. When this occurs, it'll probably be through online casinos linked to the state's existing physical casinos. This would be similar to what is being done with New Jersey casinos and Pennsylvania casinos among a few other US states. We expect to see quite a few different varieties of games when this eventuality comes about. For one, we expect a significant increase in the types of sport betting on offer. We also expect to see many digital online slots, live casino games, live table games, video poker, and other similar gaming options. In the meantime, Missouri players wishing to play online can play at social casinos where no real money is wagered on popular casino games.
Payment Options At Missouri Online Casinos
When Missouri online casinos are finally legalized, we expect to see many of the same payment options available at any other online casino in the USA. E-wallets like PayPal and Skrill are popular payment options. Debit and credit cards have never really lost their popularity, and prepaid cards have also been added to the easy-to-use cards list. It is not uncommon today for people to pay with cryptocurrencies at Bitcoin casinos and Ethereum casinos. Some online casinos will even accept wire transfers and bank transfers. One or two will also accept payments by mail. Today's payment options are quite varied, and we expect to see them only increase. However, at the moment none of these options is available in Missouri since online gambling for real money is not allowed.
Missouri Online Casinos FAQ
Is Online Gambling Legal in Missouri?
Missouri gambling laws have yet to legalize the operation of online casinos in Missouri. While it isn't adequately discussed in Missouri legislation, online gambling is considered an illegal activity.
Can I play at an Online Casino in Missouri via mobile or tablet?
If gambling at Missouri online casinos weren't considered a misdemeanor, you would probably be able to play at a mobile online casino on your phone or tablet. However, you cannot play at Missouri online casinos using any device as it is not allowed.
What casino games can I play at Missouri Online Casinos?
Online gambling in Missouri is not legal. Therefore, you cannot play online casino games. Currently, you can only play at riverboat casinos for real money or free play games at social casinos.
Is it Possible to Play Online Casino Games With Dollars?
It is not possible to play online casino games at all due to Missouri gambling laws. If it were possible, we predict that you would be able to play in dollars.
Are the Missouri Online Casinos on This Site Regulated?
All the online casinos listed on this website are regulated however, no real money casinos are available to players from Missouri.
Am I eligible to receive an Online Casino Bonus at a Missouri Casino?
If an amendment to the Missouri gambling laws legalizes online casinos, you can be confident that those operators will make bonuses.
How do I start playing for real money at a Missouri Online Casino?
You don't. At least not until regulations change and legalize Missouri online casinos.
Which Online Casino payment options are popular in Missouri?
Since Missouri gambling laws are not favoring gambling online, we have no information on which payment method people prefer when gambling online. However, when things inevitably change, we predict that the most popular payment method would be the same as any other online casino in the USA. Debit cards and credit cards remain popular payment methods since they are easy to use, and people are already comfortable. On the other hand, e-wallets are popular due to their undemanding requirements, and fantastic portability. Prepaid cards are a safe option that many people also use. Other options include bank transfers and cryptocurrency.
Do I Need to Pay Taxes on My Gambling Winnings in Missouri?
According to Missouri gambling laws, any winnings on your gaming activities are fully taxable. Not paying taxes on your winnings will be considered a breach of the law and is punishable.
Follow Missouri Gambling Laws When Playing At Missouri Casinos
The expectation when playing at an online casino with real money or any online casino in the USA is that you'll win big. And the chances are good that you will! But not in Missouri. Until online gambling is legalized here, why not consider one of the floating casinos? We hope that you have enjoyed this article and remember to stay on the safe side.