The Mount Rushmore state has a somewhat mixed history when it comes to gambling. The state happily legalized pari-mutuel gambling in the early 20th century but didn't allow gambling until the 90s. Today, you will still be hard pushed to find online casinos USA players in the state can use.
Our South Dakota Online Casino Reviews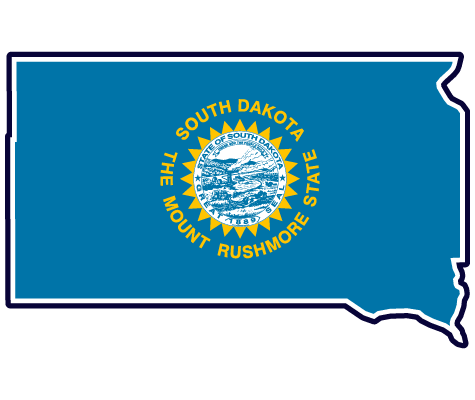 While online betting sits in legal limbo in much of the US, South Dakota online gambling laws are unusually explicit. And yet, daily fantasy sports enjoy de facto legality. Confused? It's okay if you are. In this review, we'll explore online gambling laws in South Dakota in further detail. SD has a long and ambiguous history surrounding gambling. While casinos are legal, online gambling laws in South Dakota are less amicable. Horse and greyhound race pari-mutuel wagering has been legal in the state since 1933. Things wouldn't change much until the 80s, with the introduction of the state lottery. By 1987, SD legalized charitable gambling as raffles, bingo, and keno by nonprofit organizations. 1989 saw Deadwood become a hub for nascent in-state casinos. The next year, the state started accepting simulcast wagers for horse and greyhound racing. In 1993, South Dakota signed compacts with the local tribes, commencing the development of tribal casinos. Since then, Deadwood casinos have increased their max wagers twice. However, SD online casinos have been notably absent from all this development. Online gambling laws in South Dakota still have a lot of catching up to do.
Best South Dakota Online Casinos
The Legality Of Land-Based Casinos & Online Casinos In South Dakota
The state's history with casino gambling dates back to the gold rush era. Back in the day, the town of Deadwood was a major trade center in the gold rush economy. Gambling was a considerable element in that culture, and Deadwood saw more than its fair share. However, none of this was entirely legal. Gambling at the time was unregulated and somewhat dangerous. Notorious frontiersman Wild Bill was famously shot over a hand of cards in downtown Deadwood. It wouldn't be until the 80s that the situation would change amidst measures seeking to increase state revenue. In a bid to drive up tourism and tax revenues, SD legalized gambling within Deadwood city limits. The law went so far as to require all Deadwood downtown buildings to comply with the architectural styles of the 1880s. Many Deadwood casinos opened up overnight. Tribal casinos followed only four years later. The gambling age is 18 or over for these Indian casinos and 21 for poker. Initially, wagers were limited to a $5 max bet. That limit was raised to $100 in 2000, and then to $1000 in 2012. Still, through all this time, South Dakota online casinos remain illegal. Unlike more ambiguously worded legislation elsewhere, the law in SD is quite explicit. People "engaged in gambling business" are prohibited from placing bets or wagers over the internet. Additionally, establishing locations or sites that allow gambling over the internet is also prohibited. Both are considered felonies under Chapter 22-25A.
Land-Based Gambling In South Dakota Today
Casino
County
Unique Features
Casino Games
Cadillac Jack's Gaming Resort
Deadwood
Hotel, Table Games, Slots, Poker
22 Table Games
240 Slots
First Gold Hotel and Gaming
Deadwood
Hotel, Table Games, Slots, Poker
275 Slots
Mineral Palace Casino
Deadwood
Hotel, Table Games, Slots, Poker
320 Slots
Dakota Sioux Casino
Watertown
Hotel, Blackjack, Poker, Slots
450 Slots
Prairie Wind Casino and Hotel
Pine Ridge
Hotel, Table Games, Bingo, Poker, Slots
250 Slots
Online Gambling Laws In South Dakota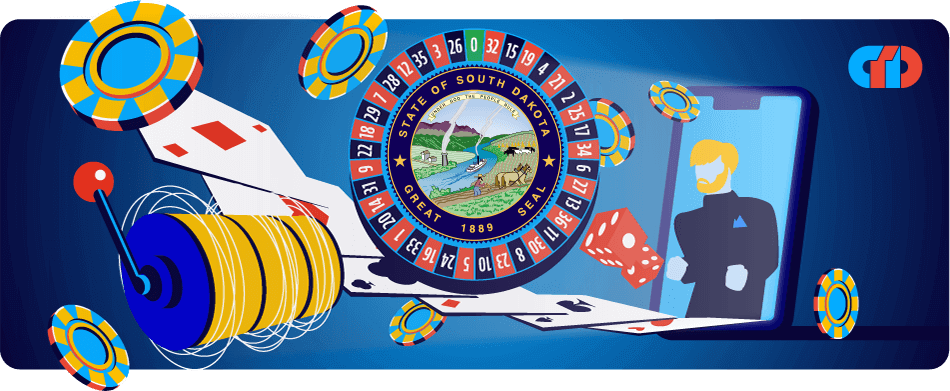 Most online betting throughout the United States happens in a sort of legal limbo. Many states regulate conventional gambling is very strict or specific terms. These terms often fail to define online betting as legal or illegal. That's not the case in SD, though. Chapter 22-25A of SD's Codified Laws goes on at length over internet gambling, in no uncertain terms. The articles define bets, gambling businesses, the internet, and several other key terms. Article 22-25A-7 explicitly prohibits a person "engaged in gambling business" from using the internet to wager. Article 22-25A-8 goes on to prohibit the establishment of internet gambling businesses in the state. While the law doesn't explicitly ban residents of the stake from betting online, providing these services is a felony. Establishing SD online casinos is expressly forbidden. Using the internet to engage in these businesses is prohibited as well. It's somewhat airtight. It's safe to say that, until South Dakota online gambling laws change, no reputable providers will offer their services online. While there are no proposed bills on the docket specifically about online casinos, there are changes in the horizon. State voters will soon be deciding on the legalization of sports betting in Deadwood. A favorable outcome might open the doors for more progress on this front.
What should I know about Online Casinos in South Dakota?
The state has stringent gambling laws in general, and rigid limitations are in place
South Dakota online gambling laws expressly forbid online casinos in the state
Several forms of gambling are legal (and highly regulated) in SD, such as pari-mutuel horse and greyhound betting, nonprofit gambling, casino gambling in Deadwood, or tribal casino gambling
Making bets over the internet can be a felony in the state, depending on the circumstances
Gambling Laws Governing Offshore Casinos & What It Means For South Dakota Players
The strict prohibition on South Dakota online casinos may have some players itching for a loophole. Many players wonder if South Dakota online gambling laws still apply to offshore casinos, for example. The answer is somewhat complex. In short, they do, and they don't. What that means is that offering gambling services online is expressly forbidden by state law. Organizations that engage in gambling business online with SD residents are openly violating SD law. They're thus both unlicensed and unregulated. Some such websites exist and market themselves towards residents in states with strict gambling laws. Be extremely wary of such providers. Since these sites are unlicensed and unregulated, no gaming authority can verify if they're operating legitimately. That means their random number generation isn't monitored by anyone to verify its fairness. No one can force them to keep their word. Player funds and even player financial data can be at considerable risk with such operators. Players have little legal recourse if anything goes wrong. It's a lack of transparency, an absence of oversight, and a complete lack of accountability, coupled with significant amounts of money. That's certainly a dangerous combination. Until online gambling laws in the state change, you're far better off sticking to Deadwood casinos. Tribal casinos are always an option as well. These are also licensed and regulated within the state and offer an ample selection of games.
Online Casino Games For South Dakota
As mentioned above, the state's gambling laws forbid gambling businesses from providing services over the internet. This restriction makes it impossible for Deadwood casinos or tribal casinos in the state to offer online casino games or apps. The only way to enjoy online casino games in the state legally is through free play games. Most of the best online casino games can be found at social casino sites or apps. Any real-money internet wagering would be against the law. There are more than a few ways to enjoy legal gambling in SD, such as the following:
Pari-mutuel and Simulcast betting on horse and greyhound racing. Pari-mutuel wagering is traditional to many states in the US. It's been legal in SD since nearly a century ago. Simulcast betting has been legal since 1990.
Enjoy table games, video slots, keno, and poker at Deadwood casinos.
Tribal casinos exist throughout SD's many reservations and tribal lands. These offer table games, online slots, keno, poker, and more.
Payment Options At South Dakota Online Casinos
There can be no online casinos operating legally in the state under current South Dakota online gambling laws. Therefore, it's hard to say just what kind of online payments local gambling sites would implement. When visiting the tribal casinos or one of Deadwood's many casinos, you'll have plenty of payment options. Most establishments will take cash, credit cards, money wires, bank transfers, and many other options. You can inquire in the cashier's cage for further information.
South Dakota Online Casinos FAQs
Is Online Gambling Legal in South Dakota?
SD has a long and complex relationship with gambling. All gambling in the state is strictly regulated, and only legal within very specific circumstances. These include nonprofit gambling, tribal casinos, the city of Deadwood, and the state lottery. Under state law, however, no betting business operating over the internet may be established in SD. Therefore, there is no legal way for providers to offer their services in the state. It constitutes a felony under current law. Until online gambling laws in South Dakota change, online casinos will remain off the table. That said, daily fantasy sports operate openly in the state. A proposed state constitutional amendment would legalize sports betting in late 2020, though in casinos only.
Can I play at an Online Casino in South Dakota via mobile or tablet?
Technically speaking, the law only prohibits persons engaged in gambling businesses from betting over the internet. However, as this implies that no legitimate business can arrange wagers for state residents, real-money internet-based play isn't legal. That said, there are ways for those within state borders to enjoy mobile casinos or tablet gaming. The catch, though, is that it can't involve any real money. As soon as real money enters the picture, it constitutes gambling and would be illegal. Luckily, there are many social casinos with tons of free play online slots and table games. You can play in these casinos with virtual play money at any time and on mobile platforms.
What casino games can I play at South Dakota Online Casinos?
Since there are currently no legal and licensed South Dakota online casinos, there are no casino games available online. Players are unable to bet on games such as blackjack, casino poker, online roulette, or any other casino staples. Still, there are a number of solutions to scratch your gambling itch. Social casinos, where all play involves only free virtual money, are a way out. Many are available throughout the US, featuring all the classic casino games we all know and love. SD players can also play DFS on the internet and gamble on casino games in Deadwood or tribal casinos.
Is it possible to play Online Casino Games with dollars?
Unfortunately, current online gambling laws in South Dakota prohibit gambling real money over the internet. That includes, of course, US dollars. You'll have to settle for play money in social casinos if your heart is set on online casino games. If you're willing to make the drive, though, brick-and-mortar casinos in SD have tons of table games and slots. You can gamble at tribal or Deadwood casinos to your heart's content, with real money. Alternatively, you can play DFS online for real money.
Are the South Dakota Online Casinos on this site regulated?
Our editors have thoroughly vetted every casino you see on this website. This includes checking their regulatory oversight, licensing, and good standing.
Am I eligible to receive an online casino bonus at a South Dakota Casino?
Specific promotions are always up to individual casino operators. No matter the case, we strongly recommend you carefully inspect the terms and conditions of any casino bonus. It's best to avoid any potentially costly misunderstandings.
How do I start playing for real money at a South Dakota Online Casino?
Given that the state explicitly prohibits establishing online gambling businesses, any SD online casinos would be unlicensed. This also implies they're unregulated and offering services in the state illegally. Therefore, you should probably not be trusting them with your money or financial information.
Which online casino payment options are popular in South Dakota?
As online gambling laws in South Dakota prohibit any online casinos in the state, there are no popular payment options. Offering gambling services online for real money is a felony in SD.
Do I need to pay taxes on my gambling winnings in South Dakota?
As far as the IRS is concerned, any gambling winnings count toward your income when tax season rolls around. The rate depends on the tax bracket corresponding to your total taxable income for the year.
Play At A Real Money South Dakota Casino & Walk Away With A Large Sum!
Hopefully, this primer helped you develop a better understanding of the legal situation of SD online casinos. Keep this information in mind next time you want to gamble in the Mount Rushmore state. And, please, stay safe out there.