Indiana is one of the US states which has hit the ground running when it comes to their USA online gambling laws. This Midwestern state started allowing several forms of gambling from the late 1980s and they have all been successful and expanding. More recently, online gambling Indiana has allowed sport betting online as the only legal type so far. Below we give you the details about offline and online gambling Indiana.
Our Online Casino Indiana Reviews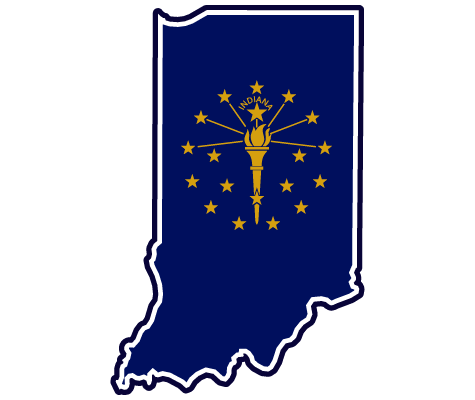 In the past decade, we have seen a huge expansion in the number of US states legalizing different forms of online gambling. Indiana is one of the states which has remained against the idea of legalizing US online gambling platforms. Surprisingly, up until the 1980s there were no racetracks, brick-and-mortar or even a lottery in Indiana. Once the legislation was passed, the number of racinos and resorts has increased. In fact, the Hoosier State has become on par with other states of roughly the same size as Indiana. Here we will get into the nitty-gritty details on the current laws relating to both land-based gambling and online gambling. We will also explain what casino games you can play. We strongly recommend that you follow the gambling laws of your state or region in order to enjoy the options available to you securely.
Best Indiana Online Casinos
CasinoTop10's Best Online Casinos in Indiana need to:
The Legality of Land-Based Casinos & Online Casinos in Indiana
This Midwestern state has an interesting history when it comes to gambling. Both online and offline gambling in Indiana are regulated by a combination of federal laws and state laws. Before 1988, Indiana had no clear state laws of legitimate gambling. According to the Indiana gambling laws, gambling is defined as "risking money or other property for gain, contingent upon lot, chance, or the operation of a gambling device."
In 1988, the first government-sanctioned lottery was allowed. This is the Hoosier Lottery, aptly named after the state's beloved nickname. This gave way for Indiana's citizens to take part in multi-state lotteries as well such as Powerball and Mega Millions. Next came new legislation in 1993. Here riverboat casinos were regulated and licensed. Riverboat casinos can be a painstakingly complicated way of playing casino games, but they were the only allowed possibility. The following year, another legislation was passed to allow pari-mutuel betting on horse races. It came with the opening of Hoosier Park and other racetracks opened across the state. Fortunately, greyhound racetracks are still banned due to associations with animal cruelty.
In 2006, America passed the Unlawful Internet Gambling Enforcement Act (UIGEA) which was then implanted by the state of Indiana legislature too. Online gambling was shut down before the rise of mobile and of course, before the rise of mobile casinos. In 2007, Indiana expanded its racetrack betting law to allow up to 2,000 slot machines in each track's facility turning these racetracks into 'racinos'. For avid casino gamblers, this was a step in the right direction. By 2011, the law approved brick-and-mortar casinos. This meant that Indiana players were not limited to riverboat casinos. In 2016, Indiana started to see a slow and steady expansion to online gambling. First daily fantasy games were legalized and regulated, and at the beginning of September 2020, Indiana gamblers can start betting on sports. With this law being passed, online sportsbook operators can now offer online sports betting offers to Indiana players. More recently, there have been discussions on the possibility of opening an online lottery in Indiana. There are still no updates with regards to online casinos Indiana or online poker for that matter.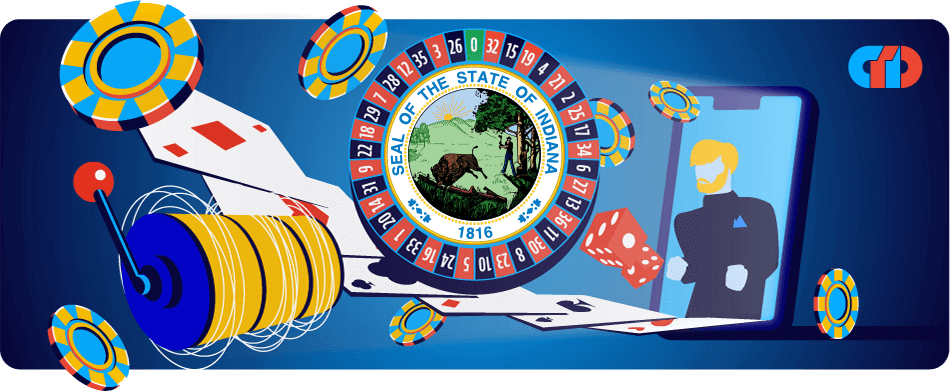 Land-Based Gambling in Indiana Today
In the past few decades, Indiana has seen exponential growth in the online gambling Indiana industry. This has enabled Indiana players to enjoy playing and betting in various venues and capacities. Here they can find an abundance of poker rooms, table games and slot machines. Moreover, Indiana has seen an increase in tax revenue as well. The Indiana gambling industry is currently worth over a billion dollars in tax revenue. This tax money goes to the state and local workers. It is even used to the Build Indiana Fund, to casino host towns and to fund other state commissions and projects. Indiana players can enjoy playing at tribal and riverboat casinos. Both racing bettors and casino players can play and bet at the wonderful combination of racetracks and casinos suitably known as racinos. The number of land-based casinos has increased in the past couple of decades and there has evidently been a boom in popularity since then.
Live Casinos in Indiana
Below we have included the top 5 popular land-based casinos in Indiana and what they have to offer.
Casino
Location
Unique Features
Size
Hoosier Park Racing & Casino
Anderson
Horse racing, sports book, shops
25 Table games2000 Slots
Indiana Grand Casino & Racing
Shelbyville
Poker, horse racing, sports book
40 Table games2200 Slots
Horseshoe Casino
Hammond
24/7 Poker, Table games
30 Poker tables100 Table games3000 Slots
Hollywood Casino
Lawrenceburg
24/7 Poker, Hotels
15 Poker tables
70 Table games
2500 Slots
Ameristar Casino & Hotel
East Chicago
Venues, Hotels, Poker
70 Table games
1700 Slots
Online Gambling Laws in Indiana
After the publication of the UIGEA, each American state passed its own laws in favor or against online gambling. As things stand, online gambling Indiana is currently restricted. In 2020, we see the opening of regulated online sports betting for Indiana players. Soon, we may see online lottery becoming available to Indiana residents. When it comes to online poker and online casinos Indiana, they are still banned. However, with the emergence of social casinos, such as Chumba Casino and Luckyland Slots avid players can still enjoy playing at these casinos. These are great casino sites to play at by using sweepstakes and gold coins. Usually, you receive a substantial amount once you sign up to try out the online casino games. If the laws on online gambling Indiana change, there will be more casino operators allowed and you will find a wider variety of regulated and licensed online casinos. This would open opportunities similar to New Jersey online casino or Pennsylvania online casinos.
What should I know about Online Casinos in Indiana?
The legal gambling age is 21 in Indiana;
Types of casino gambling allowed are tribal casinos, racinos and riverboat casinos;
Legal online gambling Indiana only includes sports betting.
Gambling Laws Governing Offshore Casinos & What it Means for Indiana Players
When it comes to offshore online casinos, this is a grey area in the laws of online gambling Indiana. Offshore online casino sites don't feature any mention in the laws, so it is unclear whether they are legitimate or not. However, we don't suggest you join these sites. It is better to play on sites that are secure and allowed, such as social casinos. This way you can play without any concerns when it comes to the law. Above all, you avoid the risk of depositing your hard-earned cash into sites that aren't licensed or regulated. Here we only offer casino sites that are completely allowed in your state.
Online Casino Games for Indiana
You can find plenty of different casino games to play. The types and number of games differ from one site to another. There is a difference between what you can play at online casino sites and at social casinos. You can find various online slots. These come in all sorts of themes with varying paylines and symbols. Some slots are progressive jackpots which give you the chance to win a grand prize! You can find table games such as blackjack and other blackjack variants. Other table games include online roulette, craps online, baccarat and much more. Several online casinos have live casino games with live dealers. Unfortunately, social casinos don't offer these types of live dealer games. Some other games you can play include online bingo and keno. Regular online casinos would usually offer games from popular software developers and you can find hundreds of games to play. Currently, the social casinos show a more limited number of games, despite this, they are high-quality fantastic games.
Payment Options at Indiana Online Casinos
Since online gambling Indiana is restricted in this state, there are no available deposit or withdrawal options available to Indiana players. If you reside in an American state where online casinos are regulated, such as New Jersey, you can take a look at available online casino payment options offered.
Online Casinos Indiana FAQs
Is online gambling legal in Indiana?
Not all types of online gambling Indiana is legal. The law has been passed to allow online sports betting. There is a possibility than online lottery may be allowed too. However, online poker and online casinos are still currently banned.
Can I play at an online casino in Indiana via mobile or tablet?
No, you cannot. Since there are no regulated online casinos sites, Indiana gamblers cannot use any device to access these sites.
What casino games can I play at Indiana online casinos?
Since there aren't any licensed Indiana online casinos, you cannot play online casino games. You can play at online social casinos which have casino games like online slots, roulette, blackjack, and more.
Is it possible to play online casino games with Dollars?
There are only three states in the US that have regulated and licensed online casinos. There are New Jersey, Pennsylvania and Delaware casinos. These three states all accept Dollars. If you reside outside Indiana, and online casinos are available you can easily check which currencies are accepted. Dollars are usually a widely accepted currency.
Are the Indiana online casinos on this site regulated?
No, they aren't since online casino Indiana sites available. There are only a handful of US states which offer regulated casino sites.
Am I eligible to receive an online casino bonus at an Indiana Casino?
This depends on which site you choose to play at. The majority of online casinos have lavish casino bonuses for you to claim.
How do I start playing for real money at an Indiana online casino?
If you wish to play online casino games for real money, it isn't possible in Indiana. You can only play for sweepstakes at social casinos.
Which online casino payment options are popular in Indiana?
You cannot play for real money as there are no regulated Indiana online casinos. If you are playing from a state with regulated sites, you can see the payment options at our online casinos.
Do I need to pay taxes on my gambling winnings in Indiana?
Yes, Indiana players need pay taxes on gambling winnings. In Indiana the gambling tax rate us just below 10%.
Play at a Real Money Indiana Casino or Enjoy Available Online Gambling Indiana Options!
Indiana is certainly a mixed bag when it comes to gambling legislation. So far when it comes to land-based gambling, you can play at tribal casinos, racinos, horse racetracks or riverboat casinos and you can take your chances with the Hoosier Lottery or other multi-state lotteries. In 2020, you will be able to enjoy from a wide range of online sports betting sites as well! In the meantime, you can try your luck with some of the entertaining sweepstakes casinos!