Home to the famous Great Smokey Mountains National Park, this beautiful state has some strict rules towards certain activities. Gambling is one that it has little tolerance for and in fact, there aren't any land-based Tennessee casinos or online casinos for US players in the State to use.
Our Tennessee Online Casino Reviews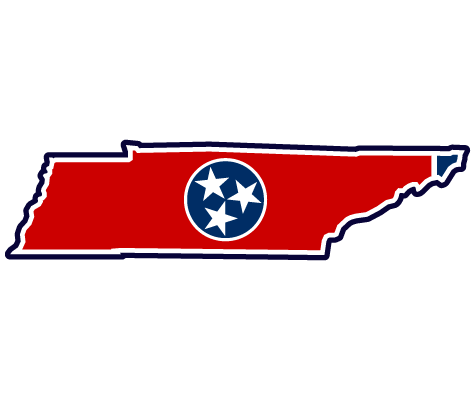 The road to legalized gambling in Tennessee is long and rocky. It's one of the most restrictive states when it comes to both land and online-based casinos. The lottery has been the only form of legal gaming for many years. It's not a lot of hot air either. This state actively enforces its stance on gambling. As for the Tennessee online casinos, it's an industry that's slowly pushing its agenda. You can play at online casinos for real money in Tennessee, but none are situated within the state borders. In 2016 daily fantasy sports betting was legalized in Tennessee. The state exempted this specific form of betting from its gambling laws. It came to be law even though the State Attorney General, Herbert Slatery, objected to the move.
The ruling was unprecedented since it meant that the state government was at odds with its law enforcement officials. Nevertheless, it opened to the path towards easing gambling restrictions a few years later. Specific forms of charity-driven events such as online Bingo and raffles have been allowed only with their permission. Recently, the governing body has relaxed its stance slightly by allowing online sports betting. However, if the citizens want to enjoy digital slots or a poker game for real money, they will need to cross into another jurisdiction. If you live in Tennessee, read further to find out about the rules and regulations surrounding gambling. We always advocate for safe and legal online gaming within the confines of the law.
Best Tennessee Online Casinos
The Legality Of Land-Based Casinos & Online Casinos In Tennessee
There are no land-based Tennessee casinos, they're illegal, and the closest brick and mortar ones are in neighboring states. The only form of legal gambling allowed is the state lottery for which the tickets can be sold physically through kiosks. You cannot play at online casinos for real money in Tennessee. None operate from within the state lines. The law has recently relaxed somewhat, and citizens can now partake in fantasy sports and sports betting. This new gambling activity was legalized in 2019 and should take effect in July 2020. The regulations will be reviewed and refined if necessary. It will allow for the current legislation to run for a year before making any changes. Any sportsbook operator that wants to offer gambling in the state needs to pay high license fees and have offices within the states' borders. Operators will also have to purchase official league data from the relevant sports leagues to allow for in-game bets. Furthermore, providers are subject to a 20% "privilege tax" on any online gambling activities offered in Tennessee.
Land-Based Gambling In Tennessee Today
There are no land-based casinos situated in Tennessee due to the strict laws that govern the state. The closest option would be to travel to one of the neighboring counties, such as Mississippi or Missouri. Below we provide the top 5 land-based casinos in Tennessee's neighboring states.
Casino
County
Unique Features
Casino Games
Harlow's Casino Resort
Greenville, Mississippi
Spa, Hotels, Poker.
700 Slots
14 Table Games
Harrah's Cherokee Casino
Cherokee, North Carolina
24/7 Poker, Spa
3200 Slots
100 Table Games
20 Poker Tables
Lady Luck Casino
Caruthersville, Missouri
Poker
550 Slots
10 Table Games
4 Poker Tables
Harrah's Metropolis Casino Hotel
Metropolis, Illinois
Hotels
800 Slots
20 Table Games5 Poker Tables
Southland Casino Racing
West Memphis, Arkansas
Race Betting
2000 Slots
40 Table Games
Online Gambling Laws In Tennessee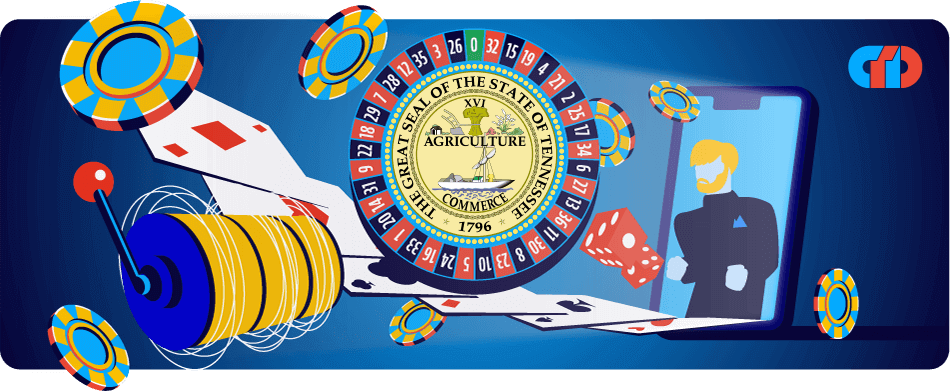 The gambling laws in Tennessee are somewhat confusing. Online sports betting is undoubtedly allowed. However, it's not clear if betting at online casinos for real money in Tennessee is permitted, as it is not explicitly illegal in any documents. That doesn't mean that it's legal either. According to the definition given gambling in Tennessee is "risking anything of value for a profit whose return is to any degree contingent on chance, or any games of chance associated with casinos, including but not limited to, slot machines, roulette wheels and the like . . ." That seems straightforward, except it doesn't specifically mention online providers. One could easily misinterpret the above to include website gambling, and players could find themselves in police custody if they take the chance. It seems that for now, bettors will need to be content with legally acceptable opportunities.
What should I know about Online Casinos in Tennessee?
Online sports betting is allowed, and fantasy sports especially are prevalent.
The legal gambling age for placing sporting bets at the Tennessee online casinos is 21 years.
There is a legislated 10% mandatory hold on each wager, which is likely to make betting more costly for punters.
There aren't any specific laws prohibiting online casinos, but that doesn't mean that it's legal to play.
Horse and greyhound betting is allowed as long as the races are licensed, managed, and regulated within the US.
Gambling Laws Governing Offshore Casinos & What It Means For Tennessee Players
According to the law, no online casino except for licensed sportsbooks can operate from within Tennessee's borders. It includes operators that only offer one or two products, such as poker. It's illegal under federal law, and any such operation would quickly be closed with stiff penalties for the people involved. There is no local legislation governing offshore casinos, which might be a concern to some players. It's up to the individual to ensure that any provider they choose is licensed and regulated by a relevant authority. Numerous gambling websites are licensed by Costa Rica, MGA or Curacao, and are considered trustworthy. Tennessee residents need to be aware that even if they want to play at any casino websites, they can't do so from inside the state.
Online Casino Games For Tennessee
Strictly speaking, the only legal form of gambling allowed in Tennessee is the national lottery. Citizens can enjoy different types of lotto games, but none are available for purchase on the internet. However, since the US Supreme court decision in May 2018, many states including Tennessee have allowed sports betting. Eighteen states currently allow sports wagering in some form. What makes Tennessee unique is that it's the only territory that enables players to bet on sports events online, but outlawing any physical gambling operations. No other casinos or bettings games are currently permitted in the state. Anyone that wants to play at online casinos for real money in Tennessee, needs to go to another county. A new trend that is available for players is social gaming. It's an opportunity to play online slots or online games without playing for real money. In essence, you play for the fun of it. It keeps players safe from the strict laws which state that for an activity to be considered gambling, there must be money (or something of financial value) at stake. Social Tennessee web-based casinos bypass these rules completely. People play at social casinos for bragging rights and the chance to socialize with other players. As long as there are no giveaways or promotions, they are considered safe to play.
Payment Options At Tennessee Online Casinos
Since online gambling is still new, the exact payment methods allowed are unknown. The two most common payment methods for internet casino accounts are debit or credit cards. Direct bank transfer is the other option allowed. All of them enable instant access to the funds for immediate play. However, with sportsbook operators looking to launch in July 2020, these options might vary. Some of the well-established bookies offer cryptocurrencies and e-wallets at PayPay Casinos, for example. However, anyone wishing to play online casinos for real money in Tennessee will not find any payment options available as the state does not allow them. If there are restrictions in place, players will need to wait for the regulations to be reviewed to see if payment forms are allowed.
Tennessee Online Casinos FAQs
Is online gambling legal in Tennessee?
In short, the answer is no. Although in 2019, online sports betting has been legalized in the state and should be available to players from around July 2020. Besides this particular activity, all other online games are illegal, including poker and slots.
Can I play at an online casino in Tennessee via mobile or tablet?
No, you will need to cross into another state to play at any mobile online casino using your mobile device, unless you're betting on sports.
What casino games can I play at Tennessee online casinos?
Currently, only sports betting and fantasy sports are allowed in Tennessee online casinos; no other gambling games are legal.
Is it possible to play casino games online with dollars?
It's possible to play at any regulated and licensed online casino in dollars. Local sportsbooks accept dollars for betting since they have to be situated within the state's borders to be able to operate. However, you cannot play online poker or other online casino games in Tennessee for real money.
Are the Tennessee online casinos on this site regulated?
There are no online casinos listed for Tennessee players as they are not allowed. Players coming from states or countries where online gambling is allowed will find all our listed casino sites are regulated.
Am I eligible to receive an online casino bonus at a Tennessee Casino?
Online casino games are not allowed in Tennessee. If you're taking advantage of the sports sites, you may qualify for a signup bonus or deposit bonus, depending on the specific sportsbook operator.
How do I start playing for real money at a Tennessee online casino?
Currently, only sports betting is allowed. To play for real money, you need to register an account with a legal online sportsbook. You'll need to verify your identity by providing certain documents such as your ID or driver's license.
Which online casino payment options are popular in Tennessee?
The two most popular methods are bank transfer or credit and debit cards. You can use a VISA or Mastercard at most web-based sportsbooks. However, you will not find any data on payment options for online casinos in Tennessee.
Do I need to pay taxes on my gambling winnings in Tennessee?
No, you don't need to pay anything as Tennessee does not charge taxes on gambling winnings. However, there is a 20% "privilege tax" on Tennessee online gambling.
Follow the Law When Playing At Online Casinos in Tennessee
Tennessee online casinos for traditional gambling are non-existent. Besides the few that offer sports betting only, there aren't any providers where you can play poker, blackjack, or slots. The only viable option is social casinos where you don't wager any real money. The state simply doesn't allow any forms of gambling. With the county being so restrictive, it's forced some players to cross state lines to enjoy the excitement and thrills of land-based casinos.