The southeastern state of Arkansas is known for its natural beauty, for being the only state in the USA to produce diamonds, and for being the birthplace of the 42nd President of the United States of America, Bill Clinton… But The Natural State, as it's also officially known, is also renowned for its strict – though sometimes quirky – laws surrounding gambling playing at USA online casinos – a practice which can be considered to be illegal.
Our Online Casino Arkansas Reviews
At the time of writing, Arkansas allows gambling (including slots and table games) at state-approved, brick-and-mortar casinos only, as well as Daily Fantasy Sport, pari-mutuel wagering, bingo, and charitable raffles. The state also has a state lottery that is linked to Mega Millions, Powerball, and other national games.
While the currently gambling laws of Arkansas do not specifically mention online gambling, by extension of the current law, playing for real money online within the state of Arkansas can be considered to be banned and not legal. If you reside in the state of Arkansas or are visiting, and you would like to play for real money at Arkansas online casinos, then please read on. As always, we urge all our players to play securely and to follow the laws of the state or country they are in.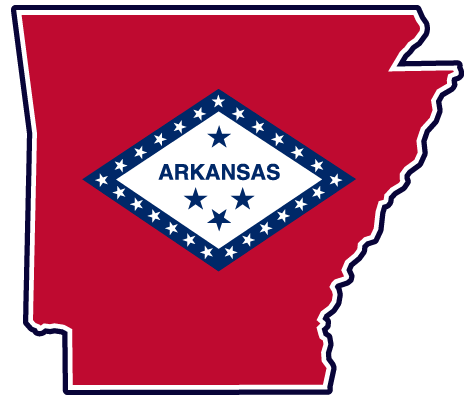 CasinoTop10's Best Online Casinos in Arkansas need to:
Be legalized and regulated by the state's law;
Protect players' privacy and implement necessary security measures;
Provide a wide range of allowed online casino games.
Best Arkansas Online Casinos
The Legality Of Land-Based Casinos & Online Casinos In Arkansas
Like a number of other states in the US, Arkansas does not allow most types of online gambling. Indeed, the law makes it amply clear that gambling can only be practiced if the person is physically in one of the state-approved casinos – bar a few exceptions we mention further down in this section. Before we begin, let us restate that Arkansas has quite strict laws when it comes to gambling in general and, while these may be archaic and do not mention modern means of gambling, such as playing on your laptop or mobile phone, they are quite all-encompassing. Section 5-66-107 of the Arkansas Code states:
(a) It is unlawful for any owner or occupant of any house, outbuilding, or other building or any steamboat, or other vessel to knowingly permit or suffer any games, tables, or banks mentioned in § 5-66-104 or permit or suffer any kind of gaming under any name, to be carried on or exhibited in his or her house, outbuilding, or other building, or on board of any steamboat, flatboat, keelboat, or other vessel on any of the waters within this state.
Those found to have broken the law, upon conviction, will get fined a minimum of $100 or 30 days in prison, though there is no maximum for either penalty. Definitely not something you should put yourself through! Nevertheless, Arkansas is less strict than some other Southern states, particularly when taking the unwavering laws of places like Alabama. In fact, the state allows a number of gambling methods for those looking to play for real money in Arkansas.
Until the end of 2018, Arkansas had two Class-II casinos, one in Oaklawn and another in Southland Park. These could only offer players electronic bingo. Nevertheless, voters backed the authorization of sports betting within legal and licensed casinos in November 2018, and both aforementioned casinos were allowed to roll out online slots and table games, like blackjack, roulette, Caribbean Stud, baccarat and craps. The first bet of this kind took place at Oaklawn on July 1, 2019 – a historic moment for gambling in the state of Arkansas. The new law allows for up to four sportsbooks to operate within the state, and there is already another such place in Pine Bluff.
Arkansas was actually one of the earliest states to legalize and regulate Daily Fantasy Sports, with the state giving its go-ahead for the game in 2017. For those who are not familiar with Daily Fantasy Sports, this game, like other fantasy sport, sees players use their imagination and logic to assemble imaginary teams of athletes pertaining to different sporting teams. Players of Daily Fantasy Sports in Arkansas can create lineups in a variety of leagues, including the NBA, the MLB, the NFL and others, at two major sites that operate legally in the state: DraftKings and FanDuel.
With animal races being more popular in southern states than anywhere else, it should come as no surprise that pari-mutuel wagering on races is completely legal in Arkansas. Indeed, pari-mutuel wagering in both simulcast and live action are available and acceptable by the law of the state.
Arkansas has a state lottery that is linked to other national games, including Mega Millions and Powerball. This lottery is run by the State Lottery Commission, which takes care of all forms of gambling in the state, so it is perfectly legal.
Bingo and raffles are legal in the state of Arkansas but be sure to know the law. While non-profit organizations can do raffles anytime they want for charitable reasons, anyone who wants to circulate bingo-related material or conduct a game of bingo needs to be registered with the state.
As things stand, Arkansas is slowly but surely moving forward in the world of gambling but, as mentioned before, the logical conclusion to the absence of a law that directly states that online gambling is illegal should not be taken as giving Arkansas online casinos the go-ahead.
With sportsbooks now available for Arkansans at a number of brick-and-mortar casinos, there is no reason to put yourself in a potentially uncertain situation with the law.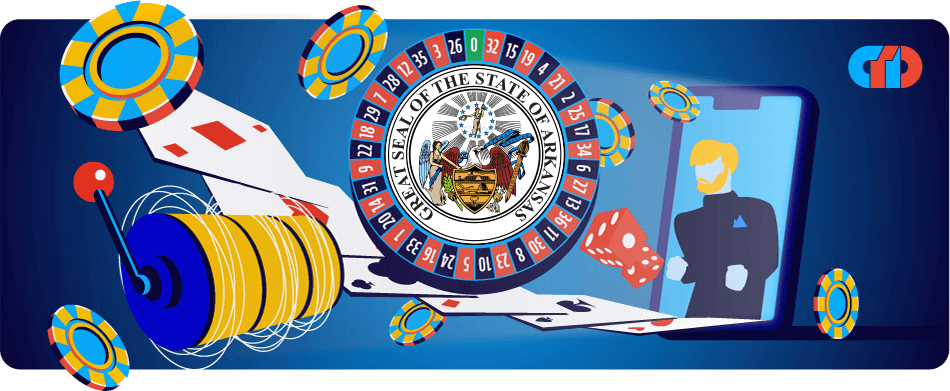 Land-Based Gambling In Arkansas Today
Casino
Location
Unique Features
Size
Southland Casino Racing
West Memphis
Poker, Slot Machines
40 Table Games
2000 Slots
Oaklawn Racing Casino & Resort
Hot Springs
Horse Racing, Poker
30 Table Games
1500 Slots
Saracen Casino
Pine Bluff
Slot Machines
50 Table Games
2300 Slots
Online Gambling Laws In Arkansas
The law related to online gambling in Arkansas is a bit idiosyncratic: it is not explicitly illegal in that it is not mentioned as such in the law, but the current law is quite all-encompassing. Therefore, it is best to assume that online gambling is not legal in most forms or shapes in The Natural State. Having said that, there are some exceptions, particularly Daily Fantasy Sport, which can be played online. But, if you're specifically looking for online casino games in Arkansas, then you can drop the 'online' bit and play a variety of classic casino games at one of the state-approved land-based casinos.
What should I know about Online Casinos in Arkansas?
Arkansan law states that gambling can only take place in person at one of the state-approved, brick-and-mortar, land-based casinos. Such facilities can currently be found in Oaklawn, Southland Park and Pine Bluff.
Over and above gambling at casinos, the state of Arkansas also allows Daily Fantasy Sport, pari-mutuel wagering on races, taking part in the state lottery, charitable raffles and bingo.
While you may find information on how to cheat the system and play at casinos registered in other jurisdictions, we don't suggest going ahead with this. On top of potentially being illegal, as doing say may put you at risk.
Gambling Laws Governing Offshore Casinos & What It Means For Arkansas Players
Because the law related to gambling in Arkansas is an old one that doesn't mention laptops, mobile phones, tablets, online casinos or, indeed, the internet, some assume that it is okay to play online at casinos registered in offshore jurisdictions. Nevertheless, while there is no specific law for or against Arkansas online casino, the fact that the State's law specifies that you have to be physically at an approved casino makes it very clear that online gambling cannot take place from your home, boat, outbuilding or any other location within the confines of the state. In your search for whether online gambling for real money in Arkansas is legal or not, or for Arkansas online casinos, you may come across sites that suggest playing at online casinos registered in other jurisdictions, particularly in New Jersey, where online gambling is regulated and legal. What's important to remember is that these casinos often make use of geolocation software so as to stop players from other states from engaging in online casino games. Some players do manage to get past these hurdles but, in our opinion, the law as it stands is relatively clear and we do not suggest risking breaking it on the supposition that the absence of a specific clause related to online gambling in the law means that it is not strictly speaking illegal. Moreover, when playing from Arkansas at an online casino registered elsewhere, you could be potentially putting yourself and your money in peril as the state cannot protect you or your rights.
Online Casino Games For Arkansas
There are currently no online casino games available for players living or visiting Arkansas, with online poker, online roulette, online slots and online blackjack all being illegal. Nevertheless, those who would like an alternative option to playing at an Arkansas online casino, can try their hand at Daily Fantasy Sport or head to one of the land-based, legal casinos available in the state of Arkansas.
Payment Options At Arkansas Online Casinos
Since the state of Arkansas does not license or regulate online casinos within the state, we have no data on what preferred payment options there are for Arkansas online casino. If you are currently out of the state of Arkansas and in a place that allows playing for real money online, then please check the payment options on your preferred site to make sure that these fit your needs.
Arkansas Online Casinos FAQs
Is online gambling legal in Arkansas?
No, online gambling in Arkansas is illegal. As things stand, the state only allows players to gamble in person at one of the state-approved casinos. You may come across information on the internet that tells you that there are loopholes since Arkansan law does not specifically state that online gambling is illegal. Nevertheless, we do not suggest you gamble online when living or visiting the state of Arkansas.
Can I play at an online casino in Arkansas via mobile or tablet?
Not legally and definitely not securely. Some players try to gamble at casinos registered in other jurisdictions, but this sets you at a disadvantage as the state of Arkansas does not regulate online casinos, meaning that you and your money are not automatically protected. Meanwhile, online casinos in states like Jersey have geolocation software enabled, resulting in players from Arkansas being banned entry. Either way, with a number of a brick-and-mortar casinos that offer sportsbook, we do not suggest taking the risk of playing at Arkansas online casino.
What casino games can I play at Arkansas online casinos?
None as everything from online poker to online roulette, and from slots to video poker, are banned in the state. Arkansas, however, does allow Daily Fantasy Sport, which you can access legally and securely through the websites.
Is it possible to play online casino games with Dollars?
Due to the fact that playing at Arkansas online casino is illegal, then no currency should be used to play online. If you are out of the state and would like to play for real-money at an online casino, then your best bet is to check the terms and conditions of your site of choice to see if the currencies accepted by it suit your needs
Are the Arkansas online casinos on this site regulated?
All online casinos mentioned on this site are regulated, safe to use, and have all the measures in place to protect you, your money and your rights.
Am I eligible to receive an online casino bonus at an Arkansas Casino?
Since no legal online casinos exist in the state of Arkansas, the short answer is no. Nevertheless, if you are playing at an online casino out of the state, then we recommend checking the terms and conditions of the website or app you are using and to only press 'Accept' once you have fully understood them.
How do I start playing for real money at an Arkansas online casino?
We do not recommend that you take the risk of playing at any Arkansas online casino. Nevertheless, if you would like to play casino games for real money in Arkansas, then there are legal and state-approved brick-and-mortar casinos available in the state, as well as the option of playing Daily Fantasy Sport or engaging in pari-mutuel wagering.
Which online casino payment options are popular in Arkansas?
If you are gambling at one of the aforementioned, state-approved websites for Daily Fantasy Sports, then it's best to check the website to see how you can deposit money or bet. Nevertheless, we once again reiterate that gambling at online casinos in Arkansas is not legal.
Do I need to pay taxes on my gambling winnings in Arkansas?
Arkansas law states that all gambling winnings are 'fully taxable' and should be reported as 'Miscellaneous Income' when filling out your tax return form. This includes any winnings from casinos, races, raffles and lotteries, as well as prizes such as cars or trips, which need to be given a fair market value.
Play At A Real Money Casino Arkansas & Walk Away With A Large Sum!
We hope the information on this page has made it easier for you to understand the laws that surround Arkansas online casino and the general laws governing gambling in the state. As always, we urge you stay safe, play responsibly, and to follow the law of the jurisdiction you live in or are visiting.