Mississippi has a long history of gambling. It's one of the more relaxed states when it comes to gaming. Some famous locations like Biloxi, Tunica, and Vicksburg are still players' choice destinations today.
Our Online Casino Mississippi Reviews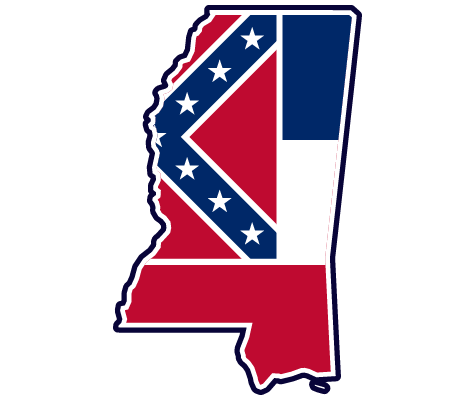 There are quite a few brick-and-mortar casinos in Mississippi, including Hollywood, Hard Rock, and Treasure Bay. They're also known for hosting slot tournaments, which are a local favorite. Poker is one of the most prominent activities in the Magnolia State.
The infamous "Mississippi straddle" originated along the shores in the early 1800s when the French brought poker. In terms of USA online casinos, Mississippi doesn't have a solid direction regarding what the legislators want to do. As of now, gambling online is illegal, and there are no plans to change this.
There are tons of other stuff to play, such as slots, poker, and various card games. There isn't anything in state law that criminalizes Mississippi online casinos or playing in them. The Gaming Commission, however, has a solid stance on the matter: internet gambling is illegal under any circumstances. They also warn about participating in offshore establishments as that, too, is prohibited.
It's not looking too bleak for USA online casino players in Mississippi, though. You can find social casinos across the state, some of which offer free online play. It's not exactly the most thrilling experience, but you can still have fun playing your favorite casino games with friends. There are no cash prizes, but the competition is there.
Best Mississippi Online Casinos
The Legality Of Land-Based Casinos & Online Casinos In Mississippi
Unlike most states, where there's a gray area, Mississippi doesn't recognize any form of internet gambling. The Gaming Commission regulates all betting activities in the state. You won't find any Mississippi online casinos that operate within the borders. If you do, it'd be better to avoid any involvement. The Commission also prohibits playing in offshore casinos. According to state law, unauthorized gambling can result in a fine up to $500. Failure to pay the penalty could result in one facing up to 90 days in jail. This restriction includes online casinos in Mississippi and other activities that involve real money. The grass is greener on the land-based side. There are over 30 brick and mortar casinos in the state with five of them in Vicksburg. You can choose from various games, including slots, blackjack, poker, craps, and roulette. Occasionally, Mississippi residents get to participate in a slot tournament where there's a chance to win prizes. Non-tribal casinos weren't allowed in what's referred to as the Strip until 1998 when the Indian Gaming Regulatory Act came to place. Things only went up from there. Now, the Magnolia State is home to 26 commercial casinos and several other tribal and smaller ones. While in the state, you can enjoy a variety of gambling activities that are legal and exciting:
It may come as a surprise to some, but it took Mississippi a long time to set up a state lottery legally. It used to be one of the six states without a lottery until 2018. Residents can now purchase tickets and participate in the race to millions.
The tribes run many of the casinos on the Strip, which is a cluster of gaming establishments. Here you can find pretty much every available game.
Mississippi is one of the few states that allow sportsbooks and sports betting. You can't play them at online casinos in Mississippi, but betting is allowed at the places that provide the service. Out of all the casinos, 23 of them have a sportsbook.
Daily Fantasy Sports is also legal in the state. It's as close as you can get to online gambling. The skill-based mechanics of DFS let it bypass the strict regulations.
Slot tournaments are one of the most popular events. Show up early to participate in a free-spinning contest to win cash and prizes.
Land-Based Gambling In Mississippi Today
Casino
County
Unique Features
Casino Games
Hollywood Casino
Tunica
Blackjack, baccarat, slots, poker, hotels
1,100 Slots
24 Table Games
5 Poker Tables
Ameristar Casino
Vicksburg
Craps, slots, baccarat, 24/7 poker, hotels
1,500 Slots
25 Table Games
10 Poker Tables
Silver Star Casino
Choctaw
Table games, slots, spa, attractions, hotels
2,500 Slots
75 Table Games
Harlow's Casino
Greenville
Table games, slots, hotel, spa
730 Slots
14 Table Games
Golden Moon Casino
Choctaw
24/7 Poker, table games, slots, VIP suite, hotels
1,150 Slots
25 Table Games
14 Poker Tables
Online Gambling Laws In Mississippi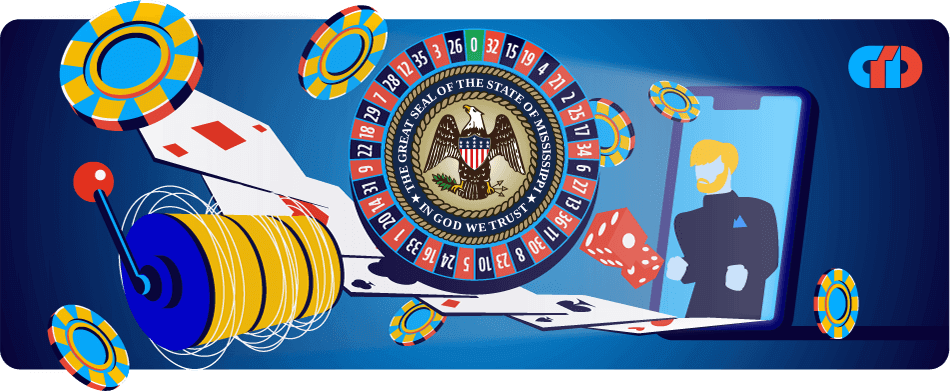 While there's nothing in state law that would stick a felony on someone for playing in Mississippi online casinos, many people think it'd never happen. The Gaming Commission states very clearly that all forms of online or unauthorized gambling are illegal and punishable by law. They even prohibit participating in offshore casinos, and these include out of state operators. What's funny, though, is how light the punishments are. To most casino players, $500 is a mere slap on the wrist, and they wouldn't even feel it. It also doesn't help that the state has hardly ever persecuted anyone for participating in such activities. That makes players bolder in their gambling endeavors. That isn't to say it's okay to join online casinos in Mississippi. The policies may worsen, and you relinquish legal protection when gambling online. We highly recommend that you steer clear from any Mississippi online gambling sites and follow the law. The only alternative is social casinos which are sites or apps often found on social media platforms where you can play casino games without wagering real money.
What should I know about Online Casinos in Mississippi?
The state of Mississippi does not allow internet gambling of any kind.
Mississippi state laws do not explicitly criminalize online casino participation, and neither do they encourage it. We advise you to follow the law.
The Gaming Commission of Mississippi prohibits playing in offshore casinos.
Land-based casinos in the state offer a wide variety of games, including slot machines, poker, and blackjack. Many of these also host free slot tournaments.
Mississippi now has a state lottery.
The Mississippi gambling age is 21 years or over for poker and casino establishments.
Gambling Laws Governing Offshore Casinos & What It Means For Mississippi Players
As relaxed as the state is toward gambling, Mississippi has strict laws for unauthorized activities. No form of internet gambling is allowed, and that includes online pari-mutuel betting. Sports betting is legal here, though you won't find it in any Mississippi online casinos. Fortunately, a majority of tribal and non-tribal casinos happen to provide sportsbooks. Residents would have to go there and bet. It's a conventional way of betting, and unironically less intuitive for modern players. You might even win a slot tournament or two at one of these casinos. It gets more stringent when it comes to offshore gambling. The Gaming Commission discourages any activity that doesn't take place within state borders. You can still play Mississippi casinos online through the social casino platform. Many of these places offer free gaming apps that you play with friends and family, solely for its fun factor.
Online Casino Games For Mississippi
Land-based gambling has a lot to offer in the Magnolia State. You'll find some of the most recognized names in the world here. The variety includes tri-card poker, slot tournaments, table games, and all kinds of roulette. Each casino also has exclusive spinners and promotions. Since they're not legal, you won't find any games available at online casinos in Mississippi. However, an excellent online operator should have most games that are available offline. They often range from progressive jackpots, online slots, video poker, and live dealers. Daily Fantasy Sports is legal in Mississippi, and it's the best online activity you can access. Their competitive aspects have outweighed the chance of nature in the legislators' eyes. Besides that, you can also engage in social casino games available in many different apps.
Payment Options At Mississippi Online Casinos
There are no available payment options for Mississippi online casinos as they are not legal in this state. If you are playing from a country or state where online casino sites are legal and regulated, you will find plenty of reliable options. You can find out more by heading to our payment methods page or to our casino reviews page if you have your eye on a particular casino site. This is not available to players wishing to play online in Mississippi.
Online Casinos Mississippi FAQs
Is online gambling legal in Mississippi?
Online casinos in Mississippi are not legal, and all residents are discouraged from playing in one. Any form of internet gaming that involves real money is strictly prohibited. The Gaming Commission also restricts its players from participating in offshore establishments. The law itself doesn't specifically criminalize playing in an online casino. There's a small fine you have to pay for such violations, but no recorded prosecutions. That doesn't mean you should gamble online as repeated misdemeanors can become severe.
Can I play at an online casino in Mississippi via mobile or tablet?
Since no Mississippi online casinos are allowed to operate, you're unlikely to find anything to play on mobile. Most casinos offer free gaming apps where you can play some of your favorite games virtually. There's no real money involved, of course.
What casino games can I play at Mississippi online casinos?
You won't find any online casinos in Mississippi, as internet gambling is illegal. Social casino gaming is becoming popular here, though. They offer a vast selection of virtual casino games, including blackjack, poker, and slot machines. While you wouldn't win any money, these games are still competitive, as players can spend real money for extra coins.
Is it possible to play online casino games with dollars?
The U.S Dollar is one of the most popular currencies in the world. That's also the case in the gambling world. Every online casino has payment options in around three to four currencies, including the U.S. Dollar. However, you will not find any real money Mississippi casinos online.
Are the Mississippi online casinos on this site regulated?
Yes. The casinos you find here are all regulated and safe to play. However, no real-money sites are available to Mississippi players.
Am I eligible to receive an online casino bonus at a Mississippi Casino?
As a player, you should always be entitled to a bonus when signing up for an online casino. They could offer anything from welcome bonuses, free spins, to boosted payouts or cashback. As long as your payments are legally cleared, you should be eligible for whatever the casino is giving away. One thing to keep in mind is the wagering requirements that come with your bonus. They are written in detail in the terms and conditions pages. Make sure you read them before making a deposit. Some of the betting conditions for their bonuses can be outrageously difficult and outright ridiculous. Be sure to understand them and choose what's best for your pocket. Since currently, there are no Mississippi online casinos, you will not find any bonuses to claim.
How do I start playing for real money at a Mississippi online casino?
You can't, and you won't. Internet gambling of any kind is illegal and frowned upon by the law. You can look for a Mississippi online casino, but it probably wouldn't be the most trustworthy one unless it's licensed elsewhere. The state doesn't even allow online pari-mutuel betting or sportsbooks.
Which online casino payment options are popular in Mississippi?
The most popular payment options for any online casino are MasterCard and Visa. Next in line are the e-wallets Skrill and Neteller. Most players prefer the last two since they're more convenient and provide you with some anonymity. No payment options are available to players in the Magnolia State.
Do I need to pay taxes on my gambling winnings in Mississippi?
Yes. The money you win from playing at the casino is considered a type of income. There's a complicated system that determines how much tax you should pay, but it mainly depends on the amount you won. It's better to check with an expert on this matter.
Play At A Real Money Mississippi Casino & Walk Away With A Large Sum!
Mississippi online casinos will remain an impassable road on our gambling expedition. The good news is things can only go up from here. Technology is becoming more dominant in the entertainment industry, so one day maybe this would change. In the meantime, you can enjoy some of the many land-based casino establishments offering great casino experiences!