Wyoming gambling laws are among the least lenient in the Union. But what exactly does Wyoming legislation say? Are USA online casinos legal in Wyoming? We're certain that you want to know about all the specifics for gaming in this beautiful location.
Our Online Casino Wyoming Reviews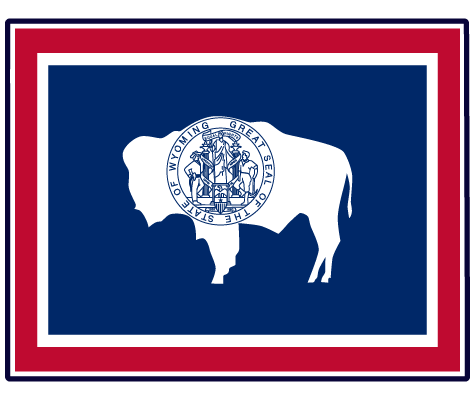 Wyoming is often referred to as the cowboy state, and with good reason. If you're the lone cowboy type, you'll love Wyoming, which has the second-lowest population density of any US state. This state's conservative stance is reflected in every piece of legislation, and online casinos are entirely prohibited from operating in Wyoming. Many people recommend gambling online using legal 'grey areas.'
However, we would never support such a reckless course of action. If you don't like traveling to one of the tribally owned casinos, you might try the Wyo-Lotto. Read on to learn about Wyoming online gambling laws and gaming in the cowboy state. We'll fill you in on all the important legislature, discuss the games that are offered, and talk about the different institutions that operate here. We'll also discuss potential payment methods, possible pitfalls, and the legalities of social gambling.
Best Wyoming Online Casinos
Casinotop10's Best Online Casinos in Wyoming Would Need To:
Offer a significant variety of casino games;
Be licensed and operate according to state laws;
Offer opportunities for the gambling type that interests you most.
The Legality Of Land-Based Casinos & Online Casinos In Wyoming
Gambling is a thorny issue in the cowboy state. Wyoming gambling laws are clear that it isn't legal to host an online casino within the state. This Wyoming legislature piece raises some serious concerns about whether it's legal to gamble online in the state. Nevertheless, there are several legal casinos in the state, hosted on tribal reservations. After an intense legal battle, the Arapaho tribe was granted legal rights and founded a casino in 2005. This ruling opened the door for many other tribal casinos to open. All of the legal casinos in the state are founded based on the federal judiciary. Nevertheless, casinos are not the only legal gambling opportunities in the Cowboy State. In 2013, the Wyoming legislature was passed to legalize a state lottery. In 2018, horse racing legally returned to the state after a significant hiatus.
If you are fond of gambling to blow off some steam, you might also want to consider socially based gambling. According to the Wyoming legislature, socially based gambling is classified as any gambling that takes place socially without real money involvement. Examples of social gambling include fake money poker, slot machines, and online roulette on applications like Facebook. Smartphone gambling applications that take place using play tokens and not real money are also acceptable. The state also allows charities to have raffles, bingo, and other social gambling forms to raise funds. Gambling games like poker, and bingo, are also legal socially – as long as no real money play is involved. Here's a list of legal gambling activities listed in Wyoming:
Wyoming State Lottery.
Legal casinos based in tribal reservations.
Pari-mutuel wagering on horses at Sweetwater Downs and Wyoming Downs.
Social-based gambling, like social casinos, that doesn't involve real funds.
Land-Based Gambling In Wyoming Today
Casino
County
Unique Features
Casino Games
Wind River Hotel and Casino
Riverton
Slot machines; Hotel; RV lot; Table games; poker tournaments
800 Slots
9 Table Games
1 Poker Table
Shoshone Rose Casino
Lander
Slot machines; Player's club; hotel; business center; conference rooms.
400 Slots
5 Table Games
789 Smokeshop & Casino
Riverton
Slot machines; Bingo. Shops.
200 Slots
Little Wind Casino
Ethete
Slot machines; Restaurant; Rewards Card
170 Slots
5 Table Games
Wyoming Online Gambling Laws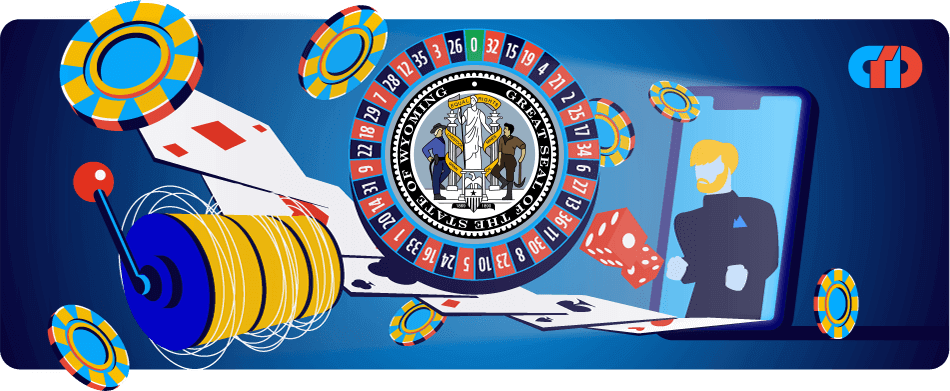 Wyoming is not considered to be one of the most liberal states where gambling is concerned. The laws regarding the pastimes are accordingly strict, and very well regulated. Nevertheless, Wyoming online gambling laws are not genuinely discussed in the state legislature and is a bit of a gray area. It's very particularly stated that online casinos may not operate from within the state borders. Judging by the fact that it is also illegal for other casinos to operate without a permit, and that the only casinos are based in the tribal reservation, we would recommend giving online gambling a wide berth. Having banned online casinos, it is unlikely that the state authorities would be more lenient regarding online gambling across state borders. However, over the years, the Wyoming legislature has slowly become more welcoming to betting activities.
The addition of legal horse racing and betting activities is one example of progress. Another example is the addition of a state lottery. Who knows, perhaps the legalization of online casinos will be the next great stride. A related, but slightly different question is how old you have to be to gamble online according to Wyoming online gambling laws. According to the Wyoming legislature, the legal age for gambling is 18, so we'd assume that – should online gambling be legalized – the legal gambling age online would be the same.
What Should I Know About Online Casinos in Wyoming?
Online gambling is a gray area in the cowboy state, and there aren't any specific Wyoming online gambling laws.
Online gambling is not, strictly spoken, considered legal in this state.
Wyoming has stringent laws regulating the trade of casinos and gambling practices in general.
Operators may not legally run online casinos within state borders.
Anyone over the age of 18 can lawfully gamble any of the available and legal options in this state.
Gambling Laws Governing Offshore Casinos & What It Means For Wyoming Players
Before we delve into what the Wyoming legislature has to say about offshore gambling, we would like to clarify. By no means do we encourage or suggest, manipulating legal gray areas or loopholes. Any wise resident of Wyoming will stay far away from offshore and online gambling until it has been officially legalized by the state – if it ever is. That said, many offshore casinos will accept players from the state of Wyoming. However, that does not speak to the legality of such arrangements because many online casinos will also allow players from restricted jurisdictions. The casino cannot be held liable in the case of legal action against the gamblers. On the contrary, many times, a casino will be left with the customer's funds after the player has faced legal consequences.
Additionally, online gambling is not illegal nationwide. Therefore, there are no federal laws in place to keep you from gambling online with a casino. However, state law is still fully binding, and if you transgress that you will be liable to pay a fine or spend time in jail. In conclusion, while some online casinos may accept you as a customer, that does not by any means make it legal to gamble with such operators. Wyoming online gambling laws may not explicitly mention offshore casinos. Still, it does say that it's not legal to bet with any institution that has not been officially legalized by Wyoming state legislation. Is online gambling legal in Wyoming? No. If you'd like to gamble legally, keep your distance from offshore and online casinos until the Cowboy State's authorities officially legalize internet-based operators. If that day ever comes around.
Online Casino Games For Wyoming
Wyoming legislature declares it illegal to operate a web-based operation in Wyoming. As such, Wyoming online gambling laws preclude operators from offering online casino games. If, however, Wyoming gambling laws were to change and allow for the advent of online casinos within the states, we predict that some of the following games would be available:
Digital slot machines such as advanced video slots, progressive jackpot slots, classic slots, etc.
Live table games; for example, live dealer poker, blackjack, and roulette.
Bingo
Video poker
There are millions of online casino games out there, and it's impossible to predict what might be available if the Wyoming legislation was to change. However, we are quite confident that some of the above-listed games would become available.
Payment Options At Wyoming Online Casinos
Since the Wyoming gambling laws state that it is not legal for online casinos to operate here, we cannot determine which payment methods are popular. However, if something were to change, we expect that some of the most popular payment options would be much the same as in any other state. E-wallets at PayPal Casinos, Skrill Casinos, and Neteller Casinos are incredibly popular options at this stage of commerce. Another option that is popular and has always been popular is paying with credit and debit cards. Since their advent, prepaid cards have also become a regularly used addition to the payment options. Other popular options include bank transfers and even cryptocurrency. While we cannot conclusively say that any of these methods will be the most popular, we can only speculate. These are likely to be the most used methods if online gambling is ever legalized in the Cowboy State.
Wyoming Online Casinos FAQs
Is online gambling legal in Wyoming?
Online gambling is technically not legal in the state borders. Wyoming gambling laws don't allow any operators to run online casinos within the state borders.
Can I play at an online casino in Wyoming via mobile or tablet?
You cannot play at online casinos in Wyoming using any device – be it desktop, mobile or tablet.
What casino games can I play at Wyoming online casinos?
There are no legal Wyoming online casinos, so there are no games either. The only option you have to play online are at social gambling sites where you don't wager any real money.
Can you play online casino games with dollars?
Yes, it is, but not in the Cowboy State. Only a handful of US states allow players to use dollars and play at real money casinos.
Are the Wyoming online casinos on this site regulated?
Wyoming legislature dictates that online casinos may not be run in the state. However, if you come from a state or country where online casinos are allowed, all our listed online casinos are perfectly regulated and thoroughly checked.
Am I eligible to receive an online casino bonus at a Wyoming Casino?
Wyoming gambling laws restrict the operation of online casinos within the state. If something were to change, any legal online casinos would likely offer bonuses in the immediate or distant future.
How do I start playing for real money at a Wyoming online casino?
You don't, because there are no casinos to play at. No real money casinos online are allowed in Wyoming.
Which online casino payment options are popular in Wyoming?
Again, since there are no online gambling facilities, there are no popular payment options.
Do I need to pay taxes on my gambling winnings in Wyoming?
Yes, all gambling winnings are entirely taxable under Federal law. You should declare any gambling winnings as part of your income when tax season comes around.
Stay on the Side of the Law when Online Gambling in Wyoming
There are several brick and mortar casinos for you to enjoy in this state. Online casinos are not permitted, so you had best not place any bets on them. That doesn't mean you can't win big at one of the tribally owned institutions, though. We hope that this article has answered some of your questions and may Lady Luck smile upon you.