South Carolina is easily one of the most conservative states in the US, so how do the USA online gambling laws in South Carolina compare to some of its counterparts? South Carolina gambling laws are on the heavier side, with very little leniency for any wagering activity. To get the bad news out of the way, South Carolina online casinos are definitely prohibited.
When you talk about gambling, it's natural to think about Las Vegas or Atlantic City automatically. South Carolina certainly won't be on the top of the list, and with good reason. While the majority of states have land-based tribal casinos, this state doesn't. Fondly nicknamed Palmetto State, South Carolina is rich in history, with a tale to be told on every corner. It's known for the subtropical seaside beaches and the holiday town, Myrtle Beach. There aren't any brick-and-mortar reservation casinos that should say quite a lot about the gambling laws. As you'd suspect, the regulations are stringent compared to many other US states. In actuality, the only casino is aboard a cruise off of the Myrtle Beach coast. You may not have luck finding any South Carolina online casinos, but you'll find the local lottery incredibly popular. Gambling laws in South Carolina allow charitable events and horse race wagering, but the rules and regulations are strict and restrictive. Keep reading as we explore the South Carolina gambling laws and the implications of violating these statutes. Can you have a poker night at home? Or what about a raffle fundraiser at work? Let's find out.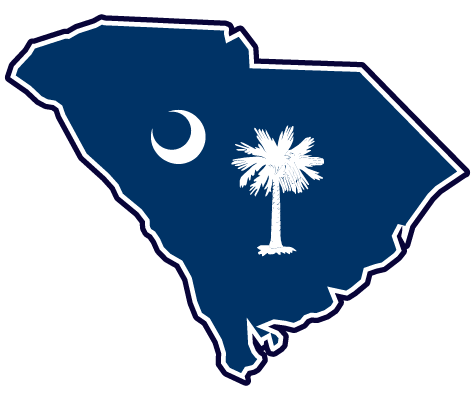 Best South Carolina Online Casinos
The Legality Of Land-Based Casinos & Online Casinos In South Carolina
If the relevant state permits, the Native American tribes can operate and regulate casinos on reservations per the Indian Gaming Regulatory Act of 1988. However, the tribes of Palmetto State have been unsuccessful in receiving a license for gambling activities. You may be asking whether there are any other land-based casinos in the Palmetto State. The answer is still no, and it doesn't seem like it'll change any time soon. The gambling laws in South Carolina are draconian, and the lawmakers remain stubborn in banning most wagering types. The law prohibiting any gambling activity on Sundays, the Sabbath, gives you an idea of how strict they are. Not that we were able to find evidence of any prosecutions, it's an indication of the archaic traditions they uphold. As stated, most betting and wagering is illegal, but where do South Carolina gambling laws stand on online casinos? While there's no explicit mention of internet wagering, it's evident on which activities are legal. It's safe to say that anything not deemed legal is considered unlawful. If you're over the age of 18, you may enjoy the state lottery, and if you're 21 and up, you can board the gambling cruises. These are the South Carolina legal gambling ages. Read more here about what you can expect:
Despite the prohibition of land-based and online casinos, South Carolina gambling laws make a Gambling Cruise provision. The company, Big M Casino, has two yachts that regularly dock in Little River. These are the only two legally operated and regulated casinos. Once you've boarded and have set sail, you need to wait until the yacht is three miles out before playing commences. At the three-mile mark, the cruise is in international waters, and South Carolina gambling laws can't prohibit wagering. You can expect a vast range of slots, and table games, including blackjack, roulette, craps, and three-card poker. Joining one of the cruises can be expensive, with the fee to board starting at $20.
Outside of casinos, gambling laws in South Carolina permit locals to enjoy a different gambling form: the lottery. It was one of the last states to introduce a lottery, with its primary goal to raise funds for educational initiatives in the community. Many players enjoy participating in local and national draws, including the Powerball and Mega Millions. Instant games include many scratch-off tickets, and players can enter non-winning cards into second chance competitions.
Charitable gambling events are permissible according to gambling laws in South Carolina. However, any organization that wishes to host an event may only offer bingo games. Organizations also need to be non-profit and receive a license from the South Carolina Department of Revenue. The SCDOR also regulates charitable events, and the rules are quite strict. This is somewhat shocking, as other states with restrictive gambling laws are more open and lenient with charitable functions.
As you can tell by now, South Carolina gambling laws leave limited areas for players to enjoy placing a few bets or even spinning a couple of slots. With the current gambling laws, Daily Fantasy Sports, poker, sports betting, and pari-mutuel are all banned (among other activities). If you're in or visiting the Palmetto State, it might be worth the trip to North Carolina or Georgia. They have a couple of Native tribal casinos and more relaxed gambling regulations.
Land-Based Gambling In South Carolina Today
| | | | |
| --- | --- | --- | --- |
| Casino | Location | Unique Features | Casino Games |
| Big M Casino Ship I | Cruise Ship | Slots, Table Games | 158 Slots, 12 Tables |
| Big M Casino Ship II | Cruise Ship | Slots, Table Games | 248 Slots, 13 Tables |
South Carolina Online Gambling Laws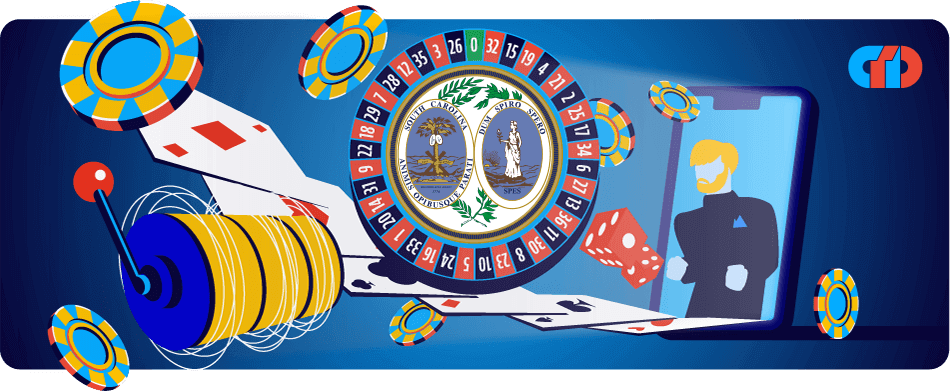 To some, the South Carolina gambling laws may seem like a gray area. There's no specific regulation that specifically addresses gambling activities. Many people take the lack of internet wagering mentioned as a loophole and sign up for South Carolina online casinos. This proves to be dangerous, because it's a state with incredibly restrictive laws, and the local government doesn't regulate online operations. It leaves players vulnerable and without legal protection. It's safe to assume that if any wagering activity isn't explicitly stated and deemed legal by the local state laws, it's considered illegal. Should you come across any South Carolina online casinos, it's a scam. You'll do the community a service by reporting the operator and not participating in its activities.
What should I know about Online Casinos in South Carolina?
Wagering laws are harsh and restrictive. There aren't any brick-and-motor casinos, let alone online offerings.
The only legal gambling activities are bingo charity events and the lottery. The casino cruises only start wagers once in international waters.
There are many scammers, so it's best to avoid online casinos. If you'd like to register at an online operator, do so when you're physically in a state that deems it lawful.
Gambling Laws Governing Offshore Casinos & What It Means For South Carolina Players
Offshore casinos are a no-go. Gambling laws in South Carolina don't permit local casinos, let alone foreign operators. You may find people rationalizing that casino cruises are permissible once they're three miles out, and therefore offshore casinos are too. Don't fall for these gambits – there's a provision for gambling cruises in the state legislation. As we stated before, if it's not bound lawfully, consider it illegal. If you genuinely would like to satisfy your gambling cravings, plan a weekend away to a more lenient state such as New Jersey or go big and take an extended trip to Nevada and get Vegas's feel.
Online Casino Games For South Carolina
As gambling laws restrict almost every type of gambling activity, there aren't any online casinos that can be used to determine the available games. If you're ever in New Jersey, you'll enjoy the offerings of its local casinos. Pennsylvania may also have a few options to tickle your fancy. Some states have various online wagering options, and some will be listed on our website. Meanwhile, the real money in-person games include state lottery drawings and scratch-tickets, chartable bingo events, and the Big M casino cruises.
Payment Options At South Carolina Online Casinos
Since the South Carolina gambling laws don't allow any casino activity, there aren't regulated operators. As there are no online casinos available, we don't have any data to pull to inform our readers. When you're visiting another state where real money internet gambling is lawful, you can check the website for details or our casino reviews. There's usually a help center or a payments tab that will guide the accepted payment options. Always ensure that you're using a legitimate site with secure banking methods when you sign up.
South Carolina Online Casinos FAQs
Is Online Gambling Legal in South Carolina?
No, the gambling laws are incredibly restrictive. It's common knowledge that the Palmetto State has a conservative stance. For decades it's been one of the least friendly gambling states in America. The current South Carolina gambling laws make no mention of online casinos or internet gambling. It's best to assume that its unlawful if it's not in the law books, it's not considered legal.
Can I play at an Online Casino in South Carolina via mobile or tablet?
No. Mobile casino sites and apps would fall under the same category as online or internet gambling. The gambling legislation doesn't discuss online wagering; however, it's best to avoid it. The codes are clear on what the legal activities are.
What casino games can I play at South Carolina Online Casinos?
There aren't any reliable or regulated Palmetto State online casinos. As online gambling isn't deemed legal, there aren't any casino games available at online operators.
Is it possible to play Online Casino Games with dollars?
Gambling laws in South Carolina prohibit land-based and online casinos, so there's no possibility of paying with dollars anyway. New Jersey, Pennsylvania, and Delaware casinos are regulated and licensed in their respective states. Each casino under their regulations does accept US dollars.
Are the South Carolina Online Casinos on this site regulated?
Every casino on this site is safe and reliable. They all have received the necessary licenses and are regulated by their respective authority bodies. You can rest assured that you and your money are protected.
Am I eligible to receive an Online Casino Bonus at a South Carolina Casino?
As there aren't any regulated online casinos in the Palmetto State, you won't receive any casino bonus offers. However, when you're visiting a state such as Delaware with legal casinos, you may be eligible for a bonus. Each casino is different, and you should always read the terms and conditions before you opt-in to promotions.
How do I start playing for real money at a South Carolina Online Casino?
The current laws restrict most forms of gambling, especially real money wagers. If you would like to play for real money, keep an eye for bingo nights and try your luck at the local state lottery.
Which Online Casino Payment Options are popular in South Carolina?
Regulated Palmetto State online casinos don't exist as they're prohibited by law. As a result, we don't have any payment options data.
Do I need to pay taxes on my gambling winnings in South Carolina?
Yes. The South Carolina Education Lottery will withhold state and federal taxes on any winnings. If you participated in gambling activities on the casino cruise, you need to report the winnings as a part of your income tax.
Follow the Law when Gambling in South Carolina
Now that we're at the end, it's safe to say that Palmetto State is easily one of the least gambling-friendly states. Hopefully, this article helped you understand the South Carolina gambling laws better. Remember always to play safely and responsibly.