Hawaii may be a paradise on earth for many travelers from across the globe. However, those who enjoy gambling definitely won't think so as the state has a blanket ban on practically all gambling. When it comes to playing at online casinos in the USA, while the Hawaii law does not specifically mention it, we do not recommend doing so as the law could easily be extended to include it.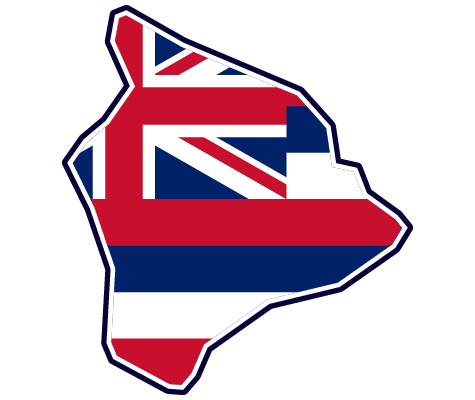 Our Online Hawaii Casino Reviews
Hawaii was the last state to ever join the union – in 1959, to be exact. Since then, it has become a firm favorite among travelers both from the US, as well as from outside. One thing people would certainly not travel to Hawaii for, though, is gambling. Indeed, the state has one of the strictest stands in the whole US, with a blanket ban on all gambling. At the time of writing, in fact, there are no land-based Hawaii casinos. Additionally, citizens and visitors cannot take part in charitable gambling, pari-mutuel wagering, online gambling, or even the state lottery. Gambling in Hawaii can seem like a bleak affair, and there are many theories as to why this state has laws that are similar to the more religious Utah. Below we explore this in further detail.
Best Hawaii Online Casinos
The Legality Of Land-Based Casinos & Online Casinos In Hawaii
Hawaii has one of the strictest and most unwavering United States gambling laws. In fact, it is one of only two US states whose laws ban all kinds of gambling. The other state is the uber-religious Utah, where the Mormon Church's influence has resulted in a complete ban on gambling of any kind. Because of this, residents of, and visitors to, the Aloha State will not find any land-based, brick-and-mortar casinos and cannot play at casino cruises. Neither can they dabble in pari-mutuel wagering on dog and horse racing, Daily Fantasy Sport or sports betting. Dogfighting, the law says, is also illegal – though that is certainly a good thing. Moreover, owning any gambling devices in Hawaii, such as slot machines, or promoting gambling in any way is also illegal. There is no law that approves charitable gambling including bingo and online bingo. Even the state lottery, which so many other states have, isn't available. Of course, this doesn't mean that Hawaiians and tourists to the Aloha State don't want to play. In fact, many lawmakers in the last state to join the USA have tried to pass Bills to legalize land-based gambling and create systems similar to those of Nevada and New Jersey. But, as the above shows, all of these have so far failed. There are many theories as to why Hawaii has taken this stance when it comes to gambling. Among these are the fact that Hawaii does not have citizens driving off to other states simply to gamble. It's an island that's 2,000 miles away from the mainland, after all. Plus, there are no Indian tribes that have lobbied for the right to operate casinos on their land.
Whatever the reality may be, what is important to remember is that the law of Hawaii does not really permit any form of gambling. Although, in 2016, the State Attorney General's Special Assistant did make it clear that those purchasing lottery tickets from other states could cash them, and that state taxes would apply to any wins. A tiny spark of a change that is being kindled? Who knows? Meanwhile, when it comes to online gambling, Hawaii is like many other states in the USA in that there is no specific law that condones or condemns it. However, with the stance Hawaii has taken on gambling in general, it seems pretty clear to us that it would consider anyone caught playing online in Hawaii to be breaking the law. As for the future, things are still unknown. Experts, however, often say that they would not be surprised if Hawaii legalized online gambling in the state before brick-and-mortar casinos.
Land-Based Gambling In Hawaii Today
The state of Hawaii has taken one of the strictest stances in the whole of the US. This means that there are no land-based Hawaii casinos where citizens and visitors can play their favorite casino games.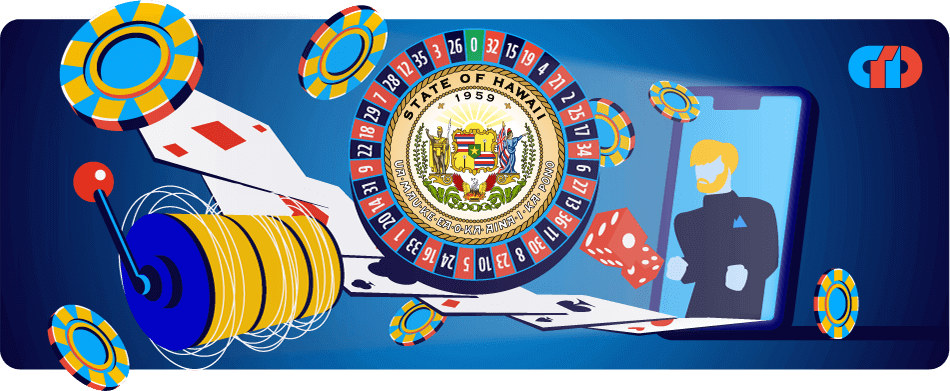 Online Gambling Laws In Hawaii
Gambling in Hawaii is a very easy world to understand in the sense that practically all forms of gambling are explicitly illegal. The list includes playing casino games at land-based casinos, pari-mutuel wagering on dog and horse racing, sports betting, and even the state lottery. The one thing the law is not definite about is online gambling, which is not mentioned directly in Hawaiian law. This, however, does not mean that it's not illegal. In fact, given how the law in Hawaii defines gambling, it is pretty all-encompassing: 'staking or risking something of value upon the outcome of a contest of chance or uncontrollable future contingent event in order to receive something of value' (§712-1220). Moreover, given that illegal gambling at Hawaii casino can result in a term in jail, it makes it even more imperative not to risk it. Though it must be said that the punishment for being caught gambling illegally changes. The change happens according to the amount wagered and the type of gambling you dabble in. In conclusion to this part, our advice is to remain well within the confines of the law. This applies whether you're Hawaiian or visiting this slice of paradise by not gambling online at any Hawaii casino or any offshore registered ones.
What should I know about Online Casinos in Hawaii?
While the law in the state does not specifically mention gambling online at Hawaii casino, it is best to assume that it is illegal due to the laws governing other forms of gambling.
The Aloha State has taken one of the toughest stands when it comes to gambling in Hawaii. Indeed, land-based casinos, pari-mutuel wagering, the state lottery and charitable bingo are all banned.
Some sources may tell you that you are able to play at offshore registered casinos while in Hawaii. We do not recommend this as you may be putting yourself, your rights, your money and your data in danger.
Offline social gambling is allowed but with some restrictions. These restrictions state that all players must start from equal footing, that no player receives anything of value for taking part or winning, that this is not done in any public place like hotels and bars, that all of the players are over the age of majority (18+), and that the event is not a bookmaking activity (§712-1231).
Gambling Laws Governing Offshore Casinos & What It Means For Hawaii Players
Because gambling in Hawaii is so restrictive – literally nothing is legal – many may think that turning to offshore registered casinos as a good way of bypassing the law. For those who may not know what these are, offshore casinos are online casinos that are registered in offshore jurisdictions where gambling online is legal. These places can include the Isle of Man, Gibraltar, Malta, Curaçao, the United Kingdom casinos, or even other states from within the USA. There are many reasons why Hawaiians should not play at offshore registered casinos. It includes the fact that the laws in these countries may be completely different to what you're accustomed to at home. Thus, leaving you and your state powerless should anything go amiss. Moreover, not all online casinos take all the necessary precautions to safeguard your money, your rights, and your data. On top of this, should you be caught doing so while in the state of Hawaii, you may indeed get in trouble with the law, an offense that could carry jail time with it. For this reason, our advice is to never play at offshore registered casinos while in the state of Hawaii.
Online Casino Games For Hawaii
Sadly, there are no online casino games that can be played by residents of, or visitors to, Hawaii. Indeed, Aloha State does not even allow citizens and visitors to play casino games in land-based venues. There are no brick-and-mortar casinos in Aloha State. It even imposes restrictions on offline social gambling. This includes that all players must start on equal footing. No player receives anything of value for taking part or winning. Also, this is not done in any public place like hotels and bars. None of the players are below the age of maturity (under 18). Lastly, the event is not a bookmaking activity (§712-1231). In other words, Hawaiians and visitors to Aloha State cannot play their favorite online casino games while there. This is including poker, baccarat, roulette, blackjack, craps, bingo, pai gow, and the rest.
Payment Options At Online Hawaii Casinos
Since there is a blanket ban on gambling in Hawaii, we have no data on Hawaii casinos including payment options. If you are out of the state and in a place whose jurisdiction allows you to gamble online, however, then our advice is to check the information on the online casino's website of choice to make sure that the payment options provided and the currencies accepted fit your needs and wants. Alternatively, you can get these details by heading to our casino reviews.
Online Hawaii Casino FAQs
Is online gambling legal in Hawaii?
There is a complete blanket ban on gambling in Hawaii, which includes land-based casinos, pari-mutuel wagering on horse and dog racing, the state lottery, charitable gambling, sports betting, and the rest. For this reason, even though the law in Aloha State does not specifically mention gambling at online Hawaii casinos. It's best to assume that playing online from within the state is also banned. We also do not recommend bypassing the law by playing at offshore registered casinos. Being caught gambling illegally in Hawaii can carry harsh penalties, including jail time, and the current law is nuanced enough to be extended to online should prosecutors wish to do so.
Can I play at an online Hawaii casino via mobile or tablet?
No, casino games cannot be played offline, online or on mobile devices including laptops, notebooks, mobile phones, or tablets at mobile casinos. It's interesting to note that in Hawaii, even owning anything related to gambling including gambling devices and records, is illegal, and that could easily extend to mobile devices if they are used for such deeds.
What casino games can I play at Hawaii online casinos?
Sadly, none, as gambling in Hawaii is completely banned. The only way Hawaiians and visitors to the Aloha State can play their favorite casino games is offline in a social (i.e. for no money) context, but be aware that this cannot be done in any business establishment or public place, cannot be done for monetary gain or in exchange of prizes or goods, all those taking part must be majors (18+) and the activity can't be a bookmaking event.
Is it possible to play online casino games with dollars?
No currency may be used to play at any online Hawaii casino, including dollars or virtual currencies. If, however, you are out of the state and in a jurisdiction that allows online gambling to take place legally, then we recommend checking the information section of the website to see what kind of currencies are accepted by the casino, as well as what kind of depositing and withdrawing methods can be used. There are plenty of websites to choose from, so finding one that fits your needs shouldn't be too difficult.
Are the Hawaii online casinos on this site regulated?
All online casinos mentioned on this website are guaranteed to be legal and regulated, as well as to have all the measures in place to protect you, your money, your data, and your rights. Of course, since gambling in Hawaii is completely banned, we do not mention any casinos whatsoever on this specific page.
Am I eligible to receive an online casino bonus at a Hawaii Casino?
Sadly not, as gambling in Hawaii is completely illegal. Bonuses, such as free spins, welcome bonuses, and no deposit bonuses, can only be redeemed when playing online and that is not accepted by the law in the Aloha State. Should you be out of Hawaii and in a place, which allows visitors and citizens to play online, then we recommend shopping around for the best casino bonuses you can get your hands on. It's important to always read the fine print, though, as not all bonuses are as good as they may initially seem.
How do I start playing for real money at a Hawaii online casino?
Hawaii has such strict gambling laws, which ban practically all gambling methods. This includes playing at land-based casinos, charitable gambling, the state lottery, and pari-mutuel wagering on horse and dog races. So, it's safe to say that playing online at Hawaii casino is also illegal. Therefore, there is no way for Hawaiians or visitors to Aloha State to do so.
Which online casino payment options are popular in Hawaii?
None as there is a blanket ban on all forms of gambling. Hawaii gambling laws are indeed among the strictest in the whole USA, with only those of Utah matching their severity.
Do I need to pay taxes on my gambling winnings in Hawaii?
Yes. Although Hawaii does not allow any gambling to take place in the state, it still taxes those who win at gambling in other states. Since 2009, in fact, not only are Hawaiian gamblers returning home taxed on their winnings but on their entire wager. This means that if you won $5,000 and you lost $4,000 on the same trip (and therefore made a profit of $1,000), you will still be taxed on the entire $5,000. These taxes also apply to citizens who purchase lottery tickets from elsewhere in the USA and win.
Stay Safe and Follow the Law If You're Looking to Play at Online Hawaii Casino!
We hope this has answered all your questions regarding gambling in Hawaii and online Hawaii casino. As always, we urge you to always remain well within the law of the jurisdiction you are in and to never wager more money than you can afford to lose. With that in mind, good luck in gambling and in life!