Unlike most states, the Oregon online gambling USA legislation isn't as much of a grey area. While players may explore Oregon gambling varieties at many tribal lands, poker rooms, and the state lottery, internet gambling is illegal.
Our Online Casino Oregon Reviews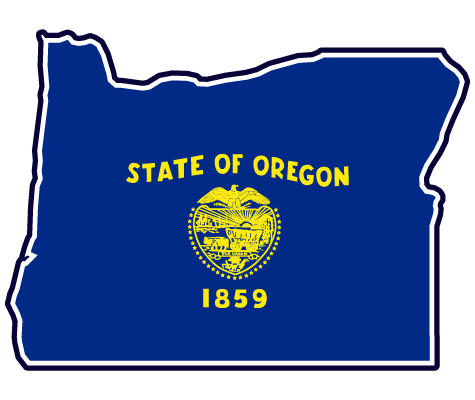 More affectionately known as the Beaver State, Oregon is known for hosting the world's largest living organism, the honey mushroom. It's also one of the nation's more progressive populations, but the laws surrounding the Oregon online casinos are quite strict. It's known for its natural beauty and less conservative values. Unfortunately, it's not the case when we start looking at its laws surrounding Oregon's online gambling. However, like many other US states, you can find tribal casinos under the 1988 Indian Regulatory Act. While playing for real money at Oregon online casinos is prohibited, players can enjoy other wagering forms. The state has it's lottery, multiple poker rooms, and pari-mutuel wagering on horse races. If you're planning on visiting Oregon and need more information on keeping up with your gambling hobby, keep reading. Regardless of what anyone tells you, always check the laws and regulations surrounding wagering in the state you're visiting. It's better to be safe than sorry.
Best Oregon Online Casinos
The Legality Of Land-Based Casinos & Online Casinos In Oregon
The Oregon gambling laws are more restrictive than one would think. Whether you're looking to play online or in a brick-and-mortar casino, the options are limited compared to other states. Unless you're playing the Oregon Lottery or participating in a charitable fundraising event, few alternatives exist. Even with charity, fraternal, and religious organizations, they need to receive a license to run an Oregon gambling function. According to statutes regarding Oregon gambling laws (Chapter 167, Section 167.122, and 167.127):
(1)A person commits the crime of unlawful gambling in the second degree if the person knowingly:
(a)Places a bet with a bookmaker; or
(b)Participates or engages in unlawful gambling as a player.
(2)Unlawful gambling in the second degree is a Class A misdemeanor.
and
(1)A person commits the crime of unlawful gambling in the first degree if the person knowingly promotes or profits from unlawful gambling.
(2)Unlawful gambling in the first degree is a Class C felony.
Translating the above into layman's terms; if you participate in any gambling type otherwise dubbed illegal, you'll face the consequences. The only permitted forms of wagering are those explicitly stated to be so.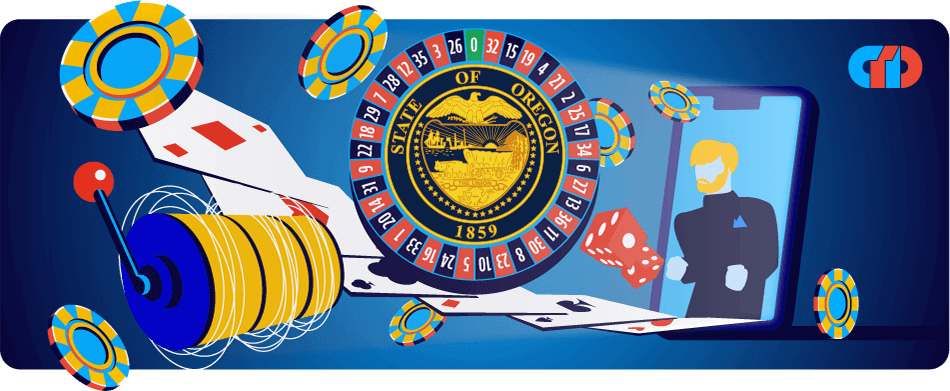 While some states have a grey area concerning internet betting, Oregon online gambling is prohibited by law. Anyone who violates the code will be charged with a Class C felony. Unless the Tribal casinos decide to add an online casino as part of their offering, it's best to steer clear of any operators promoting activities. Oregonians may participate in gambling activities provided they're over the Oregon gambling age which is 18 years or older, and 21 years for video lottery and sports betting (and at facilities that sell liquor).
Native tribes have the right to run and regulate gaming amenities on their land, as stated with the Indian Gaming Regulatory Act of 1988. Eight different tribes run nine various land-based Oregon gambling facilities (one tribe runs two casinos). They're all Class II and III games. It means you can participate in bingo types (traditional and online bingo) and classic table games.
Charitable gambling is permitted in Oregon, but there are rules and regulations that organizations must follow. Any non-profit entity may apply for a license to run bingo events, raffles, and Monte Carlo Evenings. However, at Monte Carlo functions, players must be given fake money to play, and may not win cash prizes.
One of the most popular forms of Oregon gambling is the state lottery. It's been active since 1984 and accounts for more than $12 billion going towards the community. Players can enjoy scratch cards, jackpots, keno, and sports betting. Some multistate games include the Powerball, and Mega Millions draws.
Sports fanatics will be pleased to know that one of the legal forms of Oregon online gambling is through the lottery. In 2019, the Scoreboard site and app went live. It permits Oregonians an opportunity to place various bet types on major US sports events. College sports are excluded, but you can place bets on MLB, NHL, NBA, and PGA events. It's had a great year so far, with many players enjoying the sports betting function. If you're visiting the Chinook Winds or The Mills casinos, you can place sports bets in person with their cashiers. Unless the tribes decide to release their own Oregon online casino platforms, sports wagers must be made at the brick-and-mortar facilities or with the Scoreboard app.
Pari-mutuel horse and dog race betting is 100% legal in the Beaver State and has been since 1931. Due to the increased concerns surrounding animal cruelty, greyhound racing has ended in Oregon. However, you can still bet on the ponies. All race tracks have closed down, but you can attend the annual meet at Grants Pass Downs. During the rest of the year, there are multiple off-track betting sites across the state. Here you can watch races remotely (usually via television) and place your wagers at the facilities.
What may come as a shocker, is Oregon gambling laws allow poker rooms to operate. Naturally, they need to abide by specific rules. As long as you're playing at a licensed and regulated operator, you don't need to worry. The house or owner may not profit from the games played. Instead, they may charge a cover fee and make money by offering services such as food and drink. If a poker room requests rake or tournament fees, they're operating unlawfully, and it's best to play elsewhere.
Land-Based Gambling In Oregon Today
Casino
Location
Unique Features
Casino Games
Chinook Winds Casino and Resort
Lincoln City
Slots, Bingo, Keno, Poker, Table Games, Sports Betting
1200 Slots
19 Tables
Spirit Mountain
Grande Ronde
Slots, Keno, Poker, Table Games
2000 Slots
40 Tables
Wildhorse Gaming Resort and Casino
Pendleton
Slots, Keno, Bingo, Poker, Table Games
1200 Slots
14 Tables
The Mill Casino
North Bend
Slots, Table Games, Sports Betting
700 Slots
8 Tables
Seven Feathers Casino Resort
Canyonville
Slots, Bingo, Keno, Table Games
1100 Slots
19 Tables
Oregon Online Gambling Laws
As mentioned earlier, lawmakers have made Oregon online gambling operations explicitly illegal. If you read the codes, it states that a person can't knowingly accept any form of funds for gambling purposes over the internet. That seems like a grey area for players because you may not receive cash. However, if you participate in the transaction, you're part of the activity. Sports gambling in Oregon is a legal activity, and the most popular means for placing bets is online. Using the lottery's Scoreboard app and website has sufficient wagering options. Over and above major leagues and championships, there are markets for volleyball, soccer, and snooker. The Scoreboard platform is the only lawful internet wagering facility, until such a time that the tribes decide to introduce the first Oregon online casinos.
What should I know about Online Casinos in Oregon?
Oregon online casinos are illegal and unregulated by the state constitution.
The only legal Oregon online gambling practice is through the Lottery's Scoreboard app and website.
The only regulated and lawful casinos are those on tribal lands.
Some international operators accept Oregonians; however, offshore casinos must be avoided as they're not legal. If something goes wrong, you won't be protected by any laws.
Gambling Laws Governing Offshore Casinos & What It Means For Oregon Players
When you're on the internet looking for an Oregon online casino, you won't find any. You'll find many operators that claim to accept players from the Beaver State but stay clear. As you should've seen by now, Oregon online gambling isn't permitted, including offshore operators.
Online Casino Games For Oregon
There aren't any Oregon online casinos that operate legally, apart from Scoreboard. If you'd like to play a few spins, social gambling is permitted. This means that playing slots or casino type games on your phone or social media is allowed. Online social gambling is a form of playing without using any real money. You'll receive free tokens and simulate the activity, but rarely win any prize, and if you do, it won't be a cash prize.
Payment Options At Oregon Online Casinos
Oregon online casinos aren't available, so there are no suitable payment options to mention. If you're using Scoreboard for sports gambling, you need to add funds to your account. The only two options to top up are transferring cash from your bank account to your Scoreboard account. Alternatively, you can also use your debit or credit card.
Oregon Online Casinos FAQs
Am I eligible to receive an Online Casino Bonus at an Oregon Casino?
No, as there aren't any. When you're visiting a regulated gambling site, always read the terms and conditions before signing for a bonus.
How do I start playing for Real Money at an Oregon Online Casino?
As online gambling is unlawful in Oregon, avoid playing for real money. There are sufficient land-based casinos and poker rooms across the state to play casino games for real money.
Which online casino payment options are popular in Oregon?
As it's illegal to operate and participate in online casinos in Oregon, it's best to steer clear from playing with real money. If you'd like to indulge in sports gambling online, top up your Scoreboard account to play. Use a bank transfer or a card payment to add funds to your account.
Do I need to pay taxes on my gambling winnings in Oregon?
Yes, the law states that gambling and lottery winnings are taxable. Lottery winnings have an 8% state withholding tax and 24% federal tax withheld. Gambling winning must be included in taxable income.
Is Online Gambling Legal in Oregon?
The only internet gambling permissible is with the Scoreboard app or site. The law states very clearly that online gambling is illegal in the Beaver State. If caught, you'd face a Class C felony charge.
Can I play at an Online Casino in Oregon via mobile or tablet?
No, you may not. Gambling at a mobile casino using a phone or tablet falls under the online and internet category. There are no legally operating Oregon online casinos. Only sports betting is permitted online via the Scoreboard app available for iOS gambling and Android gambling.
What casino games can I play at Oregon Online Casinos?
There aren't any licensed operators in the Beaver State. However, you may find several sports gambling markets on the Scoreboard website and app. You may find social games that you play without using real money on social media sites and games.
Is it possible to play Online Casino Games with dollars?
When you play online with the sports betting app, you'll pay in dollars since it's a local organization. If you play online in another state with licensed US casinos, you can pay with dollars.
Are the Oregon Online Casinos on this site regulated?
No, Oregon online casinos don't exist and therefore aren't regulated. If you participate in any gambling activity that's deemed illegal, the state can't protect you. Any operators featured on our website are regulated and safe to use.
Play At A Real Money Oregon Casino & Walk Away With A Large Sum!
After completing this article, we hope that the laws surrounding online gambling make more sense. Always remember to ensure that your selected operators are legal and regulated. As always, we encourage our readers to be safe and play responsibly.