Gambling in Oklahoma has been around since its beginnings as a state. There have been people playing cards for money in saloons since settlers started moving west. Included in that group of people are the Native Americans who were forced to move west. Oklahoma is home to the most Native American reservations in the country and the largest population of Native American descent. Now, under federal law, all gaming establishments or casinos on Native American reservations must legally follow the Indian Gaming Regulatory Act.
Our Online Casino Oklahoma Review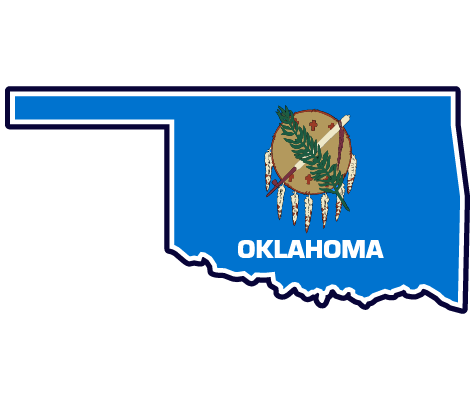 So what is on offer on the online casino hotel in Oklahoma? We have taken a deeper look into what's out there. Each state has their own stance on the question of gambling offline and online. The laws vary from one state to another. A case in point is New Jersey. As it is a regulated state, you can find plenty of NJ online casinos. However, Washington online casinos are currently restricted within that state.
The gambling climate in the Sooner State offers some legal gambling options to Oklahoma players. We advise you to follow the state laws when it comes to USA online gambling as it is the safest way to play and enjoy yourself. This is true for both land-based as well as online gambling in Oklahoma. Land-based gambling in Oklahoma is common as there are a good number of tribal casinos all over the state. Read on to find out everything you need to know about the online casinos available in Oklahoma.
Best Oklahoma Online Casinos
CasinoTop10's Best Online Casinos in Oklahoma need to:
Be legally available to Oklahoma online casino players;
Have fast, efficient and secure payment options;
Offer a wide variety of games both on desktop and on mobile;
Give adequate customer support;
Offer attractive online casino bonuses for Oklahoma gamblers.
The Legality of Land-Based Casinos and Online Casinos in Oklahoma
As mentioned before, all casinos in Oklahoma are owned by Native American tribes. It is actually a law in Oklahoma that all land-based casinos need to be run and owned by Native American tribes and be located on designated tribal lands. Off-track horse betting, state lottery, and bingo halls are the only exception to this law and can be run by charities and the state. The age for gambling in Oklahoma is 18, but if the casino serves alcohol, then the age to play is 21. To gamble online in Oklahoma is not outlawed by any specific law. However, Oklahoma state law does not regulate or license online gambling websites. It is still illegal for Oklahoma residents to run an online gambling website in the state.
Land-Based Gambling In Oklahoma Today
Today, there are about 60 Oklahoma land-based casinos which are run by Native American tribes. Most of the casinos are located along the Texas border. The Choctaw and Cherokee tribes own and run a lot of the land-based casinos in Oklahoma. Almost all the tribe reservations in Oklahoma have some type of gambling or casino.
Top 5 Casinos in Oklahoma
| | | | |
| --- | --- | --- | --- |
| Casino | Location | Unique Features | Size |
| Grand Casino Hotel Resort | 777 Grand Casino Blvd, Shawnee, OK 74804, United States | Hotel has over 250 rooms | Over 2000 different slot machines on-site alongside the classic table games |
| Indigo Sky Casino | 70220 US-60, Wyandotte, OK 74370, United States | 520 seat bingo hall | Over 1200 slot machines and also, twelve table games |
| Hard Rock Casino | 777 W Cherokee St, Catoosa, OK 74015, United States | One of the largest Casinos in the state | Over 2600 slot machines, many table games and also, a poker room |
| Choctaw Casino | 4216 US-69, Durant, OK 74701, United States | Multiple restaurants on-site and a large hotel for guests who want to spend the night | The second-largest casino in the state. Over 4500 slot machines, 40 table games with all the classic games |
| Cherokee Casino | 777 Casino Dr, Cherokee, NC 28719, United States | Hotel on-site with 120 rooms | The Roland location has about 800 gambling machines and a poker room with five poker tables |
Online Gambling Laws in Oklahoma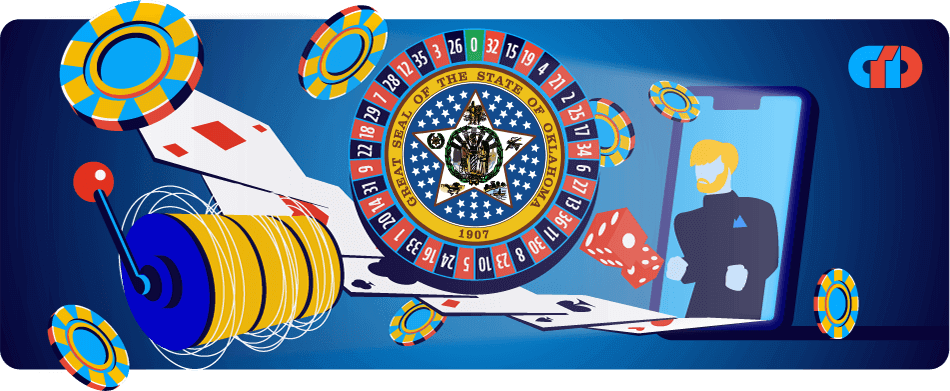 As mentioned before, there is no specific law regulating online gambling in Oklahoma which means that you should refrain from playing at online casinos in Oklahoma unless otherwise advised. Always do your research before heading into the online gambling world while living in Oklahoma to avoid any legal trouble. It is also illegal to own and run an online casino in Oklahoma.
What should I know about Online Casinos in Oklahoma?
It is a good idea for people to look for licensing before signing up or depositing money at any online casino. As an added safety measure, you should ask an attorney or someone who works in online gambling in Oklahoma to check about safety and legality. This will avoid any unwanted legal troubles along the line.
Gambling Laws Governing Offshore Casinos and What it Means for Oklahoma Players
Since there are no state-regulated Oklahoma casino sites for people to play at, many people might feel like it's a good idea to play at offshore casinos. We at CasinoTop10 strongly advise that you do not do this as regardless of whether or not US players are accepted, safety and legality are never fully guaranteed when you sign up. Always respect your local laws if you want to stay out of trouble.
Online Casino Games for Oklahoma
Like players from other states, Oklahoma players look for online slots games, table games, and various other games to play to win real money.
Payment Options at Oklahoma Online Casinos
Each casino site is going to have its own specific payment method to choose from. Some casinos also have a direct deposit option. Check the site's policies and make sure it is a comfortable form of payment for you before starting to play and above everything else, always make sure that what you're doing is legal.
Online Casino Oklahoma FAQs
Is online gambling legal in Oklahoma?
Owning an online gambling site isn't legal. It is never a bad idea to ask an attorney or someone who works with gambling laws to double-check that there will be no legal trouble down the line.
Can I play at an online casino in Oklahoma via mobile or tablet?
If you find a legal online casino in Oklahoma you can play at a mobile casino seamlessly. Most sites offer this feature as more and more people move away from desktops and laptops to mobile phones and tablets.
What casino games can I play at Oklahoman online casinos?
Most legitimate sites offer many slot machine games and digital versions of classic table games. Some of the table games are blackjack online, poker, online roulette, and dice games. Each online casino has its specific features and games, so check out if it has the games you like to play before depositing money.
Is it possible to play online casino games with dollars?
If you find a legal site they will usually allow people to deposit real money into their gambling pot. From there, one can use their money how they like to gamble. After the money is won, people can then deposit the money back into their banks and use it as they wish.
Are the Oklahoma online casinos on this site regulated?
Oklahoma legally cannot have online casinos for Oklahoma residents; technically, they cannot be regulated. If there are Oklahoma online casinos, they are illegal and are not regulated. Don't deposit any money into sites that claim to be Oklahoma online casinos because it can be dangerous and could cause legal trouble in the future.
How do I start playing for real money at an Oklahoman online casino?
As mentioned earlier, if the site claims to be an Oklahoma online casino, don't deposit any real money because it is not legal and could result in trouble.
Which online casino payment options are popular in Oklahoma?
Each site has its own payment options, however, what is of paramount importance is the legality of those sites.
Learn How to Play at an Oklahoma Online Casino and Win!
Gambling of any kind can be fun and you can make a lot of money by doing it, however, it is always important to always follow the laws regarding casinos and gambling. These vary from state to state. A resident of Oklahoma can play in any Native American owned casino at the age of 18, or 21 if alcohol is served. Any site claiming to be an Oklahoma online casino is illegal, and you should never deposit real money into their website.