There are no concise laws when it comes to gambling in Maine about online casinos in the USA. While this clarity would help us understand the implications of Maine casinos providing online slots and table games on the web, it's best to steer clear of them. If you want to enjoy the pleasures of online gambling in Maine without legal repercussions, you can bet on daily fantasy sports or free social casino apps.
Our Online Casino Maine Reviews
The State of Maine generally has a liberal stance when it comes to betting activities. The history of gambling in Maine extends to the first land-based slots in 2004, but the first official casino began in 2012 with the legalization of table games. However, the law doesn't extend to Maine casinos on the internet, since the government hasn't approved any operators based in the State. Current gambling activity includes a horse racetrack, slots, table games, and lottery. There are two official land-based casinos, but the online Maine casino offering isn't available. It's not that it's illegal; it's just that no operator has received permission to establish an internet presence. If you're a resident of the State or visiting as a tourist, please read further for more details on Maine online casinos. Please practice caution no matter where you gamble and ensure that you follow the State's betting regulations.
Best Maine Online Casinos
CasinoTop10's Best Online Casinos in Maine need to:
Be governed by official State law;
Consist of a large variety of slots, table games, sports betting and live dealers;
Provide appealing promotions for new and loyal members.
The Legality Of Land-Based Casinos & Online Casinos In Maine
The State's government takes a cautious attitude when it comes to gambling in Maine. While online wagering may not be illegal, there is no evidence of internet casinos starting up soon. The main reason may be due to the small population compared to the other States. Yet, with the generally positive view of gambling, real money casinos may perform well on the web. If you're the legal gambling age, here are some betting activities you could enjoy:
The first signs of betting emerged in the 1950s when pari-mutuel horse race wagering started. The Scarborough Downs racecourse was the first track to open its door to live sports betting, with several others following suit. Today, only two tracks remain, with horserace betting still being one of the popular ways to wager.
When the State approved a national lottery in 1974, it became exceedingly popular. It showed how positive the locals were towards betting. Since then, it has helped more than 250 agencies with the earnings. However, the lottery is still land-based with no internet offering.
The 1980s saw the rise of tribal bingo. The State permitted venues for Native American high-stake bingo events, an alternative to Vegas-type gambling style. Charity wagering also became popular among the residents.
During 2003, the concept of racinos emerged. It mixed the notion of racetracks with casino games, allowing for slots within horse racing facilities. The Hollywood Casino Hotel and Raceway came into being in 2005 as the first racino. It added table games to the offering in 2012.
The Oxford Casino also opened its doors in 2012, following a vote two years earlier to create a second casino. It offers slots and table games, but there was no racecourse attached. There was a call for a third casino in 2012, but the vote fell through.
Daily fantasy sports became popular when it was legalized and regulated in 2017. It was the first sign of the state accepting internet gambling, even though the law doesn't specifically speak about online casinos. DFS is still a thriving gambling activity today.
Discussions are currently underway to approve mobile betting, sports betting, and other internet gambling items. You can enjoy social casino apps, but there's no real money involved.
Land-Based Gambling In Maine Today
| | | | |
| --- | --- | --- | --- |
| Casino | County | Unique Features | Size |
| Hollywood Casino | Bangor | Hotel, Entertainment, Horse racing, Social app betting, live casino | 800 Slots14 Table Games |
| Oxford Casino | Oxford | Hotel, special events, Loyalty membership | 1000 Slots30 Table Games |
Online Gambling Laws In Maine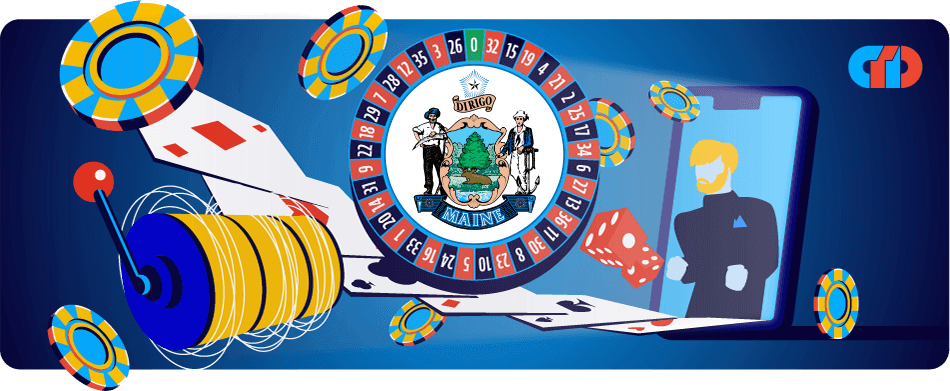 The State has not approved the establishment of online Maine casinos yet. However, the discussions taking place in 2020 reveal that it may happen. The current topics include mobile betting and sports betting, amongst others. With the approval of daily fantasy sports, a form of internet gambling in Maine, it's expected that iGaming will be made official soon. Social gambling apps are legal in Maine. Land-based casinos allow you to play their slots for free, but you won't win any real money. We believe these platforms test the reception of internet gambling, which could help sway the decision on legal iGaming casinos. For now, you can only enjoy winning in-game virtual money.
What should I know about Online Casinos in Maine?
The State of Maine allows you to gamble in one of the land-based casinos situated in Oxford and Bangor;
The government must approve the establishment of online casinos in Maine;
Daily fantasy sports is a form of online gambling in Maine that's legal;
The State is considering making both sports and mobile betting legitimate, paving the way for Maine online casinos.
Gambling Laws Governing Offshore Casinos & What It Means For Maine Players
With the State Law not clearing stating its stance on online gambling, offshore operators are hesitant to allow US gamblers from Maine to sign up for membership. There are a few that will allow access, but the State won't protect you if things go wrong. Other governments regulate offshore casinos, which means you may be on your own. Since the government is in discussions to have gambling bills changed, these regulations may alter shortly. For now, it's best you keep your funds safe and not gamble on offshore casinos while living in Maine.
Online Casino Games For Maine
There are two primary forms of online gambling in Maine. The first is the daily fantasy sports, which allows you to pick fantasy teams on which you want to wager. While not quite an online casino, it will give you a taste of online betting. The second form of online betting is through social applications. You won't win real money, but you can play on some of the most common games found in the Pine Tree State. The list below provides the types of games you'll find on social apps:
Slots
Table games
Card games
Video Poker
Roulette
Jackpots
Payment Options At Maine Online Casinos
Since there are no legitimate online casinos in the State of Maine, we're unable to provide you with a list of payment options. However, we'll update this article if any new legislation passes and online Maine casinos start appearing.
Maine Online Casinos FAQs
Is online gambling legal in Maine?
There is no strict regulation that prohibits online gambling in Maine. The State is quite liberal when it comes to wagering. However, the government has not approved the establishment of online Maine casinos. The history reveals the rise of wagering in the State. Since daily fantasy sports is seen as a form of online betting, it shouldn't be long before we see the approval of online casinos. The main question is whether it will be a profitable business. Of course, there's the option of finding an offshore casino. Yet, most of them don't allow players from States where online gambling isn't approved. Furthermore, you'll trust your funds in a jurisdiction where you aren't protected.
Can I play at an online casino in Maine via mobile or tablet?
The State is busy considering a bill to regulate and legalize mobile betting. The last sitting was in 2020, where the governor vetoed the bill. Not enough votes were available to overturn the governor's decision. Yet, we suspect that the topic will arise again shortly. If you don't mind playing with virtual funds, you can gamble using social apps. The land-based casinos provide mobile applications for their slots and table games. They are all free to play, providing an opportunity to test the climate for future online Maine casinos.
What casino games can I play at Maine online casinos?
Social gambling in Maine allows you to play the same casino games as land-based casinos for free. While sports betting is not available, you can enjoy slots, table and card games, and online roulette. There are also daily fantasy sports if you enjoy betting on fantasy sports teams. When it comes to real money online Maine casinos, there are no games currently available. It may change if the State amends the regulations around online gambling. For now, there is no online casino approved.
Is it possible to play online casino games with dollars?
Since there are no online Maine casinos, you can't wager with any currencies at the moment. You will find New Jersey, Pennsylvania, and Delaware casinos, however. You may find an offshore casino that accepts dollars, but the State of Maine can't protect your funds from fraud or theft.
Are the Maine online casinos on this site regulated?
Any online casinos mentioned in this article have the necessary regulations and licenses in place. They are safe to use, and they protect your funds and personal information through data encryption and privacy policies. Always be sure to check a casino's license and encryption information.
Am I eligible to receive an online casino bonus at a Maine Casino?
There are currently no promotions linked to an online casino within this State. You may find casino bonuses for casino social apps, but it isn't real money.
How do I start playing for real money at a Maine online casino?
There is currently no option to play for real money at a Maine online casino. Social casino apps are available, but they don't accept or provide real funds. The closest you can come to betting real money is through the daily fantasy sports.
Which online casino payment options are popular in Maine?
We aren't able to indicate the relevant payment options yet since online Maine casinos aren't available. At the moment, land-based casinos accept cash or card payments, but we suspect that the online versions would include e-wallets and crypto. We'll be sure to update you when there's a change.
Do I need to pay taxes on my gambling winnings in Maine?
The US law states that all winnings from betting are taxable, and you need to report it as 'Miscellaneous Income.' If the State approves online Maine casinos, the same rules will apply to gamblers.
Stay Safe & Follow the Law When Playing At Maine Casinos
We hope that this article has guided you to gambling in Maine for 2020, as well as provided sufficient information regarding the State's betting rules for online casinos. Remember to gamble responsibly and obey the laws of your State when it comes to wagering.