Colorado is a rather liberal state when it comes to its gambling laws. You can find several land-based casinos in Colorado offering a range of casino games to play. Colorado gambling laws allow pari-mutuel horse racing and betting, charitable gambling, casino gambling, and lottery. In 2020, the law has extended to offer online sports betting in the Centennial State and further online gambling in Colorado.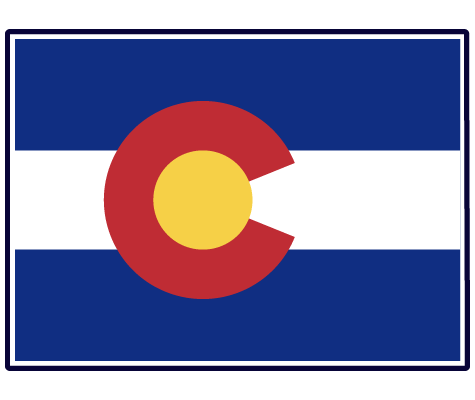 Colorado has become one of the most gambling-friendly US states. It is already well-established when it comes to land-based gambling. By legalizing and regulating various types of online gambling as well, they are opening more opportunities for operators to set up shop in Colorado.
Here we will be seeing all various forms of gambling in Colorado – from land-based resorts and establishments to regulated betting sites. Here we will bring you up to speed on the legality of both land-based gambling and online gambling allowed in Colorado. You will find the best options available to casino players from the Centennial State.
Best Colorado Online Casinos
CasinoTop10's Best Online Casinos in Colorado need to:
Be legalised by the Colorado state law;
Need to offer safe and regulated online casinos;
Ensure players can play safely and responsibly.
The Legality of Land-Based Casinos & Online Casinos in Colorado
Colorado's stance on gambling is crystal clear. Various forms of land-based gambling are allowed. These include lotteries such as the Colorado Lottery, and sports and horse race betting too. You can find plenty of horse racetracks to bet at, many of which include simulcast racing wagers and pari-mutuel wagering too. Casino players can also enjoy playing at brick-and-mortar casinos based in some cities in Colorado. Colorado casinos are a mix of commercial casinos and tribal ones. Besides these types of gambling, Colorado citizens can host charitable gambling events as well. Online gambling in Colorado is still a relatively young market, however, like several other US states, it has recently legalized online sports betting. This means that betting sites can operate and obtain a license from the Colorado Limited Gaming Control Commission to set up and offer Colorado players betting sites. Since the legislation was passed in 2020, Colorado online sports betting is still in the early stages. Besides sports betting, daily fantasy sports were also made legal back in 2016. Other types of online gambling in Colorado that have not yet been allowed are online poker, online lottery, and online casinos. The state law is clear on its ban and consequences for playing on these types of sites. We highly recommend you follow the state laws if you are attempting to play from Colorado.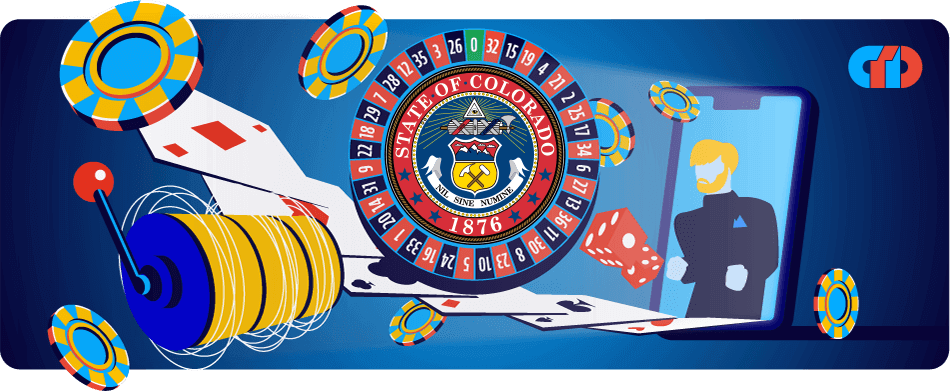 Land-Based Gambling in Colorado Today
Land-based gambling has been around for several decades in Colorado. Laws have been passed to broaden allowed gambling making Colorado quite a liberal in its stance on gambling.
Colorado Lottery
In Colorado playing the lottery has been around since 1983. Back then it was simply with scratch cards and the first draw games were introduced a few months later. Lottery games that Colorado citizens can participate in are Colorado Lotto, Cash 5, and Pick 3. Colorado players can also participate in multi-state lottery games such as Mega Millions and Powerball. Powerball and Mega Millions tickets started being sold in 2011 and 2010 respectively. As recently as 2016, Colorado Lottery launched the Lucky for Life lottery game. There aren't any online Colorado lottery sites available, however, there is a mobile app for the Colorado Lottery where you can find helpful information such as checking for winners and entering bonus draws or selecting favorite numbers, finding the nearest lottery retailers as well as other game tools. Half the Colorado Lottery revenue goes to a trust fund that is administrated by Great Outdoors Colorado to support the local government and land.
Colorado Racetracks
When it comes to racing, horse race betting is still very popular. Dog racing was made illegal in 2008. Horse race betting in Colorado is allowed at these racetracks which offer pari-mutuel wagering and simulcast racing. Online horse racing bets are also allowed. Additionally, you can find 12 off-track betting locations. Several of the racetracks also have many casino games available becoming what is known as 'racinos'.
Colorado Casinos
We can say that the birth of gambling in Colorado took place in 1991 when casino gambling was made in legal in the cities of Black Hawk, Cripple Creek, and Central City. These three cities were former mining towns that have now become casino destinations in the wake of the decreasing economies. Casino games allowed in these places were slots, blackjack, and poker and these casinos were not open 24 hours a day. What's more, the maximum bet was capped at $5. In 2008, a progressive law was passed. The maximum bet was increased to $100; casino games offered now included craps and roulette and casinos could remain open 24 hours a day. More recently, there has been discussion to remove the maximum bet cap altogether and expand the types of casino games offered. There are currently over 30 commercial and tribal casinos in Colorado. This is around a quarter less than the number of casinos in 2013. Perhaps offering online gambling might be the solution to boost the local economy.
Top 5 Land-Based Casinos in Colorado
Casino
Location
Unique Features
Size
Ameristar Casino Resort
Black Hawk
Spa, Hotels
20 Poker tables
25 Table games
1500 Slots
Isle of Capri Hotel Casino
Black Hawk
Hotels, Restaurants
15 Poker tables
20 Table games
1000 Slots
Lodge Casino
Black Hawk
Hotels, Restaurants
15 Poker tables
15 Table games
950 Slots
Bronco Billy's Casino
Cripple Creek
Hotels, Restaurants
10 Table games
800 Slots
Reserve Casino Hotel
Central City
Hotels, Restaurants
5 Poker tables
15 Table games
600 Slots
Online Gambling Colorado Laws
Online gambling in Colorado is quite limited although it has already offered some forms compared to other US states. From 2020, Colorado players can sign up and place bets on online sportsbooks and daily fantasy sports sites. When it comes to other forms of online gambling, you will find the Colorado gambling laws are clear. Colorado residents aren't allowed to sign up with alleged real money online casino Colorado sites. Online poker or online casino sites shouldn't allow players from Colorado as these aren't recommendable. Fortunately, until online gambling in Colorado is legalized and regulated, Colorado players can enjoy playing at sweepstakes casinos and social casinos. Here, players can enjoy practicing skills to play these games. Alternatively, Colorado players can visit any of the live casinos or racinos in Colorado.
What should I know about Online Casinos in Colorado?
The legal gambling age in Colorado is 21 for casino and poker, and 18 for the lottery, bingo, and racing.
Online casinos are banned in Colorado, however, there are over 30 land-based casinos you can play at.
In 2020, online betting for sports and horse racing was legalized which can lead to regulating the online casino market as well.
Gambling Laws Governing Offshore Casinos & What it Means for Colorado Players
While looking for online casinos to play at, you may come across certain sites that offer offshore and real money online casinos in Colorado. We don't suggest you play at these sites since they are unreliable and aren't recommended. We strongly advise you to avoid offshore casinos when you are in Colorado.
Online Casino Games for Colorado
The state of Colorado allows casino games such as online craps, roulette, poker, slots, and blackjack. However, these casino games can be played at brick-and-mortar casinos for real money rather than online. Your current options to play casino games are:
Colorado and multi-state lottery;
Poker, online slots, blackjack, craps, roulette online, and other games at casinos or racinos.
Sports and horse betting – online or pari-mutuel.
Charitable gambling.
Payment Options at Colorado Online Casinos
Since you cannot play at real money online casinos, there are no payment options available to you. Once online casinos become regulated in the Centennial State, you will have plenty of options to carry out transactions – cards to e-wallets included. If you are outside Colorado, you can find the best payment options on your preferred site very easily.
Online Gambling Colorado FAQs
Is online gambling legal in Colorado?
Not all types of online gambling in Colorado is legal. Currently, only horse and sportsbook betting is allowed online. Online betting was legalised in 2020, so other types of online gambling may be considered in the future.
Can I play at an online casino in Colorado via mobile or tablet?
Unfortunately, since online casinos are banned in Colorado, you cannot access these sites on your desktop or through your tablet or phone either.
What casino games can I play at Colorado online casinos?
There aren't any online casino games you can play since real-money online casinos in Colorado aren't allowed. You can play casino games for real money at the land-based casinos found in Colorado.
Is it possible to play online casino games with dollars?
Since you cannot play at real money online casinos in Colorado, you have no available transaction options available. However, if you are playing from a state or country with regulated online casinos, you can choose your preferred payment option according to availability.
Are the Colorado online casinos on this site regulated?
Online casinos in Colorado are not allowed. All casinos on this site are safe, regulated, and licensed in order to safeguard you and your money.
Am I eligible to receive an online casino bonus at a Colorado Casino?
You cannot receive any casino bonuses and promotions since Colorado doesn't offer any real money online casinos. Bonuses tend to vary in different casino sites, however, be sure to read the terms and conditions before claiming any sort of bonus.
How do I start playing for real money at a Colorado online casino?
Currently, there are no laws in Colorado that allow you to play online casino games for real money. Within Colorado, you can play real money casino games at over 30 land-based casinos in Colorado.
Which online casino payment options are popular in Colorado?
As there are no licensed or regulated online casinos in Colorado, you will not find any available payment options.
Do I need to pay taxes on my gambling winnings in Colorado?
Yes, gambling winnings are taxed in Colorado. The tax rate is set by the Colorado Limited Gaming Control Commission.
Play at a Real Money Colorado Casino & Walk Away with a Large Sum!
We hope you found the information here helpful and gave you a better idea of the gambling laws in Colorado. Luckily, you have several locations to play casino games in Colorado. Whether you enjoy betting or playing games, we urge you to play responsibly and safely. With the 2020 legislation to allow online sports betting, the future looks bright for online gambling in Colorado!