Over 150 casinos around the globe carry Barcrest fruit machines and video slots, and they're well worth checking out. The games have some wonderful themes like those based on Dracula, Monopoly and ancient worlds, as well as some awesome bonuses, including one that lets you increase the games' RTP.
Best Barcrest Casinos
The Best Barcrest Casinos on the Internet
While USA players do not have a vast list of Barcrest casinos to choose from, you'll still be happy to know that there are a few you can actually play at. As always, make sure your state allows you to gamble for real money before you do so by checking our respective state pages, which were updated this year.
Why gamble at Barcrest Casino?
Over 50 years' experience in the industry creating land-based slot machines and, over the past few years, video slots.
Fun video slots that work exactly as they should without too many frills.
The video slots work seamlessly on PCs and mobile devices without the need to download any additional software. In other words, they are ready to be played when you are!
Great features including Big Bet, which allows you to increase the game's RTP by placing a larger bet.
Barcrest Casino Software
Having its beginnings in 1968, Barcrest is one of the most historic game developing companies out there. Indeed, there was a time when the vast majority of the United Kingdom's physical slot machines all bore the Barcrest logo. The company probably reached its peak between the 1970s and the 1990s, before the advent of the internet, but it has remained a constant in the industry, nonetheless. Today, the company is owned by Scientific Games. This happened in 2011, after IGT, which had acquired Barcrest Group Limited in 1998, sold it off.
When it comes to its video slots, Barcrest may not have the most visually stunning or complex games, but it has a solid portfolio. This is down to a number of choices the company has made over the years, including giving players a High Roller option. This gives you the opportunity to spend more on a smaller number of spins, thus increasing your chances of bigger pay outs and even unlocking extra features. Another winning factor is that the soundtrack and sound effects of many of its games stop once you are not spinning, giving you an uncompromised break from the games.
Even so, Barcrest's past is never too far away. For a start, the company updated many of its UK live slot machines by introducing five-reel slots (rather than the traditional three-reel) in the country. It's also moved some of its most iconic live slot titles, which have been enjoyed in pubs and bars by multiple generations of players, to the online world. These include the likes of Monty's Millions, Ooh Aah Dracula, and Rainbow Riches.
Multi Award-Winning Developers
Barcrest's reputation as an industry veteran and leader continues to make waves to this day with multiple awards being won by the company over the years. In 2018, for example, the company scooped the Best Casino Platform Supplier at the EGR North America Awards, as well as the Best Electronic Gaming Solution for Slots and ETGs at the G2E Asia Awards. Moreover, its contribution to live casino video slots won the Land-Based Industry Supplier of the Year at the 2017 Global Gaming Awards.
Barcrest Licenses
Barcrest Group Limited is part of SG Gaming, the UK's division of Scientific Games which combines Barcrest and Global Draw Limited. The company is licensed by the UK Gambling Commission. This ensures that all of Barcrest's online games' RTP (return to player) and RNG (Random number generator) are tested by third-party laboratories. All this is a guarantee that the company's games are fair on players and trustworthy. In other words, you can play Barcrest games online with complete peace of mind.
Play Barcrest Games With Confidence
One of the best parts about playing Barcrest games is that they are safe, regulated and third-party authenticated. That, on top of the company's 50-year history, is a sure sign that they are a company that can be trusted. The games themselves, meanwhile, are fun and have some great bonuses to boot. So, if you're looking for a video slot that is not too pretentious but that still gives you many hours of spinning fun, the company's slots are the way to go.
Barcrest's Slots
Although the company's been in business for over 50 years, its array of games is not huge. Instead, the company focuses on giving players good-quality offerings that stand the test of time.
Over the years, Barcrest has given the online casino world a number of iconic video slots, some of which have been transitioned from land-based slots to video slots. Even so, the company still doesn't include progressive jackpots in any of its slots. But that doesn't mean that it does not seek to please its users. In fact, Barcrest slots have a 250,000-coin jackpot, while some others have a Big Bet feature, which sees players 'paying' for a better RTP.
Below, we take a look at the top five Barcrest casino slots, but before we get to that, we'd also like to point out that if you are looking for the game with the highest amount of winnings, then your best bet is Flame of Fortune.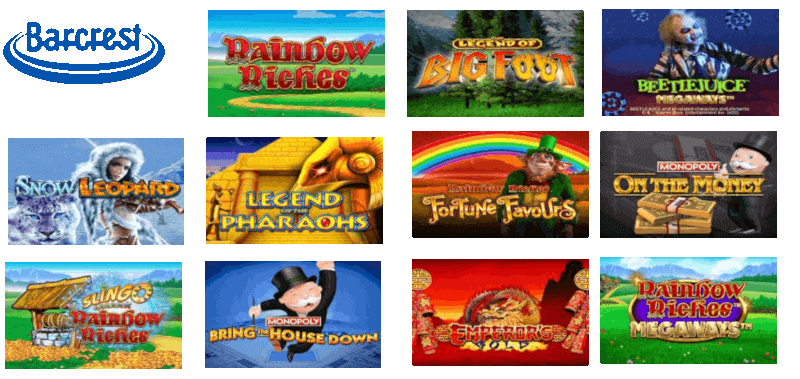 Top five Barcrest Slots
Are you ready to start playing the best Barcrest games online free or for real money? Here's our list of the ones you should definitely try out!
Jackpot Jewels
While the majority of Barcrest's video slots have five reels and three rows, this one has seven reels and four rows with a total of 50 pay lines. Even so, its design is typical of Barcrest in that it is a traditional-looking slot machine. Yet the graphics are bold, bright and fun, and the bonuses quite handsome. Three or more Scatter symbols will get you 10 free spins, while the optional high-roller button gives you the chance to get more extra features. The game's RTP stands at 96.5%.
Monology Bring the House Down
Who doesn't love the iconic board game? Well, now you can live all the action with this five-reel and 40-payline video slot that can be played for very little money per spin. One of the game's most noteworthy features is the Hot Zone one, which spins on top of the reels and could give you Hot Zone Wilds. These Wilds can turn into hotels and multiply your win by up to five times. Meanwhile, the Big Bet feature can allocate you four Community Card Chest Picks, which give you even more prizes. This game's RTP is of 96.10%.
Rainbow Riches Leapin' Leprechauns
Part of the Rainbow Riches series, which is one of Barcrest's best-known land-based and video slots titles, this game is not strictly speaking a slot. Instead, it is the company's first-ever instant-win style game that sees you maneuver a leprechaun as it jumps towards prizes. As a scratch title rather than a slot, this game has no free spins or bonuses, but it's fun to play and gives regular rewards thanks to its 96.10% RTP.
Legend of the Pharaohs
This ancient Egyptian-themed video slot has five reels, 20 pay lines, and an RTP of 96.1%, which can be taken up to 98.1% when playing using the Big Bet feature. The game's graphics are not out of this world, but the cartoon-style design is still beautiful. Meanwhile, the many bonuses this game offers are well worth looking out for. On top of the Big Bet feature mentioned above, the game also has Colossal Symbols, which are randomly picked to become large symbols that cover all three middle reels. All in all, this is a fun game with enough extras to keep you spinning for hours.
Ooh Ahh Dracula
Now a five-reel video slot with 10 non-selectable win lines, this was originally a land-based slot machine that was played millions of times across Europe. Today, one of the first things you'll notice about this video slot is how much work has gone into the symbols of this beautiful – and very quirky – video slot. This game has a number of bonus slot features, too, including Big Bets, and Wild symbols that give you 15 free spins. The biggest prize in the game comes from the Aah Dracula logos, which give you 5,000 coins when you line five of them. The RTP of this game is 96%.
Cross-Compatibility of Barcrest Games
Like so many other games providers, the company has made sure that its games are easily and seamlessly playable on any browser, be it that on a PC or a mobile device. In fact, there is no need to download any apps or additional software to play them (bar, maybe, Adobe Flash). All this makes Barcrest slots great for mobile casinos.
How do Barcrest slots compare to others?
Barcrest slots are by no means that most 'out there' video slots in terms of graphics or extra features, but they are good, honest examples of fun slots you can play. If you are looking for something more out of the box, then we suggest checking out those of other casino software developers, like Playtech, Micrograming, NextGen Gaming and Big Time Gaming.
Safety & Fairness at Barcrest Casinos
As a subsidiary of Scientific Games, Barcrest Group Limited is licensed by the UK Gambling Commission. This means that it has to adhere to strict requirements that make their games safe and fair for users. On top of this, the same license requires holders to have all their games checked by trusted, third-party laboratories to confirm their RNG and RTP are what they say they are. Therefore, you should put your mind at rest that, when playing Barcrest games online free or for real money, you are safe.
Play Barcrest Games Online for Free

While many people look to play online games for real money, there are many advantages to playing for free. For a start, it's an extremely fun way to while away some time. Secondly, it's a great way of learning the games' pay table and quirks, thus giving yourself an even better chance of winning when do you play for real money.
Those looking to play Barcrest games online free can do so in a variety of ways. The majority on European casinos, in fact, give you the chance to play all their games (bar live versions) for free without the need to register or make a deposit. The same goes for Barcrest free slots, too.
If you are in the UK, however, you will still need to register to play Barcrest fruit machines online for free. This is because of a change in the law that aims to protect minors and excessive gamblers. Registering is completely free, of course, and you should be under no obligation to deposit any money to play Barcrest fruit machines online for free. Having said that always read the Terms and Conditions of your online casino site of choice to make sure you like what's written.
Players from the USA, meanwhile, can also play Barcrest games online. This can be done at social casinos like Chumba Casino, Luckyland Slots, Hard Rock Social Casino and WinStar. You will need to register to be able to do so, but some of these sites give you the quick option of signing in using your Facebook or Google account. As always for USA players, our advice is to check our dedicated state pages to make sure that social casinos can be accessed legally from your state – the majority can!
Languages Supported
Barcrest looks to reach an international market, which is why the majority of its games are available in 15 different languages and support the same number of currencies. This means that you are very likely to be able to play your favorite Barcrest online games in your mother-tongue, making the experience even better. Everything you need to know about playing Barcrest games online free and for real money in our quick-fire, question-and-answer section.
Barcrest Games FAQs
Who is Barcrest?
Barcrest Gaming Limited is one of the oldest gaming developing companies in the world, with its foundation being in 1968. Over the following 30 years, Barcrest become one of the UK's and Europe's main suppliers of land-based video slots. Since the advent of the internet, Barcrest has also created online games. Today, the company is owned by SG Gaming, the UK's division of Scientific Games.
Are its games fair on players?
Totally! Since Barcrest's mother company is regulated by the UK Gambling Commission, all Barcrest casino slots have to be tested by third-parties. This ensures that the games' RNG and RTP are fair. Moreover, any casino that Barcrest associates itself with also has to be regulated and licensed, which adds an extra level of security.
Where is it licensed?
Barcrest, along with its mother company SG Gaming, are licensed by the UK Gambling Commission. This is one of the most prestigious licenses anywhere in the world, so you can rest assured that you, your money, your data, and your rights are protected when playing Barcrest casino slots.
Can I play Barcrest games for free?
Yep, totally! European players can do so fairly easily just by heading to an online casino that stocks them. UK players, meanwhile, can do the same but they will need to register (for free) before they can play Barcrest fruit machines online for free. US players will also be happy to know that these games are available to them at numerous social casinos.
Play at a Barcrest Casino Today!
As a historic slots developer, Barcrest continues to provide players from across the globe with slots that work exactly as they should. In fact, while they may not be as ambitious as those of their competitors, they still remain fan favorites. For our money, Barcrest slots are a wonderful option for anyone looking for a good video slot that gives you hours of spinning fun.