When you were a child you probably tried to keep a lookout for that pot of gold whenever you were lucky enough to see a rainbow. When you play Rainbow Riches you get to indulge that inner child of yours chasing that pot of gold – except this time you may find it!
More Slots To Choose From!
Fun Facts about Rainbow Riches:
Classic five reel online slots game with an Irish theme;
It has 10 paylines and 18 winning combinations;
You can win a maximum of 200000 coins.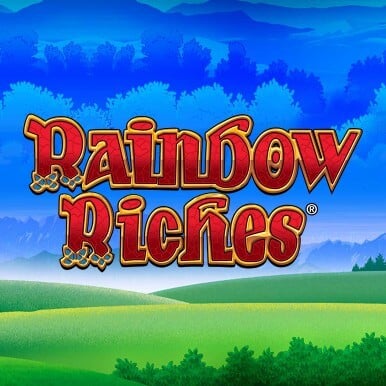 About Rainbow Riches Slots Game
This is a classic five reel, 10 payline game and the very first slot theme from Barcrest casino game library. There are multiple options to win here, you can win a maximum of 25,000 coins for each line bet, and you also have the exciting Road to Riches bonus. If you opt in for this bonus you have the chance to win up to 500x your original bet by spinning. There are also other bonuses available to players such as the Wishing Well Bonus, and also the Pots of Gold Bonus – lots of Irish fun to be had at your fingertips!
Rainbow Riches Gameplay
First thing is first, you need to become familiar with the setup. Each reel has symbols which appear in different positions. You have the option to play with default values or adjust them as you prefer on the screen by hovering the mouse on your desktop, or touching the screen on your phone. You can play in automatic or manual, meaning you get to choose when the reels will stop spinning as opposed to the random number generator slowing the spinning wheel down. If you want to play many rounds then playing on automatic will give you a rest, and you can sit back and relax as the game unfolds instead of having to choose when to press 'stop' every single time.
You will wager on each active payline and this is known as the 'line bet' or stake. You can adjust how much you want to wager using the appropriate plus and minus buttons on your screen. You can choose how many paylines you want active, and you have up to 20 per spin which can be active. If you choose for example, 15 active paylines, if a winning combination appears on any of the 5 inactive paylines then you won't be able to take home any of the winnings, as these paylines are not in play.
Rainbow Riches Symbols & Bonuses
In order to win you need to have a Rainbow Riches winning combination of three similar symbols on consecutive reels, starting off on the far-left. There is a wild symbol and if that appears it can be used to create a winning combo. There are also three bonus symbols which can trigger other bonuses.
If you have three or more Pots of Gold Bonus symbols on reels 2,3, and 4 the bonus slot feature is set off. One of 12 spinning spots will be chosen at random and you will win a multiplier for your wager for that spin. There are three multipliers you can win, either gold, silver, or bronze. This is really where the game gets its name from!
There is also the Wishing Well Bonus. Similar to the Pots of Gold bonus, if you get three of more of this symbol the Wishing Well bonus is triggered. You will win a multiplier applied to the wager.
Then there is the bonus that everyone wants to land which is the leprechaun bonus, and there is a leprechaun symbol to match of course. If you get three or more of the leprechaun bonus appearing in the reels you trigger the Road to Riches bonus (and who doesn't want to be on a road to riches?!). This one is a bit different to the others as you will trigger a bonus game that involves spinning a wheel which moves the leprechaun symbol down a path collecting prizes. The bonus round ends if you land on collect with the first spin, but if you don't you can go from one to six steps until you fall on the collect space.
Graphics and Sounds
You will find typical Irish imagery on this game, such as the leprechaun and Irish countryside. As this is an older game is has made waves over the past year and updated its graphics as the game increased in popularity. This game gives the player a feeling of nostalgia more so than other games so if that's what you are after then this is the game for you! The sounds have also improved a lot over the years and you won't be disappointed.
RTP & Variance
The RTP of this game sits at around 95%, which isn't the best it could be, but still quite good for the player. The house edge is at around 5% which is a little bit on the high side, but perhaps worth it to play this classic game. The variance you can expect in Rainbow Riches is medium. What this means is there will be fluctuations, and you can win big sometimes, and lose in between.
Rainbow Riches on Mobile
This game is fully optimized for the mobile and tablet experience, so you won't be missing out on anything if you decide to play on the go, or sitting in bed!
Rainbow Riches Slots FAQs
How do you play Rainbow Riches?
You can either play on manual or automatic, and you wait until there is a winning combination in the reels.
Where can I play?
You can find this fun and classic game in many different online casinos.
Is Rainbow Riches available on mobile?
Yes, this game is available on mobile devices as well as on your tablet device, so you can play the game anywhere you want.
How many reels are there in Rainbow Riches?
There are five reels in this game, and 20 paylines.
Our Verdict: Play Rainbow Riches to Experience Nostalgia and Enjoy Bonuses
Although there are minimal free spins in this online slots game, there is a lot of fun to be had with their bonuses on offer. It's also a very fun and vibrant game with a classic theme for all to enjoy.