Trusted worldwide and safe to play, this company is not just another run-off-the-mill gaming developer. In fact, their video slots are revolutionary for numerous reasons, particularly because of their in-game bonuses which put a lot of power back into the players' hands. With great graphics, crisp sound and awesome themes to boot, we truly recommend playing at NextGen Gaming casinos!
Best NextGen Casinos
The Best NextGen Gaming Casinos on the Internet
Unfortunately, there are no NextGen Gaming casinos where USA players can play. But, fret not, as there are other providers whose games you can play, including the world-renowned Pragmatic Play.
Why gamble at NextGen Gaming Casino?
NextGen Gaming slots have unique, built-in features that place more power and options in your hands.
The company is licensed in many jurisdictions, including the UK. This particular license requires the company to get all its games approved by a third-party testing lab, eCORGA.
This is a multi-award-winning gaming development company that has been in the industry for over 21 years.
Its games support over 20 languages and numerous currencies.
Its software works seamlessly on both stationary and mobile devices without the need for downloading any additional software.
While the company doesn't create live casino games, it does have some beautiful table games.
NextGen Gaming Casino Software
Founded in 1999 in Sydney, Australia, the company has become one of the top gaming development companies in the world. This is due to a number of factors.
The first of which is that the company was never averse to joining forces with others. Today, in fact, the company is partnered with NYX Gaming Group, and forms a part of SG Digital, which was established in 2017 and is a part of Scientific Games.
The second is because of the way it works. Although it's been operational for 21 years, the company has only created some 300 games. That is quite a small number, particularly when considering that it has a workforce of some 1,500 professionals across the world. But this developer's games are all about the quality, rather than the quantity, and that can certainly be seen in their games' amazing bonus features, which we explore further in the Array of Games section below.
Multi-Award Winning Gaming Developers
One of the best ways to determine whether a gaming development company is good at what it does and should, therefore, be trusted, are the awards it has won over the years. Now, having been in business for 21 years, the casino software company has had a good start over some others, but the fact that it continues to win stands testament to its work ethic.
Over the past decade, the company has won the 2010 E-Gaming Award for Innovation for Bingo and the RNG Casino Supplier for 2013. In 2016, its video slot Witch Pickings won the Digital Gaming Innovation Award at the Global Gaming Awards.
NextGen Gaming Licenses
NextGen Gaming has multiple licenses, particularly as it is a subsidiary of SG Digital. The mother company's licenses include those from the UK Gambling Commission, the HM Government of Gibraltar, the Malta Gaming Authority, and the Alderney Gambling Control Commission. Thanks to these licenses, users can be certain that the provider is safe and regulated when playing the company's slots and other games.
Play NextGen Gaming Games with Confidence
NextGen Gaming is truly the top of the crop. Its portfolio, which is made up of some 300-plus games, includes some of the world's best video slots, as well as table games and bingo. Its video slot games are particularly noteworthy because of their in-game bonuses, which include features that allow you to manually place Wilds and even choose your bonuses. When it comes to safety, the company is totally reliable. This is particularly so as part of the terms of their UK license means that all their games need to be approved by the eCORGA testing labs.
For our money, if you're looking to play video slots online, then these should be one of the more obvious choices.
NextGen Gaming's Array of Games
The company's array of 300-plus titles is split into various categories. The majority of them fall under the video slot category, and they are among the best in the industry. These are followed by some fabulous table games and bingo-themes video slots.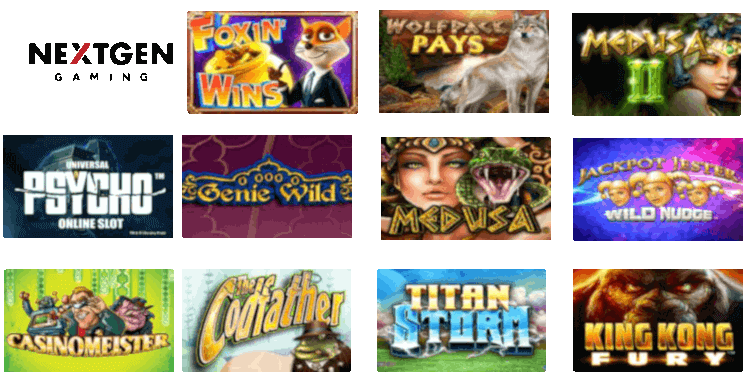 Video Slots
What are you looking for in a great video slot? Well, whether it's great graphics, crisp sound or super fun slot themes, the company has you covered. But the company's online slots go even further than that. In fact, on top of some of its games running Megaways engines, practically all its video slots have incredible in-game bonuses. Among these is the Slide a Wild feature, which allows you to manually position wilds on the reels. The Select a Play feature, that gives you a number of extra bonus slot features. And the Super Bet feature, which gives you the possibility to place an extra bet and get access to exclusive features. All this makes NextGen Gaming slots truly unique and highly playable.
Blackjack
The company has also taken the casino fan-favorite game of Blackjack to the next level. Indeed, on top having user-friendly interfaces and smooth graphics that make it seem like you're at a land-based casino, the Blackjack Pro series also has multi-hand and single-hand options.
Roulette
There are two options to choose from here, namely the Gaming Roulette Master and the Gaming Double Zero Roulette. Both of these roulette online options have amazing graphics and sounds, making the games as realistic as possible.
Top five NextGen Gaming Slot Games
So, are you ready to start playing the best NextGen Gaming slots? Here's our list of the ones you should definitely try out!
Witch Pickings
This bewitching game is undoubtedly one of the company's finest contributions to the world of video slots. With its 25 paylines and five reels, the game has an RTP of 95.39% and some truly amazing in-game bonuses. One of our favorites happens when you get three or more Scatter symbols. This unleashes the Witches Bonus, giving you the choice of three features along with free spins. This award-winning game also has Expanding Wild symbols, Wild Multipliers and Stacked Symbols, all of which come together to complement the fabulous graphics and sounds.
Gorilla Go Wild
Are you ready to meet the cutest gorilla you've ever seen? In this game, fronted by Gary the Gorilla, you'll find 25 paylines over five reels and three rows. One of the best bonuses in this game is called Gary's Bonus Time, which sees Gary multiplying your initial stake by up to 40 times! The game has an RTP 95.51% and has some beautiful graphics and sounds.
Jackpot Jester
Based on the traditional Las Vegas-style fruit slot machines, this game has all the symbols you know and love. The video slot version has three reels, just like the ones in Vegas, but it can give you a 100,000-coin jackpot. This jackpot happens when all nine squares feature the Jester icon – not easy, of course, but neither is it impossible. The game's RTP stands at 95.1%.
Xing Guardian
This Chinese-themed video slot looks and sounds amazing, and the payouts themselves are not bad either – in fact, it has 1,024 pay ways. While playing, look out for the Golden Dragon symbol, which will uncover more reels or Stacked Wilds. Or the Xing Guardian, which will lock two to five adjacent reels before spinning them to get you the symbols you need. The five-reel game has an RTP of 97.01%.
Psycho Online
We're all for movie-themed video slots and this game takes the cake. Based on Hitchcock's timeless horror classic by the same name, this game may invoke a creepy feeling but it's certainly generous when it comes to payouts. With its three rows, five reels and 25 paylines (fixed), the game has some of the best Wilds in all the video slots we've played because not only do they replace other symbols to give you a winning combination, but they also multiply your winnings by up to 20 times. The game's RTP stands at 95.57%.
Cross-compatibility of NextGen Gaming Games
One of the best parts about the company's games is that they are built using HTML5. This means that the games work well on a myriad of browsers, both on PCs and mobile devices. HTML5 also doesn't require you to download any apps or other software to play – just head to the online casino that stocks them, and play. The games also fare well when you compare them to those of other giants, like Microgaming, Playtech and NetEnt. Indeed, they give them a good run for their money with their amazing in-game bonuses.
Safety & Fairness at NextGen Gaming Casinos
You certainly don't need to worry about this, as NextGen's array of games are completely safe and fair. We don't say this lightly, either, but base it on the fact that since they are licensed by the UK Gambling Commission. This means that all their games have to be tested by eCORGA (eGaming Cimpliance Services Limited), which is an independent testing agency similar to iTech and GLI. This means that the games' RTP and RNG are fair on players.
Of course, because the games undergo this testing and because online casinos cannot change the backend of games, then you can rest assured that whenever you play NextGen Gaming slots or games, you and your money are safe.
Play NextGen Gaming Games for Free
Most people looking to play casino games online want to get the thrill of a real-life casino, and part of that includes playing for real money. Nevertheless, there are those who want to enjoy the games without betting any real money, and it's totally fair. Indeed, apart from being a lot of fun, playing NextGen Gaming games for free is a great way of understanding the in-game bonuses and the games' paytable, thus becoming a pro before you make any real-money bets.
The majority of online casinos in Europe give players the chance to do so without the need to even register to the site. All you have to do is head to your favorite online casino, find the game you'd like to play, and play the demo version. Things get slightly trickier if you're a UK-based player, as a recent change in the law means you have to register even to play for free. This is completely free and it's a measure to protect minors and excessive gamblers.
Sadly, those players based in the USA can't play NextGen Gaming games at any online casinos, whether it's for real money or for free. This is quite a shame seeing as the company has a major office in Las Vegas, but hopefully, it will change in the future.
Languages Supported
NextGen Gaming games support over 20 languages including, of course, English. The games also accept numerous currencies. All this makes it easier for players to have a more tailored experience as they play games in their mother tongue and use the currency they know and understand best.
Everything you'd like to know about NextGen Gaming Casinos in quick-fire question-and-answer format!
NextGen Gaming Casinos FAQs
Who is NextGen Gaming?
NextGen Gaming is a London-based gaming development company that has been operating since 1999. First founded in Australia, the company is now a subsidiary of SG Digital. The company is particularly renowned for its amazing slots, which have incredible in-game bonuses that put a lot back in the players' hands.
Are its games fair on players?
Definitely! One of the company's many licenses is from the UK Gambling Commission. Part of the terms and conditions of having such a license is that the company in question has to have all its games checked for fairness by eCORGA, one of the world's most respected and trusted third-party laboratories. This means that the games' RTP and RNG are always what they say they are and are always fair on you.
Where are they licensed?
As a subsidiary of SG Digital, the company is licensed in numerous jurisdictions. These include four particularly respected licenses, namley from the UK Gambling Commission, the HM Government of Gibraltar, the Malta Gaming Authority, and the Alderney Gambling Control Commission. All this adds an extra layer of guarantee that its games are fair.
Can I play NextGen Gaming games for free?
This depends entirely on where you live. Europe-based players can do so easily and without the need for registration at their online casino of choice. UK players, meanwhile, can still do so at their online casino, but they'll need to register (for free) before playing games for free. Sadly, US-based players do not have access to this company's games for free or otherwise.