This slots glossary page will not only aid and abet you into becoming a slots conqueror, but by studying our slots terms page by heart and learning it back to front and side to side, you will never feel left out in the cold by anything anyone will ever say about slots ever again.
Play Slots At These Spectacular Casinos
A
Action: This term refers to the total amount of money a player has bet in a specific time.
B
Bonus Features: In essence, these are bonus slot machines which may include specific slot features to enhance gameplay and give the player the opportunity to win extra money and spins. Bonus features may include wild symbols, scatter symbols, free spins or extra bonus games. Many slot games have these features including the Game of Thrones slot, Starburst slot, Thunderstruck II slot among others.
C
Carousel: A group of slot machines.
Classic Slot: An alternative way of referring to the 3 reel slot due to the fact that the first slot machines were three barreled.
Coin Size: The fixed amount of money a player must put into a machine in order to be eligible to play on that specific machine. Depending on the particular requirements of the slot machine, players must bet a specific amount of coins per payline.
Cold Machine: A slot machine which supposedly isn't going to payout anytime soon. For more information about this mythical creature and the stories surrounding it, look at our Slots Strategy Section.
F
Fill: This refers to the bag of coins used to fill an empty hopper.
Five Reel Slot: Offering two more reels than their three-wheel relatives, the Five Reel Slot still retains a traditional feel whilst creating more paylines and increasing the ways for a gambler to play and win.
Fixed Jackpot: Contrary to the progressive jackpot, slot machines which offer fixed jackpots will pay out the same fixed amount no matter how often they are won and how many players are playing.
Free Spins: When it comes to free spins, it's pretty much all in the name. Free spins are mostly given as bonus prizes and give players the opportunity to play extra rounds for free.
Fruit Machine: This term refers to the name which British people have for the slot machine as some of the first slot machines which were around had fruit symbols on their reels. You would get a hit when all three reels showed the same fruit.
H
Hit: This is another word for a winning spin.
Hit Frequency: This refers to the frequency with which a machine gives the player a hit in relation to the number of games played and the combinations used. Despite the fact that slots truly is based on the concept of luck, many a discerning player measures the Hit Frequency of a machine in order to attempt to trace a pattern and increase their chance of winning.
Hit and Run: This term refers to players which play a single payline slot at max credit for very few spins and then move to another slot machine if no credits are paid out.
High Volatility: The higher the volatility of a slots machine, the fewer the payouts it will give. However, the payouts of high volatility machines are usually greater than those of a low volatility machine.
Hold Percentage: This term refers to the percentage of money the casino keeps when a player plays his money. An example of this is the following: A 99% slot machine will keep one dollar and return ninety-nine dollars back to the player.
Hopper: This is the place where money is stored inside of a physical machine. When the hopper overflows, the excess change will fall into a bucket. This extra money is the profit the casino gets. Hoppers are usually emptied in the morning before crowds arrive at the casino.
'Hot' Machine: The polar opposite of the aforementioned, 'cold' machine, a 'hot' machine is a machine which according to popular belief is due to give a payout at any moment. For more information about this, hop over to our Slots Strategy Section.
J
Jackpot: The highest amount of winnings that a player can get.
L
Loose Slot: Loose slot machines are called such because they have a higher payout percentage than the average slot machine.
Low Level: Slot machines where you can play seated.
Low Volatility: Slots with low volatility are likely to create more hits, but those hits will generally be smaller than on a high volatility machine.
M
Max Bet: This refers to the most coins a player can bet on any spin. Players can either bet a maximum amount of coins on one line, or wager by betting on multiple paylines. When it comes to a Classic Slot machine, the max bet is usually three coins which will garner a larger jackpot than if you played with one or two coins instead.
Megaways: These are a relatively new type of slot games. The Megaways mechanic, developed by BTG, are changeable reels with each spin. So, essentially, the number of ways to win is constantly changing. You can have up to 117,649 ways to win in each spin. The first Megaways slot developed was Bonanza slot.
Multi-line: This is when a player bets on multiple paylines in order to better their chances of getting a hit. Slot machines may have several paylines – it all depends on the machine.
Multiplier: While not all machines offer them, multipliers will increase a player's winnings when they make a hit and multiply the earnings made by the offered multiplier.
N
Near Miss: This term refers to when a player almost gets a winning combination on a slot machine but falls short.
O
One-Armed Bandit: A slang term used for slot machines, this moniker gained popularity due to the side lever that the first slot machines came with and the swift way with which a quick tug on one of those levers would "rob" you of your money.
P
Payline: This term refers to the lines which run across online slot screens. The amount a player is able to win is dependent on the particular pattern of payline which they get. Paylines are only activated when the player bets on them prior to spinning.
Payout: The amount of money a player receives when he gets a hit.
Payout Percentage: This refers to the amount of money a player should expect to receive back when playing on a specific slot machine. An example of this is if a machine boasts a 98% Payout Percentage it means that on winning a combination, $0.98 will be paid out to the player while the remainder is kept by the machine as the casino's cut.
Pay Table: Usually found at the top of the slot machine, the paytable is the name of the list of potential payouts a player can receive according to the different combinations of symbols they can get. The paytable will also tell you if there are bonus features.
Pokies: A slang term used by New Zealander casino fans & Australian casino goers and to refer to slot machines.
Progressive Jackpot: This refers to the constantly expanding prize amount available to players who are playing on a group of interlinked progressive slot machines. The progressive jackpot continues to expand based on the number of people playing and the number of coins they bet. For each spin/hand played the machine adds a small credit to the running jackpot total till the amount becomes enormous. While progressive jackpots are usually played between machines, sometimes casinos may join together to form an inter-casino progressive jackpot. This collaboration can obviously generate even larger sums in games like Mega Moolah or Mega Fortune.
Progressive Slot: A progressive slot machine is linked to other slot machines around the web or on land and offers players a growing jackpot which resets when one lucky player wins the progressive jackpot. Not all machines are progressive slots, thus, one must always ensure their machine of choice is a progressive slot before starting to play.
R
Random Number Generator: Despite the fact that some players choose to believe otherwise, Random Number Generators are built into all modern slot machines whether they be online or land-based. The Random Number Generator is there to ensure fair play. Thanks to this, it should not be necessary for the player to employ strategy in order to win because winning combos are determined by the machine and not the player. That said, there are ways and means to increase your chances of a big win and you can find them over at our Slots Strategy Section.
Reels: Referring to the construction of the first slots machines which were made up of metallic, narrow, rotating barrels, slots machine reels feature the game's symbols and once spun, will give the player winning (or losing) combinations which will determine whether or not he gets a payout and of how much that payout will be if he does get one. While one might find two, three, and four reel slot machines, the three-reel slot is the most common as well as the most traditional. The more reels a slot machine has, the harder it is for the player to hit the much-desired jackpot.
S
Scatter: A scatter symbol can occur anywhere on the slot machine reels and is designed to activate a winning combination even if it does not form part of the payline itself. Combinations of scatter symbols can be used to win free spins or entry into bonus games and are common found in video slot machines.
Signature Slots: Signature slots are the casinos own brand of slot machines.
Slot Tournament: This refers to a special event in which players compete for a big prize on specially programmed slot machines. Players can play at the same time, in groups, or by themselves and the winner is decided by an especially appointed person who counts the number of points which each person has amassed throughout the slot tournament. Points are calculated according to the amount of accumulated credits.
Slot Type: This term refers to what kind of slots machine you can choose to play at. Players can choose from basic slots, progressive slots, or bonus slots to name a few.
Sound of Rain: This term is used to refer to the sound coins make when a player gets a hit from a slot machine.
Stand up: Slot machines that are meant to be played by players who are standing upright. This term is obviously not applicable to Slots Online games.
Symbols: These are the images on the slot machine reels which players must try to connect across paylines in order to be able to win. The symbols found on reels can be anything from fruits to numbers, to cards, to bars and more, however, they vary based on the type of slot machine being played. The first slot machine consisted of no less than five drums holding a total of fifty card faces and was based on the rules which govern poker. Specific machines may have scatter and wild symbols as well as the standard ones which will give the player the opportunity to win bigger with less trouble.
T
Take/Pay Cycle: The take/pay cycle is based on the mistaken assumption that slot machines payout according to very specific patterns and cycles or when a certain amount of coins have been fed into them.
Three Reel Slot: This term is used to describe slot machines that have just three reels. Three reels slots are still widely enjoyed as they give the slots game a somewhat classic feel and offer a simpler game than their five-reel cousins.
Tight Slot: Unlike loose slots, tight slots generally have low payout percentages which give the house an edge. Always make sure to familiarize yourself with slots machines and their payouts before starting to play serious money.
V
Video Slot: Relatively new to the slots world, the video slot would not be possible without the surge in technology which has taken the world by storm in the last few years. A video slot machine doesn't feature actual, physical reels, and instead, these features are simulated with assorted graphics and animation in all sorts of slot themes.
W
Wager Management: This refers to the method a player must employ in order to manage their slot playing bankroll efficiently and get the most out of it. By dividing your bankroll into smaller amounts and deciding on how many sessions to commit to beforehand, you will not only make money instead of losing it, but you'll also learn when to stop. For more information about this and how to stick to your guns in the face of adversity, please read our Money Management Section.
Wild Symbol: Described by many as the joker in the slots machine pack, these symbols are allowed to stand in for other symbols on the screen which facilitates in the creation of winning combinations.
Winning Combination: A particular collection of symbols on a payline which are designed to result in a hit.
Z
Zig Zag: This term is used to describe paylines which can be created on multi-line slot machines. Although traditionally one could only get a winning line if it went straight or diagonally across the screen, many modern slot machines allow for their winning lines to be zig-zagged too.
Become a Slots Term Star Today!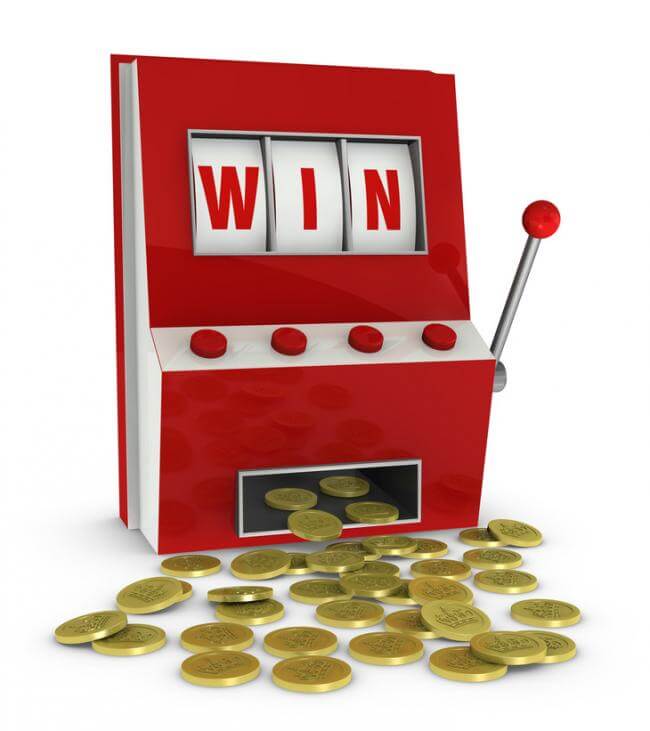 Congratulations, you've made it! After reading these slots terms and understanding what everything means, you should now feel fully equipped to go forth into the world and multiply your funds sevenfold. These slots terms should give you the confidence you need to get started and show the casino world what you're made of. Not only this, but we at CasinoTop10.net have gone the extra mile and even included a sparkling array of casinos. Each casino with their very own online casino bonus, where you can play at with your mind completely at rest that you're getting the best deals possible for as little input as possible. So why not take everything you've learned, scroll through our toplist featuring some of the best online gambling sites around. Then prepare to use your slots terms in all kinds of online slots as the only armor you'll need to fight the casino beast. Listen to us and you certainly won't wake up with any regrets tomorrow!