Keeping your cool and avoiding table rage when playing at a casino is crucial if you don't want to get kicked out for bad behavior. We understand that it can be difficult to not let all hell break loose when you're at the blackjack table and things aren't going the way you expected, so we're here to help you by providing tips on how to behave at the casino and not let rage get the best of you. 
Gambling should be a fun activity and fun should be your main objective as soon as you enter a casino. No one wants to be that person who drinks way too much or insults the dealer, embaresses themselves, and gets escorted out by security.
But worry no more, if you have an issue with controlling rage when things don't go your way, we're here to help and tell you want to do and what to avoid when playing at a casino, so you can enjoy yourself despite winning or losing.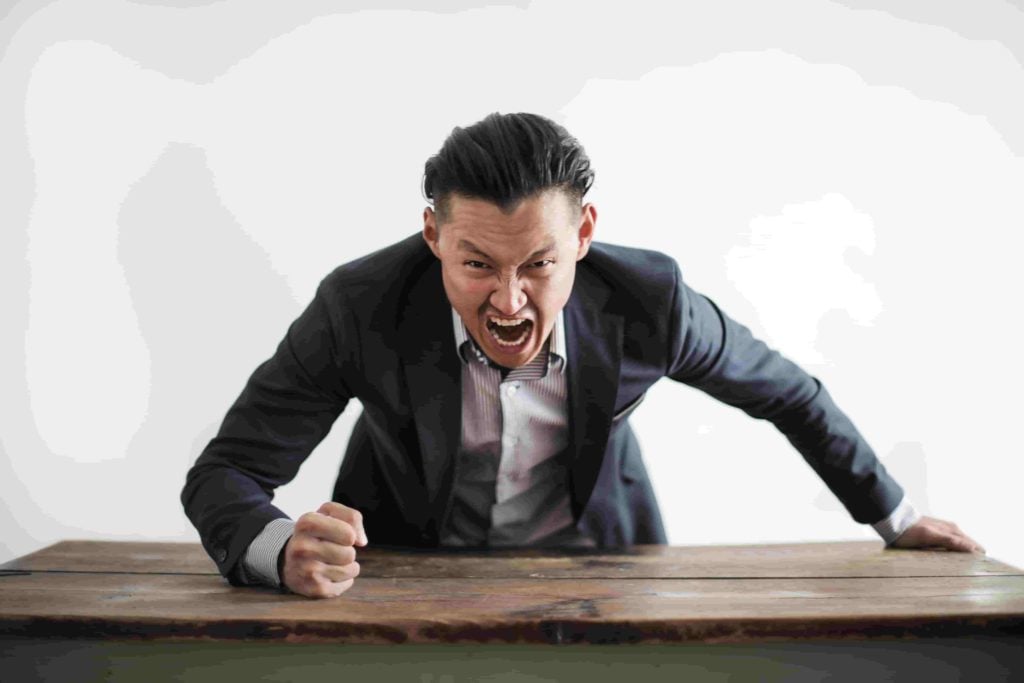 DO
Be patient
Be respectful
Keep your cool
DON'T
Drink excessively
Disturb and distract the dealer
Attract other players
How to Behave at the Casino
Whenever you visit a casino, whether it is your first time or your 100th time, the main and the most important thing to remember is to be respectful. Even if the odds don't seem to be in your favor, never take your frustration out on the staff, the dealer, or the other players. Keep in mind, at all times, that you are surrounded by people who are just doing their jobs or are there to gamble and have fun, just like you. Therefore, do your best to NEVER do the following:
Never take your anger out on the casino staff! Their job is to serve you and make you feel comfortable, so they deserve a respectful treatment from you as well. 
Never take your anger out on the dealer! They too are providing a service and in most cases, it's not their fault that you're losing. Even if they happen to make a mistake, still try to solve the problem respectfully, instead of attacking them.
Never take your anger out on the other players! They also come to the casino for the same reason you do – to gamble, have fun, and enjoy themselves. By attacking other players due to your bad luck at the blackjack table, you'll only spoil the fun for everyone present, including yourself.
How to Avoid Table Rage at the Casino
Now that you know what NOT to do when playing at the casino, we're here to give you a few tips on how to keep calm even when you lose money. After all, gambling is a game of chance and all those who gable frequently should be perfectly aware of that. If you take a seat at the casino table with that mindset, you're already more likely to keep your cool when things don't go the way you want them to. However, there are additional things you can do to make sure you'll be in control of your negative emotions.
Gambling is fun, but it's definitely not a relaxing activity! Losing money at casino tables may cause anxiety, anger, and frustration which can be hard to control, especially if you're on a losing streak. Make sure you're aware of the stakes that come with gambling and try not to let your emotions get the best of you. If you allow yourself to react aggressively every time things go wrong, you'll lose the ability to make rational decisions and your bankroll will suffer even more.
Be Mindful with Drinks and Cigarettes
It's essential that you keep your mind sharp while gambling, so drinking too heavily is out of question. Excessive drinking can affect your judgment and the way you interact with others. Since drinking usually influences our social filter, you might not be able to control your emotions as well as you would with a clear mind, and you might take your rage out on those who don't deserve it.
The same goes for smoking. Cigarettes are usually forbidden in closed spaces anyway, but if you happen to gamble abroad, make sure you take some time between cigarettes, as they can make you more anxious if you smoke too much. Both alcohol and nicotine can make you go overboard in situations you normally wouldn't, so make sure you drink and smoke in moderation.
Do Not Disturb The Dealer
Annoying and disturbing the dealer is a big, fat NO! First of all, never rage out at the dealer because that will get you kicked out of the casino faster than you can blink. Most casinos have excellent security and surveillance cameras that see everything, so there's no way you can get away with being rude to the dealer. Plus, this is an awful way to treat a person who has done nothing wrong (in 99% of the cases) and is trying to do their job for your entertainment.
Another way to annoy the dealer is to sit at the table while a hand is in play. The respectful way to join a game is to wait for your turn. Moreover, in order not to delay the game, make sure to know in advance which denominations you want to use, and when you want to cash out, let the dealer do that for you. Otherwise, you can delay the game for other players which can anger both the dealer and the players.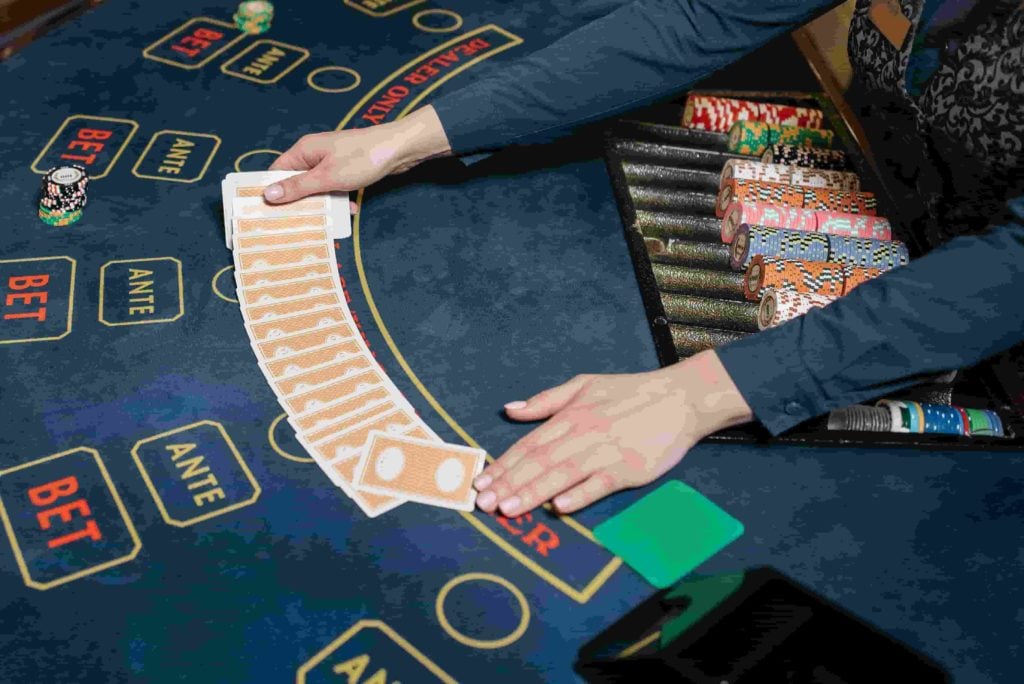 Do NOT Touch the Cards or Chips
Once the cards are dealt and the game starts, keep your hands off the cards and the chips! Touching the cards is the main trigger for dealers and rightfully so. If you touch the cards, the dealer has to shuffle a new deck and deal the cards again, which delays gameplay and annoys the dealer, while the other players can get impatient and angry. Cards should never be touched during the game in order to prevent cheating – players can mark cards and use them to cheat their way into winning.
Never use falsified chips at the casino! To avoid getting yourself into further trouble, make sure the chips you're using are real, and never try to make fake casino chips in order to try and scam a casino. All casinos have strict measures and ways of checking whether the chips are real or not, so trying to make fake ones is futile. If you're not sure how to check the authenticity of casino chips, we're here to teach you how to spot fake casino chips.
Final Thoughts
Table rage won't bring any good to anyone present at the casino table. To prevent getting yourself into embarrassing situations or making a scene that will get you kicked out of the casino as a consequence, always keep in mind that winning in gambling is based on luck. It's no one's fault you might be having a losing streak, and it's not your fault either.
Next time you go into a casino, enter with a goal to have fun. Don't drink too much, be respectful to the dealer and the staff, and treat the other players with respect as well. Excitement is more than welcome, just don't let it turn into anxiety and anger.
Casino Table Rage FAQ
What is the worst behavior at casinos?
The worst behavior at casinos is when a player loses money and becomes unhinged. In these cases, players might attack the dealer, the staff, and the other players, both verbally and physically. However, these kinds of players get kicked out by the security before they can do any real damage to those present at the casino.
Does the casino affect a person's behavior?
Yes, the casino can affect the way a person behaves because gambling may cause addiction and addiction usually brings anxiety. If a player is anxious, the excitement of gambling can easily turn into rage followed by aggressively throwing cards on the table/floor and attacking those who are present. This doesn't happen too frequently, but it does happen.
How to prevent manic behavior at the casino?
In order to prevent manic behavior at the casino, make sure you don't consume too much alcohol and don't smoke too much, because this can cloud your judgment. Also, don't do anything to disturb the dealer or the other players and try to be respectful to everyone. Keep in mind that everyone is at the casino to have fun, not be attacked by an angry player.
What is the nickname for the overhead camera that monitors player and dealer behavior in a casino?
The overhead camera at casinos is called "the eye in the sky" and that's because there's nothing it cannot catch. These surveillance cameras can be found all over the casino grounds including hallways and elevators, and their purpose is to detect any suspicious activity, so the security can react on time and prevent potentially problematic situations.