Since casino chips are used as currency while playing at land-based casinos, it's crucial to know that the casino chips in your possession are real. After all, real casino chips are worth actual money and using fake ones is the equivalent of using fake money and scamming the other players and the casino.
If you want to avoid getting yourself in such highly illegal practices and wish to protect yourself from getting scammed into buying fake casino chips, stick around. We're here to expose everything there is to know about spotting fake casino chips, along with the reasons why playing with fake chips is such a rare occurrence nowadays.
Fake casino chips are difficult to replicate and easy to spot by the casino security staff. Real casino chips use UV inks, holographic images, and serial numbers, making the chips hard to fake. Some chips also have RFID, a casino chip tracker, which makes the chips impossible to replicate.
Fake Casino Chips Are Difficult To Make
Casino chips are usually made of clay or modeled plastic and they vary in color, weight, design, markings, etc. What all casinos have in common, though, is the color of their chips. Casino chips of the same value are made in the same color. These include:
White – $1
Red – $5
Green – $25
Black – $100
Purple – $500
Orange – $1000
However, the shades of these colors can be slightly different from casino to casino, which makes the chips even more difficult to counterfeit. Plus, in order to make a fake casino chip successfully, the counterfeiters have to replicate the stripes of the original chips, as well as their exact weight and feel, which is not an easy task. 
In case that the faker actually succeeds at making the color, weight and feel closely resemble that of the original, they'll have an extremely hard time trying to copy the authentic markings that each original chip has. These markings are unique stamps that tell us where the chip comes from and they are made from high quality materials, so even if a counterfeiter manages to copy them, they still won't be able to pass the casino security due to the lower quality of the stamp. 
Therefore, always look for casino logos on chips that you purchase because they will tell you more about the authenticity of the chips. If you have prior experience with buying casino chips, you'll be able to figure out whether something is off, since fake casino chips will never look as perfect as the real ones.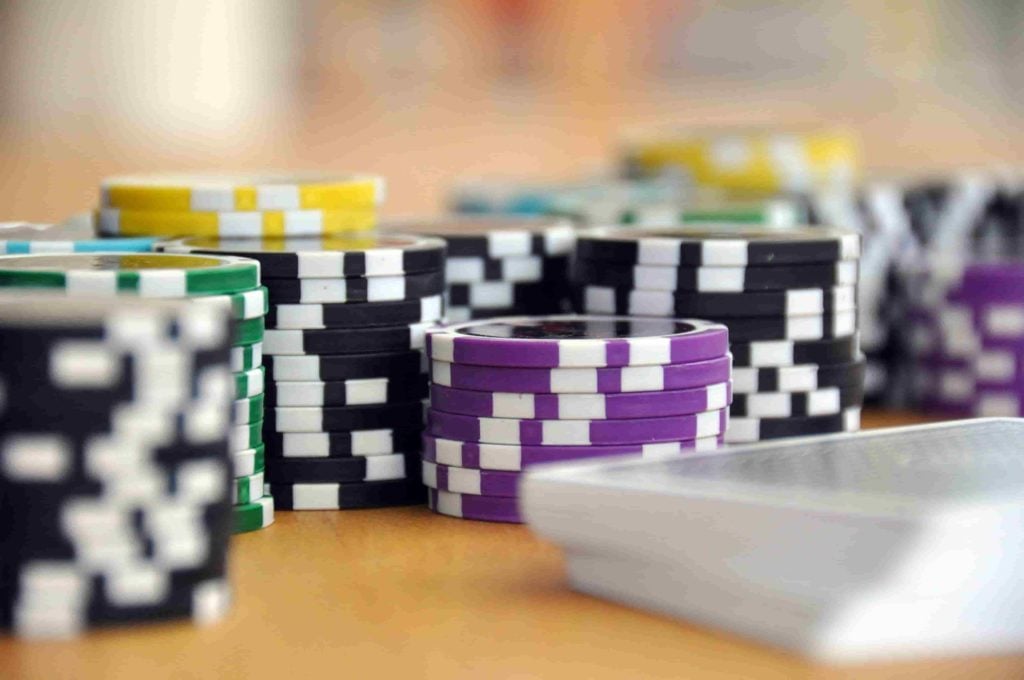 Casinos Can Spot Fake Casino Chips
First of all, casinos usually track high value casino chips to see where they end up, so it's highly unlikely that you'll come across fake casino chips worth over $100.  However, the most frequent fake casino chips are mostly those worth exactly $100 because faking lower value chips doesn't pay off, and the higher value ones are tracked. $100 casino chips are middle ground, so those get counterfeited the most.
Casinos also implement certain security measures in order to check whether the chips are real or fake, especially if you bought your chips online, rather than at the casino. Buying your casino chips online is very risky as it makes it easier for fakers to scam you, so we suggest you avoid doing that altogether.
Camera Surveillance System
As for casino security measures, they often use camera surveillance in order to keep tabs on everything that's going on at the casino. Surveillance cameras work 24/7 and they are managed by security staff who constantly monitor both players and live dealers. That way, nothing goes undetected and if there's any illegal activity happening, they'll most likely see it and apply suitable security measures.
UV Light
Casinos also use UV light to check if the chips are real, since authentic casino chips use UV ink which is only detectable under a UV light. This means that you cannot see the UV ink with a naked eye, so it's more difficult to replicate. Plus, the material used to make the ink is expensive; therefore, making fake casino chips isn't as worthy to fakers as they would like it to be, especially due to the fact that UV ink is usually used on lower value chips.
RFID Technology
RFID is used by casinos to make sure high value chips are real under all circumstances. These chips are worth hundreds or thousands of dollars, so it's highly important that the players use real chips when playing because using the fake ones would make casinos lose money. RFID security tags are inserted into the chips so that they can be tracked by the casino. That way, casinos are able to not only prevent faking casino chips, but also keep an eye on stolen chips. Plus, they can also track the chips during gameplay to see which tables are winning or losing.
Laser Printed Images And Serial Numbers
Most casinos use laser printed images, logos, or some kind of artwork inserted within the chips to keep them from getting replicated.  Since the images are inside the chip, they are impossible to remove and almost impossible to replicate. A lot of them use combinations of pictures and tiny details which are very difficult to detect, especially by inexperienced counterfeiters.
The same goes for serial numbers. Lots of casino chips have laser printed serial numbers which make it easier to detect fake chips. These are also helpful in cases of theft since casinos are able to track and deactivate the chips in case they get stolen. That way, the thieves won't be able to cash out the stolen chips.
Stay Away From Fake Casino Chips
If you run into cheaply made fake casino chips, you'll be able to figure out whether they are fake by simply looking closely at the paint, colors, and overall quality of the chips. However, you may also come across chips which are so well-replicated that you'll have a difficult time recognizing if they're actually fake. These are usually $100 chips, so be extra careful when buying those chips in particular. 
To avoid buying fake chips, we suggest you stay away from eBay or online casino chip shopping in general. The Internet is THE place for getting scammed into buying fake casino chips simply due to the fact that you're unable to see the chips live. Even if they look real and authentic, beware, looks can be deceiving!
Fake casino chips of lower value are not a rare occurrence, especially because casinos usually let collectors take chips home in order to make more money. In other words, casinos earn more if collectors take the chips home and never cash them out. However, that way, chips can fall into the wrong hands and end up being replicated and sold online.
Instead, we suggest you always buy casino chips from the casino itself. That's the only way you'll know for sure that the chips you've bought are 100% real and keep yourself from getting into any sort of illegal business. Buying or making fake casino chips violates money laundering laws and can get you various felony charges including fines and prison time. So, even if you come across a discount on casino chips while browsing eBay, move on to avoid getting yourself into trouble.
If you want to avoid buying casino chips altogether, we highly recommend playing at online casinos. By registering to online casinos like Wazamba Casino or Axe Casino, you'll have your own account which is fully protected from third party involvement, so you can put your mind and ease and gamble from the comfort of your own home without worrying about scams and theft. You'll be able to play thousands of online casino games including slots and classic table games; plus, if you start craving the land-based casino experience, there are loads of live dealer options at online casinos as well.
Final Thoughts
All in all, casino chips are far more difficult to fake than one might think and you won't come across them as frequently as you might expect. After all, if they were easy to replicate, most casinos would go bankrupt until now. However, if you do happen to stumble upon some fake casino chips, avoid them like the plague. A small discount is not worth landing yourself in jail or losing money on paying thousands of dollars in fines. Therefore, we recommend buying casino chips from trusted sources and gambling responsibly.
Spot Fake Casino Chips FAQ
Can you make fake casino chips?
Yes, you can, but it's extremely difficult to fully replicate casino chips. Real chips use special colors and shades, and they have specific weight and feel. Even if you manage to replicate these things, you'll have a hard time replicating laser printed images and the serial number within the chip, and you won't be able to remove the RFID tracker inside the chip.
Can I turn in fake casino chips?
Technically, you can. However, casinos have maximum security measures and various ways to detect fake casino chips. They use UV light to detect UV ink used in real casino chips and they always check if the chip has a RFID tracker inside. Plus, they closely inspect the colors, feel and weight of the chips, as well as laser printed images and serial numbers. So, it's highly unlikely that you can smuggle fake chips past casino security staff.
How to spot fake casino chips?
First, check if the paint, weight and the overall feel of the chip in your hands resembles a real casino chip. Also, check if the stripes are the same as the ones on the original regarding the shape, size, and color. Then, check if the chip has any authentic markings, such as a casino logo. That will help you determine if you're holding a fake one right away.