Monopoly is a classic game that's now over 80 years old. It's a game we'll bet money on you having played, if not at least once, then multiple times across the course of your childhood. But what you may not be aware of is the fact that IGT, Barcrest, BTG, and WMS have all taken independent shots at creating Monopoly in casino slot form adding cascading reels, money wheels, board bonus, progressive jackpots, and even Megaways™ in the latest release – Monopoly Megaways™. There are 15+ Monopoly branded Slots for you to enjoy and pick from, and in this review, we'll be exploring the whole franchise. Hold on to your hats ladies and gents, because it's going to be a wild ride, and yes, you do get £200 for passing go!
Fun Facts about Monopoly Online
There are 15+ Monopoly Casino Slots currently, but this number is ever-growing.
WMS, IGT, BGT, Barcrest, and Gamesys have each created multiple versions with different features.
All Monopoly Slots have RTPs ranging from 94% – 99%.
Monopoly Online Slots: Let's Look at the Stats.
With so many Monopoly Slots to dive into, it can be a little hard separating each title and understanding where it comes in the Monopoly Slot franchise. But don't panic, we've broken it all down for you: take a look at the table below for more info on each Monopoly Casino Slot
| | | | | | | | |
| --- | --- | --- | --- | --- | --- | --- | --- |
| Title | Software and Release Date | RTP (%) | Min Bet (£) | Max Prize (£) | Lines | Feature | Volatility |
| Monopoly Dream Life | IGT (2013) | 94.5-96 | 0.20 | 250K | 20 | Cascading Reels | Low/Med |
| Monopoly Plus | IGT(2014) | 94-96.71 | 0.30 | 250K | 30 | Board Bonus Game | N/A |
| Super Monopoly Money | WMS (2015) | 95.97 | 0.35 | 75K | 25 | Bonus Wheel | High |
| Monopoly Rising Riches | Gamesy (2015) | 95.9 | 0.25 | | 25 | Raining Reels | Low |
| Monopoly Paradise Mansion | Gamesy (2015) | 96.2 | 0.01 | | 20 | Steady Spinner | Medium |
| Monopoly Big Event | Barcrest (2015) | 96-99 | 0.30 | 250K | 20 | Big Bet Feature | Med |
| Monopoly Here and Now | IGT (2016) | 95.76 | 0.20 | | 20 | Board Bonus Game | |
| Epic Monopoly | WMS (2016) | 96.01 | 0.50 | | 100 | Colossal Reels | High |
| Monopoly City Spins | Gamesy (2017) | 95.7 | 0.30 | | 25 | Rolling Rider | Medium |
| Monopoly on the Money | Barcrest (2017) | 94-97.75 | 0.10 | 125K | 10 | Big Bet | Med |
| Monopoly Bring the House Down | Barcrest (2017) | 94.1-98.1 | 0.20 | 250K | 40 | Big Bet | Med/High |
| Monopoly Once Around Deluxe | WMS (2017) | 95.95-97 | 0.15 | | 15 | Game in Game and Pick A Bonus | Low/Med |
| Monopoly Mega Movers | WMS (2018) | 96.05 | 0.50 | 100K | 30 | Extra Bet | Medium |
| Monopoly Big Money Reel | WMS (2018) | 95.95 | 0.40 | 50K | 20 | Money Reel | Medium |
| Monopoly Mega Jackpots | IGT (2018) | 95.1 | 0.05 | Progressive. | 9 | Progressive Jackpots | Med |
| Monopoly Grand Hotel Slot | WMS (2019) | 95.42 | 0.25 | 200K | 50 | 4 Fixed Jackpots | Medium |
| Monopoly Megaways | BTG (2019) | 96.50 | 0.10 | 250K | 17,649 ways | Megaways | High |
| Monopoly Live | Evolution Gaming (2019) | 96.23 | 0.10 | 500K | | Money Wheel Game | Low |
Now you've got an idea of the different bets, payouts, and features that each Monopoly Slot offers, let's dig a little deeper and take a look at some of the best titles in this franchise to start playing.
1. Most Played and Popular Monopoly Slot
Monopoly Once Around Deluxe: WMS. RTP: 95.95-97%
Monopoly Once Around Deluxe is the most popular of all 18 Monopoly Online Slots to date. It began as a land-based casino Slot but is now available at online casinos for mobile and desktop players so that everyone can play! Produced by WMS, it offers a touch of classic gaming with 5 reels and 15 paylines alongside modern elements like Wilds, Scatters and the board game bonus – Once Around Deluxe Feature – where you'll roll the dice, place side bets to build houses and double your wins!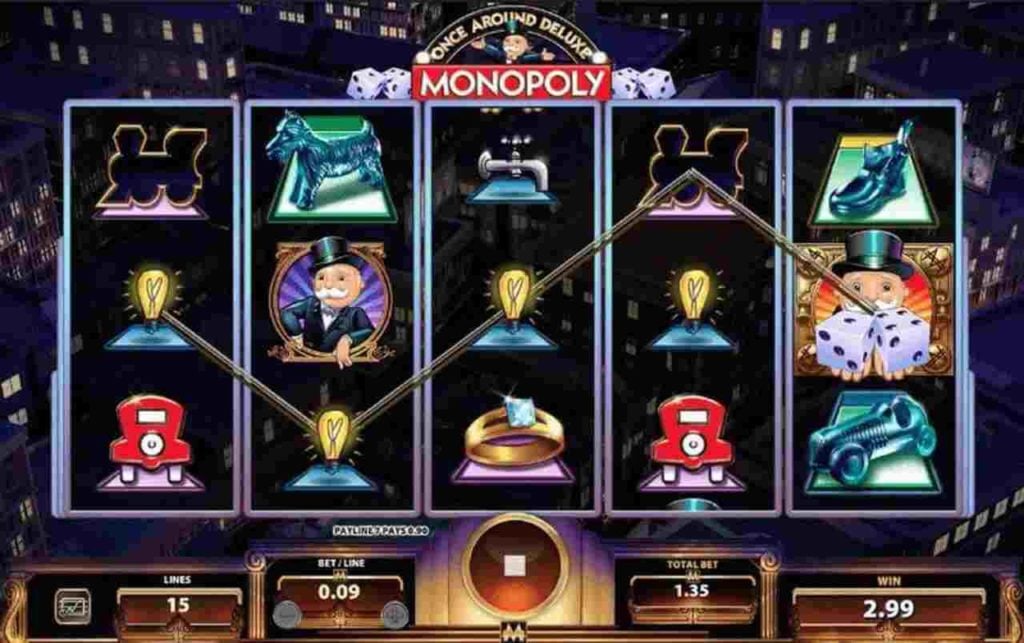 Monopoly Once Around Deluxe offers bets from 15p to £75 as you make your mark on the Monopoly board, and yes there is a bonus for passing go, you can be sent to jail, and pick up Community Chests and Chances as you play too! What we, and indeed, players love most about Monopoly Once Around Deluxe is that it stays true to the original gameplay and is jam-packed with action!
2. Biggest Betline Monopoly Slot
Monopoly Megaways: Big Time Gaming. RTP: 96.5%
Mixing beautiful cascading reels with the Megaways™ mechanic, and Monopoly board game was always going to be a high thrill affair, especially when BTG added their customary flair. Delivering 6 reels, and 117,649 ways to win, Monopoly Megaways is one of the most innovative additions to the franchise. Bets range from £0.10-20, making this slot perfect for all and with payouts of £250,000, there's plenty of prizes promised by these reels, which divulge Win Reactions (where Mr Monopoly moves around the board) and unlimited Win Multipliers, plus Free Spins!
3. Best Monopoly Jackpot Slot
Monopoly Grand Hotel: WMS (Fixed). RTP 95.42%.
WMS hit another high note when they released Monopoly Grand Hotel Jackpot Slot in 2019. Set on 5×3 reels with 50 lines, 4 Fixed Jackpots and max wins of £50,000 on a single base game spin, this Monopoly variety is a knock out Slot.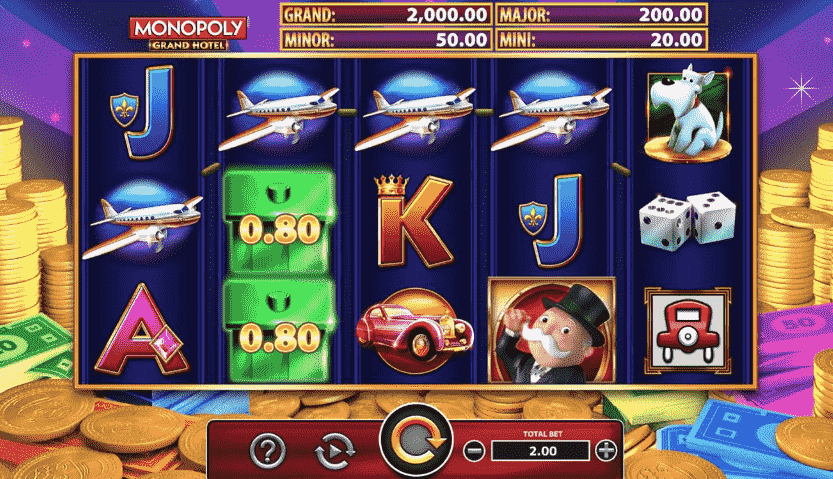 Inclusive of Scatters, Wilds and Free Spins, with jackpots attached (the largest being the Grand Jackpot offers up to £200,000), Monopoly Grand Hotel appeals to Video Slots fans and is 1 of only 2 Monopoly Online Slots with a jackpot attached (the other, Monopoly Mega Jackpots is progressive and discussed below as it's also the cheapest to spin)!
4. Cheapest Monopoly Slot to Spin
Monopoly Mega Jackpots (Progressive): IGT. RTP 95.1% – Start Spinning From 5p!
Surprisingly, the cheapest Monopoly Slot to spin is also the one that holds the potential for the biggest (numerical) wins as it's a Progressive Jackpot Slot: Monopoly Mega Jackpots. Appealing to players who favour classic slots, Monopoly Mega Jackpots, comes with 5×3 reels and 9 paylines.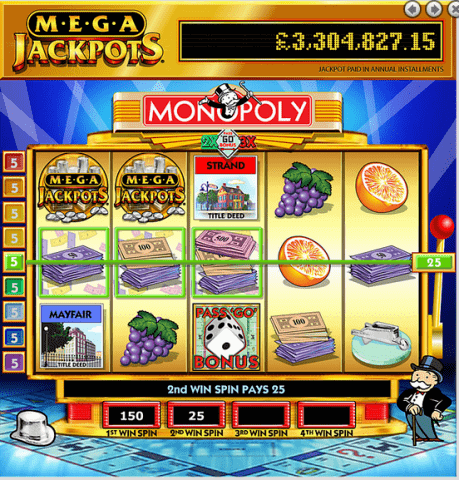 The Jackpot prize is this variant's biggest draw and as IGT have networked and linked it with Cluedo and Cleopatra Slots to ensure a sizable amount, which is now known to reach over $3,000,000, regularly. And all you have to do to win this is line up 5 Mega Jackpots symbols – no bonus rounds, no max bets, just red hot base game wins!
5. Highest RTP Monopoly Online Slot
Monopoly Big Event: Barcrest. RTP: 96-99%
If you're looking to head straight for the highest RTP payouts, then Monopoly Big Event is the one to start spinning as it has a sky-high (and variable) RTP of 96-99% (base game – Big Bet Spins). Set of 5×3 reels with 20 lines, this slot has Big Bet Spins, Wilds, and Free Spins with Cash Multipliers. Bets begin at just 20p, reaching as high as £500, with a max payout of £250,000 possible during Free Spins.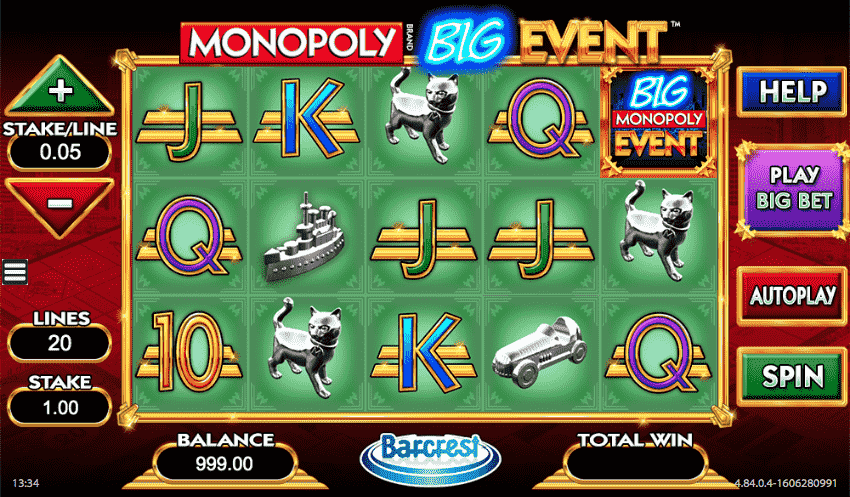 The RTP and action are the most when playing the Big Bet Spins, which is a feature that allows you to stake an extra bet (between £20-50 – each step up in bets increases the bonus features) and get 5 spins with some totally awesome action-packed features, like Multiplier Bonuses, Persisting Wilds and the Big Event Bonus.
What About Live Monopoly?
That's right; Monopoly Casino games are that popular, that Evolution Gaming has even created Live Monopoly!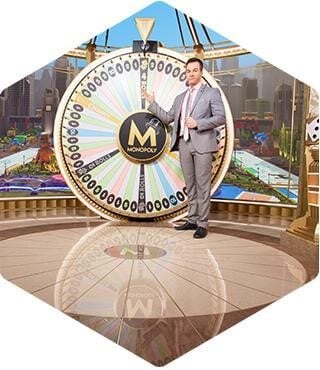 Monopoly Live: Evolution Gaming. RTP: 96.23% MONOPOLY Live | Evolution
While not technically a Slot game, Monopoly Live can not be missed off any Monopoly variety list. Made up of two components: the money wheel (which acts as the dice) and the 3D AR game board section.
Play begins with a money-wheel, and a live presenter (who runs the game). Depending on which section of the wheel you land on, you'll win moves, chances, extra rolls or no rolls and this kicks off the board game element, which transports players to the augmented reality Monopoly boards and comes inclusive of multi-tier payouts, in-game features, bonuses and loads of action.
Monopoly Live is definitely a variation of casino Monopoly that you need to play, and it's won several awards: EGR's Game of the Year in 2019 and Gaming Intelligence's Game of the Year for 2020.
Monopoly Online: Graphics, Sounds & Gameplay
The wonderful thing about each of the Monopoly Slots is that they offer diverse interpretations of the same game and theme. Each of the titles is graphically and conceptually different and impressive, so you'll have a fantastic time exploring the different titles to find the one/s you enjoy the most.
Slot Bonuses and Symbols
As Monopoly is a branded theme, you'll see the same symbols popping up across the different titles, like Mr Monopoly, the Dog, Car, Boat and Hat! Plus, each title has different interpretations of how the classic game features like Go to Jail, Chance, and Community Chest should feature, leading to exciting variations.
Along with epic base game features like big payouts, wilds, scatters and multipliers, the Monopoly Slots offer loads of bonus features from buying better spins to colossal, cascading, raining and money reels, Progressive Jackpots, and board game bonuses – there's something for every type of player to enjoy in the Monopoly range of Casino Slots!
Monopoly Online Slots FAQs
How many Monopoly Slots are there?
There are 18+ Monopoly Slots, but this number is ever-growing, and as you can see from the games table on the page above, at least one new Monopoly Slot has been released every year since 2013
What is the best Monopoly Online Slot?
This question is relative to your playing style and the type of bonuses you want to play for. The most popular Monopoly Online Slot is Once Around Deluxe. Still, you can use the Monopoly games table above to compare each variant including the paylines, bonus features and max payouts.
Can I play Monopoly Slots for free?
Yes! Most online casinos allow players to enjoy Slots in demo mode – this means playing for virtual money or Monopoly slot free coins and prizes (not real). If the casino you're using at the moment either doesn't have demo play or doesn't have the Monopoly Slot game you're looking for, then find a new casino with CasinoTop10.
Which Monopoly Slot has a jackpot?
There are 2 Monopoly Slots with jackpots:
Monopoly Grand Hotel: WMS – 4 Fixed Jackpots.
Monopoly Mega Jackpots: IGT – Progressive Jackpot.
How much can I win playing Monopoly online?
The maximum prize amount varies with each Monopoly Online Slot. The quickest and easiest way to compare Monopoly Slot max payouts is to use the games table given at the start of this review- all max payouts are listed, as well as all other essential info. But keep in mind, if you want to become a Monopoly Millionaire then stick for the jackpot versions: Monopoly Grand Hotel and Monopoly Mega Jackpots!
Our Verdict: Monopoly Slots
With so many top-notch Monopoly Slots to pick from, you're guaranteed a great gaming experience with any of these branded titles and a good dose of nostalgia at the same time. Plus, there's something magical about playing so many different casino versions of the same game and comparing them! What are you waiting for? Sign Up to a CasinoTop10 recommended platform and start spinning your way to banker sized bonuses today and play Monopoly online!