Jacks or Better is the video poker version of five-card draw. Just as in five-card draw, you have to decide which cards to keep and which to discard in order to create the strongest poker hand possible. This is a great game for beginners of video poker before expanding the fun to all the other varieties as jacks or better is one of the first video poker games developed by casino software companies.
It Doesn't Get Much Better Than This
How to Play Jacks or Better Video Poker
In Jacks or Better the payouts start off at a pair of jacks. The object of the game is therefore to create a poker hand stronger than a pair of jacks, hence the name; Jacks or Better. Just like in other video poker variations like Deuces Wild or Joker Poker, you will be paid off according to the strength of your hand.
To play the game all you need to do is follow these steps:
Make sure your online casino account is topped up.
Choose the amount you want to bet on Jacks or Better.
Click on the 'deal cards' button on the screen and you will be dealt five cards randomly from a 52 card standard deck of playing cards.
Look at your cards and decide which ones you want to discard if any at all. Do this by assessing the strength of the cards in front of you. You will need to be familiar with a standard poker hand to do this.
Click on 'deal cards' a second time if you want to discard unwanted cards and replace them with new cards in your hand.
You need to have a minimum hand of jacks or better to get a payout. If you get anything less than this, such as a pair of 9s, you will lose your wager.
Click 'Deal cards' to deal a new hand of cards and start again.
The Decision Hand in Jacks or Better
Back in the day, video poker machines consisted of just one playing hand where you could win. Today, most machines range from four up to fifty, or sometimes even one hundred lines, or hands that you play with the same cards. You usually have one "decision hand" to which you make your decisions, the other additional hands are played just the same way as your decision hand, but the rules of probability will distribute the cards differently.
Optimal Jacks or Better Strategy
To get the best possible payouts, you do need to understand which cards you should hold on to or discard in a given situation to maximise the probability of a winning hand. This may sound very complicated, however, there is some basic strategy you can use when you have certain card combinations. Keep the following table handy when you're playing if you have a tough time memorizing:
First hand of Cards
Optimal Strategy
Royal
Flush
Hold on to all your cards
Straight Flush
Hold on to all your cards
Four of a Kind
Hold on to all your cards
Full House
Hold on to all your cards
Four to a Royal Flush
Draw one card
Flush
Hold on to all your cards
Three of a Kind
Draw two cards
Straight
Hold on to all your cards
Four to a Straight Flush
Draw one card
Two Pair
Draw one card
High Pair
Draw three cards
Three to a Royal Flush
Draw two cards
Four to a Flush
Draw one card
One Low Pair
Draw three cards
Four to a Straight
Draw one card
Three to a Straight Flush
Draw two cards
Two to a Royal Flush
Draw three cards
Two High Cards
Draw Three Cards
One High Card
Draw Four Cards
Five Disconnected Low Cards
Draw Five Cards
Jacks or Better Pay Table
Payouts for this game start with Jacks or better as the lowest hand you can have to receive a payout. You will not get anything back for only one pair, for example. Remember to double-check the paytable at the particular online casino you're playing as there may be some discrepancies between them. Take a look at the table below to see all the payouts possible for this game:
| Card Outcome | Payout |
| --- | --- |
| Natural Royal Flush | x250 |
| Straight Flush | x50 |
| Four of a Kind | x25 |
| Full House | x9 |
| Flush | x6 |
| Straight | x4 |
| Three of a Kind | x3 |
| Two Pairs | x2 |
| Jacks or Better | x1 |
Multi-hands Jacks or Better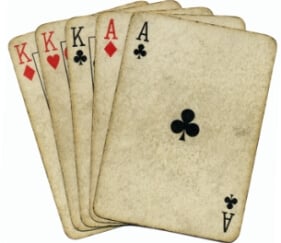 If you ever watched high stakes poker shows on TV you might have seen how the professional players choose to play the same hand two or more times to decrease the fluctuation of the game. The concept is the same when you play multi-hand video poker, except that every additional hand is dealt with a new deck of cards. When poker players decide to "run a hand twice" they just let the dealer deal a new set of cards from the same deck. Sometimes when you play video poker online there will not be any bets riding on your decision hand but sometimes there will so check the individual game rules before you start playing.
Collect or Double Your Jacks or Better Winnings
If you want to, you have the option to try to double your winnings when you play Jacks or Better. Some sites also let you put half your money, or a ¼ of your winnings on the line to increase your winnings. This is done by dealing one card to the dealer and for face-down cards for you to choose from. If you pick a higher card than the dealer's you double up your winnings. You can then double up again or collect your winnings.
Play Jacks or Better with CasinoTop10 Today!
Regardless of whether you are a complete video poker newbie testing out the waters with the classic Jacks or Better variety, or a seasoned player wanting to stick to the tried and tested and enjoyable, you can find the online casino suited to you by clicking on one of the online casinos in our featured toplist. Alternatively, you can try Free Jacks or Better to test is out in casinos.