Casino game provider Fugaso, pronounced in Italian "Fu-gaaa-so" (not really), sounds like a honey and milk cuisine that may or may not exists. In reality, the name actually comes from the English words "Future Gaming Solutions" – which is their way of saying "we know before you, how to make it work". Rumor also tells "they got balls".
Both bold statements, but are they true?
After spending time with Fugaso slots like Trump It Deluxe EpicWays and looking the Magnify Man run long enough to call it an experience – I became a believer. Not in a fanatical sense but as true believer who has been on the mountain and is now ready to deliver his judgement, and that is – Mos Def true.
Like the abbreviation behind the name entails, Fugaso does not aim to just "blast it from the past" even though some of their classic slots have that likeable retro vibe but bring players something different, improved, and totally new.
From the debut release to the future design of new Fugaso slots 2022
Fugaso's debut slot Jewel Sea, released in 2016, turned out as moderate success. Still, even if not the biggest fan favorite slot, its mesmerizing in-game graphics and visual buffers confirmed that Fugaso and their "Future People" -design team have the skills to create appealing styles for the masses. Naturally mastering the technique came next, and balls dropped on the table again in 2019, when Fugaso released their own challenger for the popular Megaways slots – the EpicWays slots –mechanics.
Bigger is better, especially if it bears a force greater than two leather bags full of 5mm ball bearings and it drops multiple times every day on some of the most popular Fugaso slots. That's right, DAY 2 DAY Jackpots add additional daily progressive cash prizes on the best Fugaso slots.
Other player rewarding-tools Fugaso designed to boost the "sex-appeal" of their slots, is the Rich Free Spins –feature and its free spins prizes with multipliers!
To have the guts and the skills to challenge the current leading providers of the online slot industry is a sure sign of a rising star – and that is why we here at CasinoTop10.net keep an close eye on what Fugaso is up to – from their recent rebrand to their old-school slots, we'll cover everything there is to know.
Meanwhile, before we update you with the latest Fugaso news, keep reading and learn more about the company and what are the best Fugaso slot in 2022. Let's go!
Best Fugaso Casinos 2022
Why Play Fugaso Games?
Fugaso is one of the rising stars in the slots industry
Good selection of modern and classic slots with unique features
Entertaining themes and advanced in-game graphics
DAY 2 DAY Jackpots increase the win potential of the most popular Fugaso slots
Rich Free Spins – get free spins with multipliers
Fugaso Casino Games
Main focus on slots, but also developing some table games & crash games
Modern and classic styles or their combinations
Includes win boosters like DAY 2 DAY Jackpots and Rich Free Spins
White label casino games and branded slots

As casino games provider Fugaso's main focus resolves around slots development. However, during the past few years other Fugaso casino games like table games and crash games have started to appear in their collection.
Next to the regular casino game development, Fugaso offers various white label solutions and branded casino games for their clients. Good example of what kind casino games, can be found at one of their partner sites – Parimatch, offering over 10 tailor made Fugaso casino games in their selection.
More about Fugaso slots and other casino games, you can read below.
Fugaso Slots
+40 slots
Mix of classic and more modern styles
Entertaining themes
Average RTP around 96%
Good extra features
Fugaso slots are mix of classic and modern styles featuring evergreen elements from the earlier casino slots era and modern twists of the most popular modern game mechanics out there.
The Fugaso slots RTP averages around 96% and volatility changes between medium and high.
Different Slot Features
Features in many classic Fugaso slots are the same as they been now for over 30 years. Mostly the graphics have had an upgrade and some of the themes are slightly different. Good example of this are the two herbalized Fugaso slots – Stoned Joker and Stoned Joker 5 where the wacky theme features stoned joker wilds but the game itself is like 1000 other classics slots.
Still even these Fugaso classics have something more to give and that is the daily DAY 2 DAY Jackpots.
The more modern features are the different styles of wild –symbols that might trigger re-spins and win potential boosting extras like the daily jackpots.
The Amazing Fugaso EPICWAYS Feature
One of the most interesting features you can encounter in Fugaso slots is their own version of the popular Megaways –mechanics called EpicWays.
Just like the original, EpicWays randomly multiplies reels creating up to 15 625 ways to win on every spin. EpicWays does not offer as many ways to win as Megaways but the max.win potential is still around the same 50 000x bet like in the Trump It Deluxe EpicWays or the Mummy Win Hunters EpicWays slots.
Features that boost your win chances are always welcome in any slot and when combined with polished finished and entertaining themes, one must start to consider if it's a real winner. So, by judging what I have seen and experienced while playing Fugaso slots, I am impressed.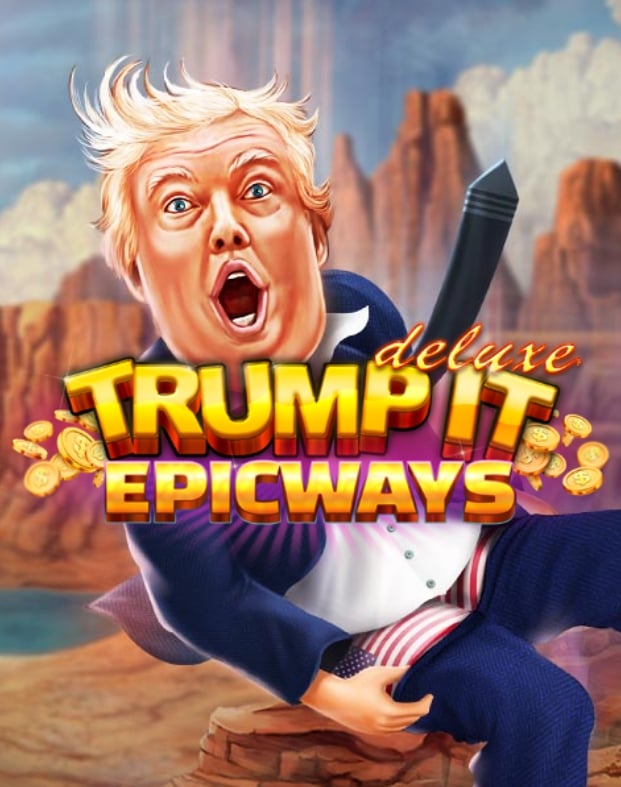 Fugaso Crash Games – The Magnify Man
Crash Game Royalty
RTP 96%
Max.win 10 000x
This superhero has a mad dash and it sure can fly. Fugaso Magnify Man crash game is all about who dares to go furthest and win it big. If you are not familiar with crash games, the idea is very simple: place your bet and when Magnify Man starts to fly, you must know when to stop in order to win, otherwise the Magnify Man will just fly away. Cool graphics, lots of nifty details, and max.win 10 000x bet. All and all – good crash game. Magnify Man RTP is 96%.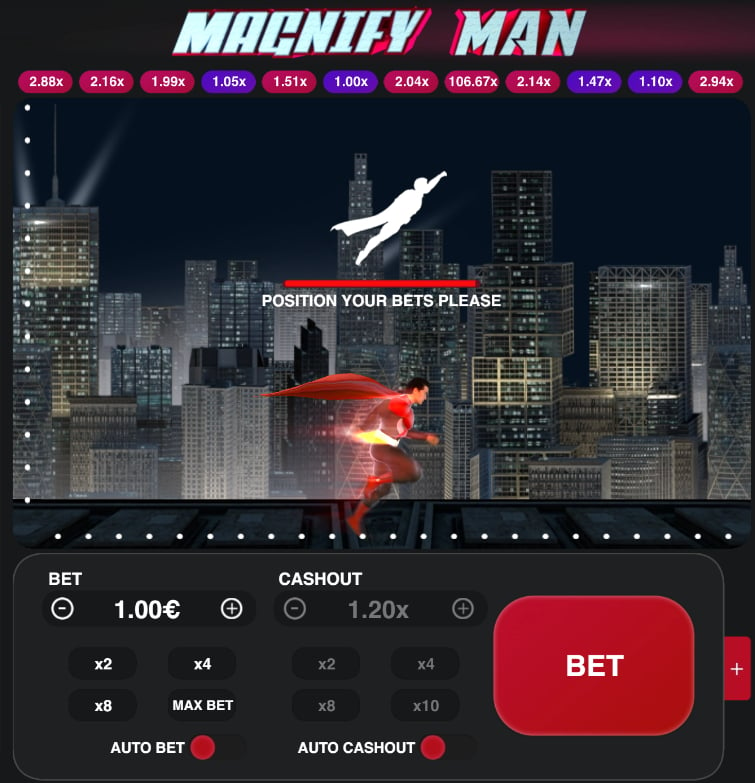 Top 10 Best Fugaso Slots 2022
Check out the Top 10 best Fugaso slots 2022 below and learn more about their themes, styles, features and more.
1. Diamond Blitz 100 (DAY 2 DAY™ JACKPOTS)
5×4 reels and 100 paylines
Stacked wilds and scatter wins
Max.win – 5000x / + DAY 2 DAY Jackpots
RTP – 92 + 4.5% (96.5%)
Hit.freq – 18%
Med/High volatility
Visit the futuristic space café and play Diamond Blitz 100 slot machine. That's the setting where this 5×4 reels and 100 paylines slot takes you. The style of Diamond Blitz 100 is something between classic and modern. Classic part is the original symbols Cherries, Bells, Bars and Diamonds, and for the modern part, is the futuristic looks, 100 paylines, stacked wilds, and the win potential boosting DAY 2 DAY Jackpots.
Diamond Blitz 100 RTP is 92%+4.5% (due jackpots), volatility med/high, and hit frequency 18%. Diamond Blitz 100 is the sequel of Diamond Blitz 40, and both of these are some of the most popular Fugaso Slots.
2. King of The Ring
3×3 reels and 5 paylines
Random bonus, free games, random multipliers
Max.win 1275x
RTP 96.63%
Med/high volatility
Hit.freq 23%
Step into the ring and fight! King of the Ring is Fugaso's boxing themed 3×3 reel and 5 paylines slot that packs a punch most players do not see coming until they play this game. You would think 3×3 slot with 5 paylines would be simple, but not this time. For every spin there is a random multiplier as high as 25x and possibility to trigger free games randomly. During free games the random multiplier gets locked, meaning you have a potential to hit 5 free spins with 25x multipliers with every spin. To increase your changes of big wins, King of the Ring also has wilds and random wilds feature that can appear in the middle of the reels. It all happens "boom, boom, boom" -fast but that's the fighter's tempo in the ring that you just have to get used to. The max.win of this medium/high volatility slot is 1274x and RTP is 96.63%. King of the Ring is, in my opinion, one of the best 3×3 reels and 5 paylines slots out there.
3. Sugar Drop
7×7 grid slot with cluster pays
Featuring up to 729x win multipliers
Max.win 10 000x
RTP 96-96.2%
Volatility High
Launched in 2022, 7×7 grid Sugar Drop is first cluster wins–style slot from Fugaso. Get 5 or more connected symbols to win and Drop Down Reels feature will replace the winning symbols from top down. Continuous wins can grow massive with Random Multiplier –feature that have potential to multiply wins up to 729x. During base game and bonus game, random multiplier wilds can appear after winning a combination randomly in any free space on the screen. In base game the max.multiplier for your wins is 256x. In bonus game, which triggers with 3 or more scatters, after every win Random Multiplier Wild appears on the screen and doubles itself after every win. Too much sugar might get you high but in Sugar Drop it is only a good thing because the max.win in this high volatility slot is whopping 10 000x bet. Sugar Drop RTP is 96-96.2% and wins hit as frequent as 40%.
4. Hit the Diamond (DAY 2 DAY™ JACKPOTS)
5×3 reels, 20 paylines
wilds, scatters, and high symbol value
DAY 2 DAY Jackpots
Max.win 1500x
RTP 96.5%
Volatility medium
Hit.freq 16.70%
Hit the Diamond, by its nature, is one of the more classic slots from Fugaso featuring all the popular elements from the early videoslot era. 5×3 reels, 20 paylines, wilds, and high symbol payouts, covers all the basics of a good slot machine. In this virtual version, you even get the actual visuals of real videoslot (which looks pretty cool on your smartphone). Hit the Diamond RTP is 96.% and max.win is 1500x. Volatility is set to medium, so it's a mix between smaller and bigger wins. To make it more interesting Hit the Diamond also features the DAY 2 DAY Jackpots. Simple mechanics, wilds and big payouts makes Hit the Diamond perfect fit for all the classic slots enjoyers.
5. Diamond Blitz 40 (DAY 2 DAY™ JACKPOTS)
5×4 Reels, 40 paylines
Wilds and Scatter wins
Max.win 2000x + DAY 2 DAY Jackpots
95.5% RTP
Volatility medium
Hit.freq 20%
The original Diamond Blitz 40 is a classic 5×4 reels and 40 payline slot with some modern twists. Those modern twists are more in the graphics and the outlook of this game, which can turn any desktop, smartphone, or table into a slot machine. In-game features include wilds and scatter wins, that about it, but for a classic slot with medium volatility, it's enough to increase those big win odds. Diamond Blitz 40 RTP is 95.5% and max.win 2000x bet.
6. Fat Mama's Wheel
3×3 reels, 5 paylines
Re-spin triggering sticky wilds
Up to 10x win multipliers in bonus game
Max.win 1650x
RTP 95.5%
Volatility medium
Hit.freq 21.40%
Fat Mama's Wheel…not too gracious but somehow delicious. In this 3×3 reels and 5 paylines slot Mama is wild, re-spins triggering, hungry beast ready to feed her offspring with up to 1650x max.win (I love you ma!). No other special symbols are not included, except the bunny who knows what is going to be served as dinner. Get 4 or more wilds on the reels after re-spins and you trigger Mama's Wheel and get up to 10x multiplier for your winnings. Fat Mama's Wheel slot is very jolly, has a nice atmosphere, and the RTP is 95.5%.
7. Jewel Sea Pirate Riches – (DAY 2 DAY™ JACKPOTS)
5×3 reels and 10 paylines
Expanding wilds trigger re-spins
DAY 2 DAY Jackpot
Max.win 10 000x
RTP 96%
Volatility High
Hit.freq 22.70%
Deep sea is full of sunken treasures and in 5×3 reel, 10 payline, Jewel Sea Pirate Riches slot, you can find wins as high as 10 000x. Not only that, the slot is equipped with DAY 2 DAY Jackpots which makes Jewel Sea Pirate Riches even more delicious. The main feature in this slot is the re-spin triggering expanding wilds on reels 2,3, 4. Once the wild appears on one or more reels it triggers re-spin and continues triggering if more wilds appear on the reels. As high volatility slot, the big wins are buried the deepest meaning you might need to grind some time but once you hit the treasure it's going to payout. Jewel Sea Pirate Riches RTP is 96%.
8. The Mummy Win Hunters – (DAY 2 DAY™ JACKPOTS)
5×3 reels,10 paylines
Expanding symbols in bonus game
Max.win 5000x
RTP 97%
High volatility
Hit.freq 29.80%
The Mummy Win Hunters takes you way back all the way to the ancient Egypt where magic, mysteries and pyramids rule the lush desert landscape. Hit the 3 scatters or more and randomly chosen symbol expands on the reels during bonus game. You might have seen this before and now it is Fugaso's turn to flirt with all the Book of Dead fans. However, this 5×3 reels, 10 paylines and 5000x max.win slot is not the exact copy of this one of the most popular slots ever made. What is better is the graphics, 97% RTP, and overall win potential because The Mummy Win Hunters is one of the DAY 2 DAY Jackpot slots and there is also version featuring the EpicWays -reels of this slot.
9. Fortune Circus – (DAY 2 DAY™ JACKPOTS)
5×3 reels, 20 paylines
Wild Joker stacks
Max.win 1500x + DAY 2 DAY Jackpots
RTP 96.5%
Volatility Medium
Hit.freq 16.70%
5×3 reels and 20 paylines Fortune Circus is very basic medium volatility fruit slot. Not much of a circus to be honest, since there are no clowns but only stacked wild jokers. Symbols are enhanced 3D'ish fruits that look cool, music is hit or miss, and scatters pay independently. Fortune Circus RTP is 96.5% and max.win is 1500x bet. What makes Fortune Circus more interesting is the Fugasos DAY 2 DAY Jackpots that adds the extra big win potential in the game.
10. Book of Anime (DAY 2 DAY™ JACKPOTS)
5×3 reels, 10 paylines
Expanding symbols in bonus game
Max.win 5000x + DAY 2 DAY Jackpots
RTP 97%
Volatility high
Hit.freq 29.80%
Big booba anime babes slaying dragons and stuff. Is there a deeper story here? Yes there is! Fugaso's Book of Anime is based on popular Book –series slots mechanics provider Play n GO made famous with their Book of Dead slot. Featuring 5×3 reels, 10 paylines, and expanding symbols in the bonus game. Most of the aspects are straight up copies, yet there is something special included, like the big booba anime babes but also the DAY 2 DAY Jackpots! Great dual combo if you ask me, especially when the RTP is 97% and max.win 5000x.
About the Fugaso Slot Interface and Software
New Fugaso slots have adopted their latest and most refined interface up to date designed for optimal player experiences on all surfaces. Mobile players on smartphones and the rising demand of the "on the go " -casino entertainment has pushed providers to improve their mobile experience. Mobile slots require more compact designs and clever buttom -placement and these mobile inspired improvements have also made desktop versions better.
What to fit and how to fit all the critical functions on the tiny screen of a smartphone and still reserve most of the space for the reels is a challenge.
How Fugaso solved this problem, was by removing everything from the main gameplay interface and only leave the Bet- and Spin –buttons on the screen. All other functions like autoplay and options are hidden behind collapsing menu –button, small icons, and pop-up screens, leaving more room for the action itself. The Fugaso mobile slot interface is also used on the desktop version.
Check Out These Innovative Promotion Tools By Fugaso
Innovative promotion tools created by Fugaso adds massive win potential boosting features to their games and also reward lucky players with extra free spins. Keep in mind, because Fugaso is not just a gamestudio but a powerhouse of game development and casino solutions, new innovations and promotions might pop-up on the market when the new Fugaso slots are released.
So far, there are two amazing extra features that can be found from multiple Fugaso slots, and these are DAY 2 DAY Jackpots and Rich Free Spins –feature.
DAY 2 DAY Jackpots
Extra 3 levels of daily jackpots in popular Fugaso slots
Guaranteed to pay out every day
Win progressive cash prizes up to over €10000!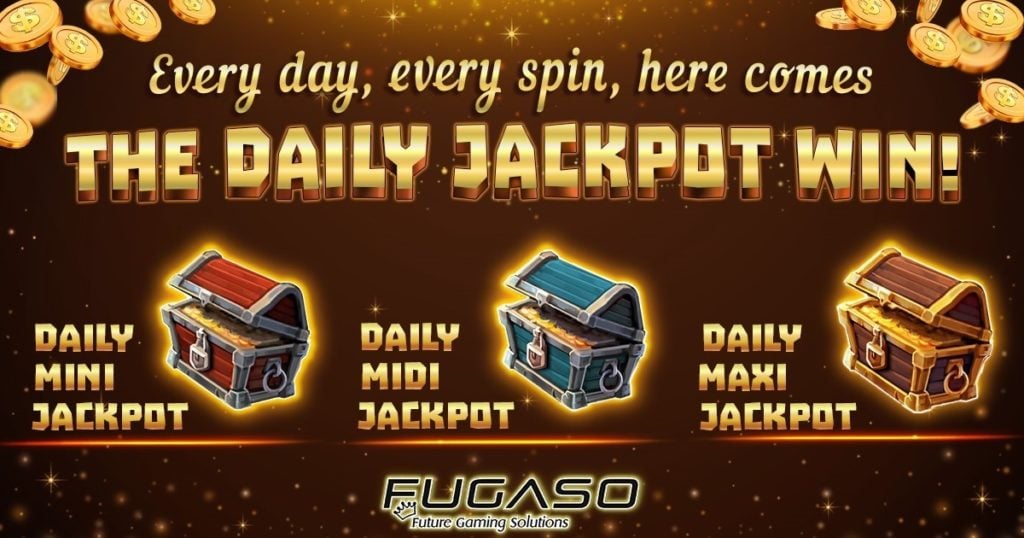 DAY 2 DAY Jackpots are additional cash prizes players can win every day from over 15 Fugaso top slots. Similar to Red Tiger Daily Jackpots, the Fugaso DAY 2 DAY Jackpots are guaranteed to pay out daily. The jackpot prizes are progressive, meaning they grow in value every time someone bets on it until the jackpot is won and starting from 10% of the total prize won previously. The prizes are in three levels – Daily Mini Jackpot, Daily Midi Jackpot and Daily Maxi Jackpot.
The smallest in size, Daily Mini Jackpot, is paid up to tens of times per day and the biggest, Daily Maxi Jackpot, can also be won more than once per day but for it being the biggest and paying up to over €10000 , it is also the most rare of these three daily jackpots.
Your chances of triggering the DAY 2 DAY Jackpot –feature, depends on the bet value.
Higher the bet, the higher is your chance to win one of the three progressive jackpots.
Rich Free Spins
Optional promotional tool for operators
Get free spins with win multipliers
Rich Free Spins is a unique promotion tool by Fugaso for operators to reward their players with free spins. Only on Fgaso slots, this unique feature has another specialty and that is the prizes. Not just regular free spins but free spins with multipliers to help you get those big wins! The amount of free spins and the multiplier is up to the operator.
Fugaso Mobile Experience
Fugaso mobile interface is stripped from all excess -buttons and is designed to make the games look bigger on your smartphone. Even if stripped, all the critical functions are right there within one push or mostly just few sweeps away.
User-friendliness on smartphone is top quality and the games look amazing on your smartphone and tablet. The bigger your screen is more the theme and backgrounds pop up, adding more value for the overall mobile experience.
Fugaso games performed quite well in my personally conducted stress test on my Motorola G41 smartphone. I would like to see how the Fugaso mobile games perform when played in ultra-high volume, just to be 100% sure they do not have any server issues or so called "cheap server deals" that slow down during high demand. This just to be 100% sure because I can't find much to complain about Fugaso mobile experience. Good stuff.
Casino Software Security and Fairness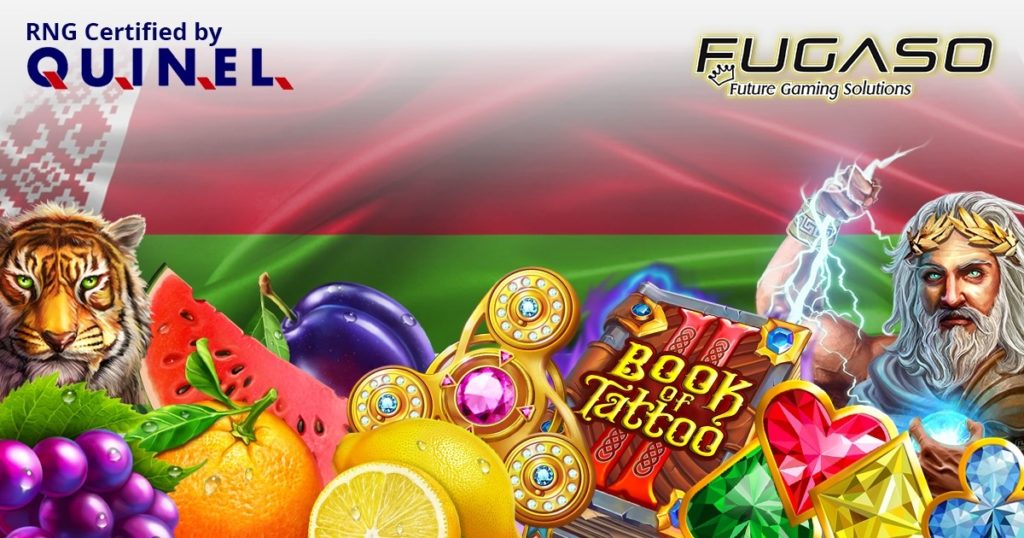 All Fugaso casino games are RNG audited by a 3rd party to ensure the fairness of their products at all times. One of these auditing companies Fugaso is certified by is a company called QUINEL LTD, who is one of the gatekeepers between regulated markets and casino software developers. Due to the different security and quality certifications they have required, Fugaso can offer their services for multiple regulated markets all over the world with the latest additions being Belarussian and Italian casino markets. In the ETA-zone Fugaso operates under MGA licence, licence number: MGA/B2B/834/2020.
So far I have personally not heard any complains or even rumours that would question the integrity or fairness of Fugaso games.
Fugaso Provider Review 2022 – Summary
Fugaso has steadily evolved into a serious slot producing game studio with skills to appeal for the wider audiences. First, visually pleasing in-game graphics and entertaining themes make great combo for any slot design. Second, Fugaso has mastered the mechanics and techniques to produce classic and more modern slots with complex designs. EPICWAYS slots are a perfect example of this. Third, the innovative promotion tools, like DAY 2 DAY Jackpots and Rich Free Spins -feature uplifts the best Fugaso slots to the next level.
When these three pillars of slot development form a balanced trifecta, you know the game will get noticed on online casinos. To me, this is the new baseline of Fugaso and their slots. Crash games I do not know much but I did enjoy Magnify Man and the clumsy superhero dashing on your screen with all the numbers and buttons.
Good games, nice designs, interesting features that have massive boost on the max.win potentials of Fugaso slots.
To not to get wet from all the hype. Even though Fugaso is one the rising stars of the slot industry, we have not seen their final form yet. It will take year or two for Fugaso match the quality in same volume as the best providers NetEnt, NoLimit City, and Red Tiger produce. The beast called Fugaso is still evolving and the ambitious in-house design x development team are the right people to nurture it. Grow strong Fugaso – be the best honey and milk cuisine you can be!
Personally I am very happy I made this review because I clearly did not know enough about Fugaso, their slots, or about their win potential boosting features. Now that I do know, guess what I am going to play next from Fugaso? You guessed it! Trump It Deluxe EPICWAYS and hope my favorite "Three Amigos" will hit me with BIG WINS, maybe even the 50 000x max.win.
Over and out!
Yours truly, Pessi Lamminen