Casino players looking for a blazingly fast, secure and anonymous way of getting money into an online casino account need to look no further than Euteller. The preferred payment service provider for online consumers in Finland for over a decade Euteller simply couldn't make the process any quicker or easier. Debit card or credit card info isn't required and once your account/mobile app is set-up transactions happen in real-time without ever having to access or contact your bank.
If you look above you'll see that the casinos that accept Euteller are varied, well established and secure. As a payment method created and based in Finland, Euteller obviously is more convenient for Scandinavian casino players. Still, it is open to anyone who has an account with one of the 8 major Finnish banks Euteller works with. As Euteller is regulated by FIN-FSA, the Financial Supervisory Authority of Finland, it couldn't be more secure. Plus, it's a great solution for quick, simple and safe online casino transactions.
Why Use a Euteller Online Casino?
Preferred online payment service in Finland with over 15 million transactions processed;
Instant payment transactions in real-time in sync with your bank account;
Completely safe and secure and licensed/supervised by Financial Supervisory Authority of Finland;
Supports payments from all devices including mobile, desktop and tablets;
Siirto mobile payment app that only requires mobile phone number for sending or receiving money. No need to go to bank website to confirm;
No need for debit or credit card transactions.
Is Euteller Safe to Use to Deposit to an Online Casino?

The first and most obvious question, right? Is Euteller a safe option for transferring money to an online casino? The answer is 100% yes.
Founded in 2007 Euteller has been in use for over a decade in Finland and has processed over 15 million transactions worth over a billion euros for its customers. As mentioned it is overseen by the Financial Supervisory Authority of Finland (FIN-FSA) and has a Finnish licence. It makes an ironclad promise of security to its customers and has proven that to be true.
How Do I Set up a Euteller Account?
The next obvious question: If it's such an effective payment method, how can I set up an account? Well, for starters, check the toplist above to see the online casinos that use Euteller as a payment method. All of the listed casinos are vetted as secure and safe by our casino editors so it only comes down to which types of games and graphics you prefer. All are good choices!
Once you've picked a casino that accepts Euteller you'll need to have a bank account at one of the official Finnish banks Euteller has partnerships with. Check the list in the image below:

There's no need to register at Euteller to use it as a payment service.
If you have an account at one of the above banks your next step is simple. After you've set up your account at the online casino, pick Euteller as your option for payment method. You'll then be re-directed to your own online bank account to complete the process.
These next steps are diagrammed very clearly by both the casino and the bank and only take only a few minutes to complete.
Once your two accounts are connected your future transactions will be quick and seamless and happen in real-time. All you'll need after that point is the app itself to transfer money to your casino account instantly. Check the graphic below:

Even Simpler Euteller Transactions via Siirto Mobile App
While Euteller transactions are easily done via desktop or tablets the simplest way is via the new Euteller mobile app, Sirrto.
Siirto is the first real-time mobile payment service where end-users only need a mobile phone number for sending or receiving money.
All transfers happen in real time and the end-user doesn't have to confirm the deposit on the respective online bank's website.
The deposit is confirmed by the Siirto app itself and a confirmation request will automatically be sent as a mobile phone notification.
The screen size of all payment pages will adjust automatically so using just the mobile app is more than sufficient.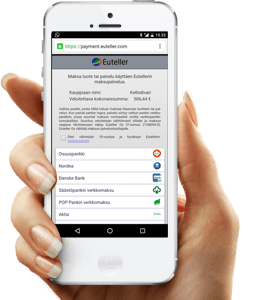 Advantages and Disadvantages of Using Euteller at Online Casinos
Pros
One-Step Transfers via Mobile.
Also Easy Via Desktop and Tablet.
Anonymous Deposits.
Licensed by Financial Services Authority.
No Registration Required.
Cons
Withdrawals cannot be done directly.
Large fees included.
Euteller Fees
EUteller does charge a small fee for transactions. The current charge is 1.95% for all online payments to an online store or EUteller casino. Most online casinos don't charge for deposits made via EUteller. 
Payment Methods Similar to Euteller
All of these payment methods offer secure and reliable transactions and are widely accepted in online casinos. Just make sure that the payment solution is available in your area.
Euteller Casinos FAQs
Do I need to set up an Euteller Account before I can use it?
No. using Euteller is very simple and only takes a few minutes. Once you've connected your online casino account with your bank account your transaction will only take a few minutes.
Can I use Euteller at all online casinos?
Unfortunately, no. The online casinos listed above do have Euteller as a payment option. You'll also need to have an account at one of the banks Euteller has as partners. See the list of those banks above.
Can I make Eutekker deposits via my phone?
Yes, you can! The new Siirto mobile app makes sending payments to online casinos via Euteller even easier. And you won't have to access your online bank account either.
What other options are there for Online Casino Transactions?
If you don't have the proper account to set up a Euteller account there are lot of other e-wallets you can use. These include Skrill, Neteller and more recommended on our payment options page. If you're looking make a deposit with a a credit or debit card check out our Visa Casinos, Mastercard online casinos and American Express Online Casinos.
How Much Can I Deposit Online via Euteller?
As far as we know Euteller has no deposit limit but the online casino itself sets minimum and maximum deposits.
Are There Fees to Use Euteller at an Online Casinos?
Euteller has a small transaction charge for processing payments although most casino accept Euteller transfers without any fees added.
Can I Make a Withdrawal from an Online Casino via Euteller?
Euteller is currently only able to process deposits to online casinos. You'll have to find another method, such as bank transfers or another eWallet to receive withdrawals.