The fine art of card counting is a very exciting element of blackjack, at least to us here at CasinoTop10. It might not be as appreciated by the people running the casinos, but hey, who are they to say, right? Try out our free blackjack simulator, and master the art of card counting. Plus, if you wish to improve your strategy we suggest you look into our Blackjack strategy trainer to get some practice and our Blackjack strategy chart!
About CasinoTop10's Blackjack Card Counting Practice
Allow yourself to be virtually transported to a Card Counting trainer offering a training session to help you better your skills before you head to the world of real money online casino games. Our amazing coach was designed by our staff at CasinoTop10 to aid you in learning and practicing the fine art of counting cards. This is a skill in which practice makes perfect, so the more you do this, the better you become. Although there are many methods you can employ when counting cards, such as the 'True Count', 'Back-Counting' as well as other systems, our card counting practice trainer used the 'High-Low' method to train all you keen blackjack players out there.
The High-Low Method
The High-Low method is probably one of the most used card counting systems employed in the gambling worldwide. It was first introduced by Harvey Dubner and has become a much discussed phenomenon in the online casino world.
Despite the fact that this system is relatively easy to understand, the high low system will take some practice before you're able to count cards like a pro at the casino. Typically, when using this system, cards are counted according to their point value. Have a look at the table below to find out all about the point value attributed to different card ranks.
| | |
| --- | --- |
| Card Rank | Value |
| 2 | 1 |
| 3 | 1 |
| 4 | 1 |
| 5 | 1 |
| 6 | 1 |
| 7 | 0 |
| 8 | 0 |
| 9 | 0 |
| 10 | -1 |
| J | -1 |
| Q | -1 |
| K | -1 |
| A | -1 |
How to Use our Card Counting Practice
1) Launch the Coach
Load CasinoTop10's coach by pressing the 'Try it For Free' button. Once you've clicked on the button, a pop up window will then appear. It will then launch through the browser you happen to be using. So, unlike other trainers found on the net, you won't have to download anything to start your training.
2) Choose Your Level of Play
Select your level of play by clicking on 'Easy', 'Medium' or 'Pro'.
Which level should you choose?
If you've just begun learning how to count cards, we always recommend selecting 'Easy'. Once you have, the program will automatically acknowledge that you've just begun learning how to play and will be able to make recommendations according to your level of play. After you've trained for a while, you can then move onto the next level of play by selecting 'Medium'. And once you feel that you're almost ready to head to the casino, simply train on 'Pro' mode.
3) Read the instructions in the Window
As stated by the instructions you'll see in the window, when counting cards you should do the following:
a) Count Low Cards (2-6) as 1;
b) High Cards (10-A) as -1;
c) 7,8, 9 as neutrals -0.
Remember that your count doesn't stop until the entire deck has been dealt out. Moreover, you should keep your count in your head until the next round.
4) Press 'Start Counting'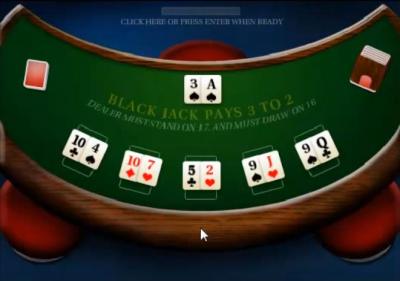 Once you press the 'Start Counting' button, you'll be able to commence your training. Two cards will be dealt out to each player and you'll be given a time limit in regards to how much time you have to count the cards.
Our Advice to New Card Counters
Provided that you've never counted cards before, our experts at CasinoTop10 suggest you keep a pen and paper handy at first. Then once you feel confident enough start counting cards without using any form of aid, do away with the paper and pen.
5) Answer the Question displayed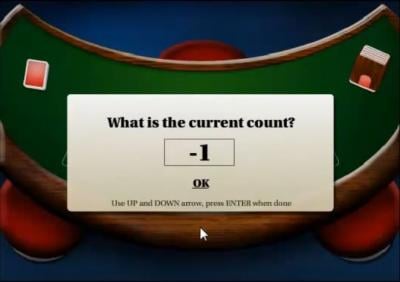 Once you've run out of time, a box will appear with the question 'What is the current count?' In order to proceed, you must answer this question by either entering a number manually or by using your arrows to increase or decrease the number.
6) Hit the 'Ok' button to see the correct answer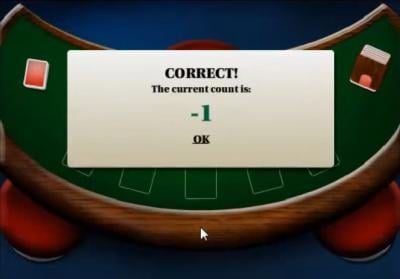 When you feel confident enough with your count, you can go ahead and hit the 'Ok' button. Once you've submitted your answer, a box will appear to inform you whether your count is 'Right' or 'Wrong' and give you the right answer. You can keep trying at it so you can perfect counting the cards in your own time and at your own pace.
Try our Free Trainer & Win at Blackjack!
Counting cards is a marvelous way to gain the edge at brick-and-mortar casinos as well as Live Blackjack Casinos online. By using our coach, you'll be able to master the art of counting cards. Once you feel confident enough to try it out whilst playing for real money, you can go ahead and sign up to a Live Blackjack Casino from our list of casinos and start playing Blackjack for real money. By choosing a casino from our list, you can cash in on an exclusive bonus. This will allow you to double or even triple your bankroll and help you get well on your way to winning some cash!