The Book of Ra Slots game is one of the most played machines in the world. The multi-reeled casino game was originally a traditional land-based one which was such a hit among casino aficionados that casino software developers decided to turn it into an online Slots game. It comes in two different versions; the original and the deluxe version. Below we review the original version of the Book of Ra slots game and give you all the information you need to decide about whether to start playing the game for real money or not.
About the Book of Ra Slots Game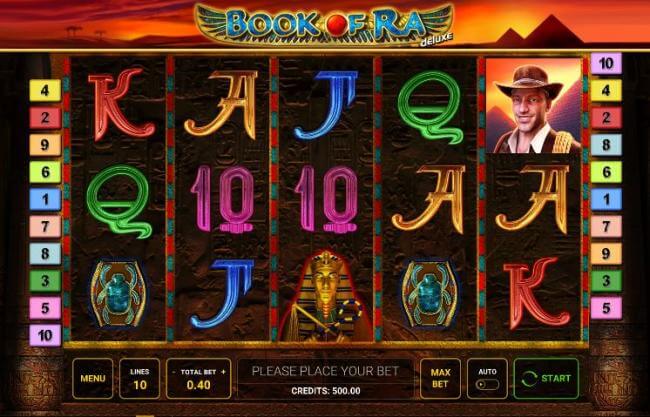 The iconic Egyptian-themed Slots game, Book of Ra, has been dubbed as legendary by many a gambler. It was first introduced in the iGaming scene by the online casino software company Novomatic in 2005 and has made waves since. In fact, the Slots game is so loved that it's been voted as one of the most played games in several countries around the globe including Germany.
With its Egyptian-inspired symbols and its fantastic mini-games, you're guaranteed to have a great time playing the Book of Ra. The 5-reeled game, which gives many other online Slots games with a similar slot theme a run for their money, presents players with all the excitement and entertainment they could desire out of a game of chance.
Book of Ra, which is especially popular with Europeans, features multiple special features which are triggered by the Book of Ra symbol itself. Features include Wild Spins, Free Spins, Bonus Games, and Scatter Symbols and these are what make the game extremely popular with gamblers. Minimum and maximum bets for this game range from € 0.02 to € 5.00 per line which make it tremendously versatile in terms of betting. And to further ice the cake, the game has x2 multipliers and a 95% RTP rate making it even more of a good choice to play.
Quick facts about the Book of Ra Slots Game:
Book of RA is a 5-reel, 9-payline slots game that features Egyptian-themed symbols;
€ 0.02 Minimum and maximum € 5.00 bets per line;
It features free Spins, X2 Multipliers, bonus games;
The game has an RTP rate of 95% and is highly volatile;
The popular Egyptian-themed game is one of the world's most played Slots.
Book of Ra Gameplay
On playing the Egyptian-themed Slots game, you'll be able to transport to the mysterious land of the Pyramids. The aim of the game in the Book of Ra Slots is to strike a winning combination of 5 identical symbols on one of its 9 paylines. During the game, you can choose as many as 1 or 9 paylines to bet on. You can also choose how much to bet by using the – and signs in the window. Once you've made your choice, hit the 'Start' button to give the Book of RA a spin to see what symbols you manage to land.
As you've probably already deciphered, this particular online slots game is one which doesn't really differ in the way it's played from other Slots games. However, don't be fooled at first glance. The slot features that really set this game apart from the rest of the Egyptian-themed Slots out there is its mini-games, free spins and bonus features which are triggered by Book of Ra symbols which have three different functions – Wild, Scatter and Bonus symbols.
Graphics, Sound & Symbols in the Book of Ra Slots Game
Book of Ra's graphics and sound are really nothing to write home about. That said, they are effective enough to captivate players. The game's graphics are in 2D and present users with symbols that have been designed using simple yet adequate symbols in a few different shades and tints. The symbols you'll see in the game include an explorer, scarabs, pharaohs, the book of ra, the letters 'A', 'Q' and 'J' and the number 10.
Overall, we must say that Book of Ra's graphics may not be as shiny as one of its top rivals, NetEnt or even Playtech for that matter. Yet, both its graphics and complementary sound are enough to suffice to give gamblers an overall great experience. Provided that you don't like this game's graphics too much, but love its features, we highly recommend Book of Ra's sequel called 'Book of Ra Deluxe' which has more of a sleek design than its predecessor has.
RTP & Variance
As an online Slots game, the Book of Ra has a lower than average RTP rate. According to different sources, the RTP rate for this game is 95% which is quite high and could be beneficial to many Slots veterans out there. The games variance is high though. So it's a bit risky to play, but payouts can be super worth your while.
How to Play the Book of RA Slots Game
Although the Book of Ra Slots game has a number of different features, there's no reason to think that the Slots game is extremely difficult to play at all. In fact, it's meant to be played in the same manner other games are meant to be played only with added features. Below we outline how to play the Book of RA Slots Game. Simply follow the steps below to start playing:
1) Select How Much to Bet on Each Line & the Amount of Paylines
The first thing you'll have to do on opening the Book of Ra game is to select your bet by using the – and signs. Bets range from € 0.02 up to € 5.00 per line and the amount you choose will signify how much you'd like to bet per line. Hence, the maximum bet you can place during a single spin would be € 5.00 x 9 lines totaling up to € 45.00. The minimum amount you can bet is € 0.02 x 1 line amounting to € 0.02.
2) Click on the 'Start' button
Once you're done, hit the 'Start' button to give the game's reels a spin. As the reels go round and round, different symbols will whizz past. They will then eventually to come to a halt and you'll be paid out according to what symbols you've managed to strike.
Provided that you've managed to strike certain combinations, bonuses such as free spins, scatter features, bonus games and wilds will be triggered. Below we give you a complete overview of how they work and what you'll get provided that you've struck a good combination.

Book of Ra Slots Bonuses & Symbols
Wild Symbol: The Book of Ra acts as a wild symbol and substitutes for any symbol on the 5-reeled game's payline.
Scatter Feature: Provided that you manage to hit two or more Book of Ra symbols on any combination of reels once they've come to a halt, the scatter payout is determined as a multiplier of your bet (200x for five, 20x for four and 2x for three symbols.)
Free Spins: On striking 3, 4 or 5 scatter Book symbols, 10 free games with randomly selected bonus symbols will be triggered. Free games can also be retriggered when using the free spins up too
Book of RA Free Game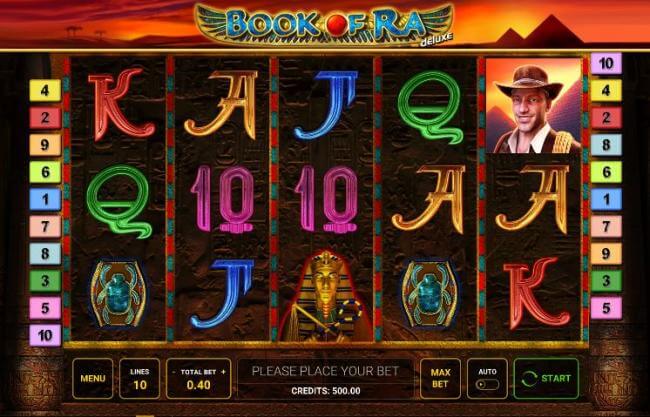 Book of Ra FAQs
Are outcomes in the Book of Ra random?
Yes, just like other online Slots games out there on the web, the Book of Ra has been developed using a Random Number Generator to ensure that every outcome generated is random.
Where can I find the Book of Ra on Android?
Novomatic has created the Book of Ra with mobile devices in mind. If you'd like to play the game on Android devices feel free to check out Google's Play Store and download the game on Android. Alternatively, you can also play the game on Android by signing up at a casino where they use Novomatic casino software.
Where can I play the Book of RA Free Slots Game?
Yes, there are some online casinos out there which will allow you to try the Book of RA game for free should you wish to. Generally speaking, you'll need to register your details before they allow you to play the game for free, however, this isn't always the case. To try a few other free casino games, head to our free Slots page where you'll find several variations of Slots games to play.
Is the Book of Ra slots game a progressive jackpot?
No, although the Book of Ra has many special features, it's not actually a progressive jackpot. If you'd like to find online casinos that have progressive jackpot games, we highly suggest having a look at our Progressive Jackpots guide which outlines which casinos actually have progressive jackpot games.
Is Book of Ra Deluxe the sequel to the original game?
Yes, Book of Ra Deluxe is the sequel to the original game 'Book of Ra'. Its graphics are more refined than its predecessors and it's also got 10 paylines instead of 9. So if you'd like to play the game with better graphics, we recommend playing this version instead.
Our Verdict: Book of RA is an Egyptian Thriller That's Worth Your Bets
Egyptian-themed Slots games are far from scarce in the online casino realm. Yet, there are truly few Video Slots games that really come across as worthy in terms of playability. Luckily, this is not the case when it comes to Book of Ra. The game has a simple and clean design making the game of luck user-friendly overall, even though it looks slightly dated when compared to some of the newer Slots games out there. Overall, the game is very easy to play and it's also got some very engaging features too including scatter symbols and free games. So don't miss out, hop right to it and head to one of the casinos in our list to spin its reels and possibly even win a handsome amount of cash too!