Can you really play a video poker machine at a casino and win every time? Well … let's say almost. If you find the right machine and play optimal video poker strategy you can definitely reduce the house odds substantially and walk away with money in your pocket an extraordinary amount of the time.
Try Your Video Poker Strategy Here
How to Win at Video Poker:
Find a full payout machine – one with over 99% payouts;
Adhere to textbook video poker strategy – see charts below;
Bet maximum credits;
Always play a video poker machine at betting limits you can afford.
Video poker is one of the few casino games you can beat and it doesn't take a team of MIT experts beside you counting cards. All you need is a systematic approach to your play at any video poker machine with a corresponding chart that helps you make the right play in every hand. Stick to the proper way of how to play video poker as well as video poker strategy and you won't necessarily be able to become a professional video poker player, but if you're looking for the one casino game besides traditional poker where you can get positive expected value, or at least a very low house advantage giving you hours of play for a very small investment, video poker may be your game. Here's how to win at video poker!
How to Win at Video Poker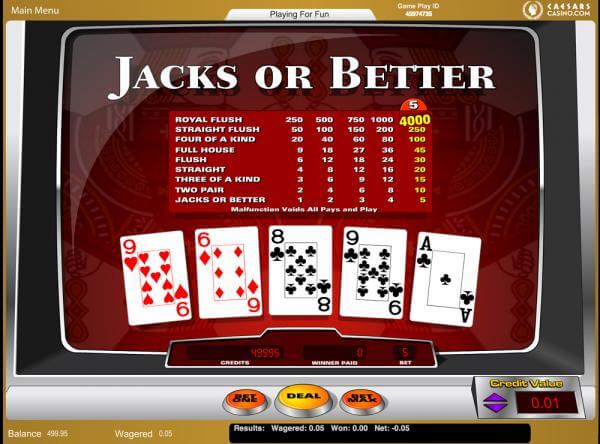 If you're looking for a short cut to how to win at video poker the short answer is there isn't one. To really maximize your chances of winning and get your payout percentages as close to 100% as you possibly can, you're going to have to do some studying. The upside, though, is if you take the time to learn the strategy charts, find the proper "full pay" machine and stick to the plan you will be able to ensure you get a payout over 99% at a video poker machine.
If you've spent any time playing table games at any casino, live or online, you know that's a very, very good return. House advantages of less than 1% are very hard to come by. With the Deuces Wild video poker variation, you can even increase your odds over 100% – a true rarity in any casino. So video poker is a very special exception to the casino rule and proper video poker strategy can really set you apart from your fellow casino patrons throwing their money away on low-odds games. And it's not far-fetched to believe you can learn how to win almost every session.
Find a "Full Pay" Machine
One of the most important parts of your video poker approach comes before you've even put a dollar in the machine or been dealt a hand. If you want to maximize your chances of winning at video poker – and winning the most money – you need to pick the right video poker machine. A full-pay machine is one that offers the best video poker odds, meaning optimal payouts for hitting hands. In the most common game in online Video Poker Jacks or Better, where you need at least a pair of jacks for a payout, you can see on the payout table whether or not it "pays full."

The key is to look at the payout for a full house or a flush. A full house out should pay nine times your wager and a flush should pay six times. This is why these machines are also referred to as 9/6 machines. Your odds of winning at these "full payout" video poker machines – when using the perfect strategy of course – are better than in almost any other game in the casino. In fact, the casinos' advantage is lower than one per cent. This means that on average the machine pays back more than 99 cents out of every dollar you wager. When played incorrectly the House edge is much higher, which is why it is important to learn the correct strategy before playing video poker.
Deuces Wild Full Pay
In the Deuces Wild version of video poker, in which a deuce can represent any card and you need at least three of a kind to win, the odds are actually in the player's favor with optimal strategy. The player edge is close to one per cent. To find this game, look for a deuces wild machine that pays nine coins for a straight flush and five for four of a kind. When you do that you can play with a 0.76% edge and have positive expectation over the casino. The second best deuces wild machine pays 11 coins for a straight flush and four for a full house. This is almost a break-even machine with just a 0.04% advantage in the casino's favor. However, these machines are hard to find and the maximum bet allowed is usually fairly low.
Free Video Poker Strategy Chart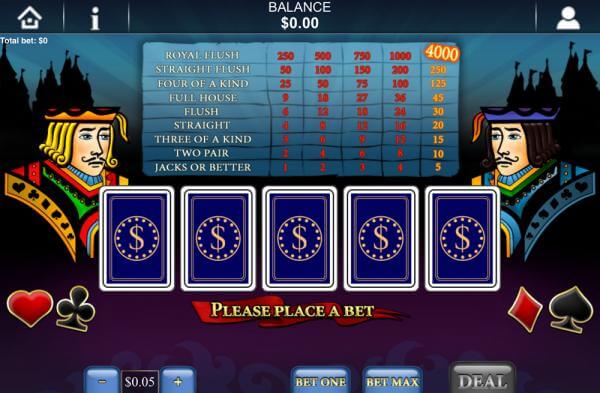 To succeed in video poker you have to play perfectly. You can find strategy tables online that will tell you exactly what to do in every situation. You should have the strategy guide open while you play online. Print out a copy and take it with you, as the strategy can get complicated at certain points.
Jacks or Better Perfect Strategy
Below is the perfect strategy for Jacks or Better – a list you can find on several sites online. It tells you what cards you should keep when you're dealt your 5-card hand. To read it, you simply see what from this list you have in your hand off the deal. Then read from the top down. Whichever hand you have that appears highest on the list below, keep that hand. Here's the list. We'll give you an example below.
Four of a kind, straight flush, royal flush
4 to a royal flush
Full house, Flush, Straight, Three of a kind
Four to a straight flush
Two pair
High pair (jacks or better)
Three to a royal flush
Four to a flush
Low pair
Four to an outside straight
Two suited high cards
Three to a straight flush
Two unsuited high cards
Suited J-T, Q-T, or K-T
One high card
Discard everything
So say for example you're dealt:
#Jc #Ks #Ac #4d #4c
You have:
A Low Pair (44)
Two suited high cards (AJ)
The low pair appears higher on the list so keep the pair of 4s and discard the other three cards. This will maximize the amount of money you can win after your next deal.
Always Bet the Max!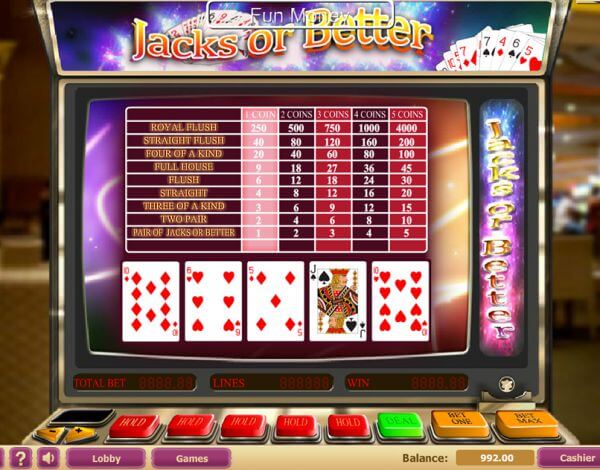 If you don't play the maximum amount of credits each time and you DO hit a Royal Flush you will regret it for the rest of your life. Full value for hitting a royal flush – a rarity for sure, but not out of the question – will pay you maybe 4000-to-1 on a full payout machine. If you play less than the max amount and hit the royal flush you'll be paid something closer to 250-for-1. Still a nice score but definitely not in the realm of what you might have taken home. So that being said you also need to make sure you're playing at a video poker machine you can afford to bet the maximum on. Don't play above your head! It's not just important that you win but HOW you win as well!
Use Proper Video Poker Strategy and Win Real Money!
People often mistake video poker for a version of slots. Nothing could be more wrong. The slots strategy is a lot more different than the proper video poker strategy! In video poker you have to make the right decisions and when you do that the house advantage becomes very low (and in some rare cases it can even be in the player's favor.)
The reason why casinos can offer these conditions is simply that most players don't follow optimal video poker strategy and therefore give the casino a much larger edge. If only half of the players play well, the house will still have a considerable advantage when looking at all games together. Keep this in mind when maximizing your play in other game types and check out our online craps strategy article while you're at it.
So take this opportunity! Find a good machine at a desktop or Mobile Casino and play proper strategy. You'll find that video poker is definitely one of the best online casino games on the floor!