Welcome to the CasinoTop10 definitive hit list of top 5 casinos restaurants. This list will take you around the world, tantalizing more than just your taste buds, and leave you with a short but tasty list of first-rate casino travel destinations for those gamblers with more than just laying bets on their mind. Real-life casinos are a source of incredible, all-around entertainment, and many are home to some of the finest chefs and restaurants globally. So after hitting the casino halls and checking out the various entertainment options, it's time to loosen your waistband and spend some of your winnings with these restaurants that are set to restore your blood sugar level and blow your taste buds away!
Suggested Casinos By Our Experts
1. Robuchon au Dome: Grand Lisboa, Macau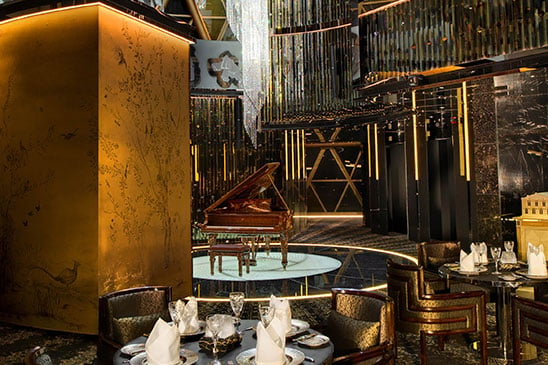 3 Michelin Stars (held for 13 years).
Restaurant Price guide: $85 – 440 per person (depending on drink choices).
The casino holds 1,000 Slots, 800 Tables, and 430 rooms/suites.
Set in the dome of Macau's tallest building, Robuchon au Dome is unmissable for gamblers visiting this region. The restaurant is the creation of Chef Joël Robuchon and serves French cuisine with a 7 or 8 part seasonal tasting menu. Classed by the Michelin guide as "Exception cuisine, worth a special journey!" you certainly won't be missing out on taking a trip to gamble in Macau and enjoy this restaurant which offers exquisite views and food. Home to 41 casinos (including The Venetian, Sands, Wynn, and Grand Lisboa), Macau is an ex Portuguese colony and a Chinese Island. In 2018-19 it also surpassed Vegas as the world's largest gambling market, seeing just short of 40mil visitors per year.
2. Restaurant Guy Savoy: Caesars Palace, Las Vegas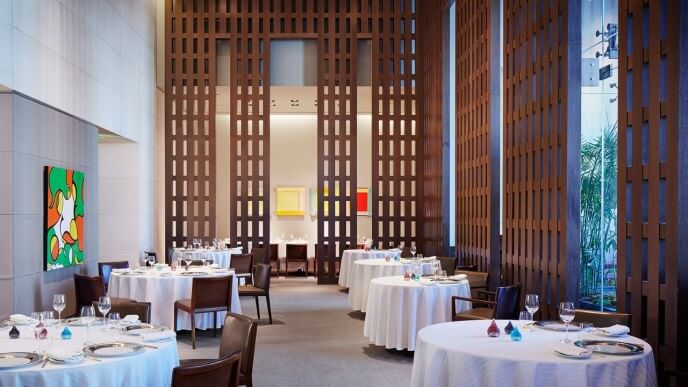 The chef holds 3 Michelin Stars (not the restaurant).
Restaurant Price guide: $400 – 600 per person.
The casino holds 1,324 Slots, 169 Tables, and 3,960 rooms.
For something a little closer to home, this restaurant has tourists and US citizens flocking to it for classic French cuisine, the chef's signature artichoke and black truffle soup, and a tasting menu that comes in at a little under $400 for 13 courses (also making it the most expensive restaurant on this list). Brought to players by 3 Michelin star Chef Guy Savoy, this is a Vegas replica of his Paris restaurant and even offers views of the Eiffel Tower. If the vast range of gaming and entertainment offered by Caesars Palace Casino hadn't already made this your gambling stop of choice, then tasting the fantastic food Guy Savoy creates undoubtedly will!
3. Le Train Bleu: Casino de Monte-Carlo (Place du Casino), Monaco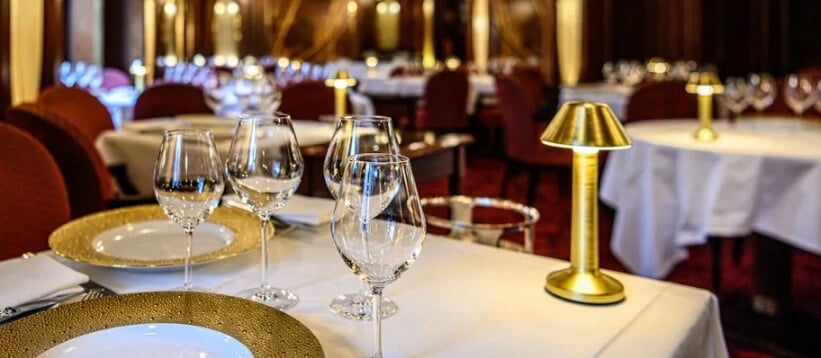 No stars, exceptional reviews from critics, and offers a well-priced casino restaurant option.
Restaurant Price guide: $80 – 100 per person.
The casino holds 140 Gaming Terminals, 56 Tables, and 99 rooms.
When in Europe, hitting up Monte-Carlo, Monaco is a must for gamblers. It's an independent state nestled between the French Riviera and Italy and a gorgeous but prestigious coastal location to visit. Vatican City aside, Monaco is also the smallest country in the world. Still, despite the small land space, it's home to four casinos, which make up the more significant part of the country's GDP. Casino de Monte-Carlo is well-known to be the best of these four, featuring gorgeous architecture, non-stop gambling, and that stunning old-world European charm. On the doorstep of this casino, you'll find Le Train Bleu restaurant, run by Head Chef Thierry Saez-Manzanares and serving "flavours of Italy in an exquisite Belle Époque setting." Bursting with flavors of the Mediterranean and stunning views, this casino restaurant is unmissable. It offers the best quality for price and views on this list, so should you find yourself in Monte-Carlo, be sure to make a stop at both the casino and restaurant.
4. Waku Ghin: Marina Bay Sands, Singapore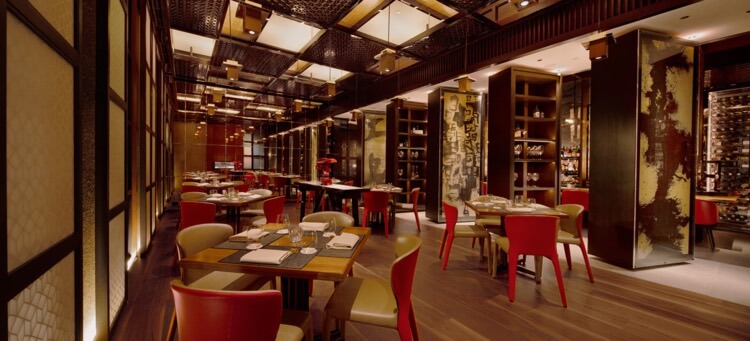 2 Michelin Stars.
Restaurant Price guide: $185 – 300 per person.
The casino holds 2500 Slots, 700 Tables, and 2,561 rooms.
From Europe to Asia, our next best casino restaurant takes us to Singapore and is Waku Ghin at Marina Bay Sands. This two Michelin star restaurant is executed by chef Tetsuya Wakuda. It offers Japanese cuisine in a minimalist, heritage setting that fits only 25 people, 10 of which can opt for the chef's table. Tuck into the chef's tasting menu, delivered as 5 or 8 courses, and enjoy dishes such as "Patagonian Toothfish with Asparagus, Smoked Pil Pil" and Confit of Tasmanian Ocean Trout, then hit-up Marina Bay Sands to experience Singapore's largest casino.
5. Cafe Martinique: Atlantis, Bahamas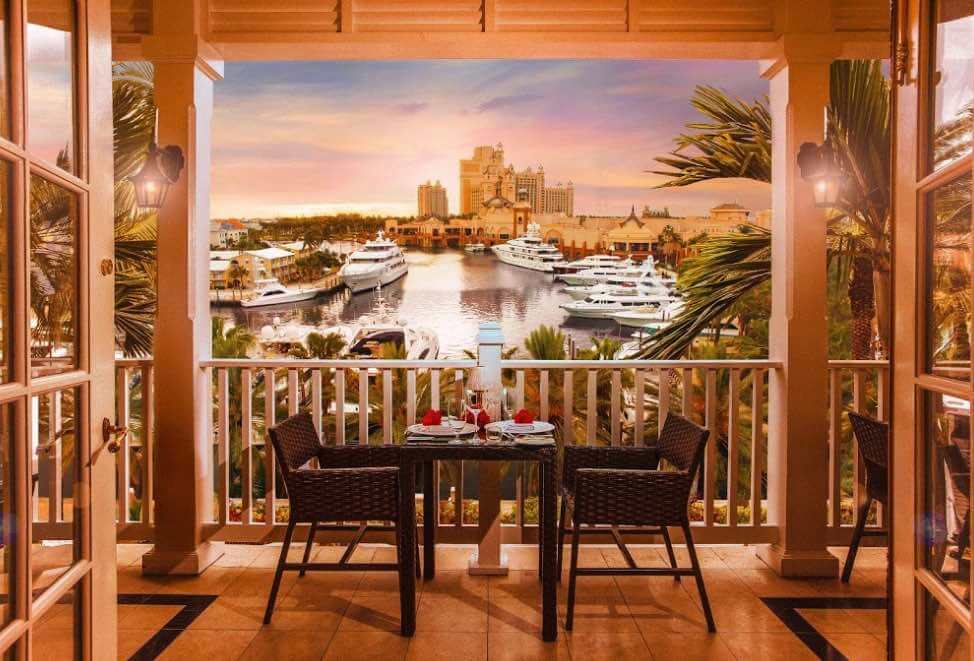 The chef holds 2 Michelin Stars (not the restaurant).
Restaurant Price guide: $100-150 per person.
The casino holds 1400 Slots, 85 Tables, and 824 rooms.
The last casino restaurant on our list will take you to the Bahamas and the luxury island of Nassau – AKA Paradise Island. Set inside the stunning and more laid-back Atlantis casino resort, Cafe Martinique is a seasonal and plant-forward restaurant with a deep commitment to promoting sustainability, using local ingredients, and creating unique flavors that offer a French spin on local tastes and ingredients. At the helm of this casino's restaurant is Chef Jean-Georges Vongerichten, who has two Michelin stars to his name and is knocking out downright drool-worthy dishes like his signature grill!