Appearing on the scene in 2010, Thunderstruck by Microgaming quickly became one of the world's best loved video slots. In 2020, the game was revamped and Thunderstruck II is now a five-reel, 243-payline slot. In this Thunderstruck II slot review, we look at how the game operates, and explain how the different types of free spin options you can get and how to land the 2,400,000 coin jackpot.
Fun-Filled Casino Game Action Right Here!
Thunderstruck II Theme, Graphics & Sounds
Thunderstruck II's theme is built around Norse mythology, which quickly becomes apparent thanks to the many Gods that appear in the game, among who are Thor, Loki and Odin. It is also evident from the symbols, which include a Viking ship, Thor's hammer, and Valhalla (the Norse version of heaven). The game's graphics are incredibly crisp and bright, and the icy-blue and grey coloring will remind you of the arctic wilderness. The sounds, too, are related to the theme with thunder striking every time you hit a winning combination, and a soundtrack that wouldn't have gone amiss in a Hollywood blockbuster.
Thunderstruck II Features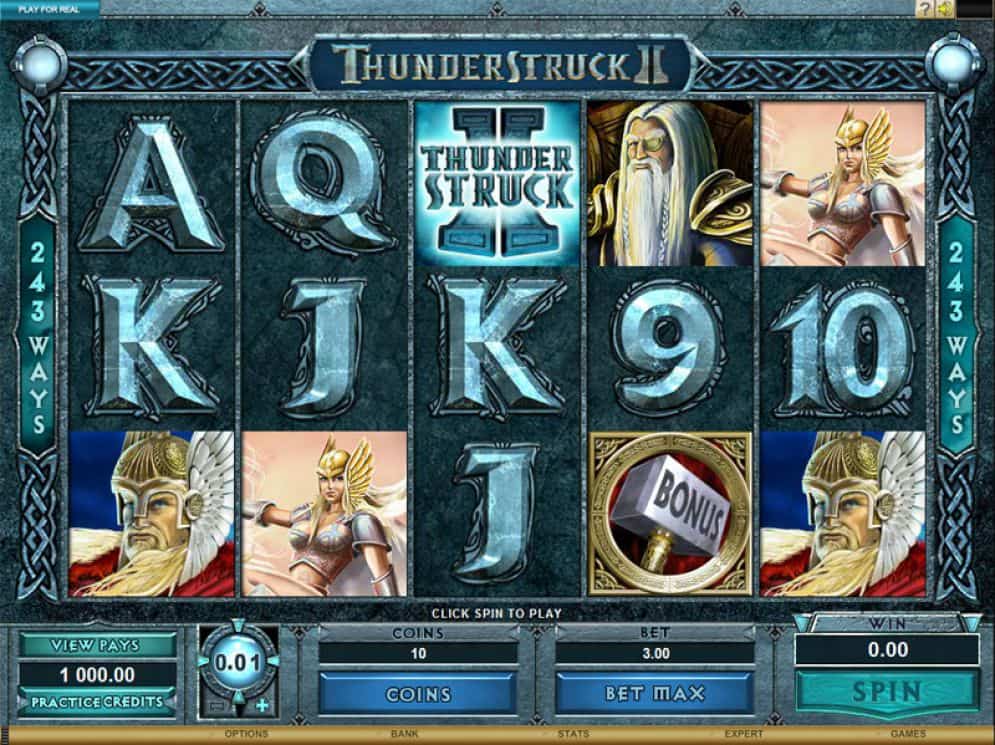 What makes Thunderstruck II particularly special are the bonus features the game comes with. Below we look at each one in more detail.
The Wildstorm Feature can appear randomly and is usually preceded by storm sounds and lightening flashing across the screen. This feature will see Thor electrifying the game and transform up to all five reels into wild ones. If the maximum number of wild reels is achieved, your win would be of 8,000 times your stake up to 2,400,000 coins.
The Great Hall of Spins Features is new to the Thunderstruck franchise, and believe us when we say that each one is absolutely amazing. To activate this feature, you will need to get between three and five scatter symbols or Thor's Hammers anywhere on the reels. This will then unlock the Great Hall, where you will find four different features depending on how many times you've managed to access this area.
On your first trigger of the feature, you will find the Valkyrie Free Spins feature. This gives you 10 free spins with a five-time multiplier. What's even better is that during these spins, you can get double that amount of free spins. So, in all, this feature can give you up to 20 free spins with a max win of 1,383 times your stake each!
On your fifth trigger, you will get the Loki Free Spins feature, which is 15 free spins on the game. This feature, however, also comes with Wild Magic symbols, which when they fall on the third reel, will randomly transform into extra wilds. During this feature, you can also win up to four more free spins with between two and five scatters. All this means that the max win per spin can be of up to 8,000 times your stake.
On the 10th trigger, the Odin Free Spins feature will be made available to you. This rewards you with 10 free spins, but also comes with the Wild Raven feature, which randomly turns other symbols in multipliers (2x or 3x), but if you manage to get two Wild Ravens, you'll get a six-time multiplier. In this feature, the max win per spin is of 3,320 times.
The motherload of free spins happens when you've been to the Great Hall at least 15 times and the Thor Free Spins feature is unlocked. This will get you 25 free spins and unleash the Rolling Reels features, during which time a winning combination is multiplied by two. More wins can take these multipliers up to five times, for a total win of 1,383 times your stake per spin.
Thunderstruck II FAQs
What is Thunderstruck II's RTP?
The RTP of Thunderstruck II stands at 96.65%. This is higher than the RTP for most casino games, but relatively average for online video slots.
What's the max win on Thunderstruck II?
The max win on Thunderstruck II is of 8,000 times your stake, up to 2,400,000 coins. This can be achieved in one of two ways: either through the Wildstorm Feature, or during the Loki Free Spins feature. Either way, the top win of 2,400,000 coins can only be achieved when playing $60 per spin.
Does Thunderstruck II have any features?
It has loads! The Wildstorm Feature is triggered randomly, while the Great Hall of Fame, which is made up of four different features, is triggered when you get three to five scatter symbols on any reels at one go.
Can I play Thunderstruck II free?
This depends on where you live. Online, there are a number of casinos, social casinos and other websites that allow you to play Thunderstruck 2 free, nevertheless this sort of free gameplay is not legal or available everywhere.
Thunderstruck II Conclusion
It is of little wonder that the Thunderstruck franchise has become so popular over the years. With the introduction of Thunderstruck II the original and much-loved game has become a force to be reckoned with thanks to the suite of bonus features that are second to none. This, coupled with the great graphics, sounds, theme, and easy gameplay makes Thunderstruck 2 well worth playing!