So you're looking for a Thunderkick software review, are you? Well, you've come to the right place as we break down all the elements that make this company one of the best in the world. Indeed, if you're looking for a game development company that seeks to deliver the best quality slots, then you can't go wrong with Thunderkick. This Swedish company, which has licenses from Malta and UK, has incredible graphics, fabulous themes, and three-dimensional interactivity that is second to none.
Best Thunderkick Casinos
The Best Thunderkick Casinos
Following an agreement with NextGen Gaming in 2014, Thunderkick games found their way on many of the UK's and Europe's best casinos. This gave the fledgling company, which was launched in 2012, a great boost, but its success is down to the meticulous way in constructs its games. Today, Thunderkick casino games stand proudly next to those by industry leaders like Evolution Gaming, NetEnt, Playtech, and Pragmatic Play, and yet they can still be told apart. We, and many other players out there, are totally enthralled by the great games that Thunderkick has unleashed into the world, with themes that range from medieval conquest to Mexican lucha libre fighters, and travelling carnivals to fantasy worlds.
To top all this off, our Thunderkick software review looked at the company's safety and security features, and what we discovered made us love this company even more. Thanks to its great licenses (Malta & the UK), and third-party certification, all its titles are guaranteed to be fair and secure, giving you the ultimate peace of mind. In other words, when looking for the best or new Thunderkick casinos, you are sure to come across great options that will give you hours of fun.
Why play at Thunderkick Casinos?
Thunderkick is now a renowned name in the industry with great licenses and credentials.
The company continues to create unique and interactive themed slots that appeal to different tastes.
Its slots work well on all platforms, namely desktop, mobile and tablet.
Thunderkick games are available to UK, European and Australian players, and can be found at some of the top casinos including Betsson, BetVictor, Casumo, and MrGreen.
Thunderkick Software Review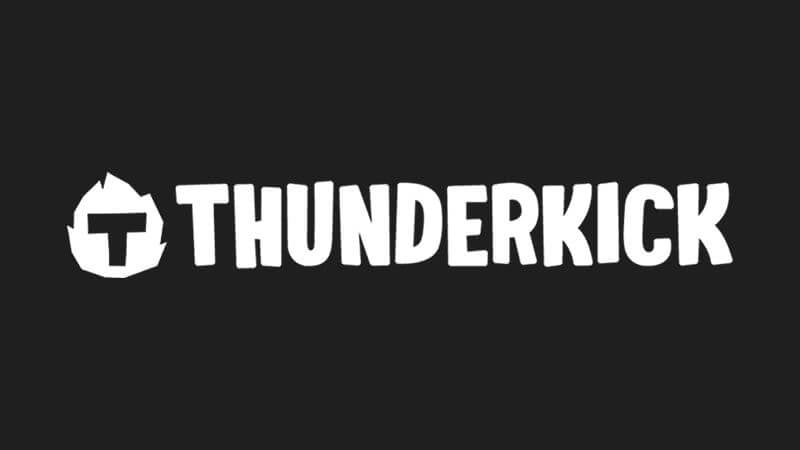 Established in 2012, Thunderkick is a game development company that is slowly becoming one of the world's most respected and sought-after. Founded in Sweden by a group of men who were tired of what the industry had to offer, they came to an agreement that they wanted the company to be fun, 'give a damn', and remain that way. Since then, the company has grown in both size and scope. It now employs over 50 people and its games are stocked at some of the Europe and the UK's best casinos, including LeoVegas, 888 Casino, VideoSlots and William Hill. The latter is partly in thanks to a distribution deal signed with industry giant, NextGen Gaming, in July 2014.
More importantly for you and us, however, their game-making skills have been honed to a tee, and over the past couple of years they have managed to more than double their portfolio of slots: the company has gone from having around 20 slots to over 45. That may still not seem like much, but Thunderkick has always been more about the quality than the quantity. And in that regard, they have certainly succeeded. Although quite new on the market, their games include classics like Birds on a Wire and Pink Elephants, which became instant hits. That is not difficult to see why as on top of gracing their games with fabulous 3D graphics, their in-house software is proven to be safe and fair for players. From our end, all this has made us definite Thunderkick fans. The why is explained in further detail below.
What makes Thunderkick Games special?
Thunderkick games are often released far apart from each other, but that's not because the company is lazy. Indeed, its games are among the most interactive of the whole lot, and they take their themes to a whole new level. In Fruit Warp, for example, fruit symbols that fall on a winning line splash and splatter against a wall; in Birds on a Wire, meanwhile, the birds explode when they hit a winning combination; and in Turning Totems, the totems actually spin horizontally in a three-dimensional effect. All this is aided by well thought-out soundtracks that give the player complete control. During out Thunderkick software review, in fact, we discovered that the majority of their games give you the opportunity to choose which sounds to hear: background music, winning sounds, or both.
Over and above this, their Thunderkick casino games have super easy functions even a total novice could master in seconds. Indeed, all the controls can be found on the black border found at the bottom of all their games, and it allows you to easily set your bet, spin, and even set the game to auto play. If all this isn't enough, the games have in-game bonuses that include free spins, wilds and so on. One of the best such bonuses can be found in Pink Elephants, where you can get up to 34 free spins.
The Five Best Thunderkick Slots
When it comes to slots, Thunderkick certainly doesn't disappoint. Its games have the best of everything, be it graphics, sounds, themes, and ways to win. It's indeed hard to pick the best five slots from their canon, but we did our best based on popularity and features.
Pink Elephants
Released in 2017, Pink Elephants is a high-volatility slot that has six reels, four rows and an astonishing 4,096 paylines. Its theme is based on the well-known English euphemism that a person 'seeing pink elephants' must be drunk or delirious, and that is indeed how this game pans out. Players are asked to help the Tribal Minions look for a Magical Peanut in a whimsical world that makes very little sense but looks intoxicatingly beautiful. The game gives you the chance to win 8,200 times you initial stake and has an RTP of 96.1%.
Birds on a Wire
Although Birds on a Wire is a slot game, it is by no means traditional. Instead, the five-reel and 17-payline game sees birds fly onto telephone lines every time you take the game for a spin. Those in a winning combination explode in a flurry of feathers. While this may sound a bit brutal, no actual birds are harmed and it does provide players with some great visual fun. The game also has free spins, multipliers, and an RTP of 97.2%.
Beat the Beast – Griffin's Gold
As the final chapter in a five-part series, Griffin's Gold seeks to get players to beat the griffin and get to the treasures he is guarding. The game has five reels, three rows and nine paylines, and comes complete with roaming wilds, free spins, and wild multipliers as in-game bonuses. It has an RTP of 96.14% and can give you a maximum win of up to 22,222 times the size of your initial bet. The other titles in the Beat the Beast series are Kraken's Lair, Mighty Sphinx, Cerberus' Inferno, and Quetzalcoatl's Trial, respectively.
Turning Totems
As one of the first slots to be released by Thunderkick, this game was anything but special. Yet, in true Thunderkick style, the company decommissioned the game and reworked the whole thing, keeping nothing but the stunning graphics that had always been lauded. Since 2016, Turning Totems is a five-reel and 11-payline game complete with free spins, sleeping wilds and re-spins. It has an RTP of 96.1% and gives you the chance to win 998 times your initial bet.
1429 Uncharted Seas
Five reels and 25 paylines come together in this game that lets you explore the world's uncharted oceans. The game, whose design is based on cartography from the Age of Discovery, has expanding wilds and a bonus game that gives you free spins. Its RTP, which is an astonishing 98.5%, also means that you can be in for a great win, with the maximum being 670 times you bet. A great game for both history buffs and monster lovers, this traditional slot is fun and visually satisfying.
Other Types of Thunderkick Games
At the time of writing, there are no other types of Thunderkick games. Indeed, the company has stuck to what it does best and continues to release slots on a regular basis. Even so, it may disappoint players not to see the quality that goes into slots being extended to table games like roulette, baccarat or blackjack, to live casino games, or even to jackpot games.
Cross-Compatibility of Thunderkick Games
While working on our Thunderkick software review, we looked at how Thunderkick games fair when it comes to using them on different platforms. We're happy to report that they were super quick to load on every browser we played them on given we had a decent internet connection. They also do not require players to download any apps or additional software. This was particularly surprising as the games have such good graphics, but we did discover that this was always the plan with Thunderkick.
Teaming up with Unity Software to create the 3D designs its games are so famous for, the titles are ultimately designed using HTML5 and Flash. This means that the games can be played on desktop, mobile phones (iPhone and Android), and tablets (Apple and Android).
Thunderkick Safety & Security
There's really nothing to worry about when it comes to safety and security at Thunderkick online casino. The company has two of the best gaming licenses in the world, namely those from the Malta Gaming Authority and another from the UK Gambling Commission. All three of these licenses hold the developers to strict regulations which, if broken, could see them lose their license. The fact that Thunderkick hasn't and is still growing, goes to show that it always plays by the book.
Moreover, its games' random number generator (RNG) is certified by Great Britain's Remote Technical Standards, and each game is further tested and certified by one of the world's most respected testing agencies, eCOGRA. All this aides users choosing Thunderkick games add an extra level of security to their gameplay. Yet, while this is in place and Thunderkick games are only found at reputable casinos, we still recommend checking out the casino's license and so on before signing up.
Languages Supported by Thuderkick Games
All Thunderkick games come in English as standard, as this caters for the majority of players out there. Nevertheless, depending on the casino, they may also come in other languages including Swedish, Italian and Norwegian.
Thunderkick Mobile Casino Review
Thunderkick games work just as they should on iPhone and Android phones, without any loss of sharpness, speed and quality. They usually take just moments to load and do not require any special software to work. Meanwhile, the great optimization means that all controls are laid out in a clear way and are easy to use. This also applies for tablets.
Thunderkick Casinos FAQs
What is Thunderkick?
Thunderkick is a Swedish-based game development company that has licenses from Malta and the UK. Launched in 2012, its games have become renowned for their 3D graphics, controllable soundtracks, great paylines, and fabulous themes.
What are the Best Thunderkick Games?
We love them all, so the best answer we can give to this question is to check out their collection and find one that appeals to you. The themes of its games include adventure, fantasy, history, and magic.
Are Thunder Games safe?
Totally! Over and above the two coveted licenses from the Malta Gaming Authority and the UK Gambling Commission, Thunderkick's RNG is certified by Great Britain's Remote Technical Standards, and their games are checked by eCOGRA.
Where can I play Thunderkick Games?
UK and European players can find Thunderkick games at many of the top casinos on the continent. Moreover, as the company continues to become more renowned, you can expect that number of increase in the months and years ahead. Thunderkick casinos Australia also exist.
Can I get a casino bonus when playing Thunderkick Games?
Thunderkick is not a casino in itself, so it can't give you any bonuses. Nevertheless, if the legal and licensed Thunderkick casino you join offers you such a bonus, then there should be no reason for you not to receive it. As always, check the terms and conditions before signing up to any casino and make sure it is legal for you to play in your jurisdiction.
Play at One of the Thunderkick Casinos Today!
If we had to fault Thunderkick on anything it would be that there aren't more slot titles – just because the ones available are so much fun to play. That, however, is also the reason why its software has become so respected: instead of churning titles out, Thunderkick takes its time to create lasting slots that give players hours of fun. With a company that puts so much focus on things like security, graphics, themes and compatibility, the only final word on the matter can only be one: go and check them out!
Other Game Developers