As all online casino gamblers know, the chief aspect that separates the digital gambling sphere from its land-based counterpart is the endless stream of promos that internet platforms offer. These days, everyone wants their share of free-play funds and random prizes. Hence, online casinos continuously must change their promo pages, modifying them with new and improved offers.
One deal that has etched its niche in this industry that became a famous mainstay is Pragmatic Play's Drops and Wins promotion. Drops and Wins is a broad term that helps describe gambling games with boosted prizes attached. Thus, this Malta-based game developer did not invent it. Yet, it undoubtedly popularized this concept in terms of online slot action.
Now, this leading interactive casino software provider just announced that they are extending their Drops & Wins tournaments to 2023, hoping to repeat the success this promotion has attained in previous years. Below, we provide an in-depth explanation regarding everything you need to know about this super famous online casino deal available for slot and live dealer gameplay.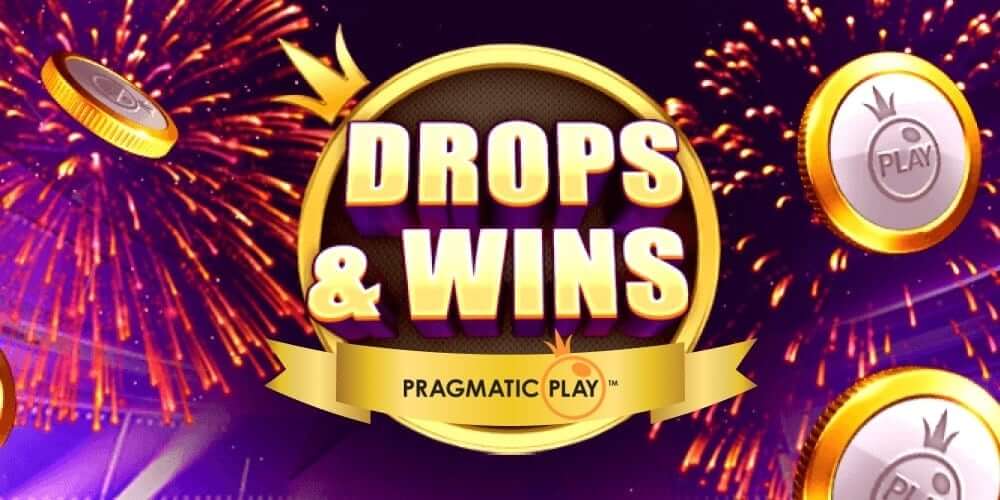 How Does The Drops & Wins Promo Work?
Currently, Pragmatic Play divides its prize pool into two sections, one for reel-spinning enthusiasts and the other for lovers of games presented in the live dealer format. The promotion divides into two, weekly tournaments and daily prizes.
The tournaments help boost a sense of rivalry among participating gamblers, and the daily prizes (drops) encourage everyone to keep playing even if they are not close to reaching the top of the tournament's leaderboard. Essentially, the drops are random rewards, and the tournament prizes get based on the highest single wins relative to their bet size. Key things to know about this promo include:
1.Qualifying Bet
To participate in a Drop & Wins contest and become eligible for a prize drop, you must first make a qualifying wager on a designated game of €0.50/€1.
2.Climb the Leader Board
The way you ascend through the tournament standings is via attained wins on the specified products. The more prizes in a row you land, the more substantial your promo reward will be.
3.Claimed Prizes Have No Wagering Requirement
That is correct, the won rewards come with no turnover attached, but they need to get claimed within seven days after getting credited.
4.You Can Win Multiple Drops
Because the daily prizes get awarded randomly, there is no rule stopping players from getting super lucky and snagging more than one if the draw favors them.
What Prizes Does it Offer?
Naturally, if a provider comes up with an online casino bonus or scheme to give players extra prizes for simply playing games they likely would have played without a connected promotion, hundreds of gambling operators would jump on the opportunity to implement it. That is precisely what Pragmatic Play did with its now-famous Drops and Wins promo brand.
The contest's current prize pool stands at €1 million, split in two for slot mavens and live table fanatics. That means each side of these two online casino aisles gets monthly prize pools of €500,000.
Each weekly Drops and Wins tournament has a fixed prize pool, a set number of cash prizes, and a predetermined scale regarding how these get given out. For example, at writing, the top weekly reward is €10,000 for slot gameplay, and €5,000 first prize for the live tournament winner. All in all, 1,500 prizes get given out in weekly contests.
On the other hand, there are five hundred daily drops. These must get supplied each week from a pool of €9,000. The most you can win from a daily prize is €1,000. Please note that drops require a qualifying bet of €1 for promo eligibility, compared to the €0.50 needed for tournament participation.
Pragmatic Play Has Paid Out Millions in Drop & Wins Prizes
Per a statement from Pragmatic's Chief Business Development Officer, Yossi Barzely – before the next anticipated Drops and Wins stage begins, the company will have given away €13,000,000 to players through this promotion. Unequivocally, this promotion boasts one of the biggest, if not the most impressive prize-giveaway figure in the entire interactive gaming sector.
Pragmatic increased its Drops and Wins pool budget in June 2021, and by the looks of it, it plans to run this promo beyond 2023. The terrific thing about it is that it is worldwide, meaning players from multiple regions around the globe can join in and participate at Pragmatic Play casinos with an international gaming license. That refers to one supplied by regulators such as the Malta Gaming Authority or, for example, one of the four Curacao master license holders.
Why Try Pragmatic's Drop & Win Promo?
In general, competitions are good because they push individuals to make the best use of their resources. When gambling at online casinos, they are enticing because they have no entry fees and only provide an upside for participants who can control their impulses and not go overboard chasing a top spot. If you are a gambler that loves engaging in games of chance, slots, or live games with some degree of regularity, then there is no reason why you should not yield extra rewards on your hunt for riches.
Furthermore, the new version of Drops and Wins provides entry into played games' bonus rounds as random drops. That is particularly intriguing, as, inside these slot modes, you can win sums that far overshadow those defined in the general Drops and Wins T&C, giving another reason to participate in these competitions.
To Sum Up
When Pragmatic Play launched its operations in 2015, few thought that this company would make so much noise so quickly. Even fewer believed that it would, so to speak, change the game with its proprietary bonus platform called Enhance, the engine behind its drops tournaments. Today, this provider and its top in-game promotional tool significantly affect online casino revenues, opening marketers' eyes to the different ways game providers can drive this sector forward.
References:
Heitner, Darren. "The Battle of Online vs. Land-Based Casinos." Forbes, 11 Aug. 2014, https://www.forbes.com/sites/darrenheitner/2014/08/07/the-battle-of-online-vs-land-based-casinos/.
"Pragmatic Play Best Slot Provider – Drops and Wins Promotion." The Pragmatic Play Official Website, 14 Feb. 2022, https://www.pragmaticplay.com/en/drops-and-wins/.
Moskovitz, Dustin. "Drops and Wins – Pragmatic Play Continue with Mega Monthly Giveaway of €1,000,000." News Update, 9 Feb. 2022, https://newsupdate.uk/drops-and-wins-pragmatic-play-continue-with-mega-monthly-giveaway-of-e1000000/.