Mega Joker is your best option if you want an easy, classical experience of slot features. Known for its classical 3 reels, Mega Joker has a total of 5 paylines. Mega Joker slot is designed by NetEnt, a casino software developer that never disappoints with online slot games. If you are an active gamer, you should be familiar with NetEnt's casino games. As a matter of fact, NetEnt comes out with some of the best designs for casino games in general. One of their successes is the Mega Joker slot.
Developed in 2013, Mega Joker follows an ancient mix of style with classical old casino music, taking you far away in the casino gaming world. With each spin, you stand a chance to win big prizes from the Mega Joker Slot. We will be highlighting the key features, why our team of professionals recommends this slot game.
Best Mega Joker Casinos
Fun facts about Mega Joker Slot:
This slot has two different sets of reels
Mega Joker ditches the bell and whistles approach for a simple layout and gameplay
Mega Joker: Free Play and Real Money Gameplay
Mega Joker Slot is a gamer's choice for slot games because of its simplicity in both rules and great features. You can try this free classic slot game above to see for yourself. The slot, designed as a 3-reel one-armed bandit slot game, has its gaming commands designed with standard controls, including the bet command. This command is used to select bets during play in the Mega Joker Slot game.
Also, there is a coins panel specifically designed to make your preferred choice of coin value. For any Mega Joker slot game, the gamer decides what value of coins to use during games. There is also a spin panel used to give the spin command. When coins are used during games, gamers need to spin the reels related to their chosen bet. The spin command is responsible for the spinning of reels.
The Max Bet command initiates the spinning of reels with the maximum stake amount, while the collect command makes intermodal transfers of different amounts in the game. Mega Joker slot game has 3 reels, and the maximum wager that can be on a line is ten coins while the minimum is a coin. The maximum amount of bet value is $20, and the lowest, $0.10.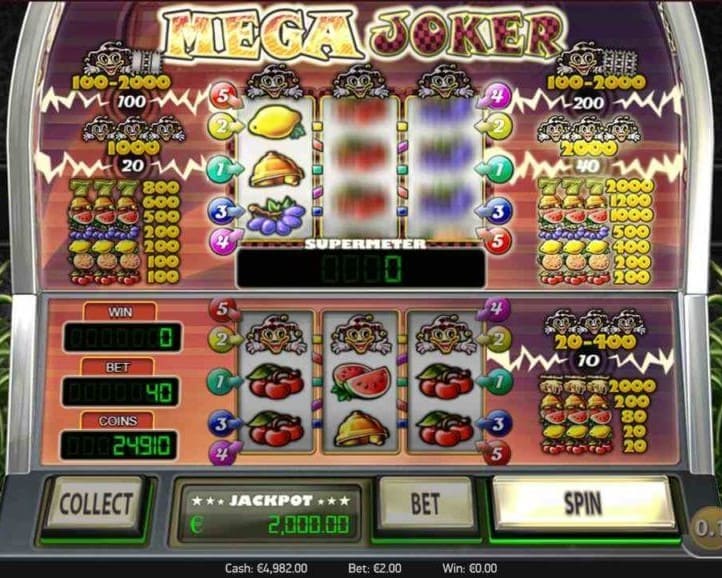 Let's dive into the aesthetics and design. Mega Joker's architecture was inspired solely by the old-school casino style. The Mega Joker slot is a combination of lush lights and rich colors constantly changing throughout the game. A slight change in the appearance of the game occurs when there is a difference in wagered coins. The beautiful touches of the addition of background designs involving plans and curtains improve the overall appearance of the slot game.
NetEnt has perfected the audio effects of the Mega Joker slot game. The infusion of low-frequency sound with less tense sound effects makes the audio effects a classical match for the fruit-themed slot game. Monophonic sounds combined with soft effects during a winning stake lend credence to the atmosphere.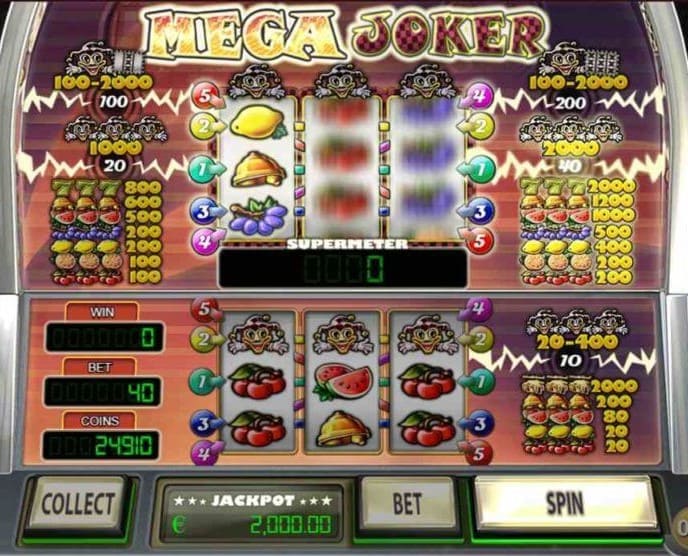 Slot Game RTP & Variance
With 95.05% RTP, the Mega Joker slot pays out 95% of the money they receive, giving gamers an improved chance of winning a slot game. Payment of winnings varies and depends on the number of coins wagered. They have symbols in all reels with a corresponding payout in the super-meter mode.
Fruity symbols on the Mega Joker slot include oranges, grapes, and others with corresponding values attached to each. The orange symbol has a much higher value than the grape.
In the Supermeter mode, a gamer can hit a uniform symbol that would multiply your bets overly high. Also, in this mode, you can win up to 1000 coins with a stake of 20 coins. Not only that, you can win a maximum of 2000 coins with as low as 40 coins. Overall, the reward to risk ratio is encouraging with medium volatility; players should be able to achieve good winnings with a decent payout.
Mega Joker Slots Bonuses & Symbols
As highlighted earlier, Mega Joker Slot does not have the free spin feature or the bonus game features. Consequently, gamers' hit rate increases, influencing the win rate. But even at this, the designed paytable of Mega Joker Slot makes it better than other slot games.
Some of the symbols on the reels include fruits like lemons, watermelons, cherries, and others. The highest paying symbols in no particular order are the jokers, bells, and chests. There must be three identical symbols landing on the fixed paylines in the Mega Joker slot for guaranteed winnings.
1. Where can I play the Mega Joker slot by NetEnt?
To play Mega Joker Slot, visit any of our recommended online casinos. 
2. Can I play the Mega Joker slot on my phone?
Yes, you can play the Mega Joker slot on your mobile as the app is available on the Apple Store and Google Play Store.
3. Does the Mega Joker slot game have any bonus features?
The Mega Joker slot machine does not offer a bonus feature. Note that it has the progressive jackpot feature to make up for not having any bonuses.
4. What is the Mega Joker slot RTP percentage?
Mega Joker slot has 95.05% RTP.
5. What is the Mega Joker win per game?
The maximum win per game in the Mega Joker slot is 2000 coins.
Our Verdict: Mega Joker Slot Machine
There is an excellent chance of winning on this slot with a decent RTP percentage of 95.05% and medium volatility. Also, with a progressive jackpot won at random, Mega Joker is a fun game that can turn small winnings into massive winnings. The medium volatility allows for increased and improved regular payouts. You can try it out on any of our recommended online casinos.