Adored for its high-value entertainment and crazy life-changing jackpots, Keno, the lottery-based game of chance features tremendously facile rules and virtually no strategy. In today's world, the game is not only played at casinos the world over but also in many clubs and bars around the globe where it is frequently enjoyed by many avid punters who wish to unwind after a hard day's work. Interested in playing Keno? Learning how to play Keno is a piece of cake with CasinoTop10's Keno Rules page where everything is explained!
Play Keno Like A Boss At These Cool Casinos
Keno at Land-Based Casinos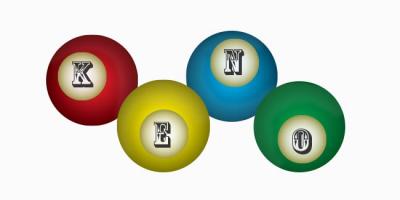 In substance, Keno is like an over-glorified lottery game. Typically, the game of chance is played by using a regular paper Keno card featuring 80 different numbers. If you're playing keno at a land-based casino you'll usually have two different Keno options; Live Keno and Video Keno. The difference between the two is that Live Keno is played using an old school Keno machine and Video Keno is played on a machine. Nonetheless, both versions of the game found at brick and mortar casinos involve circling one or more numbers using a crayon (Live Keno) or by tapping the screen of the video keno game or by inputting the numbers.
Keno Online
In contrast, Keno online is played by using a digitalized Keno card instead of a regular paper Keno card. Fundamentally, you'll still have to undergo the same procedure of picking numbers and placing your bet, no matter which version of the game you as a player choose to enjoy you'll still have to follow the same rules.
Online Keno Rules
Keno online has emerged as a result of the dramatic shift that technology has witnessed over the past three decades which in effect has led many casinos to transfer their gambling services over to the online realm. Luckily, gamblers who have experienced playing Keno at brick and mortar casinos for many years can rest at ease as the rules of the game in its classic form have remained pretty much the same. The only weighty difference between land-based Keno and online Keno is perhaps the fact that it's played on a digital Keno card instead of a paper one.
How to Play Keno Online
Learning how to play keno couldn't be easier with CasinoTop10's comprehensive explanation. Have a look at the rules below!
Sign up at an Online Casino which offers Online Keno and a Fantastic Bonus!Playing Online Keno over land-based Keno carries many advantages with it. For one thing, you're not only allowed to gamble in the privacy of your own home with no distraction but perhaps what tops the cake is the fact that Online Keno Casinos usually offer special sign up bonuses as well as other bonuses to their players. This can essentially leave you with some more money in your hands to add to your bankroll. However, you can only receive an online casino bonus once per casino, so be careful which one you sign up to. If you consider Keno to be your game of choice, you'll be glad to know that Keno is offered at almost every casino on the net. Have a look at our comprehensive list of ranked and reviewed Keno online casinos to find the best one for you to play the game today!
Choose a Keno Online Variant to play.After you've gone ahead and signed up to your preferred online casino, you should then take the next step by selecting a variant of Keno which suits your style of gambling. Although, Keno in its classic form is available on virtually every site, there are many other variants you can choose to play if your heart desires. Have a look at all the different Keno variants below:
Keno Variants
• Balloon Game Keno
• Circus Keno
• Count Your Chicks
• Critter Country Keno
• Crossroads Keno
• Fire Power Keno
• Golden Hits
• Liberty Stars
• Redneck Keno
• Super Spot Keno
• Thunder Power
Pick out your numbers from the Keno Board.Once you've opened your Keno online Variant of choice, the first thing you'll have to do is choose the numbers you think are most likely to be hit during the keno game. In keno online, you'll have to select the numbers by using your mouse. Generally, you'll be able to place bets on a minimum of 1 number and a maximum of 20 numbers from a total of 80 numbers on the grid. When performing this action, the best thing to do is to go with your gut feeling. This is due to that fact that there is simply no correct way to select numbers. Fundamentally, it's just a matter of luck!
Get ready to Place Your Wagers!On selecting your numbers, you must not forget to place your bets on every number. Generally, you'll be required to place the same bet on all the numbers. So, for example, say you decide to pick out a group of 10 numbers, place a bet of $10 on each game and you've pressed 'Play 5'. As a result, you'll be wagering $50 during just five Keno races.

Bear in mind that once you've placed your bets and pressed the 'Play' button, there's indeed no going back on your decision. You won't be able to change the numbers.
Wait for Your Numbers to HitNow that you've had your final say, all you have to do is sit back, relax and wait for your numbers to hit! Much like in Keno at brick and mortar casinos, Keno numbers in the online game are generated haphazardly thanks to the game's Random Number Generator. The numbers that have been drawn by the Keno game will be indicated on the game along with the payouts at the side.
Collect Your WinningsIf lady luck is on your side and you've managed to bag a win, it's now time to collect the amount you're owed by the casino! Once you've picked up the cash, you'll be ready to enjoy spending it elsewhere or just tuck it into your pocket and use it for a rainy day! Remember to withdraw your winnings; you must meet the casino's wagering requirements. Once, you've done this, you'll be able to cash out your money using any of the withdrawal methods offered at your preferred casino. Have a look at our page on wagering requirements to find out more information.
Filling out Keno Tickets – X marks the Spot
Assuming that you've played Keno at land-based casinos before and know how to play Keno, you'll notice that most of the time the layout of a keno ticket will be different depending on which casino you play at. In the majority of Keno tickets, you'll notice that there are always 80 boxes that can be marked. However, as a player, you'll be given the option of marking 1-20 spots per keno race. Moreover, other boxes on the Keno ticket such as total price, price per game, number of games and spots per game are also found on tickets.
Differences between Keno Tickets
If you consider yourself to be a Keno newbie, we highly urge you to read about the differences between Keno tickets you may encounter both online as well as offline.
Straight Ticket

Generally speaking, the keno straight ticket is one of the most commonly played tickets. Whilst playing, you as a player simply select one group of spots, place a bet on your ticket and choose the number of games to be played.
Split Ticket

In comparison to straight tickets, split tickets are keno tickets which look like straight tickets but essentially allow bets on two or more sets of numbers. The only restriction this type of ticket has is that the same numbers cannot be used in more than one bet. Once you've picked out the number of spots for each bet, slash a line in the middle to indicate the group of spots. Then, indicate the amount total bet on the two games, the number of games you'd like to play together with the number of bets and spots.
Way Ticket

A way ticket is one which allows players to make multiple bets by using the same keno ticket. In essence, this will save you a tremendous amount of time and money. When using a way ticket, after you've picked out spots to bet on, you can then go ahead and group them. Each group must be bet on. So for example, if you're playing 1 game, have 3 groups of spots and have bet $1 on each group of Keno spots, you'll have to fork out $3 per game.
Combination Way Ticket

A Combination Way Ticket is one in which a player combines groups of spots by circling them or drawing a line to form a variety of bets. When using this type of ticket, you'll be able to form groups with different amounts of bets and spots. For example, you can have a 3/2, 3/4 and 1/6 (Way/Spots) at $1 per bet. This would essentially mean that you'll be paying $7 per game.
King Keno Tickets
Basically, King Keno Tickets are like split tickets. However, when playing Keno using one of these tickets, you'll have to choose a 'king' number that must be present in each of your groups of spots. If the king number is hit during the game, you'll get a huge payout in return.
Top/Bottom Tickets
When using a top/bottom ticket, you mark 'T' for top and 'B' for the bottom and mark the 40 numbers in either half of the game. This type of ticket is a casino special and wagers cost $5. Provided that you managed to hit 13 out of the 20 numbers and they fall into the ticket half you've selected you win the game.
Get to know the different Keno Terms
Once you've learnt how to play Keno, you should go ahead and learn the lingo! Although the terms used in Keno may be a bit strange at first, they're not too complicated to learn and memorize. Have a look at CasinoTop10's Keno Terms page to get well on your way to becoming a Keno pro!
Keno Payouts
In hindsight, you as a player engage in a game of Keno in hopes of winning a huge amount, however, the casino edge is significantly high in this game of chance. The payout you are due to receive, if you win is highly dependent on a few things. Namely, these are the number of spots you've marked, the number of spots you've managed to hit and fundamentally the amount you've wagered.
Bear in mind that casinos also have a maximum aggregate payout per game. Basically, an aggregated payout is the online casino's payout limit on a particular game. This includes the winnings among all of the players for a particular game. For example, if the casino's aggregated payout is $100,000 and there are four winners, each winner will be entitled to receive $250,000 each.
| | | |
| --- | --- | --- |
| Correct Numbers | Payout | True Odds |
| Catch 4 spots | 1-to-2 | 8-to-1 |
| Catch 5 spots | 3-to-1 | 30-to-1 |
| Catch 6 spots | 40-to-1 | 174-to-1 |
| Catch 7 spots | 300-to-1 | 1700-to-1 |
| Catch 8 spots | 4000-to-1 | 30,000-to-1 |
| Catch 9 spots | 37,500-to-1 | Over 1 million-to-1 |
Analysis of Keno Odds
As you can see, the odds in keno are not particularly favorable to the player. However, the possibility of winning thousands for a bet of only $2 is what draws people to the game. If you are only for fun, and not with a winning expectation, this prospect of winning big for a minimal investment may make keno an enjoyable play.
Learn How to Play Keno & Dive into a Real Money Game!
Although the Keno Lounge at casinos is usually set apart from the loud slot machines and crowded table games, playing the casino game of luck at a brick and mortar venue will still involve traveling, unnecessary costs to get there, paying for an expensive hotel and will fundamentally not give you much privacy while you gamble. However, if privacy and accessibility are what you'd like, Keno online might just be for you! Looking for an online casino to play at? Well if so, you'll be glad to know that nowadays the online casino realm is peppered with casinos which offer Keno online for real money. So, if you'd like to spend some of your free time playing Keno, you'll be happy to know that CasinoTop10 has come up with a comprehensive list of ranked and reviewed casinos to place your bets at.