Golden Nugget Casino NJ, established in 2014, is widely touted as the number one online casino in the US. We wanted to find out why gamblers are so impressed with what this casino has to offer, and what we found did not disappoint! A long history: Golden Nugget has been around in Vegas since the 1940s and their Atlantic City casino opened in 2011. When the Golden Nugget Casino first launched its website, it was a little behind the times and initially offered around 80 games to players. Now players can find over 600 games, and it is growing every month.
This online casino is all for responsible gambling. They are fully licensed and regulated, and you have to be over 21 to play. Whether you are a high roller or a part-time small gambler, their offer has you covered. They also have an app you can use on mobile devices. Read on to get the full picture of what to expect on the site. We have looked at everything you need, and more, in our Golden Nugget NJ Casino Review.
Golden Nugget NJ Casino Screenshots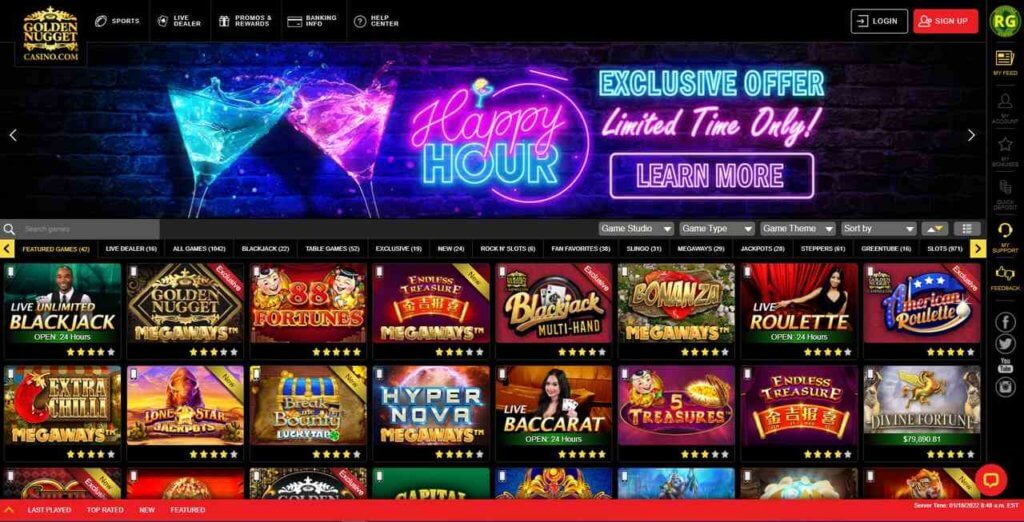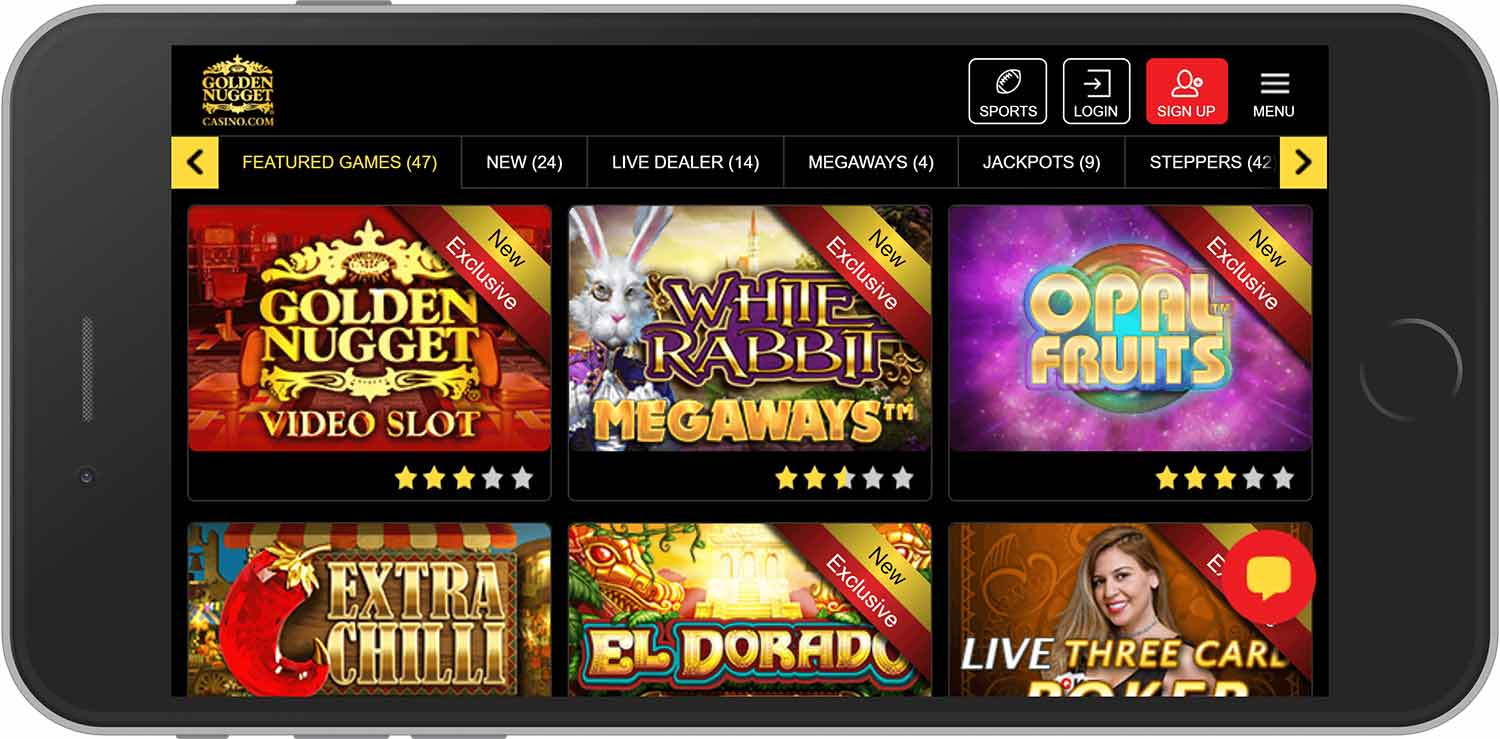 How to Sign Up to Golden Nugget Casino NJ?
Signing up to the Golden Nugget NJ Casino could not be more straightforward. All you need are a few details, and you're on your way. Here is a breakdown of the process:
1. Navigate to the website.
2. Click on the 'Sign up' option in the top right-hand corner.
3. Fill in the personal details requested, including proof you are over 21.
4. Confirm your account, make your first deposit and play!
Remember: You must be within the borders of New Jersey to play. Golden Nugget Casino NJ has the latest geolocation software, so a VPN won't work either.
Bonuses/VIP/Loyalty Programme at Golden Nugget Casino NJ
Who doesn't like to get something for nothing? (or something for almost nothing!) In our Golden Nugget NJ Casino review we'll show you that it has many offers to both welcome you as a new player and to keep you playing. Here we will tell you what's what; you can find more information on our dedicated review page:
Sign Up Bonus
When you sign up to the casino, you will receive a gift for absolutely free. That's right, no risk, no cash, you can play this first amount without parting with your hard-earned money! Simply complete the process and follow the instructions. All the terms are available on the site, through our review page.
Welcome Bonus at Golden Nugget Casino NJ
The Welcome Bonus at Golden Nugget is activated after you make your first deposit over the minimum amount stated on the website. The bonus allows you to match whatever deposit you make, as long as the value deposited hits the stipulations on the website. What a way to double your chances! You need to be aware that this only lasts for the first 30 days, so claim it and use it fast. There is no reason to wait.
Cashback Offer at Golden Nugget Casino NJ
Golden Nugget Casino NJ also offers a percentage of your cashback if you hit the minimum deposit and play requirements. This is an awesome feature! It works by paying you back a percentage of your wagered funds on either slot or live dealer games. When you have spent over the threshold stated, you get a portion of your money back. Amazing!
Refer a friend at Golden Nugget Casino NJ
The rewards at Golden Nugget are not just for you, No, no, no. Golden Nugget encourages players to get their friends and family in on the fun. When your friend or family member signs up, they need to enter your account name into the sign up form. Your friend will receive a bonus, and you will get one too. Matched to the full amount of their deposit. It gets better! We are ecstatic to tell you as part of this Golden Nugget NJ Casino Review that they will even do it a second time. That's right, two matched bonuses. As always, don't forget to check the latest terms and conditions for exact values on offer.
VIP Program at Golden Nugget Casino NJ
For those of you that are considered a High Roller, Golden Nugget has a VIP program for you to enjoy. A High Roller is considered someone who places bets at high stakes regularly. This online casino will reward these players with prizes, cashbacks, and VIP customer support. You could even be invited to the real casino in Atlantic City for an evening of discounted casino fun for real!
VIP Elite Club at Golden Nugget Casino NJ
This is strictly for the ultimate High Roller customers and is by invitation only. If you want to be in this club, you need to gamble at high stakes as much as possible. If you achieve VIP Elite Club status, you will receive a myriad of goodies. Gifts, bonuses, perks, and a specific VIP account manager are all open to you. You will even get Birthday parties and be invited to all the High Roller events at the real casino. This offer is astounding, to say the least.
Golden Nugget Casino NJ Games and Software
What sort of review would be complete without a full rundown of the games available? Most of the games can be played for free in 'demo' mode, so you can see what it's all about before risking your dollars. The next stop in our Golden Nugget NJ Casino review will take you through everything you need to know. There are over 600 games for you to choose from, with over 500 being slot games. Let's start there!
Slots
Golden Nugget focuses most of its energy on its slot machine offering. It couldn't be easier to find the game you want. Golden Nugget has created a highly intuitive search area, so it takes literally seconds to search for the game you have in mind. There are various RTP percentages and volatilities across the range of slots making sure there is something for every kind of player.
Golden Nugget adds new slot games every month, and the list continues to grow. You can find the latest games from top software producers, such as BTG, Konami, NextGen, and many more. The games we found to be the most entertaining were Sling Shotdown, Gold Fish, and Da Vinci Diamonds. We lost a few hours here, that's for sure.
Minimum bets to cover all the pay lines average between $0.10 and $0.50 per spin. The maximum stake varies too, averaging between $50 and $200. You can find some which let you go up to much higher stakes, with the odd slot limited at $200+. There is something for everyone here, no matter the depth of your pockets.
Live Dealer Games
Golden Nugget was the first US online casino to offer live dealer games to its players. All the games are broadcast live from inside the bricks and mortar casino in Atlantic City so that you can be sure of the dealer's quality and pedigree. They have 13 tables on offer, some of which are open 24/7. The games include Blackjack, Baccarat, Roulette, and Casino Hold'em for any poker fans out there.
The Live High Limit Blackjack is comparable to the real casino, with stakes allowed between $50 and $2000. Good news for you high rollers. The Roulette is close to the real thing too, with a minimum of $1 and a maximum all the way up at $2000! Each table varies slightly, so it is a good idea to check out the site for the exact details for every Live Dealer game. If you click on the 'i' button, you can find all the features you need.
Virtual Blackjack
There are around 9 virtual Blackjack games for you to sample when you visit Golden Nugget Casino NJ too. Who doesn't love virtual Blackjack? All the games have been developed by the best in the industry, and you can feel it when you play. It is a fully immersive experience from start to finish.
Again the stakes required are changeable from game to game. Blackjack Pro, for example, starts at $25, going up to $1000. Blackjack Classic is more accessible and can be played for as little as $1. It still goes up to that High Roller level of $1000, so High Rollers can get involved too! Blackjack IGT had the lowest limit we saw, with a maximum bet allowance of $200. There is more than enough choice here; we were impressed.
Video Poker
What Golden Nugget NJ Casino Review would be complete without a quick look at the Video Poker options? Not this one, that's for sure! We started with DJ Wild Poker, a fast-paced and hugely entertaining slot. We found this to be fantastic fun. The minimum stake here is very low! You can play for as little as $0.20, going up to $1350!
Another highlight for those with smaller bank balances is Double Regal Poker. Here you can gamble with the tiniest amount. The lowest stake allowed is $0.05! Jack's or better is another variation on this classic casino game. All the Video Poker options are lower value, so not as attractive for all you High rollers out there!
Payment Options at Golden Nugget Casino NJ
The next question on everybody's lips must be this. What are the options for payment? Golden Nugget Casino NJ provides players with many options for this. The majority of the options are available for both deposits and withdrawals. Cards you can use are Visa, Mastercard, Play+, or ewallets such as Neteller and PayPal. Other options include Cash at Cage, Transfer from Safekeeping, PayNearMe and VIP preferred. For withdrawals, you have the added option of a check or bank transfer. All your information will be safe and sound. These guys take it seriously as you would expect. More on that coming next.
Customer Support at Golden Nugget Casino NJ
Safety & Security at Golden Nugget Casino NJ
When you are trusting an organization with your personal and payment details, you need to be sure they are looking after your data in the right way. The fabulous news is that Safety and Security are paramount at Golden Nugget Casino NJ. Here's why: Golden Nugget is supported by their real-life parent casino in Atlantic City, and as a result, hit all the requirements expected by the NJ Casino Control Commission. They are fully licensed and regulated.
The Golden Nugget website has secure payment and full encryption to keep out anyone trying to get into your data. You can rest assured that they have you covered. If you do notice anything unusual, you can report it to the Golden Nugget customer service team. They are on hand for urgent queries 24 hours a day!
App Version at Golden Nugget Casino NJ
In this modern age, having an app you can use on the go is essential. Just keep in mind that you still need to be in the state of New Jersey to play. The App is available on both iOS and Android, although some older models will not be compatible. For iOS, you can use the Apple store. If you are an Android user, navigate to the website and download the app from there.
You can do almost everything on the app that you can do on the desktop site. The only difference is the size of the screen makes it less playable, and the range of games is limited. There is still more than enough to keep you entertained. The app is completely secure, the same as the desktop site so that you can play from anywhere in New Jersey with confidence. The number of games is less than 100, but this number is increasing all the time.
Our Verdict – Golden Nugget Casino NJ
So as we come to the end of our Golden Nugget NJ Casino Review, it's time to sum up what we thought of Golden Nugget Casino NJ and give you our verdict. You can see why this online casino is so highly rated by the gambling community. They have a beautiful mix of games, an extensive range of offers, and a website that is silky smooth and second to none.
We would like to see the app expand but are sure it is already in Golden Nuggets' plan. Despite being late to the scene, they have managed to catch up and overtake the other site in the New Jersey online casino market. We expect to hear more and more fantastic things about this online casino. You should try it for yourself. There is truly something for everyone at this fantastic online casino.
| | | | | |
| --- | --- | --- | --- | --- |
| | 100% match bonus up to $1000 + 200 Free Spins | | Sign-Up | 18+ | Play Responsibly | T&C Apply |