European Blackjack is one of the most popular online blackjack variations played at brick-and-mortar casinos across Europe. And it's also one of the most commonly played Blackjack variants that's played at casinos online too! If you'd like to play this variant of the game, have a look at our European Blackjack article below. Here we delve into all the nitty-gritty details of how to play it as well as strategy.
Best European Blackjack Casinos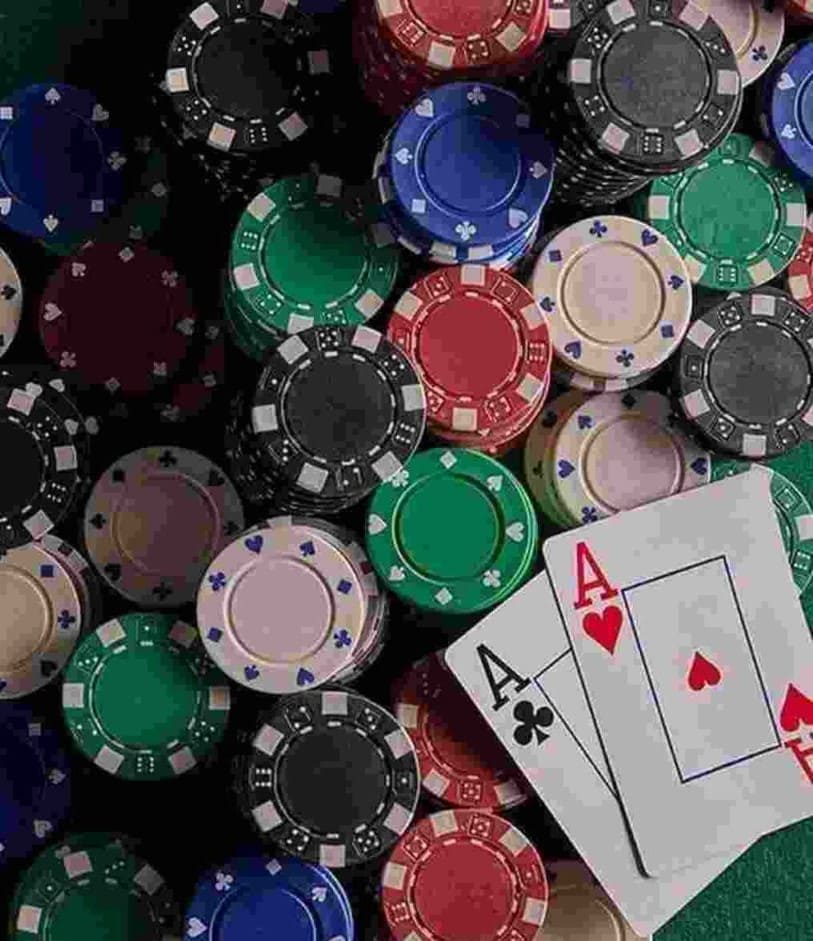 What Is European Blackjack?
Just like other Blackjack games, European Blackjack is played against the dealer. The game generally uses 6 decks. However, it's also possible to find variants with 4 or even 8 decks. Moreover, there's also a variant out there that's played with 2 decks. In European Blackjack, the dealer takes his hole card after he's dealt the player's cards. Fundamentally, the player's objective in this variant is synonymous to the goal in the classic variant of Blackjack Online.
The aim is to beat the dealer at his own game by obtaining a Blackjack, a 21 or an overall score that is closest to 21. The card values in European Blackjack are essentially the same as those in any other Blackjack game. As per usual, both 10s and face cards are worth 10 points and Aces are worth either 1 or 11. Number cards are also worth the same numerical value. What's important to note about European Blackjack though is that although many of the rules are the same as its classic cousin, there are a few rule changes that are important to take note of in order for you to play the game well. If you're not familiar with the rules, our experts at CasinoTop10 highly recommend that you have a read through them below.
European Blackjack Rules & Differences
As we've said before, European Blackjack is typically played using 6 decks of cards (there are also variants in which 4-8 decks are used too). Cards are typically re-shuffled after each round at brick-and-mortar casinos as well as at online casinos. Fundamentally, the rules of European Blackjack are almost the same as those pertaining to Blackjack in its classic form – with a few distinct differences that is. Here are the rules of the game below:
European Blackjack – 9 Simple Rules
This variant of Blackjack is generally played with 6 decks. However, there are variants of the game which are played with 2-8 decks;
The player loses his total bet if the dealer has a Blackjack;
Splitting 4s, 5s or 10-valued cards isn't allowed;
Aces can be split. However, the player can only receive one other card on each ace;
A player can double after a split;
The dealer stands on a soft 17;
The dealer always draws on 16;
An insurance bet can be taken out by the player if he/she wishes to;
Surrender is never allowed during this game.
How To Play European Blackjack Online
When playing European Blackjack online, you'll be able to experience all the features that the online variant boasts. Not only does the variant have different game speeds to suit all players, but it also has different moves to choose from just like other variants. These are namely 'Hit', 'Stand', 'Split', 'Insurance' and 'Double'. Below is how you would play the game online. Take a look to see the correct move:
1.) Load The Game
In order to start playing European Blackjack, you must first head to your favorite Blackjack casino and select it as a variant. Once you've selected it, simply go on and load the real-money game provided that you've already deposited your bankroll.
2.) Select Your Chip
When the game has loaded, your next move is simply to select how much to bet. Once you've decided on the amount to bet, all you have to do is click on the chip.
3.) Wait for Your Score
Next, you should take a deep breath and just wait for your score. Provided that you manage to get a blackjack and the dealer doesn't have one, you'll be given your payout immediately. However, if he has a blackjack, you'll lose all that you've bet.
4.) Hit, Stand, Double Down or Split, If Nobody's Won Yet
Assuming that you haven't got a blackjack, you'll have to decide which move will possibly be able to help you win the prize.
'Hit': Selecting the 'hit' button will enable you to receive another card to better your initial score. Before you press the button, we always suggest looking at our Blackjack Strategy Chart.
'Split': Throughout the game of European Blackjack, you'll notice that the 'Split' option will only be activated provided that you have two cards that are of the same value. When you Split your hand, you'll be left with two hands and an extra bet will be made for the other hand that's been created. After this occurs, each hand will be played as per usual. So in essence, you'll be able to receive another card and 'Hit' each hand too. This is valid for all pairs which can be split with the exception of a pair of Aces. In the case of Aces, you'll only be able to receive one more card and you won't be able to resplit. The splitting option in this variant allows you to split your hands up to 3 times. However, you'll only be able to split certain pairs. For example, splitting same-value cards which are not identical is definitely not allowed at any brick-and-mortar casino or online casinos. Hence, for cards to be able to split, they must have the same numerical value. According to the strategy sheet below, players should split 2s, 3s, 6s, 7s, 8s, 9s and Aces. However, 10s and 5s should never be split and 4s can only be split in certain instances such as when the dealer's up card is a 5 or a 6.
'Double': If you select the 'Double' option whilst playing European Blackjack, you'll be able to double your bet. On doing this, you'll receive one card and your turn will then end soon after.
'Insurance': Whilst playing European Blackjack, you'll have the option to take 'Insurance' when the Dealer's up card is an ace. Provided that you think that the dealer will draw a card with the value of 10, this might be worth placing a little wager equivalent to half your original wager. If you win, you'll be able to receive a payout of 2:1.
5.) Wait & See If You've Won:
Once you've made your move, the next step is just to wait for the outcome. Provided that you've managed to win, you'll generally be paid out 1:1 in European Blackjack.
European Blackjack Payouts
In European Blackjack, you can get an excellent payout provided that you win. Have a look at the table below to find out what the different payouts are for different hands:
| Hand Type | Payout |
| --- | --- |
| Blackjack | 3:2 |
| Blackjack Formed After a Split | 1:1 |
| Hand of 21 | 1:1 |
| Other Winning Hands | 1:1 |
| Insurance Bet | 2:1 |
European Blackjack Basic Strategy
Since Blackjack is not only a game of luck but also one which heavily relies on strategy too, it's always wiser to use basic blackjack strategy rather than just wing it and see what comes out of the game. Our European Blackjack basic strategy chart below illustrates whether you should hit, stand, double down or split according to the hands you're dealt. The chart is based on a 6-deck game of European Blackjack. However, it can also be used for games with 4 to 8 decks of cards. Have a look at the printable version of our basic strategy for this variant below.
European Blackjack Strategy Chart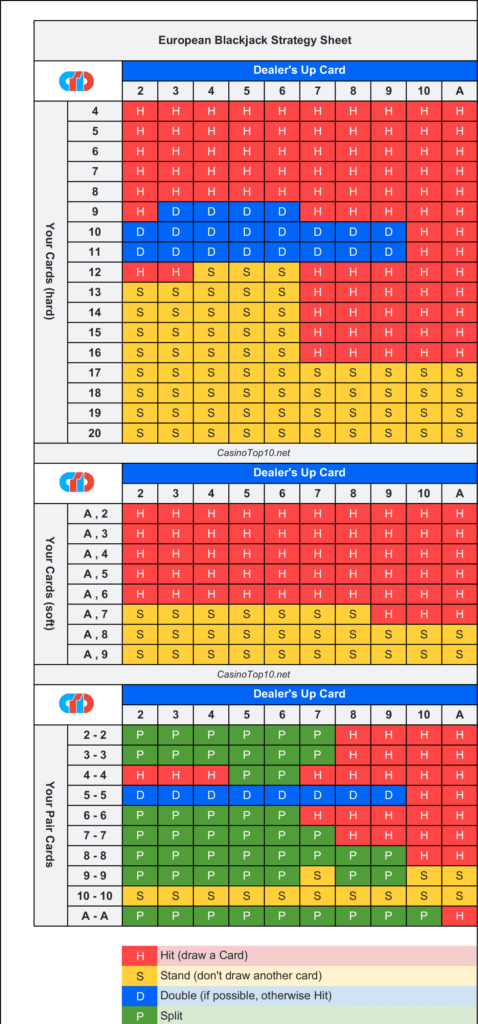 European Blackjack Online Free
Provided that you've never played this variant of Blackjack online, you might just want to practice a bit before heading to a real money online casino.
Play European Blackjack at Online Casinos today!
Similarly to its classic counterpart, European Blackjack is also a game that involves a heavy dose of both strategy and luck. Sure, there might be some deviations to the classic blackjack rules but essentially they aren't too difficult to learn. So once you have, why not simply just head down to one of the Blackjack casinos in our list, claim your casino bonus and start playing the variant?