Double Bubble is a funky and fun-filled slot machine that offers top-notch payouts and unique bonus rounds. Exclusively available at Gamesys Casinos, this title comes with wilds, multipliers up to 22x, and a doubly bubbly bonus round that offers more than the usual free spins! Keep reading to find out how to play, win, and cash in on maximum payouts of 20,000x your bet with this game!
Double The Fun At These Casinos
Fun facts about Double Bubble Slots:
This charming slot machine mixes classic symbol design (think cherries, liberty bells, and watermelons) with a modern video slot set up. Overall it looks fantastic and gives off an awesome playing vibe.
You can now play Double Bubble Slots in jackpot versions, selecting either the Jackpot or Triple Jackpot version – both games are progressive.
Gamesys (the game producer) create in-house titles and run independent online casinos. Hence, this game is usually listed at Gamesys Casinos exclusively. The limited availability has increased this game's popularity.
Double Bubble Slot Gameplay
Double Bubble is a classic casino game, set up on 5×3 reels and with 20 paylines. Players begin by settling their bet with the buttons on the far left of the reel screen, adjusting the number of lines and the coins bet per line. When playing this slot, we recommend that you always opt for the max number of lines as this links to the Bubble Line Bonus, which can payout a multiplier of 22x, but only when all lines are active (more on this below). Once you're ready to play, click spin, or set autoplay for the number of spins you'd like to bet. Be aware that the reels spin quickly in this game, so you may want to pace yourself, avoiding autoplay altogether for more enjoyment from each spin. The game has 12 symbols and pays for matching lines made up of 2-5 symbols, but as always, the highest payouts come from the bonus symbols and rounds – let's dive in!
Double Bubble Slot Bonuses & Symbols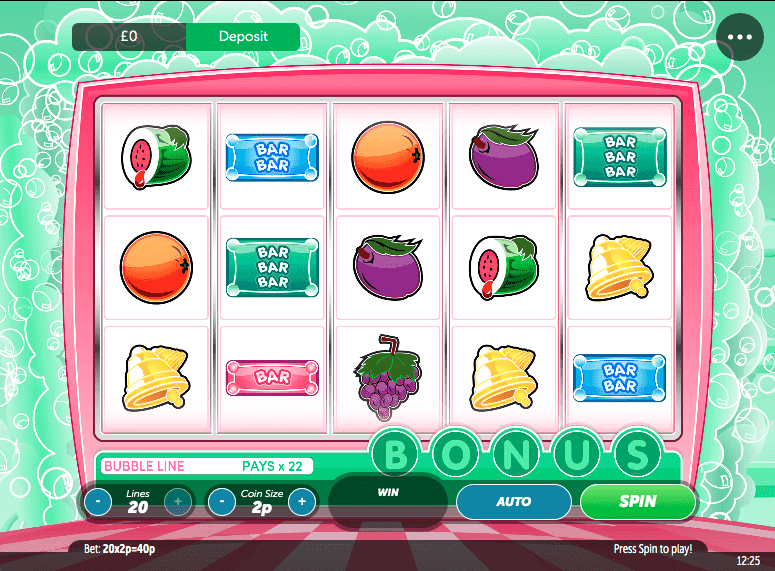 Double Bubble Slots are unique in that each of the 3 games in this series does not have free spins. Instead, Gamesys came up with something different, but just as lucrative!
Wild Symbols
The wild symbol is the game logo, and it comes with the largest payouts in the base game: scoring a betline win using exclusively wilds awards a tremendous payout of 20,000x! What's more, you can use individual wilds to substitute for any other non-bonus symbol to form part of or complete a betline win.
Bubble Line Win
When you spin the reels, any symbol that lands in a bubble will be added to the Bubble Line (this is the 5 symbol line located at the reel frame's bottom right). The aim of this bonus (which you can win on any spin) is to land a winning betline that matches the symbols shown in the Bubble Line. This simple, but useful bonus, which doesn't need to be activated, pays out to the tune of a massive max of 22x your bet if all lines are active (the multiplier is scaled down depending on the number of lines in play) and is an irresistible game bonus.
Pop the Bubble Bonus
Trigger the Double Bubble Pop Bonus Game by landing 3 or more bonus symbols anywhere on the reels. This will take you to a new game screen, where you'll need to select one of 3 bubbles shown on the screen and pop them for a random coin multiplier payout! While this is a rapid bonus round, it offers instant prize gratification and keeps in line with the arcade and classic feel this game exudes.
Graphics & Sound
Double Bubble online slot is over a decade old, but you'd never guess it by looking at the sharp graphics. In mixing modern elements with retro symbols and pastel colors, this game has hit gold: creating an ageless theme that looks fantastic. Similarly, the game sounds are simply spin and win effects, which are in keeping with the arcade and classic feel.
Double Bubble Slot RTP & Variance
Double Bubble is a medium variance slot game (payouts and hit rate are neither frequent nor too far and few between) with an RTP that just increases of the average of 96% – coming in at 96.02%. This means that on average, for every $100 staked, the game returns $96.02. Players can set their bets as they wish, but to benefit most from the wonderful multiplier offered by the Bubble Line Bonus, it's imperative to play all 20 betlines, which makes the minimum suggested stake at least $0.20. Want to try spinning for free first and get a feel for this game, then why not try out Double Bubble Slot free play?
Double Bubble Slot FAQs
How do I play this slot game?
Double Bubble slot machine is easy to play as most of the action in the base game. Simply load the slot at any of our Gamesys recommended casinos, set your bet level (not forgetting to activate all the lines, increasing your chances of winning), and click spin!
Where can I play this game?
This slot game is part of a series (3 games in total) and is available exclusively at Gamesys Casinos. Check out our top recommended sites now.
Where can I play Double Bubble demo slot?
Want to play Double Bubble free slot before you stake real cash? Then check out the demo with us. Playing in free mode is one of the best ways to experience how a slot plays and pays before you involve risk and stake real money. You can find demo versions of most slots, either at the casino or via our game reviews!
Is Double Bubble a Mobile Slot?
Double Bubble was not originally a mobile slot game, but it's become so popular that Gamesys has coded it in HTML5, making it available on any device.
How many reels does this game have?
This slot has 5 reels, 3 rows, and 20 paylines.
Our Verdict: Double Bubble Slot Machine
Double Bubble Slot is a fantastic game to spin, and it has plenty of attractive payouts to prove it. We love the theme and the retro ageless playing ambiance it provides. Often games that go retro in style do not offer the same sharp graphics that this title does. This helps energize the game and keep it modern. As an arcade spinner, there are no big surprises in store from this game. Instead, you get exactly what it says on the tin: engaging gameplay, plenty of wins, and fun-filled action! Don't miss out; play Double Bubble Slots now!