Did you know the blackjack surrender rule allows you to forfeit half your bet should you decide to use it? We bet you had no idea. And in fact, we don't blame you one bit. After all, the option isn't really used by most players, nor is it offered at many blackjack tables to be more precise. Of course, there are some Blackjack Online variants that are the exception to this rather sweeping statement. Here we take you through the rules and explain which casinos you can expect to find it at.
Best Blackjack Surrender Casinos 2023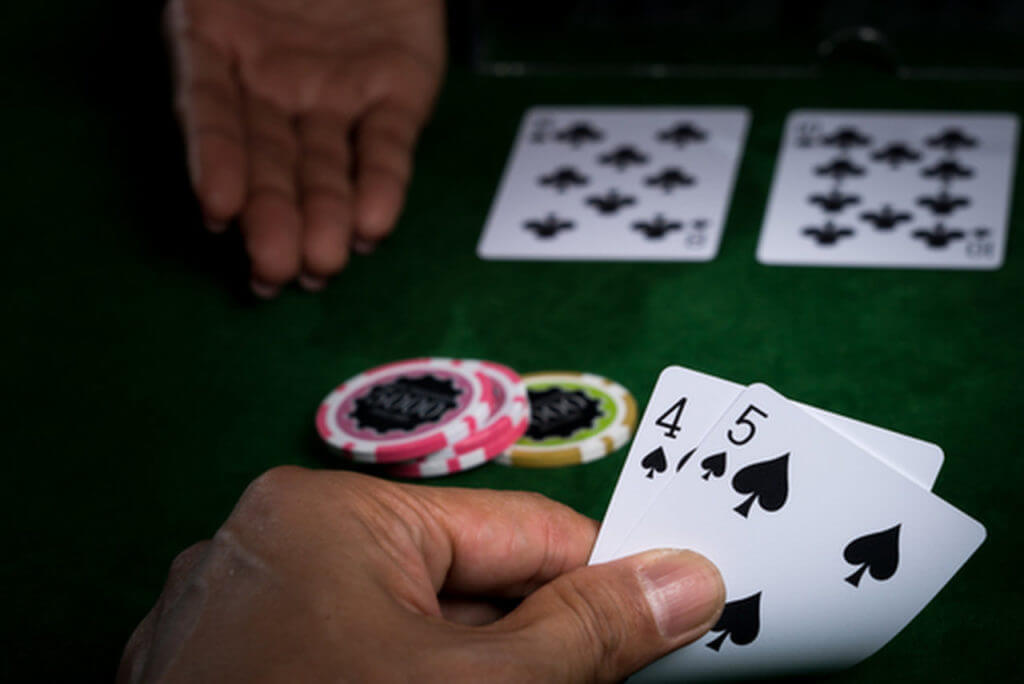 Surrender Blackjack
If you're out and about in Vegas and just happen to have an itch in your palm which can't be appeased, you might just want to look for a blackjack table where the rules allow surrender. Well, unfortunately finding one in Sin City will in fact be quite a lot of work. Generally, most 2-deck Blackjack games at brick and mortar casinos exclude the surrender rule. And although many 6-8 deck Blackjack casino games typically lack the surrender option too, they're usually your best bet when trying to find a blackjack surrender game. Yet, provided that you're up for trading your visits to land-based casinos for visits to an online one instead, finding a game with surrender is worlds easier. Fundamentally, all you have to do is perform a quick google search and sign up at an online casino with Playtech software or better yet simply just head to our Playtech casinos page and get down to playing with a casino bonus added to your bankroll!
Blackjack Surrender Online by Playtech
As we've mentioned previously, Playtech is one of the online casino software companies which has produced Blackjack Surrender online and made it available to players at various online casinos in the realm. The 6-deck Blackjack game is a fantastic representation of the variant that's typically found at some of the brick-and-mortar casinos. Other than its added twists on the casino classic's rules, what really ropes player's into playing the game is its relatively low house edge of about 0.52%.
Quick Facts About Blackjack Surrender:
The surrender option is only available in some Blackjack variants at land-based casinos and casinos online;
Surrender gives you better odds in certain scenarios;
Blackjack surrender allows you to minimize losses early in the game;
Using the blackjack surrender option reduces the house edge by 0.07% – 0.09% depending on house rules;
The surrender move is highly valuable for a card counter.
What is Surrender in Blackjack?
Surrender is a move that is offered in the Blackjack variant Blackjack Surrender. The move is exercised by players who prefer to fold their hand and lose half their bet rather than lose the whole amount. Hence, instead of playing out the hand, a player would attempt to surrender instead. Whilst many inexperienced Blackjack players are under the impression that the surrender option is a sucker bet, a Blackjack veteran clearly knows that using the surrender option can possibly save a player great deal of money. And this is exactly why it's no wonder that players who know about the variant which allows surrender search for a game which has this option at a casino. An important thing to note about this move is that the blackjack surrender option is that it can only generally be used on the first two cards that are dealt during a game. So if you've already opted to 'Hit', 'Stand', 'Split' or 'Double', you won't be able to use the surrender option.
Blackjack Surrender Rules
As we've said time and time again, each variant of a particular game has its own rules. Indeed, that's in fact why it's called a variant and not the classic game. In terms of rules, the variant has many of the same rules that the classic version of the game has with a few differences of course. Below we've compiled a list of rules for you to be aware of and follow when playing the game.
Blackjack Surrender Rules:
The Dealer Always Stands on 17s.
You Can Split Any Pair, But Can't Resplit After.
You can only take one card after splitting Aces Before you have to Stand.
If One of Your Split Aces gets dealt a 10 point card, you get 21 instead of blackjack.
Insurance is available if the dealer shows an ace.
Late Surrender is allowed in Blackjack Surrender.
The dealer peeks for a Backjack.
Player Blackjack's pay 3:2.
Doubling Down is allowed.
A 7-Card Charlie beats all except for a natural Blackjack.
Peek Rule
The peek rule is common in many Blackjack variants and is the rule of thumb in Blackjack Surrender. Provided that the dealer's up card is a 10-card or an Ace, the virtual dealer will peek at the hand he's been dealt to check for a natural Blackjack. If the dealer has a Blackjack, the dealer will win automatically.
7 Card Charlie
In Blackjack Surrender, there's one hand that trumps all with the exception of a natural Blackjack of course. This is known as a 7 Card Charlie. As the name of the hand implies, it's one that is made up of 7 cards under or equal to the value of 21.
Splitting Rules
Provided that your first 2 hands have the same value, you may choose to split them. If you choose to do so, you may split them they'll be split into 2 separate hands by placing a second bet that's equivalent to the original bet. Once you've done this, the croupier will deal out a card to each hand. You may choose to hit your hand as many times as you like. However, provided that you split 2 Aces, you'll only be able to draw one more card on each of your 2 hands.
Double Down
Assuming that you think that your 3rd card will beat the dealer's hand after the dealer has dealt out your initial hand, you may choose to double your bet. Once you click on the Double Down option in the game, another bet of equal value to your original bet will be taken out of your balance and you'll be dealt 1 more card.
The Insurance Rule
If the dealer shows a face card which is an Ace in his/her initial hand, you'll be given a chance to insure your bet against your dealer having a natural blackjack. Provided that you choose to insure your bet, an amount that is equal to half your bet will be placed on the table separately. Assuming that the dealer has a blackjack, you'll be paid 2:1 on your insurance bet. Obviously, if the dealer doesn't have a blackjack, you'll lose your insurance bet.
The Late Surrender Rule
Late surrender on the other hand, only allows you to surrender the hand after the dealer has made sure that he/she isn't holding a blackjack. Late surrender is still offered at casinos and can be a profitable choice in move for players who use it properly.
Early Surrender vs. Late Surrender – The Difference
Although the late surrender rule is by far the most commonly found in variants that allow the blackjack surrender rule, you might come across a blackjack variant that allows early surrender at casinos.
What's Early Surrender?
Early surrender allows you to make your decision on whether or not to surrender your hand before the dealer has checked his/her hand for a natural blackjack. This particular surrender rule is rarely offered at casinos these days. When it was used, it was highly disadvantageous for the House and therefore soon removed from most casinos.
How Do I Surrender?
No matter if you're playing Blackjack Surrender at a brick-and-mortar casino or online, the surrender option will more or less work in the same way. The only difference between the two is that in Blackjack Surrender online, you'll just need to click on the button that says 'Surrender' and at brick-and-mortar casinos, you'll need to make a blackjack surrender hand signal in order to gesture that you want to surrender your hand.
Playing at a Land-Based Casino? Here's How to Perform the Blackjack Surrender Hand Signal
The Blackjack Surrender hand signal is performed by drawing a six-inch line under your wager with your index finger. In some cases, you might just be required to say the word 'Surrender' instead however this will usually depend on the dealer you happen to have. As you might have already assumed, this type of gesture is only required whilst playing blackjack at brick-and-mortar casinos.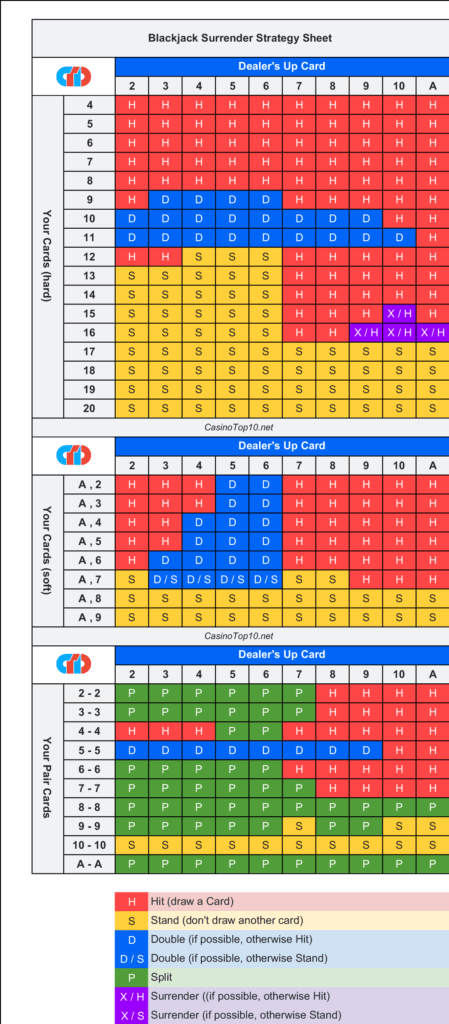 Is Surrender Worth Using?
You should only use the surrender maneuver when you've got a relatively weak hand that's not worth standing on or playing out. In essence, this is the only reason why it's profitable in the long run to surrender, in effect, giving up half your bet in the process is fundamental because the hands we are talking about here have really small chances of winning in the first place. Let's say a hand's got less than a 25% chance of winning, is it really worth playing? No, not really, in this case, there's quite a high probability of you losing your bet. The bottom line here is you should always surrender your hand 75% of the time you're going to lose. Provided that you do, you'll be able to forfeit half your bet and keep the rest of the amount. Thus at least, you won't lose all of it.
When Should You Use the Surrender Option?
Now you're probably wondering when you should use the Surrender option after all. Well, this typically depends on the number of decks being used as well as whether the dealer stands on 17 or not. Below we've compiled some information to help you with this.
Surrender Strategy for 6-Deck Games Where Dealer Stands on all Soft 17s
The following surrender strategy applies to 6-deck Blackjack Surrender games where a dealer stands on all 17s.
If you've got a hand made up of a 9 and a 7 or a 10 and a 6, you should surrender when the dealer's face card is 9,10 or an Ace.
Provided that you have a hard 15, you should surrender when the dealer has a 10 as a face card.
Surrender Strategy for 6-Deck Games Where Dealer Hits a Soft 17
The following surrender strategy applies to 6-deck games where the dealer hits soft 17:
Assuming that you've got a hard hand of 15, you should surrender against a dealer's 9,10 and Ace.
If you've got a hand made up of a pair of 8s, you should only surrender if the dealer's face up card is an Ace.
Provided that you've got a 17 as a hard hand, you should only surrender against a dealer Ace.
Blackjack Surrender and Card Counting
In all other situations, drawing another card or standing are more profitable plays in the long run. With one exception. Our strategy chart does not take card counting into consideration. If you are keeping track of all the cards that have been dealt from the shoe, you will know whether the deck is 'hot' or not. If the deck is packed with 10s, it might be profitable to expand your range of "surrenderable" hands. If you estimate the deck to contain a lot of 10s, it might be a good idea to surrender hands like hard 15, 16 and 17 against dealer's 7, 8, 9, 10. Conversely, if your count is telling you that there are a lot of low value cards left in the deck, you might want to pass on the surrender opportunity, although the strategy chart advises you to do so, and draw another card instead. There are no exact charts for how to play in situations like these, however, your gut feeling will guide you in the right direction. Provided that you feel confident in your card counting strategy, it is probably a correct move to follow your feel of the game here when it comes to using surrender in Blackjack.
Play Blackjack Surrender For Real Money at a Playtech Casino
With its surrender option, the Blackjack Surrender online casino game provides a fantastic twist on the classic table games' rules. When applied correctly the surrender move can carry some strategic value for players. Hence, once you become a pro using the move whilst playing a variant that offers it, you can definitely better your odds of walking away with a large sum! Want to play? Go on and find a Playtech Casino to play at and you could just walk out a virtual casino door with a huge prize in hand!