Learning how to play baccarat is very simple. In fact, once you've placed your bet the dealing follows a strict procedure and is played more or less automatically, leaving you to enjoy a drink as the game unfolds. But how enjoying is it to play a game where you don't understand what is unfolding before your eyes? Before you start playing, give this article a quick read and you'll not only understand how to play Baccarat, but also why you've won or lost your bets, – it will most certainly make the game more exciting.
Apply The Baccarat Rules At These Top Casinos
How to Play Baccarat Online
Baccarat is played at a table for 14 players. Where each player should bet is marked on the table from player 1-15, the number 13 is skipped for superstitious reasons. The table is marked with three boxes in front of each player number to place their bets, one box for bets on the Player, one box for bets on the Bankers, and one box with bets for a tie. Players place bets in one of the three boxes. The cards are dealt on the large player and Banker boxes set in the middle of the table. Baccarat is played with six, eight or nine decks of cards depending on the casino, which are re-shuffled with each new hand. The Mini-Baccarat table is half the size of a normal table, with room for only seven players. The aim of Baccarat is to get to as close to a total of 9 points as possible. There are not many decision you will have to make throughout as the rules of the game are pre-determined. All you have to do is choose who to bet on, the player (punto) or the banker (banco), or the less common tie between the two. The banker in Baccarat does not refer to the house but is just one of the two parties to bet on marked on the table. Once the bets are placed the dealer will draw the cards and you have no more decisions to make.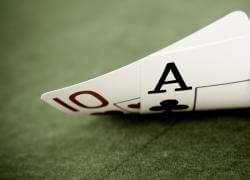 In online baccarat, when you receive your cards you add the value of the cards together to get a total sum between zero and nine, where nine is best and zero is worst. This will be done automatically for you in an online casino.
Ace is counted as 1
King, Queen and Jack and 10 are worth 10.
2-9 are counted as their face value
As you may see, when you add your cards you could actually exceed 10. Say that you have a king and a five for instance, that would make 15. Any time this happens, ten is subtracted from your total hand value. A hand with a king and a five, for example, is therefore counted as five. The easiest way to remember this is to simply remove the first digit, and the second digit is the total amount of points you have. If you have a total of 12, you will have 2 points, if you have a total of 13, you have 3 points, and so forth.
How to play baccarat – gameplay
Baccarat isn't a complicated game Follow these simple steps to play the game.
1. Place the bet
You place your chips on either the Player, Banker, or for a tie in the relevant betting box in front of you on the table. No cards are dealt until all bets are placed.
2. The cards are dealt
In the first round, the Player receives two cards face up in the Player box, then the Banker receives two cards face up in the Banker box on the table from a virtual dealer. In a live casino the casino dealer, also known as the croupier, will hand out and call out the total amount of points, and how the game will progress.
3. Figure out who has the best hand
If either the Banker or the Player has an 8 or 9, which is called a natural hand, the closest to 9 wins and the hand is over, and you receive money for the bets you've won. If both Player and Banker have the same amount of points, tie bets win.
4. What if there's no natural or tie?
If nobody has a natural or a tie, the value of the player's hand dictates what happens next:
If the player has 7 or 6, he stands.
If the player has 5 to 0, he'll get another card added to the total hand value and this finishes the player's hand.
Player's Third Card Rule Table
| Total of Player's First Two Cards | Action for Player |
| --- | --- |
| 0-5 | Draws a Third Card |
| 6-7 | Stand |
| 8-9 | Stands on a Natural – Hand over |
Dealer's Third Card Drawing Rule
This is where it gets a bit complicated. But hang in there, once you've started playing it will get clear. These rules are pre-determined, but they will help you understand why you have lost or won a bet. Whether or not the dealer draws a third card is determined by the following rules depending on which cards the Banker received in their first two cards:
If the dealer has 7, 8, or 9 he stands
If the dealer has 6 – and the player's third card was 6-7– he takes another card
If the dealer has 5 – and the player's third card was 4-7– he takes another card
If the dealer has 4 – and the player's third card was 2-7– he takes another card
If the dealer has 3 – and the player's third card was anything but 8 – he takes another card
If the dealer has 0-2 he takes another card
Dealer's Third Card Rule Summary Table
| Banker's Points | Player's Third Card | | | | | | | | | | |
| --- | --- | --- | --- | --- | --- | --- | --- | --- | --- | --- | --- |
| | N | 0 | 1 | 2 | 3 | 4 | 5 | 6 | 7 | 8 | 9 |
| 9 | S | S | S | S | S | S | S | S | S | S | S |
| 8 | S | S | S | S | S | S | S | S | S | S | S |
| 7 | S | S | S | S | S | S | S | S | S | S | S |
| 6 | S | S | S | S | S | S | S | D | D | S | S |
| 5 | D | S | S | S | S | D | D | D | D | S | S |
| 4 | D | S | S | D | D | D | D | D | D | S | S |
| 3 | D | D | D | D | D | D | D | D | D | S | D |
| 2 | D | D | D | D | D | D | D | D | D | D | D |
| 1 | D | D | D | D | D | D | D | D | D | D | D |
| 0 | D | D | D | D | D | D | D | D | D | D | D |
N: Player Draws No Card
D: Draw Card
S: Stands. No Third Card is Drawn
Now the hands are over you can compare who won. The one closest to nine wins the hand, and if there is a tie between Player and Banker no hand wins or loses. But who actually won bets? Well, that depends on where you put your money.
Betting Options in Baccarat
In contrast to blackjack and similar games, you don't play "against" the dealer. Instead, you bet on either the Banker or the Player to win (or that it will be a tie.) You can also learn about baccarat card counting to place a more informed bet in every hand. 

Betting on Player: The first type of bet that you can make is to bet that the Player will end up with the best hand closest to nine. This type of bet is sometimes referred to as a "Punto Bet." Player bets pay 1:1 on your money, which generates a house advantage of 1.36%

Betting on Bank : As we said, you could also bet on Banker, which is the most favorable wager with only a 1.17% house advantage. Since the Banker bets win more often than bets on the player, the house pays 19:20 on your winnings. In other words, the casino will deduct a 5% built-in fee which will only be charged if you win the bet. This is because on average the Bank will win approximately 3-4 times more often than the Player when playing with 8 decks of cards.

Betting on Tie: You can also place your bet on the outcome that the Player and the Banker end up with the same card total. This will pay 8:1 on your money as a tie is very rare, making this bet look quite tempting for those who want to get large payouts. But in fact this is a real sucker bet you should avoid since the house advantage is 14.2%!
How to Play Baccarat in a Live Casino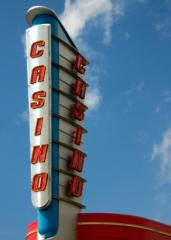 If you are going to the casino to play baccarat you need to be aware of certain etiquette and regulations. At the largest casinos on some evenings millions of dollars can be exchanged at this table within a few hours. Because of this there are certain levels of protection for these rather well-to-do players, and slightly different Baccarat rules at the table. As can be expected there are much, much higher minimum bets, and a rather expensive and glamorous dress code. At the table there are three members of the casino staff monitoring the game, two dealers and the callman. Yet the cards are actually dealt by the bettor holding the shoe with the cards and are only turned face up by the callman.
The shoe is passed around from player to player for each new round of the game. The two dealers sitting on either side of the callman are the ones responsible for taking care of the bets. On Baccarat tables in smaller casinos, or in larger casinos on tables outside the exclusive zone much lower minimum bets are allowed. Mini-baccarat is played more frequently particularly because it is more low key and allows for low minimum bets. There is also only one casino staff member at the table, the dealer, who does all jobs together including dealing the cards himself, calling out points, and managing the bets.
Start Playing Online Baccarat Today!
Although learning how to play baccarat is quite easy – when you've placed your wager you're done – it's good to have an understanding of the rules, basic baccarat strategy, and most common baccarat terms. If you do, you can follow what happens and you can make sure that you're not getting short changed when the dealer takes out the commission from a winning bet on banker. Playing online removes all the barriers of playing in the live casino – there are much lower minimum bets and you won't need to purchase an Armani or Vera Wang outfit in order to join in. Pick from one of the best online baccarat casinos in our toplist to start playing!