2by2 Casinos make a top choice for slot enthusiasts of all stripes. The Chicago based casino provider supplies gaming software to land-based casinos, online casinos, and free-play social sites globally. Creating slots – exclusively – with a portfolio of 65+ titles, the studio's creations are cutting edge, graphically-pleasing, full of base action, and offer a range of variances and bet levels to suit all tastes. Find out more, read our full 2by2 Gaming Casinos Review – we'll provide you with in-depth knowledge from our casino experts that you can't find anywhere else on the net!
Best 2by2 Gaming Casinos
Discover 2by2 Gaming Casinos
Looking for a new online casino? Then picking a site 2by2 Gaming Casino is an excellent choice. 2by2 Casinos offer the whole shebang: awesome games with cutting-edge graphics, top themes, and excellent math models; cracking casino bonuses; plus all-round fair gaming with tested payouts, security, and safety features.
As you can see from the list above, some of the best online casinos choose this software, and because of the provider's smaller sized portfolio, 2by2 games are usually hosted alongside other top providers like NetEnt, Microgaming, and Playtech (to name but a few), which practically guarantees an awesome gaming experience at any of these casinos.
Why play at 2by2 Gaming Casinos?
Homegrown US software company.
Used worldwide.
Over 125 years of combined gaming experience behind the studio.
65 patented games available and 35 awaiting patents.
Specialises in creating quality games with innovative math models
Created land-based, online, and free-play social casino games.
Games cover all volatility levels.
Fair and tested software.
Available at European, Asian and North American Casinos.
2by2 Gaming's History at the Casino
2by2 Gaming was founded in 2015, in Chicago by current CEO, Shridhar Joshi, and head of development, Darryl Hughes. The company website claims that collectively the team brings together over 125 years of gaming experience, noting Joshi's lead role in developing WMS.
Joining the industry relatively late in the game, this dynamic leadership duo quickly forged a partnership with Microgaming to release 2by2 titles on the Quickfire Platform. Thee studio has grown from there and now focuses on three slot development areas: online casino games, land-based casino games, and free-play social slots.
The company is yet to win any notable iGaming industry awards, but they face stiff competition, and this studio's games are stunning; the work of a team containing award-winning sound composers and graphic designers – so well worth spinning.
Explore the 2by2 Gaming Portfolio
This studio creates video slots of high quality with rich classic graphics and top-notch math models. While their portfolio is on the smaller size (currently only around 65 titles, with another 35 patents pending) compared with the leading developers like NetEnt and Microgaming, each game delivers the real casino feel, fun-filled action, and top-class payouts.
2by2 Gaming Slots
2by2 Video Slots cover a vast range of themes from the bottom of the sea hunting for riches to Italian folk law in Pinocchio's Fortune – they'll take you around the world. The games always come with well-developed backdrops and narratives, usually sticking to 5×3 reel slots, with a smaller number of lines (9-30), and RTPs of between 95-96%.
You'll find plenty of top-class bonus action as you play, like free spins, wilds, and click and pick rounds and more. But overall, it's a fair assessment to say that while this studio develops interesting, solid, and creative slots, they're very much middle of the road when it comes down to innovative bonuses, with no huge surprises in store (unless we're talking about the base game). This is an area that 2by2 Gaming prides and distinguishes itself on: "not forgetting the base game".
According to 2by2 Gaming executives, players spend most of their time in the base game. Still, developers forget this, saving all the bells and whistles for the bonus rounds – but not this studio, that goes against the grain, ensuring that each of its games has unique mechanics and an entertaining base game with high win potential. Plus, you'll never find cloned mechanics or a boring base game with this studio's titles.
Another speciality the producer focuses on is creating a range of volatility games to suit all players and experience levels. Hence there's a slot game for everyone in this studio's portfolio. Get a better feel for the games this studio creates and discover the top 3 games that players can't stop spinning below!
Top 3 2by2 Slots to Play
1. The Voyages of Sinbad: RTP 95.05%
This is a 5×3, 20 line, low volatility slot, that asks players to join the famous fictional hero Sinbad as he voyages across the world, encountering and conquering mythical beasts and lands. With beautiful graphics and ornate design, this slot delivers the aged feel of this classic tale perfectly and pays both ways on line wins, awards payouts for 2 symbol wins, and comes with wilds and free spins! Set your bets from 0.01-80.00 and start spinning across the sea with Sinbad: this low volatility slot will have you spinning for hours with its entertaining narrative and non-stop, win both ways paylines.
2. The Sand Princess: RTP 96.05%.
The Sand Princess is one of this studio's most-played slots, set on 5×3 reels, with 30 lines. It delivers a touch of magic, a mysterious desert backdrop, and non-stop action with wilds, free spins, expanding symbols, multipliers, random wilds, and multiple free spin modes: this game is nothing short of stunning – undoubtedly one of 2by2's best slots. What's more, it's a cracking example of this studio's attitude to making games for all as the bet levels begin at 0.30, stretching up to an incredible 3,000 at max bet with medium volatility hits!
3. Medusa's Golden Gaze: RTP 96.06%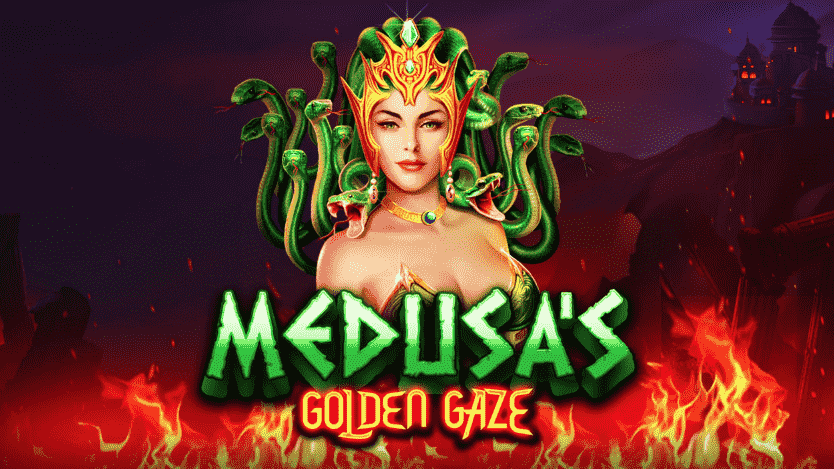 Venture back in time to the golden days of Greek Mythology for this studio's next hit game, Medusa's Golden Gaze. Delivering 5×3 reels, 25 lines, base game mystery symbols, duplicating reels (yes, we did say duplicating reels), and up to 200 free spins (where players can pick the bonus features active) this comic book styled slot offers epic action and puts the player in charge of the bonuses! Start spinning this high volatility slot at any of our recommended casinos from just 0.25 up to 25.00.
2by2 Gaming Casino Games
At this time 2by2 Gaming doesn't make any RNG Table or Live Casino Games and has expressed no intent to explore this avenue. As we've already mentioned, this software is usually offered alongside loads of other options, so you'll still be able to play Table and Card Games when opting for 2by2 Casinos.
Cross-Compatibility & Mobile Gaming
If you love to gamble on the go, not just from your desktop, from any device, then you need to take into account the cross-compatibility of the casino software you like to play. The great news is that as a 2015 studio, every game that 2by2 Gaming produces is ready on any device and operating system: iOS, Android, and tablets – the choice is yours. Simply pick a casino from this page, register, and begin playing 2by2 Casino Slots from your handheld devices instantly!
Safety and Fairness at 2by2 Gaming Casinos
Legal, regulated, and safe online casinos are fair and have test certificates and payout percentages that prove it. Games and casino RNG testing is a requirement of all gambling jurisdictions, and it's what ensures that online casinos payout and that games are not rigged.
Fairness
2by2 Gaming ensures that all their games are fair through an RNG, which ensures that the results of each spin are random from the possible programmed outcomes. An RNG is a Random Number Generator, and it is the technology used to ensure that casino games are random, fair, and cannot be predicted.
What's more, 2by2 Gaming engages an independent games testing company to check and audit the RTP and payouts of slot games it produces, ensuring the game plays out as advertised.
Safety
In terms of safety, this studio only licenses its games to be used by legal and regulated casinos. The studio is licensed as a casino provider by the Malta Gaming Authority, ensuring everything is above board with the games and that testing has taken place.
2by2 Gaming Casinos
How many games are in this studios portfolio?
2by2 Gaming has 65 patented casino slots and another 35 awaiting patent.
2by2 Gaming has 65 patented casino slots and another 35 awaiting patent.
Video Slots of all kinds (free to play, casino and land-based machines) with a range of volatility (to suit all players) and fantastic storylines.
What are social free-play slots?
Social free play slots can be found at free-play casinos. These sites do not offer real money gambling, but rather a free-play alternative, where you'll level-up, earn coins and unlock games, whilst posting your progress and competing against other players. These sites allow players located in non-gambling countries or states to play casino games, without wagering real money.
Are 2by2 Gaming Casinos fair?
2by2 Gaming is a licensed software developer with fair and tested games. The company only licenses its games for use at legal online casinos. If you are concerned about the fairness of any online casino, you should check the license (licensed casinos are tested and certified as fair) or play it safe from the start and use a casino we recommend.
What's the best 2by2 Gaming Casino to pick?
You can find the best casinos for this provider listed at the start of this page. Our experts have spent hours rating and reviewing the best online casinos for this software, so check them out and pick one to play with.
Can I get a welcome bonus at a 2by2 Gaming Casino?
All of our recommended casinos offer excellent welcome bonuses and ongoing deals. To compare what each site is offering, look at the ranked list of casinos at the top of this page.
What are the most popular 2by2 slots?
The most popular 2by2 Gaming slots that you should play include: The Voyages of Sinbad, Medusa's Golden Gate, Riches of the Sea, Pinocchio's Fortune, Mandarin Fortune, Giant Riches, Wolf Heart, Fire 'N Fortune, Agent Valkyrie and The Sand Princess.
What are the typical bet levels and RTP for a 2by2 Gaming Slot?
Game RTPs are usually 95-96% from this provider, and bets start from 0.01.
Other Game Developers