Ever gone to the corner store to get a few scratch cards and, halfway through, realized you don't even understand the rules of the game? Or if you've won anything? Or walked away $20 poorer wondering if you ever even had a chance to scratch a winner in the first place? Scratch cards is one of those games that everyone loves but not everyone learns how to play now, thanks to CasinoTop10, all that can change.
No Deposit Casinos
About the Free Scratch Cards Game Scratch Fruit
Three words for Scratch Fruit; simple, simple and simple! In fact, it is probably the simplest game we've ever come across. So, if you're of legal age to place a wager wherever you are, you can certainly have a crack at Scratch Fruit with no snags, complications and those pesky terms and conditions that everyone loves to hate. The scratch card contains nine tiles making up three rows and three columns. A winning combination, however, may only be uncovered horizontally (within one of the three rows). Vertical combinations do not render a win.
There's absolutely nothing to it! In fact, we challenge you to find an easier game to play on the entire World Wide Web. And Scratch Fruit brings the scratch experience to users on all kinds of mobile devices and platforms, including Windows, IOS, Android, Blackberry, as well as on all major browsers including Explorer, Firefox, Safari and Chrome! So whether you're queueing up somewhere, have a minute to spare, are in between more tedious tasks or just need a breather, Scratch Fruit lets you escape to satisfy your scratch craving at any time, from anywhere.
Free Scratch Card Gameplay
This HTML 5 Scratch card game plays very well on any mobile screen, from the tiny flipscreens of an old Nokia to the ultra-wide, ping-pong paddle-sized Galaxy 7. The scratch animation is pretty snazzy too, while the sound effects lend to the player's immersion and experience and sounds just like the real thing. The cheerful, colourful graphics keep things light and upbeat and the sound bites are pretty amusing, verging on comical.
How to Play Free Scratch Cards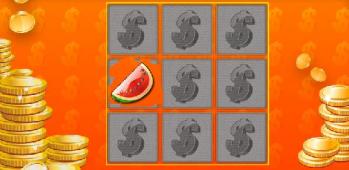 Did we mention that this game is as easy as spotting a mullet at a truckers' convention? It's a scratch card game and all you've got to do is scratch away. This isn't a case of something appearing to be easy with some sneaky tricks thrown in on the side to make your life difficult. It's as simple as ABC to play and you needn't worry about any difficult rules or complex strategy to implement.
There are no buttons that determine the size of your bet; no multiplier; no pop-up window for instructions. Just run your finger over the digital scratch card, scratch away and see if you've won. A win entails uncovering three identical symbols in one of the three available rows on the scratch card. Seeing as the scratch card contains three rows, each card gives the player three chances to win. The only kind of skill you will need is a love of scratching (cat lovers this is for you).
Pay-Outs for Scratch Fruit
A pay-out table on the main screen lets the player keep tabs of his or her potential winnings with every scratch. Each fruit symbol corresponds to a specific amount of winnings if uncovered three times within a single row. There are nine possible symbols to uncover. Winnings range significantly from $2 for three lemons to $60,000 for three bananas.
Before playing for real money it will be of use to you to read up on the very best scratch cards money management advice written by our resident expert. This way you don't scratch away your first home deposit, along with your car payment, kids extracurricular school fees and, you know, some of the more important things in your life. Don't be that person. Read up on all the best scratch card money tips so you can stick to having the big wins and stow away that cash into your savings, or keep betting for more and more.
Play Free Scratch Cards Fruit Game at CasinoTop10
An excellent way to satisfy your free scratch card online cravings at any place and at any time is to play this fun and easy scratch fruit game here at CasinoTop10. Scratch Fruit is a straightforward free scratch card game. It will have you returning for a quick and easy scratch time and again without having to go out of your way to buy the physical ones. If you are ready to move from free scratching to wagering for a big scratch card win, go on over to our online scratch card page. There you can find the very best online casinos to play scratch cards for real money with a variety of scratch card games. Happy virtual scratching!