POLI is an excellent alternative to e-wallets and credit/debit cards which allows you to make both deposits and withdrawals at online casinos. Our guide takes you through the payment option, how to use it to make deposits and withdrawals and also directs you to the best POLI Casinos available on the net!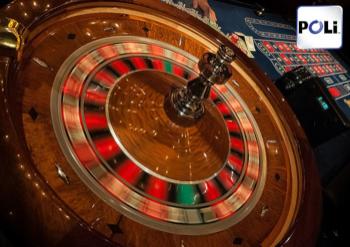 What is POLI?
POLI, formerly known as Centricom, is an Australian payment processor which has been around for a bit over a decade. The payment processor, which is based in the Australian city of Melbourne, serves about 33 million users and allows them to perform transfer over the internet directly via their bank account. Hence, there's no need to use a credit/debit card or e-wallet to transfer funds.
Instead, all players need is a valid bank account at any of the 18 different banks in Australia or New Zealand. Having a bank account at one of the participating banks will enable you to use POLI to make any purchases directly through your bank account.
Why use POLI at online casinos?
By using POLI, you'll be able to make quick and easy payments to and from online casinos;
You'll be eligible to claim the POLI online casino bonus available on sign-up;
POLI is one of the safest online casino payment options out there;
You needn't register to use POLI to deposit money to your online casino account.
POLI & the Online Casino World
No matter if you enjoy hitting the Blackjack tables after a long week, watching the Slots reels spin until they finally come to a halt or seeing the black and red wheel of chance spin during an exciting game of Roulette, you'll be glad to know that you'll be able to do it all at POLI Casinos. The POLI Casinos in our toplist above are all legal and have been certified as some of the best in the industry which offer a mélange of different online casino games that players can enjoy playing.
How to use POLI to make Deposits
Find an Online Casino which accepts POLITo make a transaction via POLI to an online casino, you'll first need to find one that supports the payment method. Generally speaking, you'll find that POLI Casinos are available in Australia and New Zealand. However, not all the online casinos present in our list have online casinos which support this payment option. So you're ultimately better off finding one from this page.
Go to the POLI Casino's deposit page & Select POLIOnce you've chosen an online casino and registered your details, your next step is to head to its deposit page and select POLI as a payment option.
Enter the amount you wish to depositWhen you've successfully found POLI, all you'll need to do is enter the amount you'd like to transfer to your online casino account and press enter.
Confirm the Transaction from Your endAfter you've performed the aforementioned step, you'll then be automatically navigated to your bank's page where you'll need to confirm your transaction.
Wait for Your Funds to Appear in Your AccountOnce you've confirmed with your bank that you'd like to deposit a certain amount to your preferred online casino, you'll just need to wait until the funds appear in your online casino account.
POLI Safety & Security
One of the reasons that POLI has gone from strength to strength since it was launched is because the company has held safety and security on the top shelf of their priorities. POLI regularly maintains the highest security standards by regularly performing security vulnerability scanning on the system, undertaking a penetration test with a recognized security firm and opening their services to Australian and New Zealand banks for review.
Although POLI operates in conjunction with bank services, the company states on their website that they don't store any usernames, passwords or sensitive information on their site. Hence, nobody can access or view your internet banking credentials.
Transfer Times at POLI Casinos
A large part of why POLI has become so popularly used by Aussies and Kiwis at online casinos is because transactions are carried out very quickly. Typically, on using POLI at an online casino to make a deposit you'll find that it takes just as long as it would make a transaction via credit card.
Casino Poli Customer Support
One of the reasons that our experts at CasinoTop10 have placed the POLI Casinos in our list above is because their customer support is fantastic. Provided that you have a problem with the funds you've transferred to your online casino account via POLI, for example, the funds not appearing in your account, having fewer funds than you transferred or you're unable to claim your online casino bonus, you can always contact customer care at your online casino of choice. Generally, there are several ways you can reach customer support at POLI Casinos. These include live chat, email support and phone.
Advantages of using POLI
Safe Payment Method.
Instant Deposits.
No Sign up required to make Deposits.
No Fees.
No need to pay with a credit card.
Provides an instant receipt.
Disadvantages of using POLI
Can only be used in New Zealand and Australia.
You'll need to register to make a withdrawal.
Payments made via POLI are none reversible.
POLi Casinos FAQs
Are there fees associated to POLI?
No, there aren't any fees associated with making deposits to online casinos via POLI. 
Who can use POLI at online casinos?
OLI is available to players in New Zealand and Australia.
What alternatives to POLI are there?
If POLI is not available to use in your country of residence or you'd prefer to use another payment method instead of POLI, there are multiple other ones to choose from that are available to use at online casinos. Of course, assuming that you'd like to use a service that's similar to POLI, we can highly recommend Bank Wire. To find online casinos which support Bank Wire, simply head to our Bank Wire Casinos page.
Provided that you're looking for an e-wallet service, you'll be glad to know that many online casinos accept PayPal, Neteller and Skrill. To find an online casino which accepts these payment methods simply head to our PayPal Casinos, Neteller Casinos or Skrill Casinos page to find one that's suitable to you. If you're looking for a credit/ debit card service, Visa, Mastercard and Amex are some of the best in the biz. Have a look at our Visa Casinos, Mastercard Casinos and Amex Casinos to find an online casino which supports these 3 payment methods.
Does POLI support payment options for virtual currencies?
Yes, POLI supports payments for virtual currencies. However, online casinos have a duty to check the  identity of  their customers in this scenario.
Which banks does POLIpay work with?
Polipay only works with a selection of banks found in Australia and New Zealand. These include: ANZ, ASB, Bank Direct, Bank of Melbourne, Bank of New Zealand, BankSA, Bankwest, Bendigo Bank,BOQ,Citibank,Commonwealth Bank, IMB Building Society,ING Direct, Kiwibank,ME Bank, NAB,Newcastle Permanent, St. George Bank, Suncorp, TSB Bank and Westpac.
Play at POLI Online Casinos & Win Money!
With its frill-free payment portal, sound security and customer-centric approach, POLI provides online casino players with a phenomenal method to pay and play for real money at online casinos! And that being said, it's truly unfortunate that this particular payment option isn't available in other countries other than Australia and New Zealand. Yet, provided that you reside in either of these two countries, you are indeed truly lucky. Of course, provided that you'd like to use this payment processor at one of the online gambling sites on the net, all you'll need to do is find an online casino which supports this payment method to make deposits and withdrawals.