Bingo is a classic gambling game, played in private facilities, at Church functions and charity events, to villages and town squares. Now it is being played by many at online casinos. Young people and old can enjoy online Bingo. If you've never had time to learn how to play bingo, or the only thing you know about bingo is that there is a song with a dog called bingo, we have outlined everything you need to know to play in casino, in a hall, with your friends or online.
Learn How To Play Bingo At These Top-Rated Casinos
How to Play Bingo – Before the Game Begins
Bingo is a relatively simple game to learn and play. Numbers are called or drawn at random until a player is able to cross off a line or pattern of numbers as quickly as possible as they are called out, or as they appear on the screen when you play online. This pattern can be vertical, horizontal, diagonal, or another pre-determined shape or pattern. The most popular bingo patterns are described further down the page.
When you play bingo online, the cards will be randomly chosen for you by the casino software. However if you are unhappy with the cards you are dealt (no metaphor intended here), you can choose to get new cards with different numbers. When you play online you can also customize the settings to change the colors and whether you want to daub yourself or have it done automatically.
The action of the game happens on the bingo card. Bingo cards generally all cost the same amount, and players can purchase multiple bingo cards, also called a bingo ticket which will have all numbers 1-75 between them. The cards for 75-ball bingo, the main bingo variation played in the United States and Canada show a 5×5 grid with "BINGO" printed across the top. The grid will have numbers ranging from 1 to 75 marked out of order. For ease of location, all numbers between 1 and 15 appear under the B column, 16 to 30 under the I, 31 to 45 under the N, 46 to 60 under the G and 61 to 75 under the O. There is also a free space in the middle. In a live hall a player will call out 'Bingo' when he/she has crossed off the numbers in the patterns, whilst online the casino software will detect your win automatically.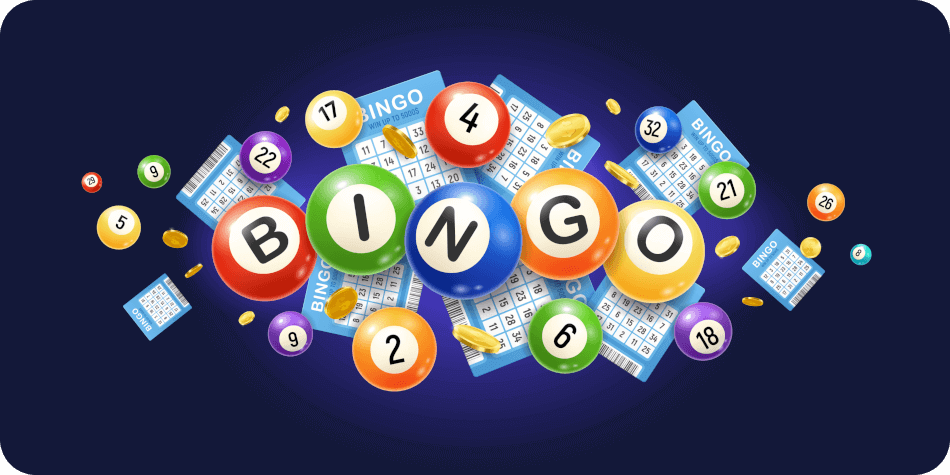 How to Play Bingo – Gameplay
Here's a quick how-to guide on how to master Bingo! Each casino may have some slight differences in the rules as there are different variations, so make sure you read up on the specific casino rules.
1. Buy the tickets
Purchase bingo cards or tickets. In order to start off slowly just buy one or two cards, however, if you want to increase the fun of the game and have a chance to win for the patterns that span across all cards, then purchase a ticket or multiple tickets.
2. The game begins
The game officially starts when the first number is called. A bingo caller will periodically call out numbers which he obtains by removing numbered balls from a ball blower. When you play bingo online the number of the ball will appear on the screen.
3. Doub the card
When the announcer calls a number, players mark that number on their card(s) if they have that particular number on any of their cards. Players often use a marker called a dauber to mark their cards. When you play bingo online you can choose to daub yourself, or you can choose to have this done automatically by the casino software. When you have multiple cards and you chose to daub yourself remember to be quick as the next number could be announced before you have found the previous one!
4. Check for the pattern
As numbers are called continue checking whether or not you have a complete line or pattern.
5. Bingo!
When a player has marked five called numbers in a row, vertically, horizontally or diagonally, he or she calls out "bingo!" Whoever is the first to do this wins. When you play bingo online the casino software will detect your win automatically.
6. Call your win
When you see you have a winning bingo pattern, you have to call loudly. If you do not make it clear you have a winning line or pattern and they have already drawn the next number, your winning bingo will no longer be valid. Make sure the game is stopped at the right moment in order to avoid this disappointment.
7. Pass the check
If you shout out 'bingo' in a live casino/hall then someone will come over and check your card to make sure you have a line or the correct pattern and that you crossed off the right numbers.
8. Split wins?
When someone calls bingo at the same time as you, the prize money will have to be shared with however many players may have a winning combination at the same time you do.
How to Play Bingo – Game Variations
There are different versions of bingo which you will find in online casinos if you want to change things up a bit. You will find 90-ball, 80-ball, 75-ball and 30-ball bingo games.
90-ball Bingo: This variation is widely played throughout Europe and Australia. The bingo card has 9 columns and 3 rows, with numbers than range from 1-90 on the bingo card.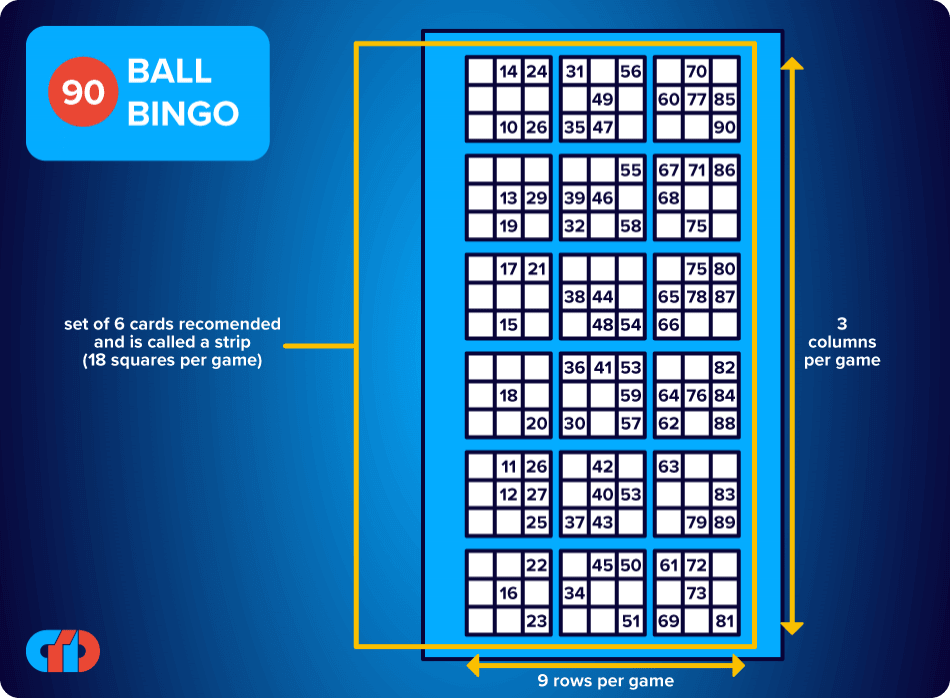 80-ball Bingo: Popular in online casinos, the bingo card for this variation is a 4×4 square with numbers that can range from 1-80 marked on it.

75-ball Bingo: This is one of the most popular forms of Bingo across the world. It is the preferred bingo game in the US. The bingo ticket consists of a 5×5 grid.

30-ball Bingo: Also known as 'speed bingo', this variation is played on a tiny 3×3 bingo card. As it's so small and quick to play, you can only win the blackout pattern.

How to Play Bingo – Pattern Variations
Bingo games may award additional prizes when you manage to mark off different patterns of numbers, for example, making an "X" on the card, getting all four corners, or "blackout," marking off the entire card. If these are in play, the caller continues to announce numbers until the player achieves additional patterns. Multiple patterns can be available as a winning pattern within the one sitting meaning you can get multiple winners for the different patterns, or you haave the opportunity to win big by having different winning patterns on your cards. However when there are winning patterns, check with the casino whether or not that pattern is a 'hard way' pattern meaning the free space on your bingo card will not be able to be used for the pattern, making it a bit harder for you, but gives the game a bit more of an exciting edge.

Below you will find a description of the most popular patterns you will find in online bingo casinos:
Lines: The most popular bingo pattern across all bingo variations would be winning with a line – horizontal, vertical, or diagonal. In 75-ball bingo this would be five numbers across, down, or diagonally.
Blackout Bingo: You need to mark off every single square on your card to achieve a blackout bingo. This is most common pattern you will find in 30-ball bingo as the card is only 3×3. If you manage to achieve this one in 75-ball or 90-ball bingo you're in for a nice prize, but it's a lot harder to achieve. This kind of bingo is also more common with online bingo games that have a progressive jackpot.
T's: The pattern, as the name indicates, is in the shape of a capital T with numbers marked down the middle row and also along the top row, or upside down with the bottom row marked instead of the top. However it can also be designated a 'crazy T', meaning that you can win if the T is right side up, upside down, or even sideways with the numbers marked across along the middle row, and either the down the right or left side column.
U's: This bingo involves daubing the squares around three connecting sides of a bingo card forming a 'U' shape when the left, right and bottom sides are marked off. You can also win if it's turned sideways in the shape of a C with numbers marked on the bottom, left hand side, and top row. It also works in reverse with the right side, bottom, and top row marked. You can also win with an upside down U when the top row and both left and right sides are marked.
Square Bingo: You need to mark off the numbers along all four sides of the card to form a square.
Diamond: There are two potential diamond shapes, the little and the big diamond. The small diamond is a small shape which consists of marking the squares that are to the left, right, top, and bottom of the free space square in the middle of the card. The big diamond has its points in the center square on the top, bottom, left, and right side.
Broken Picture Frame: This is a very fun pattern to play. In sum it's a square with some of the squares left unmarked. You need to mark off all corner and middle squares along the top, bottom, left, and right side of your bingo card, leaving the rest unmarked.
American Flag: This one is great for that 4th of July bingo game! The pattern consists of marking the top three rows, and marking the flagpole by marking the bottom two squares in the column under the first column 'B' or the last column 'O'.
There are many, many more patterns that you can find when you play bingo online, casinos are getting more creative by the day so you will never get bored, the more you play bingo, the more you will be able to pick out your favorites.
Bingo Money Management Tips
Once you have mastered the bingo rules, you're ready to play bingo. Before signing up with any bingo online casino, the are some things you need to keep in mind. It's very easy to get carried away when you play bingo. The following table provides some tips on bingo money management. These can be applied when you play bingo online and help you potentially increase your bingo bankroll while still having fun.
| | |
| --- | --- |
| Bingo Tip | What The Bingo Tip Means |
| Decide on a Bingo online bankroll before playing | Before walking into a bingo hall or signing up for an online bingo game, decide exactly how much you want to set aside for your day or night of playing bingo. Once you have decided on a figure then you need to be extremely strict with yourself about sticking to that budget. If you end up losing a lot of games you will be tempted to buy more cards and spend money outside of your bingo bankroll to try to make up the losses – the best thing you can do for yourself is walk away and never reach into your pockets to spend more money on the game. |
| Buy cheaper bingo cards | There are often a number of different cards you can buy at a bingo hall. They have different prices and prizes. To maximize your enjoyment and get the most out of your bingo bankroll, buy the cheapest cards. The prizes for the most expensive cards are usually not that much better than the prizes for the cheaper ones. You'll also get more play from the money you have brought. This is wise bingo money management. |
| Buy online Bingo card booklets or packs | If you buy cheaper bingo cards you can buy a greater amount within your pre-determined bingo budget. The more cards you have the higher the likelihood that one of them will have a winning bingo pattern. Buy the bingo booklets or packs sold online as these are often cheaper than buying cards individually. This gives you a greater chance to win and more opportunities to play than you would get buying single cards. |
| Go partner with another Bingo fan | You might consider teaming up with another bingo fan. You can share expenses and prizes. This increases your chance to win (or decreases your expenses), and helps you make bingo a more social activity. If you find you can't easily share a particular prize, try making an arrangement. You can agree that player A will win the prize on the first game, Player B on the second game, and so forth. You can also pool all the prizes at the end and decide who wants which prizes. |
| Make use of Bingo Online Bonuses | A big advantage to playing bingo online is that you have access to bonuses upon sign up and other promotions which are offered on a regular basis. If you are a regular player you can save money by accessing what is essentially free money given by the casino. Just make sure to read the terms and conditions to make sure it's the right deal you are after. |
| Play Jackpot Bingo online only if you have the right budget | As the cost of buying jackpot bingo tickets is higher than playing regular bingo games, you should only do so if you can actually really afford it. If you have your heart set on winning the jackpot then be extremely careful and stick to your budget by buying significantly less jackpot bingo cards than if you would play regular bingo. Keep in mind that winning jackpot bingo is quite a rare occasion. |
| Play Bingo online at Off-Peak times | To be able to have greater chances of winning bingo, and thus having to purchase less cards, it's best to play at off-peak times such as in the very early morning or mid-morning as there will be significantly less players you are up against. The less players you are playing against, the higher your odds of winning. If you are struggling to be able to play at off-peak times then choose online bingo rooms in different time zones so you can play at what is perhaps a busy time for casino rooms where you are, but an off-peak time elsewhere. |
| Understand Bingo game variations | If you are going to be using particular bingo strategies such as the Granville system make sure you understand how to adapt it if you are going to play different games such as 90-ball bingo or 30-ball bingo – alter the strategy according to the amount of numbers on the card. You can read up on all the bingo variations. |
| Don't spend your bingo online winnings immediately | One of the most common ways players lose out when they play bingo is not managing their winnings properly. When you win some extra cash it can be easy to get excited over what feels like free money. In those marvelous moments when you win more than what you spent on the game and you are feeling champagne giddy – enjoy the moment but try to not let that feeling last for too long. First of all consider how much you spent already just to get that money. If you are only getting money back that you have already spent with no profit then it's wise not to spend a cent of it and put it right back into your bingo bankroll. |
Bingo Online Strategy Systems
Although the numbers drawn in bingo online or offline, are done so completely at random, if you would like to follow a system as you play there are two main systems that can be applied when you play Bingo: Granville's and Tippett's. It is not proven that they actually increase your odds of winning due to the randomness of the numbers are drawn, but there is no harm at all in trying them out as they will also not decrease your odds of winning either.
Granville's Bingo Strategy System
The most popular system applied by Bingo players is the system invented by Joseph E.Granville. Granville was a lead financial writer in the United States and he is mostly known for inventing a series of strategies to invest successfully in the stock market called the 'on balance volume' (OBV). His strategy is now used by stock market analysts to predict the movement of prices.
However, what some may not know is that Granville then used his mathematical skills to determine that bingo odds can be improved by selecting bingo cards with numbers on it that make the card symmetric. His study of bingo concluded that there are patterns that apply to all bingo games and players can use these game patterns to increase their odds of getting a winning line or winning pattern. He determined through probability that the numbers called out almost always have different endings, that there was a balance between the amount of called numbers that were low in value and numbers that are high in value, and also between the amount of odd and even numbers drawn in the long run throughout the game.
As what determines whether you win in bingo is having a card with the numbers that are called out, Granville has made a few basic card check rules in order to increase your odds of winning.
When you get a bingo card you need to check the following:
You need to have an equal number or high and low numbers.
You need to have an equal number of odd and even numbers.
You need to have the same amount of numbers that end with 0,1,2,3,4,5,6,7,8 and 9.
If you are playing online bingo you can select to have another bingo card if you aren't happy with the one that was given you, and some land-based casinos and bingo halls allow you to change your cards if you are not happy with them. If you are lucky enough to have this option, then analyse your bingo cards as soon as you get them and make a change until the above-stated conditions are met.
Tippett Bingo Strategy System
British statistician L.H.C Tippett devised a more simplistic and less used bingo strategy to improve your odds at winning at Bingo. By analyzing the statistics and probabilities of the numbers drawn he came up with the theory that when you play 75-ball bingo, the longer the game is the more likely that the numbers drawn will be closer to the medium number of 38. The shorter bingo games are more likely to have numbers drawn which are closer to 1 and to 75.
To work this to your advantage when you are playing you need to do the following:
Choose bingo cards with numbers closer to 1 and 75 for when you are playing shorter special games
Choose bingo boards with the numbers lingering close to the medium number 38 for the games that will last longer such as blackout bingo.
If you aren't sure about which bingo online games will be shorter and which will be longer take a look at the bingo patterns to be won. Line bingo which requires players mark off only 5 squares in a horizontal, vertical or diagonal line will finish a lot sooner than more complex patterns such as the flag, or blackout bingo which requires the winning player to mark off every square on the bingo card. As mentioned above some land-based bingo casinos and online casinos allow for players to trade in their cards for different ones if they are not happy with them.

Play Bingo Online Today!
There's nothing stopping you from playing bingo right this very moment with such easy bingo rules and so many fun patterns – you can play for hours on end. You can find out all the bingo lingo used by the most proficient bingo players on our bingo terms page. If you want to start playing immediately then click on the best bingo online casinos in our toplist on You don't even have to do anything if you click the auto-daub function – just sign up, pay for as many cards as you want within the casino limit, click auto-daub and sit back and win on multiple cards!